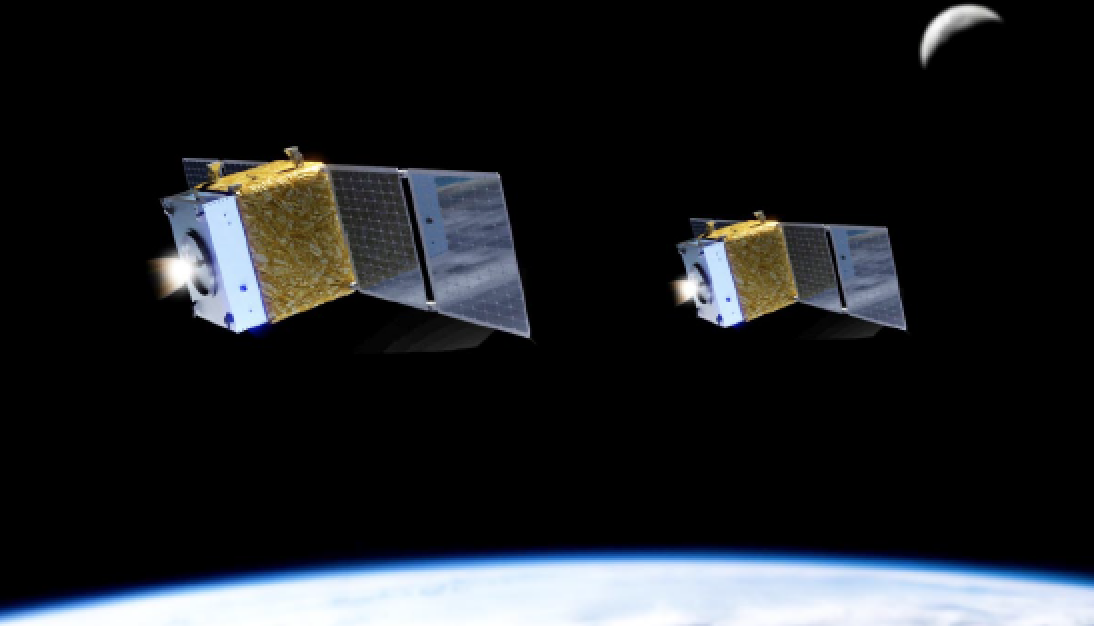 Artistic rendition of smallsats on-orbit powered by Benchmark Space Systems Halcyon Propulsion Systems. Image is courtesy of the company.
---
Benchmark Space Systems is enabling a new age of affordable space access with non-toxic chemical propulsion solutions that are accelerating small sat rideshare deployments to prime orbital locations. More smallsat missions are hitching affordable rocket rideshares to sub-optimal locations in space, but the time it takes to complete the journey to a prime orbital slot could be the difference between a solid ROI and a financial bust.
The types of propulsion systems vary as much as the missions they are propelling through space – requiring hours, days, sometimes even months to maneuver small satellites into their optimal orbit. That can have a major impact on the overall success of a new space mission. Ryan McDevitt, Benchmark Space Systems CEO, tells SatMagazine that environmentally-friendly propulsion now has the firepower to drive rideshare market growth and ROI with faster, safer missions to orbit — and deorbit.
There's been a big focus on low-cost, smallsat rideshares to sub-optimal space. However, these missions really need an equally affordable and fast connecting flight to their prime orbital slot to have a real shot at success in space... would that be a correct statement?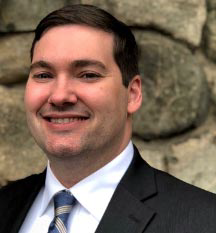 Ryan McDevitt (RM)
Yes, some small satellite missions are completed in a year or two. If it takes several weeks, even months for electric propulsion systems to push payloads into their ultimate orbital locations, you've already eaten into a big percentage of mission time and a significant chunk of your financial investment.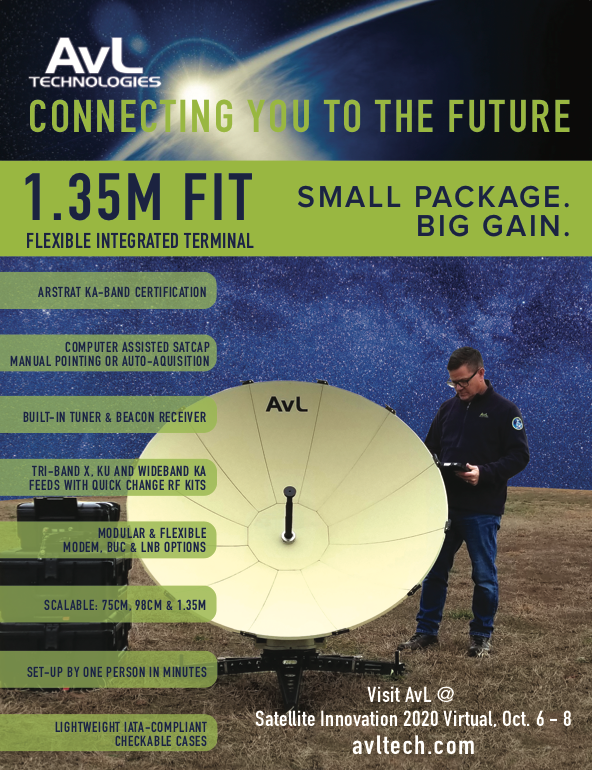 Benchmark Space Systems saw this growing challenge in the small satellite propulsion market and we have designed exclusively non-toxic chemical propulsion solutions that are equally eco-friendly as electric with one-thousand times the thrust of electric propulsion. That game-changing combination of powerful green propulsion is already redefining the small satellite propulsion market and has led to some milestone deals for our patented end-to-end systems.
Our non-toxic propulsion solutions can transport small satellites from sub-orbital space to prime orbital slots in a matter of hours. That allows mission operators to book a low-cost rideshare to space, knowing they will quickly and safely complete the second leg of their space journey to optimal orbit.
Benchmark Space Systems inked an exclusive propulsion deal with Spaceflight and you're on the verge of your first demo and commercial flights into space. Can you share a deeper dive into these milestones and what sets your propulsion solutions apart from other providers?
RM
Benchmark has signed an exclusive agreement with Spaceflight to provide a full range of non-toxic chemical propulsion solutions designed to accelerate satellite rideshare deployments aboard the next-generation Sherpa orbital transfer vehicles (OTVs).
By leveraging Benchmark's reliable, green, in-space propulsion systems, Spaceflight's Sherpa OTV can cost-effectively deliver spacecraft to optimal orbits with greater precision and speed, and then rapidly deorbit when the mission is complete. The Sherpa-LT OTV will be equipped with Benchmark's safe chemical propulsion as early as late next year.
Our propulsion solutions are launch vehicle agnostic and support a broad range of spacecraft, from 1U cubesats through ESPA-class (1-500 kg) satellites, large lunar landers and orbital transfer vehicles with far safer and faster rideshare options than electric propulsion systems, which can take months to complete their trips to orbit.
We are demonstrating our Starling thruster in a 3U Fastbus cubesat by NearSpace Launch that will be aboard Firefly Aerospace's first Alpha flight this fall. Benchmark's new Halcyon propulsion system — a monoprop thruster — is set to debut aboard two smallsats scheduled to launch aboard a SpaceX Falcon 9 later this year.
Our Peregrine solution, a green hypergol propulsion system, has already earned multiple developmental contracts with the U.S. Air Force, which will ultimately lead to qualification trials and commercial delivery.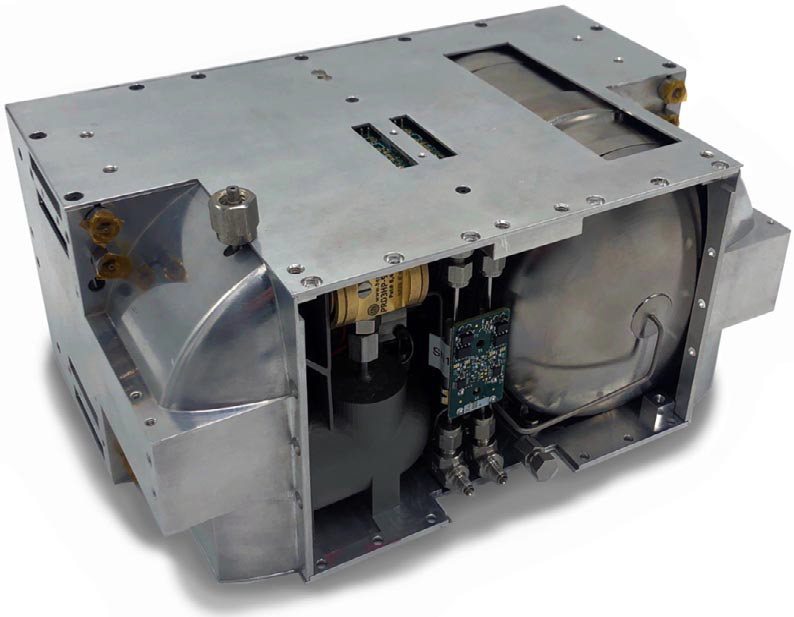 The Peregrine propulsion solution.
Photo is courtesy of Benchmark Systems.
Benchmark's propulsion features a patent-pending On-Demand Pressurization Systems (ODPS) that securely fires up the thruster once the satellite or OTV is safely in space and deployed from the launch vehicle. That's an important differentiator that has really resonated with government and commercial missions.
Orbital space debris is a mounting challenge as more and more small satellites are launched into orbit. What is Benchmark Space Systems doing to help clear space of spacecraft once their missions are complete?
RM
Benchmark is absolutely focused on being a good steward in space. From the beginning, our propulsion solutions are just as capable of rapidly and safely deorbiting spacecraft as they are maneuvering small satellites and OTVs into prime orbits.
Our thrusters are designed to accelerate re-entry in a safe and efficient manner — we're continuously designing into our thrusters new advancements across the firm's full line of propulsion solutions.
Spacecraft equipped with Benchmark's in-space propulsion systems can accomplish de-orbit or re-entry in a matter of hours or days, versus weeks, months... or even years.
How did you first get interested in space, and how was Benchmark Space Systems born?
RM
My earliest 'what do you want to be when you grow up' story centers around my absolute desire to be an aerospace engineer. That's all I've ever focused on for as long as I can remember. I come from an engineering family —– all civil and electrical engineers. For me, space was always 'the thing.'
I did my undergraduate work at Worchester Polytechnic Institute, then earned my Masters and PhD in aerospace engineering at the University of Vermont, where we had a NASA grant that allowed us to study ways to make chemical propulsion more efficient for small satellites.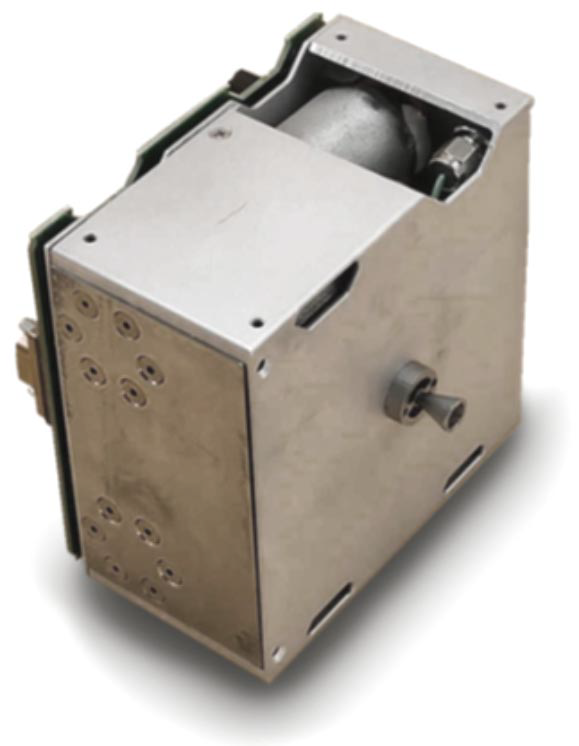 Benchmark Space Systems' Starling thruster. Photo is courtesy of the company.
That's where my passion for space was fed and where the early designs and patented green propulsion capabilities were first developed, which ultimately led to the launch of Benchmark Space Systems years later.
Our team loves Vermont and we have a strong collaborative and mentoring relationship with the University of Vermont that allows us to work closely with and recruit aerospace students who are equally passionate and curious about space.
Benchmark has a growing team, and we've been able to stem the brain drain here in Vermont with exciting jobs centered around in-space mobility that have attracted top local talent and seasoned talent from across the country.
What's next for Benchmark Space Systems as you survey the new space horizon?
RM
With the completion of our permanent licensing agreement with Tesseract Space that combines the intellectual properties, assets and staff of both companies under the Benchmark Space Systems brand, we have unmatched smallsat propulsion expertise and a full line of non-toxic chemical propulsion solutions to deliver on virtually any mobility requirement in space.
No longer do government and commercial missions have to compromise by forcing the incorrect propulsion system aboard their satellite to get into space.
Benchmark Space Systems is a full service propulsion solutions provider that can work with customers to custom design the right solution strategy, from the beginning of their mission planning phase all the way through decommissioning their satellite.
We have quickly become the single-point provider through a broad range of collaborative partnerships that enable us to integrate everything from on-orbit servicing and refueling to end-of-life de-orbiting into a tailored solution, which is becoming increasingly important aboard today's new space missions.
We have a number of significant announcements coming up later this year and we'll inform all when they occur.
www.benchmarkspacesystems.com
---