Off to Geostationary Orbit is EchoStar XXIII, Thanks to SpaceX
While strong winds initially caused a delay, the SpaceX Falcon 9 rocket regrouped and delivered EchoStar XXIII, a commercial communications satellite for EchoStar Corporation, to a Geostationary Transfer Orbit (GTO).
The EchoStar XXIII lifted off from the historic Launch Complex 39A (LC-39A) at NASA's Kennedy Space Center in Florida.
SpaceX will not attempt to land Falcon 9's first stage after launch due to mission requirements. Because the payload is a six ton EchoStar 23 spacecraft, the rocket's first stage won't have enough reserve fuel to attempt a powered descent back through the atmosphere and to then land. This was the first Falcon 9 to fly sans landing gear in almost two years.
EchoStar XXIII is a highly flexible, Ku-band broadcast satellite services (BSS) satellite with four main reflectors and multiple sub-reflectors supporting multiple mission profiles.
Initial commercial deployment of EchoStar XXIII will be at 45 degrees West, and the Satellite End of Life (EOL) Power is 20 kilowatts (kW).
EchoStar operates the world's fourth-largest commercial geosynchronous fleet, with 25 satellites.
Headquartered in Englewood, Colorado, and conducting business around the globe, EchoStar is a pioneer in secure communications technologies through the firm's EchoStar Satellite Services, EchoStar Technologies and Hughes Network Systems business segments.
spacex.com
echostar.com
---
Sentinel-2B soars and monitors, from the soil to the sky... Copernicus' Earth Observation mission
Arianespace has successfully launched the Sentinel-2B satellite for the European Commission within the scope of a contract with the European Space Agency (ESA).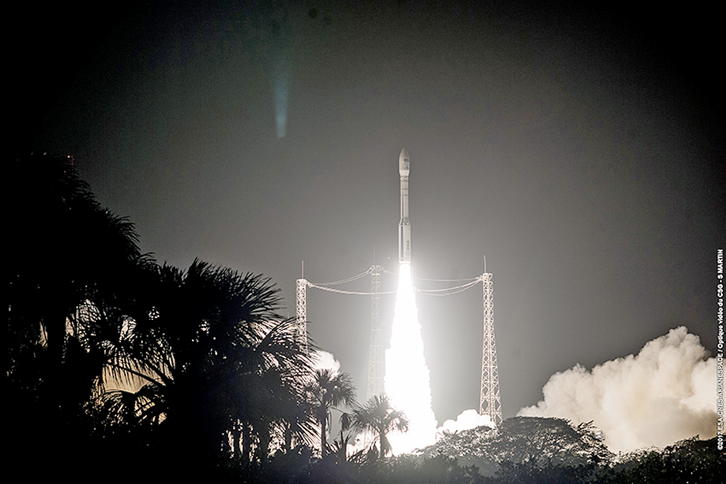 The launch took place on Monday, March 6, at 10:49 p.m. local time, from the Guiana Space Center (CSG), Europe's Spaceport in Kourou, French Guiana.
This was the third launch of the year for Arianespace and the first in 2017 with the Vega light launcher. This launch also marked the ninth successful launch in a row for Vega, which made its debut at the Guiana Space Center in 2012.
Following the successful launches of Sentinel-1A, Sentinel-2A and Sentinel-1B, this mission marks the fourth satellite in the European Commission's Copernicus Earth observation program to be orbited by Arianespace from the Guiana Space Center.
The Sentinel-2B Earth Observation (EO)satellite mainly focuses on monitoring land masses and coastal zones around the world.
The satellite will be positioned in an orbit opposite that of Sentinel-2A to ensure optimum coverage and data delivery.
The pair of Sentinel-2 satellites will cover the Earth's entire surface in five days. This high frequency means they will capture brand-new views of the Earth, driving considerable progress in monitoring and predicting changes in vegetation and aquatic pollution.
Sentinel-2B combines a multispectral, wide-swath, very-high-resolution optical imaging instrument with a dedicated platform developed by Airbus, a long-standing partner to Arianespace.
This is the 117th Airbus-built satellite to be launched by Arianespace. There are 16 additional satellites from this manufacturer in Arianespace's order book, not counting the OneWeb constellation.
Sentinel-2B is the 61st EO satellite to be launched by Arianespace. These types of satellites represents 10 percent of all spacecraft launched by Arianespace since being founded, and 23 percent of the company's current order backlog (in number of satellites).ESA's Sentinel program includes six families of satellites:
Sentinel-1 will ensure data continuity with the ERS and Envisat radar satellites.
• Sentinel-2 and Sentinel-3 are designed to help provide a better understanding of how climate change impacts our
daily lives.
• Sentinel-4 and Sentinel-5 are dedicated to meteorology and climatology, with a special focus on studying the composition of the Earth's atmosphere.
• Sentinel-6 will measure ocean topography, mainly for operational oceanography and climatology.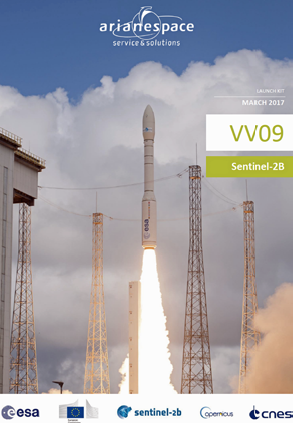 With this launch on behalf of the European Commission and within the scope of an ESA contract, Arianespace fulfills its mission of guaranteeing independent and dependable access to space for Europe.
In 2017, Arianespace also will orbit four additional satellites for the Galileo program on behalf of the European Commission and ESA.
After this 55th mission for ESA, Arianespace's order book still includes missions to orbit the following payloads on behalf of the European Space Agency:
• 8 satellites for Galileo (2×4 satelites)
• ADM-AEOLUS
• EDRS-C
• BEPI-COLOMBO
• and the James Webb Space Telescope (JWST)
The eight previous missions performed by Vega prior to Flight VV09 included both government and commercial customers.
Looking ahead, the launcher's order book — primarily comprising Earth observation missions — now counts seven launches, one-third of which are for European institutions and the remaining two-thirds for export customers.
Arianespace is gearing up for the future with Vega C, slated to make its first flight as from 2019. Vega C will:
• Offer higher performance in terms of payload weight and volume;
• Handle a greater variety of missions, from smallsats to large optical and radar observation satellites
• Be more competitive, as a result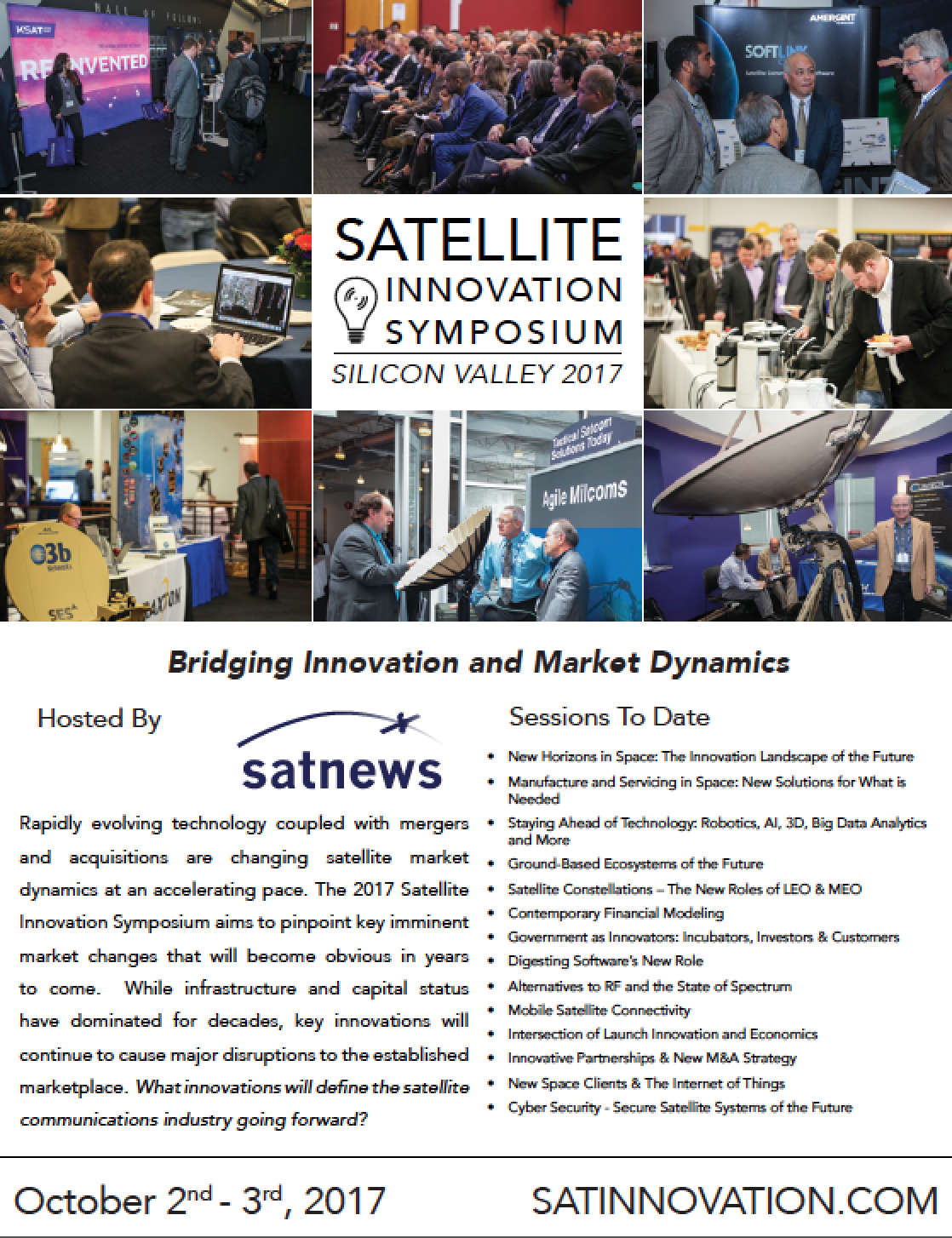 Vega is a European Space Agency (ESA) program, financed by Italy, France, Spain, Belgium, the Netherlands, Switzerland
and Sweden.
The launcher design authority and prime contractor is ELV/AVIO, an Italian joint venture between Avio (70 percent) and the Italian space agency ASI (30 percent).
Shortly after the announcement that the Sentinel-2B satellite had been injected into orbit, Arianespace Chairman and CEO Stéphane Israël said:,"With this third launch of the year, and the first in 2017 for our light launcher, Arianespace guarantees Europe's independent access to space and continues to support actions in favor of sustainable development. Sentinel-2B is the fourth satellite launched by Arianespace for the European Copernicus program.
"I would like to thank the European Commission for their ongoing confidence, as well as ESA, our direct customer for this launch. Congratulations to all our partners in this latest success: Airbus, which built Sentinel-2B; the industrial prime contractor for Vega — ELV/Avio — which is the artisan at our side in the success of Vega; the European Space Agency, whose support is essential for the Vega program, for which Italy's ASI space agency is the leading financier; CNES/CSG and all companies and staff at the launch base, who continue to support us as we go from success to success; and lastly, congratulations to Arianespace's own teams for the success of this 260th launch from the Guiana Space Center."
The Sentinel-2B satellite was built by Airbus as prime contractor, leading an industry consortium.
Sentinel-2B weighed 1,130 kg at launch and will be positioned in Sun-synchronous orbit at an altitude of 786 km, with an inclination of 98.57 degrees. The launcher carried a total payload of 1,208 kg on this mission.
European Union's Copernicus website
European Space Agency website
Avio Group website — Vega
Airbus Defence and Space website
---
For SpaceX — Two Off and Away and Two Come In
February 19 was a great day for SpaceX's CRS-10 mission with both a successful launch and the Earthly return of a launched Falcon rocket.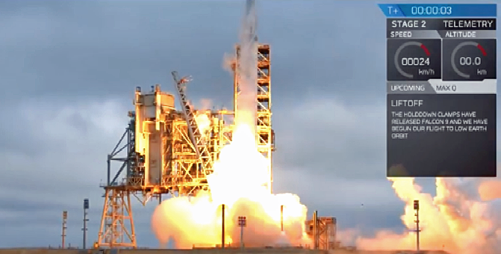 A launch attempt on the previous day had to be scrubbed just 13 seconds before liftoff out of caution, due to an unexpected reading from the rocket's second stage.
This was the first launch from pad 39A since the orbiter Atlantis blasted off on the shuttle program's final flight in July of 2011.
SpaceX's processing hangar is located at the base of the former shuttle pad at Cape Canaveral, up an incline to the top of the firing stand.
This successful launch featured the upward launch of the payload and then the downward return as the Falcon 9's first stage completed an Earth landing just a few miles from the Florida launch site, about eight minutes after liftoff, all as planned. This was SpaceX's first daytime landing at the site, called Landing Zone 1, at the Cape Canaveral Air Force Station.
"Baby came back," Space CEO Elon Musk wrote on Instagram after the successful landing of the first stage.
The Falcon 9's first and second stages separated about 2.5 minutes into the launch.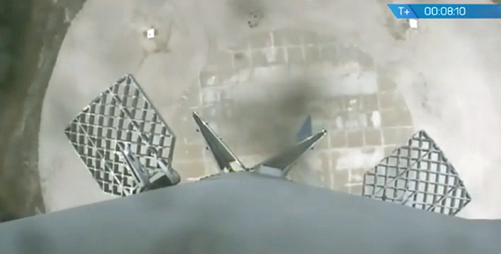 As the first stage flew back for its touchdown, a secondary mission objective with the second stage continued to power Dragon to the intended target, successfully achieved 11 minutes after liftoff. Dragon then deployed its solar arrays and began the two-day journey to the ISS.
When the Dragon arrived at the ISS, French astronaut Thomas Pesquet grappled the spacecraft using the 57.7-foot (17.6-meter) Canadarm2 to reach out and capture the Dragon spacecraft and attach it to the station.
There were more than 5,000 pounds of supplies and payloads, including critical materials to directly support dozens of the more than 250 science and research investigations that will occur during Expeditions 50 and 51 inside the Dragon.
Among the investigations are experiments with the potential to help fight human disease, monitor climate data, and improve autonomous spacecraft docking with the orbiting laboratory.
SpaceX CRS-10 is the tenth of as many as 20 missions to the International Space Station that SpaceX will fly for NASA under the first CRS contract.
In January 2016, NASA announced that SpaceX's Falcon 9 launch vehicle and Dragon spacecraft were selected to resupply the space station through 2024 as part of the second Commercial Resupply Services contract award. Under the CRS contracts,
SpaceX has restored an American capability to deliver and return significant amounts of cargo, including live plants and animals, to and from the orbiting laboratory.
A variant of the Dragon spacecraft, called Crew Dragon, is being developed for US- based crew transport to and from the station.
Dragon's return to Earth will be after an approximate one month stay at the orbiting laboratory. About five hours after Dragon leaves the station, the spacecraft will conduct its deorbit burn, which lasts as long as 10 minutes. It then takes about 30 minutes for Dragon to reenter the Earth's atmosphere and splash down in the Pacific Ocean off the coast of Baja California.
For more information about the mission and payloads, please visit
nasa.gov/spacex
---
SES Experiences Major Gains with VT iDirect Technology
VT iDirect, Inc. (iDirect) has announced another successful over-the-air (OTA) test of its next-generation DVB-S2X technology—the test was conducted with SES over C-band and achieved 5.7 bps/Hz.
The DVB-S2X forward channel and Adaptive TDMA return channel OTA testing was conducted on the SES-4 satellite and leveraged iDirect's next-generation iQ Desktop Remote, Universal Line Cards and Intelligent Gateway appliance.
VT iDirect recently announced its next-generation DVB-S2X technology, which is based on a powerful, customized ASIC (Application-Specific Integrated Circuit) chipset and powers the new iQ Series family of remotes
iDirect's iQ Series, which will operate in both DVB-S2X and DVB-S2 mode, is targeted for broadband, enterprise, and mobility applications and packaged in desktop, rack-mount, board level and embedded compute form factors that will become available over the course of this year. The family of new remotes are software upgradeable to license added network capabilities and higher throughput levels, thereby reducing the cost of ownership, as well as improving flexibility across a broad array of markets.
"With SES launching three GEO hybrid satellites with wide beams and high throughput capabilities this year, efficient bandwidth management is of utmost importance to our customers. We are pleased to see the bandwidth gains achieved over VT iDirect's latest technology and will be looking forward to accelerated bandwidths and more efficient data services with the new standard," said Steven Cooper, Vice President of Product Development and Network Planning, SES.
Wayne Haubner, Senior Vice President, Engineering & Emerging Technologies, VT iDirect, commented that the company's test with SES represents their first DVB-S2X forward channel testing over C-band and the first ATDMA return OTA testing with the iQ Desktop, which validates the DVB-S2X platform as being able to deliver significant performance and efficiency gains for SES' customers. The milestone also expands the company's momentum as VT iDirect nears beta testing in advance of the commercial launch this year of the iQ Series Desktop and the Intelligent Gateway.
idirect.com/
ses.com/
---
3D Bandwidth-on-Demand Launched by Advantech Wireless
Advantech Wireless' 3-dimentional BoD (Bandwidth-on-Demand) Scheduling and Bandwidth Allocation System - 3D-BoD™was released.

Additionally, WaveSwitch™ was released—this is a solution that adresses the complexity of new generation satellite services without degrading service quality. This is accomplished with service modeling architecture that dynamically optimizes waveform assignment to achieve the highest application performance, with minimum satellite bandwidth resources.
Advantech Wireless new ASAT II™ WaveSwitch™ technology is based on a 3-dimensonal BoD (Bandwidth-on-Demand) model factoring Bandwidth, Waveforms, and Service Level Commitments and delivers efficient bandwidth utilization.
Advantech Wireless practices bandwidth management techniques in order to optimize bandwidth management availability to support multi-service and variated SLA (Service Level Agreement) delivery.
With multi-service traffic flows, a variety of applications, different traffic density rates, and varying bandwidth peaks, WaveSwitch™ achieves service quality and user experience to customers in the bandwidth efficient means by combining the power of all three waveforms in a real-time manner.
Oscar Glottmann, CMO Satellite Networks Business Unit at Advantech Wireless said, "With HTS bandwidth abundance and lower costs, vendors must address new SATCOM systems requirements for multiservice and the seamless integration of SCPC high data rate capabilities with MF-TDMA VSAT high oversubscription capabilities into a single platform. For the first time, based on 3D-BoD and WaveSwitch technologies, Advantech Wireless delivers on-the-fly waveform switching between MF-TDMA, Adaptive SCPC (ASCPC™) and real bi-directional SCPC in its new generation ASAT II multi-service VSAT platform. Together with our multiplatform VSAT Modems supporting the three waveforms, ASAT II delivers unparalleled satcom multi-service capabilities."
http://www.advantechwireless.com/?s=WaveSwitch&post_type=product&sentence=1
---
Sly Brasil-1 and Telkom 3S Sent to Spatial Slots
Two new arrivals were welcomed by Arianespace in mid-February in preparation for a March launch, all the while concluding the VA235 launch that occurred directly on time... directly to the second.
Liftoff of the mission, designated Flight VA235 in Arianespace's launcher family numbering system, occurred on February 14 at 6:39 p.m. in French Guiana (21h39 UTC). The two relay platforms were deployed into geostationary transfer orbit during the 40 minute mission.
Certainly this was a busy day for, earlier, Arianespace had welcomed Brazil's SGDC geostationary defense and secure communications satellite as well as South Korea's Koreasat 7 telecommunications satellite. Both built by Thales Alenia Space are slated for a dual launch on March 21 via an Ariane 5 rocket.
Released first during Flight VA235 was SKY Brasil-1, developed by AT&T/DIRECTV through the DIRECTV Latin America subsidiary to expand DTH HDTV programming.
The 6,000 kg satellite was produced by Airbus Defence and Space in Toulouse, France, using the spacecraft manufacturer's Eurostar E3000 platform. The satellite is fitted with 60 Ku-band transponders. Arianespace's order book includes 17 more Airbus Defence and Space satellites for launch.
SKYB-1 was positioned at 43.1 degrees West and covers Brazil, providing services to 12.5 million subscribers in Latin America, primarily Venezuela, Argentina, Chile, Colombia, and Brazil.
SKYB-1 is the tenth satellite launched by Arianespace for the operator AT&T/DIRECTV. The previous launch was on May 27, 2015, with Sky México-1 and DIRECTV 15 launched, also via an Ariane 5.
Approximately 12 minutes after SKY Brasil-1's separation, Telkom 3S deployed. This satellite is designed for the delivery of HDTV services as well as mobile communications and Internet applications for Telkom Indonesia.
The 3,550 kg craft was built by Thales Alenia Space, Toulouse, and Cannes, France, based on the Spacebus 4000B2 platform.
Telkom 3S is the third satellite that Telkom Indonesia enlisted Arianespace to launch after negotiating a contract with Thales Alenia Space.
Telkom Indonesia is an Indonesian state-owned company that supplies telecommunications, information, media and entertainment services (TIMES) to millions of customers throughout the Indonesian archipelago.
Positioned at 118 degrees East, Telkom 3S will provide C-band coverage of Indonesia and Southeast Asia, while extended C-band beams will cover Indonesia and part of Malaysia. The satellite is also fitted with Ku-band transponders that are dedicated to national coverage.
Telkom 3S is the 146th satellite built by Thales Alenia Space to be launched by Arianespace.
Flight VA235 is one of up to as many as 12 Spaceport missions to be managed during the year by the Arianespace's launcher family, which also is composed of the medium-lift Soyuz and lightweight Vega. Of that total, as many as seven liftoffs in 2017 will use Ariane 5s—developed and built by Airbus Safran Launchers as production prime contractor.
Arianespace opened its 2017 launch activity on January 27, when a Soyuz vehicle orbited Hispasat 36W-1 on a trajectory that injected the telecommunications satellite into geostationary transfer orbit.
arianespace.com
thalesgroup.com/en/worldwide/space
airbusdefenceandspace.com
---