---
By Andrew Bezrukov, Director for Strategic Marketing, Sergey Dolgopolskiy, GR, PR + IR Director, Foreign Projects and Ekaterina Tyukel, International PR Manager
For the GS Group investment and industry holding company, the year of 2014 was marked with several breakthroughs
in the field of communications, one of the company's key global business areas.

The One TV broadcasting project from GS Group for the Kingdom of Cambodia recently celebrated its two-year anniversary on September 15, 2014. During 2014, One TV reached 80 percent of the country and became the first digital terrestrial TV operator in Cambodia to provide nationwide coverage. This occurred everal years ahead of the planned transition from analog to digital broadcasting by the government.
In 2014, broadcasting services were delivered to the province of Candal and six, new, in-house TV channels for production appeared within the top 10 of the most popular channels among One TV subscribers.
The total number of carried channels increased from 60 to 80. In May 2014, GS Group and Beximco Group, a leading Bangladeshi industrial conglomerate, announced a joint venture to launch Bangladesh's first DTH company for TV viewers in the country. The newly formed joint venture, Beximco Communications Limited, comes with integrated technological support from the GS Group.
In the spring of 2014, GS Group was the first company in Russia to offer a breakthrough solution for viewers who actively use two TV sets. The holding company released a new product under the General Satellite brand that was commissioned by the second largest DTH operator in the world, Tricolor TV. A set of two digital HD set-top boxes (STBs), GS E501 and GS C591, allows viewers to have access to differing content on two TVs simultaneously, using a single smart card.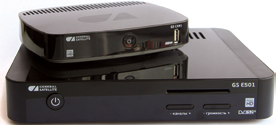 The set is powered by the SiP (System-in-Package) solution, developed by GS Nanotech plant, a subsidiary of GS Group. The plant's core expertise is providing microelectronics solutions for satellite, cable and hybrid STB's. During 2014, GS Nanotech successfully implemented the SiP solutions in a range of receivers. SiP Amber S2 was the first microcircuit fully developed at GS Nanotech under SiP technology. Also this year, GS Nanotech produced more than 850,000 chips of this type; production growth of up to two million chips is expected by the close of 2015.
The entire hardware and software of the STB's are developed and produced by GS Group in Russia, based on the holding's own technology and manufacturing facilities which are located in Technopolis GS innovation cluster, also a part of GS Group.
Annual output of Digital Television Systems, the biggest digital STB's manufacturer in Eastern Europe, reaches more than 2.5 million STB's, which contribute 2 percent of digital STBs annual manufacturing across the globe.
A new line of STBs—the GS B210, GS E501 and the GS C591—were developed thanks to the synergy of the best international practices in the fields of industrial design and upgraded manufacturing facilities. London-based design consulting company, BID Studios, re-designed the unit for a more appealing presentation.
In September 2014, GS Group released a multiple-unit STB called the GS E212. This is the first unit design of receivers under the General Satellite brand that is able to receive both satellite and terrestrial signals. This innovative solution is specifically developed for Tricolor TV and is now setting a new standard for digital TV equipment in the local market. GS E212 is designed to simplify a users' transition from familiar analog broadcasting to digital television.
In November, GS Group launched the GS700 tablet under the GS brand, commissioned by Tricolor TV. The tablet was developed with three key fundamentals: smart remote control, multiscreen and interactive entertaining services. A brand new model of tablet features pre-installed applications such as Tricolor EPG, Tricolor Streaming and Kino and empowers subscribers to view TV at any time, anywhere. All of the apps on the table have the option to be uninstalled.
The 1024x600 tablet with 7-inch IPS Screen is powered by the Android KitKat OS 4.4.2 operating system and boasts cameras 2M + 0.3M, a 2800 mAh battery, GPS, Bluetooth, HDMI output, B/G/N Wi-Fi Internet speeds, 1GB RAM, 4GB flash, Google Services, plus a microSD slot.
In 2014, GS Group became the first Russian manufacturer to offer an electronic warranty and leading-edge maintenance service for its customers. After registering the STB via the Internet, if a failure is detected or arises with the unit, the customer needs only to contact an authorized General Satellite service center. The new STB GS E212 also features the General Satellite unique electronic warranty.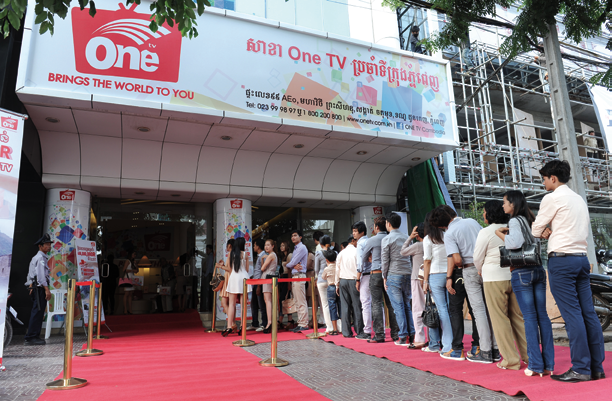 One TV's management intends to expand territorial coverage and amplify the signal in Cambodia's capital of more than two million residents, Phnom Penh, and provide high quality TV viewing through the Internet. In the short-term, One TV is planning to offer value-added services, as well as extending content to provide subscribers with even more interesting channels.
The commercial launch of the DTH platform in Bangladesh—expected to cover the entire country—is scheduled for the first half of 2015 and aims to attract thousands of subscribers by the end of that year.
GS Group intends to implement a satellite broadcasting project in the Republic of the Union of Myanmar, a highly promising region for payTV platforms, due to the presence of a significant number of households with a TV and the current low availability of payTV in the country. The digitization of television in Indonesia, Bangladesh, Pakistan, Myanmar and other countries is also in GS Groups upcoming plans for the CIS countries, the Middle East and in Latin America.
In 2015, GS Group will continue evolving international broadcasting projects and will develop technological solutions for telecommunications projects, including launching new services and releasing state-of-the-art STB's. We would like to highlight a few global trends we believe are in store for the SATCOM industry...
• Operators' revenue growth deceleration in developed countries (Europe, USA), resulting in stronger attention to the new markets
• Powerful process of market players consolidation in the U.S. and Europe
• Brisk growth in the emerging markets such as Asia, Latin America, and Africa, accompanied by the M&A integration processes
• Developing countries will see the growth of TV and online video viewing time
• Local market players will strengthen their positions
• 4K technology will continue to evolve, but mass 4K solution deployment is still not expected until after 2015. Research from Parks Associates finds that more than 46 million households worldwide will subscribe to a 4K UHD payTV service by 2018
• HDTV expansion due to a decrease in technology costs
• Global markets will experience a lower interest in linear television. All markets are shifting towards a television that adjusts to a user who increasingly prefers watching time-shifted TV. This will result in development of all associated services, such as VAS and OTT. The number of catch-up TV fans will grow across the globe and we will observe new services emerging
• Undoubtedly, such giants as Netflix will pursue their incredible growth; however, local players will also emerge, such as A-Mediateka in Russia
• The trend of video stream data compression is gaining at a rapid pace—the H.264/MPEG-4 AVC shift towards H.265/HEVC is inevitable for 4K/Ultra HD development
• Major market players will proceed with UHDTV test broadcasting of popular shows
• Content will remain the key driver of sales—top service providers will actively invest in local content production
• The rate of the Internet penetration is expected to grow in South Asian markets in 2015—this will affect the positions of the payTV operators having businesses in these countries.
GS Group is an international investment and industry holding company, operating on the basis of its very own high technologies in telecommunications and its innovations. The international office of the holdings is located in Zug, Switzerland. Key activities include: implementation of international broadcasting projects, Nano-materials, microelectronics R&D and mass-production; deep wood processing; investment in venture projects; media content production and management; software products design and integration; full-service advertisement; and logistics and trade.
GS Group is a strong promoter, investor, integrator and leader in international broadcasting projects sphere worldwide.
---
Thoughts + Analysis For 2015
By Jos Heyman, Senior Contributor and Publisher, Tiros Space Information
The prediction is we will witness 238 spacecraft launched via 83 launches. As to their purpose, the following table provides a breakdown of this activity.

Three launch vehicles, including an Iranian satellite, failed to place their payloads in orbit.
The significant increase is due to the 85 CubeSats that were launched or deployed from ISS during the year. One launch placed a massive total of 29 CubeSats into orbit. The above table does not include the 19 CubeSats that have been flown to ISS but, as of this writing, have not yet been deployed.
CubeSats
The full utilization of CubeSats is, at this point in time, somewhat limited —most of them are launched piggy-back or are part of a large batch (such as the Dnepr 1 launches) and their orbit is more or less determined by the orbit of the principal payload on the launch, irrespective of what that might be.
While this somewhat random orbit is acceptable for most technology related CubeSats, it stifles the use of these satellites for tasks which require a specific orbit. Dedicated CubeSat launchers, with a capability of, say, four to six CubeSats, would enable them to be placed in more specific orbits. However, such dedicated launchers would undoubtedly increase the launch cost of an individual CubeSat to an unacceptable level for some developers.
Placing CubeSats in these random orbits also makes them potential space debris, as they will stay in these orbits for as much as 25 years, well in excess of their operational use. Since 2005, reports indicate that CubeSats have been involved in more than 360,000 close approaches of less than 5km with other orbiting objects. Clearly, efforts will have to be made to limit their lifetimes and, indeed, some CubeSat developers are already addressing this challenge.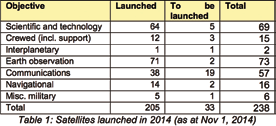 CubeSats and the relatively low cost associated with the, have allowed four countries to join the 'space race. The word 'race' relates to the Oxford Dictionary's definition as 'A group of people sharing the same culture, history, language, etc.'
Space Race
The word 'race' has also an additional definition in the dictionary, that being 'A situation in which individuals or groups compete to be first to achieve a particular objective'— that definition, in combination with the word 'space'—may become in vogue once again. Readers may remember that the term 'space race' was used during the 1960s to refer to the competition between the then-USSR and the USA to place a man on the Moon. The USSR lost this race, although by what is considered a small margin. This author believes we are now seeing the start of another 'space race' between Russia and the USA and that the target is now the 'first man on Mars.'
This start of this new 'race' was the Russian announcement that they intend to develop a new super-heavy carrier rocket that will be able to lift payloads of up to 120 tons using a two stage configuration.
The rocket will become one of the standard launch vehicles for the next 20 to 30 years and would probably also be used for crewed flights to the Moon and Mars. Russia has set 2030 as the target for their colonization of the Moon with the aim, among others, to establish a spaceport for further exploration of the solar system—that's only 15 years away.
In comparison, the USA is developing the Space Launch System (SLS) rocket with a maximum payload of 155 tons. This launch vehicle is scheduled to fly in 2017, with a lunar mission set for the early 2020s and a mission to Mars projected for 2033. True, the details as described in this article fail immediate comparison. However, I would suggest that the Russian 2030 target will be preceded by lunar missions of an exploratory nature.
Add to this that, in spite of a stalling economy, Russia is determined to complete the Vostochny cosmodrome in the Amur region of Russia and that they intend to develop a new spacecraft that will be able to remove space debris from the geostationary orbit belt. This is a project other nations have discussed but at the same time steer away from—it seems clear that Russia is striving toward becoming the pre-eminent, global, spacefaring power.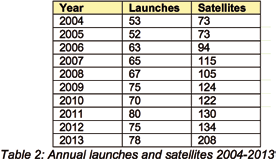 Based on this author's perception on the level of determination and cunningness, or lack thereof as may be the case, displayed by the respective political leaders and their supporting legislative institutions, it is not difficult to figure out who is going to win this 21th century space race. Hopefully, other leading space nations will get their act together to prevent them from becoming sub-class players in the global space effort.
Of course, it would be a lot better if the cooperation that the space nations have displayed on the ISS effort would be extended to the entire space effort so that we can do away with this paralyzing idea of one-upsmanship that seems to be developing.
Competition
Without doubt, 2014 was the year of the Falcon 9 launch vehicle. With eight launches of that launch vehicle in 2014, this vehicle has become a real threat to United Launch Alliance (ULA), a cooperation of Boeing and Lockheed Martin that has dominated the U.S. launch market for some time. In particular, Space X, the manufacturer of the Falcon 9, has taken aim at ULA's renewed December 2013 contract with the US Air Force to supply Atlas 5 and Delta 4 launch vehicles for another five years,
Space X has claimed that, although the Falcon 9 was not licensed at the time the ULA contract was issued, the continuing exclusion of the Falcon 9 does not hold water. SpaceX suggests that the license issue is separate from the contracting issue. Of course, SpaceX is claiming that the company can save the U.S. government even more money by re-opening the EELV contract and allowing SpaceX take part.
As part of this 'EELV war,' SpaceX has done everything possible to reverse the EELV contract situation. For instance, SpaceX stipulated that the ULA's use of Russian RD-180 engines for the first stage of the Atlas 5 should be blocked, due to sanctions imposed on Russia in the recent stand-off between the USA and Russia. The U.S. Court of Federal Appeals did place a temporary injunction on the supply of these engines, while ULA accused SpaceX of 'dirty tricks' and stated that there were enough RD-180 engines to meet launch needs for the next two years. The result of all these activities is that SpaceX could be cleared for military launches by the end of this year.
Somewhat similar competition arguments arose with the announcement that, in the next stage of its Commercial Crew Transportation Capability (CCtCap) program, NASA had selected the Boeing CST-100 and the SpaceX Dragon V2 crewed spacecraft for further development. These spacecraft will be used for flights to and from the International Space Station, ending the reliance on Russian spacecraft from 2017.
Sierra Nevada Corp.'s proposed the winged Dream Chaser would not be further funded—the company reacted to the decision by filing a protest with the Government Accountability Office citing "serious questions and inconsistencies in the source selection process." In particular, the company argued that their bid was $900 million less than Boeing's proposal while, at the same time, scoring "near equivalent" on technical and past performance merits in NASA's source selection process. The immediate result of this protest was that NASA ordered Boeing and SpaceX to stop work on the CCtCap developments, although this work has re-commenced since then.
Unusual trends
With the recent launches of Ofeq-10, EgyptSat-2 and the two Kazakhstan KazEOSat satellites, the increase in Earth observation (EO) satellites is worth noting, in particular among nations that are not 'leaders' in the space world. Other EO satellites planned for launch include the Argentinian SOACOM system of two satellites, while the United Arab Emirates and Peru are also venturing into EO missions.
The objectives of these satellites read something like 'monitoring the Earth resources and/or climate', along with 'emergency and disaster management,' all good civilian objectives that produce a warm, fuzzy feeling. However, let's not forget that the same technology that is being used for EO can be switched to military application within a second and, while KazEOSat actually lists 'homeland surveillance' as an objective, it makes you wonder to what extent the other governments intend to play 'Big Brother' with these satellites, let alone use them for pure military applications.
In this context of 'crossovers,' it is perhaps worthwhile to note that our trusty GPS system uses a U.S. military satellite system as its prime source of information. Can you imagine the mayhem that could occur if the U.S. military decide to turn off the civilian use of the GPS satellites?
Another unusual trend seems to be taking place in the communications satellite market, where countries at attempting to use their geostationary orbit spot. Countries such as Bulgaria have proposed to place the BulgariaSat into orbit to service payTV in the region. This seems to be in direct competition with the established television broadcasting networks and one must wonder if ventures such as BulgariaSat are commercially viable, or if it is just a matter of occupying that geostationary spot and then sell that slot's use to another company, along with the satellite.
In fact Kypros, the Cypriot company that has access to some 18 orbital slots through its government, has decided that, rather than just selling the orbital slots, they will sell all of those along with a satellite and a launch vehicle. To manage this, Kypros has entered into an arrangement with Surrey Satellite Technology Ltd. (SSTL), who will provide its Geostationary Minisatellite Platform (GMP) for these package deals. Earlier, Kypros sold eight slots of a total of 26 that had been allocated to Cyprus to Australia's NewSat.
The political stand-offs that occurred during 2014 have created some difficulties in regard to the International Space Station. Fortunately, these adverse political maneuvers did not affect the operations of the ISS, where friendly cooperation between space nations continues as a matter of course. All hope that 2015 will see an extension of such cooperation into other space missions, as well.
Jos Heyman is the Managing Director of Tiros Space Information, a Western Australian consultancy specializing in the dissemination of information on the scientific exploration and commercial application of space for use by educational as well as commercial organisations. An accountant by profession, Jos is the editor of the TSI News Bulletin.
---
By Pradman Kaul, President
I am pleased to report that Hughes had a strong 2014, with growing revenues and healthy margins in our businesses and markets all over the world. A landmark event that we're very proud of is crossing the one million mark of active users for our HughesNet® high-speed satellite Internet service in North America.

In the enterprise arena, our portfolio of HughesON™ Managed Network Solutions has been well received by the market, as evidenced by major wins and expansions, such as Delhaize (Food Lion), Springleaf Financial, and GTECH, the U.S.'s largest lottery provider, which extended its service agreement with us through September 2022, including space segment, hub operations, and maintenance for over 100,000 sites. We also expanded the scope of numerous contracts within our franchise-oriented markets, one of the largest being with Yum! brands (KFC, Taco Bell, Pizza Hut). On the technology front, we introduced the award winning HR4400 Branch Gateway, a single cost-effective device that combines strong security, routing, and Hughes' unique Active Technologies for multi-branch organizations.
On the international front, our service companies in Brazil, India, and Europe had a great year.
Our Brazilian subsidiary signed a contract extension with Telemar for the provision of broadband services for approximately 3,200 sites, while our Indian subsidiary continued to expand its rural bank and ATM network, where we now have over 10,000 sites in service. This is a major project that connects rural locations to the national banking network, whereas in the past, residents had to travel to the nearest city with a branch bank to conduct banking transactions. In addition, Hughes India has more than 100,000 VSAT sites in operation within the banking and other markets.
Hughes Europe was selected by Smiggle for a comprehensive HughesON Managed Network Solution that includes wireless backup to support the Australian retailer's U.K. Launch. In the Middle East, we won a $69 million contract for a global foreign ministry satellite network spanning six continents and 100 countries. In Colombia, we were selected by Hispasat and Anditel to provide high-speed Internet services to rural schools and communities under the Vive Digital program.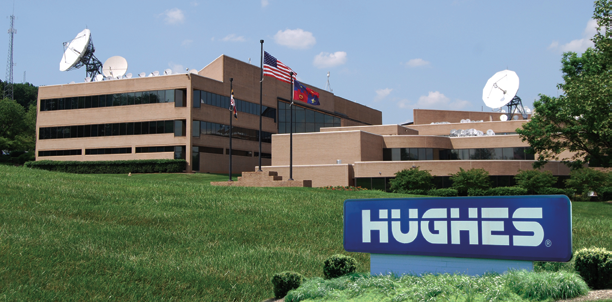 In the aeronautical world, Hughes partnered with Global Eagle Entertainment to provide a complete satellite broadband communications solution that underpins their inflight systems, including hub service and leased space segment. Beyond services in the U.S., Europe, and Russia, this year the business was expanded into the Asia Pacific region with Thaicom Public Company Limited (Thaicom), a leading satellite communications provider, now supporting in-flight services to airlines in Thailand and Southeast Asia.
One of our strategic objectives over the past few years has been to offer our customers the same technology platform all over the world, whether the operation is over Ka-, Ku- or C-band satellites. This means that the ground system control and management infrastructure and customer terminals are based on the same core technology building blocks, offering significant R&D advantages and efficiencies and the ability to converge legacy platforms and new applications. Witness our JUPITER™ high-throughput technology. Employing a novel System on a Chip (SoC) and numerous other advancements—including an enhanced air interface and wideband carriers that can transmit over 1Gbps—JUPITER's modular design is the ideal, future-proof platform for operators to gain technology and cost advantages on today's conventional satellites and be well positioned for migration to next-generation High Throughput Satellites (HTS).
In addition to powering our HughesNet service in North America, the JUPITER platform has now been selected by operators in Latin America, Russia, Canada, Mexico, Malaysia, and the Middle East. This year, we captured some exciting new projects. For example, in Russia, we signed contracts to supply the gateway infrastructure for the RSCC AM5 Ka-band satellite. This is a first-of-its-kind network, delivering affordable satellite broadband services for the eastern part of Russia, and puts us in good position for future planned expansions across the entire country.
In Turkey, we recently were awarded a contract by Turksat for a JUPITER ground system to operate over that country's new Ka-band satellite. We also won a contract in Mexico to deploy a JUPITER system in Ku-band to provide broadband connectivity for more than 5,000 schools and community centers.
Clearly, the industry is recognizing the value in our strategy—I'm delighted to report that we were awarded the 2014 Technology Innovation of the Year at VSAT 2014 for the JUPITER System.
Looking ahead, we are on track for the launch in the first half of 2016 of our next-generation HTS, JUPITER 2/EchoStar XIX. With more than 150Gbps throughput, this new Ka-band satellite will have 50 percent greater capacity than JUPITER 1/EchoStar XVII. Building on the success of EchoStar XVII, the new satellite is being designed with an advanced architecture possessing more than 120 spot beams, powering expansion of high-quality HughesNet Gen4 Internet services across the U.S. and major parts of Canada and Central America.
Xplornet Communications, Canada's largest rural broadband provider, has committed to a lifetime lease for all of the Canadian satellite broadband capacity on JUPITER 2/EchoStar XIX, including the gateways necessary to support the service.
All in all, 2014 validated why I am extremely bullish about the continued growth of all our business segments, as our continuing investments in new technology and services yield ever higher speeds, lower cost per bit and more applications and benefits for our customers.
Leadership in both technology and service delivery sets Hughes apart and is the key to our success—this is how I see the future.
---
By Mary Cotton, Chief Executive Officer
This year was an important and transitional year for the satellite communications industry. The growth of High Throughput Satellite (HTS) continued to dominate the headlines, especially with the growing number of HTS satellites being launched, and the pace set to quicken in 2015 and 2016.

While HTS signals a new era for the industry, preparing enterprise markets for the impact of this technology is a longer-term venture that comes with a unique set of challenges. HTS changes how we design networks, how we offer services and how we manage operations. In addition, HTS impacts the value chain. New service delivery models are emerging today, from managed services to new forms of infrastructure sharing. While this leads to more complex operations, HTS also represents new choices regarding how to go to market with greater ease, speed, and lower risk.
Adapting to HTS is a process of transformation that will take years of hard work and collaboration. Although there's widespread buzz about our industry's future, we must understand the breadth of opportunity before us right now.
This year we saw continued growth within key emerging satellite markets, as well as increased demand for high bandwidth networks in many of our traditional markets.
One of the highlights was the growth of cellular backhaul. We're seeing several positive developments occur at the same time. The price of mobile devices has been dropping, even to the point where there are affordable options available in developing nations. Small cell devices are emerging as a cost-effective alternative to macro cells, which will enable mobile operators to dramatically lower the cost of infrastructure expansion. And HTS promises to lower satellite capacity costs.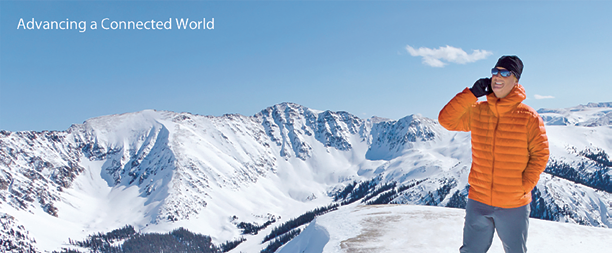 These are promising developments as an explosion of mobile growth is expected worldwide. Ericsson is projecting another 2.4 billion mobile subscribers by 2019. Many of these will come from emerging markets, and satellite backhaul is the linchpin. According to Euroconsult, the number of sites leveraging satellite backhaul between 2007 and 2012 reached 16,000 and satellite bandwidth for cellular backhaul in developing economies could grow at a compound annual growth rate of 7 percent by 2023.
Amidst these trends, TDMA is overtaking SCPC as the satellite technology of choice and is proving to be the most cost-effective model to support widespread populations that vary considerably in bandwidth usage. According to COMSYS, TDMA now serves twice as many sites than SCPC, and the use of iDirect technology has grown twice as fast as the overall industry. This means our partners are well-positioned to capitalize on this market growth.
Another major growth area is mobility. Today, the airline industry is embracing VSAT en-masse to support in-flight connectivity. Passengers want the same levels of connectivity in the sky that they enjoy on the ground. Airlines are leveraging onboard connectivity for live television, video streaming and other premium content to improve the passenger experience and strengthen customer loyalty.
Airlines are also discovering the value of VSAT to improve operational productivity. With greater access to real-time data, airline crews can make better decisions regarding the safety and operations of the airplane. They can resolve mechanical issues faster to increase turnaround times and can raise the overall level of customer service.
Euroconsult projects that the number of connected commercial aircraft will rise from 3,000 to more than 13,000 over the next 10 years. NSR projects that satellite service revenues will reach $3.4 billion in the same time period.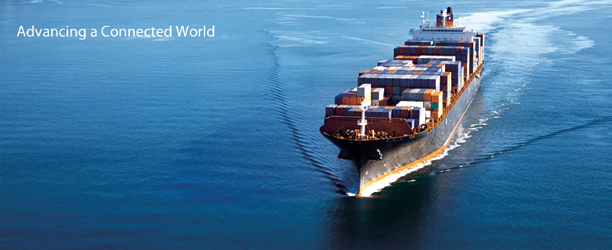 A similar story is playing out on cruise ships, as passengers want to connect across multiple devices, and crew discover the value in onboard connectivity to run more productive operations. We have seen several major cruise lines upgrade their fleets with higher performance VSAT systems, responding to these surging bandwidth demands.
Growth is accelerating in the shipping industry, as well. HTS enables vessel operators to support higher bandwidth applications. As a result, operators and service providers are targeting the maritime market with new solutions. In fact, NSR projects that of the nearly 50,000 VSAT-connected vessels in the waters by 2023, 33 percent will be on an HTS network.
One of our oldest and most critical markets is government and defense, and while 2014 was a challenging year for the U.S. market with budget set backs and troop withdrawals, we still saw overall demand increasing, especially on a global basis. Foreign militaries are adopting VSAT to increase real-time intelligence gathering, provide situational awareness to warfighters in the field, and strengthen overall mission coordination. They are investing in VSAT to expand recreation and welfare services for troops deployed far from home. According to NSR, military VSAT services worldwide will reach $10 billion by 2021.
As we look a bit further out, perhaps the biggest VSAT opportunity is tied to the emergence of the converged, end-to-end telecom network. Looking ahead to the year 2020, demands on the network look to be enormous, with Cisco projecting that there will be nearly 4 billion people and 50 billion machines connected to the Internet. Connectivity is rapidly transitioning from a network that is fixed to one that is highly mobile. Cisco projects that overall mobile data traffic will increase 11-fold at a rate of 61 percent over the next six years!
We're rapidly moving toward a day when telecom operators must deliver seamless IP connectivity to every person, place and organization on the planet. That simply can't happen without VSAT being integrated into the end-to-end network as a core access technology.
At iDirect, we believe that this presents a crucial growth opportunity for our industry. The market for satellite IP connectivity will expand across the telecommunications landscape and create new growth opportunities for satellite operators and service providers.
HTS is a crucial part of this equation as it creates an opportunity to improve satellite economics and ease of use. However, this will simply be conjecture if we don't first understand the extent of the transition we need to go through and work as hard as ever on solving the kinds of technical and business challenges we've always embraced.
At iDirect, we are committed to developing the capabilities required to tackle the most significant HTS challenges by working with satellite operators and service providers. We are looking at the diverse technical architectures, as well as working to understand and support the various new business models that are arising. We're focused on higher speeds, lower costs and specialized capabilities for the most promising vertical markets.
As everyone in the satellite industry works through the incredibly important and long-term transition related to HTS and the bigger opportunity ahead, 2014 highlighted an important lesson for today. As an industry, we need to increase our individual commitment to innovation, while collaborating in new ways to build a brighter future. That will take creativity, ingenuity and most importantly, it will take time. Our promise is to support our partners through this transition, while keeping them in the best position to deliver the high value services that the market demands today.
Mary Cotton joined iDirect in September 2007, bringing more than 18 years of technology leadership creating and driving successful growth strategies in CEO, COO and CFO roles.
Prior to iDirect, Ms. Cotton served as Senior Vice President with SAP Industry Solutions, the world's largest business application software company. She joined SAP in 2005 after managing the acquisition and sale of Frictionless Commerce, a provider of supplier relationship management software, where she served as Chief Executive Officer. Prior to SAP, Ms. Cotton held several top management positions including Chief Operating Office and Chief Financial Officer at Aspen Technology Inc., a provider of software and services that help companies improve their manufacturing processes. There she executed an aggressive growth strategy that took AspenTech from a $6M private company to a $330M publicly traded international solutions provider. Ms. Cotton holds a Bachelor of Science degree from Boston College.
---