Boeing's GPS IIF-9 Confirms Its On Orbit Health
Boeing Global Positioning System (GPS) IIF satellites are steadily replenishing the orbiting constellation, continuing to improve reliability and accuracy for users around the world.

The ninth GPS IIF reached orbit about three hours, 20 minutes after launching aboard a United Launch Alliance (ULA) Delta IV rocket from Cape Canaveral Air Force Station, Florida, and sent signals confirming its health.
"Boeing, ULA and the Air Force successfully launched four GPS IIFs last year, the highest operations tempo in over 20 years, and today's mission marks the first of three launches planned in 2015," said Dan Hart, vice president, Boeing Government Space Systems.
"As they enter service, the IIFs are advancing and modernizing the GPS constellation by improving accuracy, signal strength and anti-jamming capability. We are also introducing the L-5 civilian 'safety-of-life' signal intended mainly for aviation and transportation," he added.
The GPS IIF-9, designated as SVN-71, will undergo on-orbit testing and checkout before beginning full operation.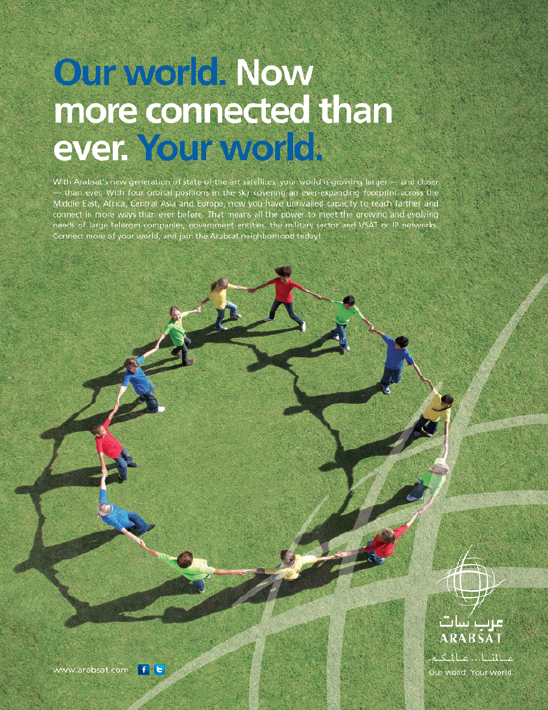 Boeing has served as a prime contractor on GPS since the program's inception, contributing multiple generations of GPS satellites and accruing more than 525 years of on-orbit operation.
Boeing's GPS IIF infosite: www.boeing.com/boeing/defense-space/space/gps/index.page
---
World Teleport Association (WTA) Announces 2015 Teleport Awards For Excellence
The World Teleport Association has revealed the winners of the 20th annual Teleport Awards for Excellence during an exclusive luncheon in DC.

The awards are presented each year to organizations and individuals in the teleport industry whose achievements have been deemed exceptional by the international trade association and its awards committees, made up of industry members from across the globe.
The 2015 recipients are:
• Independent Teleport Operator of the Year: Onlime. Onlime brings together the solid technical expertise of CET Teleport in Germany with the extensive developing world experience of the Limeline Group to lead the way in high-quality, secure and reliable business communications for enterprise customers across the globe. The teleport, operational since 1987, provides access to over 200 geostationary satellites. Its extensive coverage across Europe, Africa, the Middle East, Central Asia through the Caribbean and South America is supplemented by dedicated access to a growing network of international fiber cables.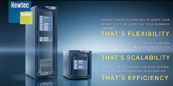 • Teleport Technology of the Year: Newtec Dialog® with Mx-DMA™. The Newtec Dialog® platform is a scalable and flexible multiservice satellite communications platform that allows satellite service providers to build and adapt their network easily as their business grows. Its advantages include supporting a wide range of applications and services on a single platform, 15 percent efficiency improvement with Newtec's Clean Channel technology, 50 percent bandwidth saving with Newtec Mx-DMA return link technology, and more.
The winners were selected by an independent committee of industry experts based on nominations submitted during the first quarter of 2015.

In addition to the above honorees, WTA presented the previously announced Teleport Executive of the Year Award to Jorge Luis Villarreal Schutz, CEO of Elara Comunicaciones.
Head over to www.worldteleport.org/news/217404/WTA-Names-Elaras-Jorge-Luis-Villarreal-Schutz-2015-Teleport-Executive-of-the-Year.htm to read more about the 2015 Teleport Executive of the Year.
The 2015 Luncheon and Awards Ceremony, sponsored by SES, hosted many of the world's leading teleport operators and previous winners of WTA's Teleport Awards for Excellence.
Keith Buckley, President and CEO of ASC Signal, delivered the champagne toast to past recipients and presented the Teleport Technology of the Year award to Newtec.
NewSat provided attendees of the DC event with a guest gift. WTA's Director of Development Louis Zacharilla was the emcee of the event, and was joined by WTA's Chairman M. Brett Belinsky and Mark Rathert, General Manager, Ground Operations for SES to announce Onlime as the winner of the Independent Teleport of the Year.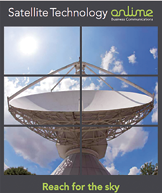 Commenting on the 2015 Awards, Zacharilla said, "WTA is proud to honor Onlime, Newtec, and Jorge Luis Villarreal Schutz at the 20th annual Teleport Awards. As have the winners in each of the previous nineteen years that WTA has presented these awards, those honored today represent an admirable level of excellence we aim to achieve in an industry that continues to, year after year, achieve excellence globally."
Since 1985, the World Teleport Association has focused on improving the business of satellite communications from the ground up.
At the core of its membership are the world's most innovative operators of teleports, from independents to multinationals, niche service providers to global carriers.
WTA is dedicated to advocating for the interests of teleport operators in the global telecommunications market and promoting excellence in teleport business practice, technology and operations.
The WTA infosite: www.worldteleport.org/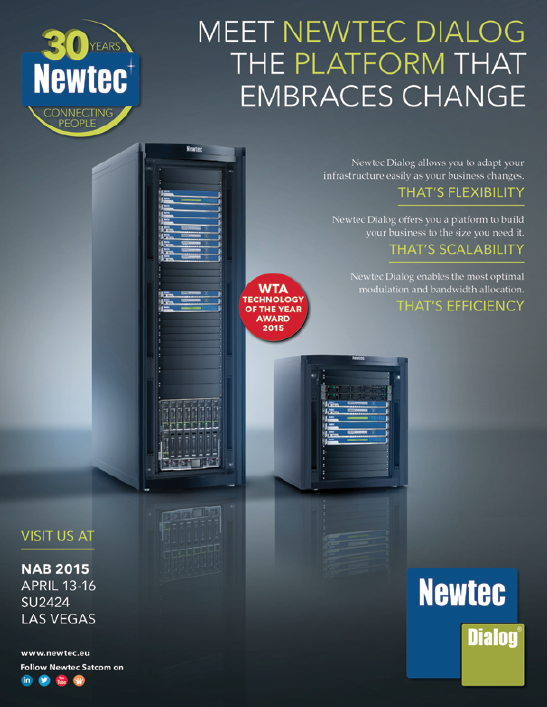 ---
Avanti Supports Pan-African Aviation Project
Avanti Communications has been appointed by the UK Space Agency to deliver a crucial air navigation project in Africa, SBAS-AFRICA, powered by satellite technology.
The contract has been awarded under the agency's International Partnership Space Program (IPSP), which exists to open up opportunities for the UK space sector to share expertise in real-world satellite technology and services overseas.
Africa has just 3 percent of global air traffic, and yet air accidents in Africa account for roughly 20 percent of the worldwide total. By demonstrating potential improvements in flight safety via SBAS technologies, the project can provide socio-economic benefits to the continent.
Based on prior cost-benefit modelling[3] which identified a 1.7 billion euros potential economic benefit to the African aviation sector from the deployment of SBAS services, SBAS-AFRICA will help accelerate the adoption of GNSS-based flight operations, positively influence the evolution of aviation safety in Africa and encourage development in the wider African economy.
SBAS-AFRICA will deliver a satellite based augmentation system for GNSS-based operations in the aviation sector, serving significant parts of Africa in partnership with a number of local stakeholders.[4] The project will use a unique asset, Avanti's ARTEMIS L1 Navigation transponder, to provide a navigation data broadcast service.
Matthew O'Connor, Chief Operating Officer at Avanti Communications, said, "SBAS-AFRICA brings an innovative and pragmatic approach to deploying SBAS services in Africa. It establishes crucial collaboration between the UK and a number of African countries, including South Africa and Ghana. Participating countries will benefit hugely from expertise gained, placing them at the forefront of navigation services across the continent and, crucially, helping to improve aviation safety for a major generator of economic benefit in Africa. The Artemis satellite will play an integral role in this project. We expect that such a showcase for its performance, accuracy and quality will provide further evidence of what can be achieved with this technology and lead to significant commercial opportunities."
Dr. David Parker, Chief Executive of the UK Space Agency, said, "The UK Space Agency is delighted to play a role in fostering new international partnerships that not only enable innovative UK space companies like Avanti to provide more high-tech exports that can boost our space sector but also allow the UK to widely share the considerable social and economic benefits that space technology and infrastructure can provide."
Avanti Communications: www.avantiplc.com/
UK Space Agency: www.gov.uk/government/organisations/uk-space-agency
---
Moving On Up @ SSPI's Board Of Directors—Stott To Chair, McGuirk To President
The Society of Satellite Professionals International (SSPI) has announced the appointment of Chris Stott, Chairman & CEO of ManSat, as the new Chairman, and Bryan McGuirk, COO of ViviSat, as President of its Board of Directors—their one-year terms started on March 19.

SSPI also announced the election by the membership of two new directors. David Kagan, President, ITC Global, and Carmen González-Sanfeliu, Regional Vice President, Latin America & Caribbean, Intelsat. They were elected to serve three-year terms beginning March 19.
Ms. González is filling the seat vacated by Dianne VanBeber, Vice President of Investor Relations and Communications for Intelsat, who stepped down at the end of her second term. She has served SSPI as President and Chairman of the Board for the past two years and oversaw a significant expansion of the Society's programs.
SSPI's Board of Directors represents a cross-section of the commercial satellite business, from manufacturing to launch to services. Continuing their service on the Board are:
• Dawn Harms, Vice President of Business Development, Boeing Space Systems International (Treasurer)
• Tony Rayner, Chief Operating Officer, Eutelsat America (Secretary)
• Michael Aloisi, Vice President, Distribution Technology, Satellite & Affiliate Services, Viacom Media Networks
• Christine Erhenbard, Director, Broadcast Distribution, CBS
• Ed Giovannini, Vice President, Sales, CBL RNAM, Ericsson
• Erwin Hudson, Program Manager, ViaSat
• David Myers, President & CEO, Datapath
• Dave Rehbehn, Senior Marketing Director, Hughes Network Systems
• Thomas Van den Driessche, Chief Commercial Officer, Newtec
• Bill Weller, Vice President, Marketing & Sales, Space Systems/Loral
• Alan Young, Chief Technology Officer, Encompass Digital Media
• Elias Zaccack, Senior Vice-President, Commercial, Americas, SES
Effective with the March 19 Board meeting, SSPI also appointed as its General Council the respected industry attorney John Hane of Pillsbury Winthrop Shaw Pittman. He is taking the place of SSPI's longtime General Counsel, Bruce Jacobs, who now serves as Chief, Spectrum Enforcement Division with the Federal Communications Commission.
More about Chris Stott
Chris Stott has been a member of SSPI for more than 20 years, a Board member for the past five years and also serves as Chairman of the organization's Isle of Man chapter. Chris was one of the forerunners of the Isle of Man's space industry, setting up ManSat in 1998. Since 2000, the company has carried out satellite filings for the Island under a contract with the Isle of Man Government's Communications Commission. He is a longtime supporter of space and STEM education and serves on the Boards of organizations including the International Space University, Challenger Foundation, Conrad Foundation, the United Space School and the International Institute of Space Commerce. He serves in addition as Co-Chair of the Manna Energy Foundation and Geeks Without Frontiers, and on the faculties of the International Space University and Singularity University.
More about Bryan McGuirk
As Chief Operating Officer of ViviSat, Bryan McGuirk leads the commercialization of the company's pioneering satellite life extension services. Before joining ViviSat, Bryan served in various management roles at SES. Hired in 2003 as Senior Vice President, he led the sales and marketing of its 16 US satellites to the Media and Enterprise sectors. He became President of the Media and Enterprise divisions of SES Americom in 2005, and served on the Board of SES Americom from 2009 to 2010. During 2010, Bryan also served as Senior Vice President of newly formed SES WorldSkies, managing teams in Princeton, NJ and the Hague, Netherlands. Prior to his satellite career, Bryan worked in management distribution positions for Open TV, NBC and Turner Broadcasting.
More about David Kagan
David Kagan was appointed as President of ITC Global in August 2014. Prior to joining the company, David built a reputation as an operationally savvy executive, enabling fast growing companies to provide exceptional customer service. Most recently, Mr. Kagan served as President and CEO of Globe Wireless, where he drove substantial growth, efficiencies and profitability improvements through an operational infrastructure that supported over 6,000 ships and vessels worldwide. The company was sold to industry leader Inmarsat in January 2014. Prior to Globe Wireless, Mr. Kagan spent 12 years as President and CEO of MTN, a leading provider of satellite communications to the cruise, oil and gas, super yacht, and military markets, which he joined after 10 years in management with Norwegian Cruise Line.
More about Carmen González-Sanfeliu
Carmen González has over 25 years experience in the satellite industry and is responsible for INTELSAT's sales activities
in Latin America and the Caribbean. As Vice President of the region, she leads a sales force with offices located in Miami, Brazil and Mexico that contribute over $500 million in revenues. The customer base extends to broadcasters, carriers, multinationals and government agencies. Born in Venezuela, González's education includes an MBA magna cum laude from George Washington University and a BA from Georgetown University along with Independent Marketing Studies at Oxford University.
More about John Hane
John Hane is a partner in the Pillsbury Winthrop Shaw Pittman's Communications practice and is located in the Washington, DC office. He concentrates on transactions, spectrum licensing and special projects in electronic media, satellite and wireless communications. He writes and speaks often on broadcast, spectrum and technology issues, and is frequently quoted in communications and technology industry trade press on matters ranging from spectrum allocations to television program carriage. Mr. Hane has been quoted in The Wall Street Journal, the Los Angeles Times, The Washington Post, and other leading newspapers.
The Society of Satellite Professionals International (www.sspi.org) promotes the growth of the satellite by educating current and potential end-users and the general public about the indispensable contributions of satellites to business, government and human welfare, and by connecting satellite professionals worldwide through education, knowledge-sharing and fostering professional relationships. Publisher of the only international study of the satellite workforce, SSPI also leads a consortium of industry associations and organizations to promote the ways satellites make a better world. More information on the Better Satellite World campaign is available at... www.bettersatelliteworld.com/
---
OHB Builds 'Em So They Can Fly Away... Galileo Success
"Adam" and "Anastasia", the two Galileo FOC* satellites number three and four developed and built by OHB System AG, hav een successfully launched on board a Soyuz rocket, which lifted off from the Kourou space center in French-Guyana on Friday, March 27.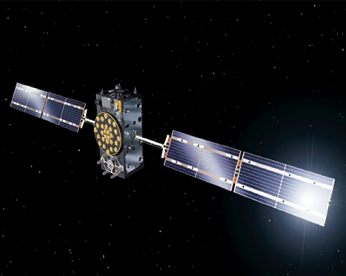 They reached their planned orbit at an altitude of around 23,000 kilometers just under four hours later, shortly after they sent their first "sign of life" to the French Space Control Center of CNES in Toulouse. Over the next few days, the two satellites will be undergoing preliminary function testing.
Observing the launch live from Bremen, Marco R. Fuchs, CEO of OHB SE, said, "This was a very emotional moment for all of us who eagerly watched the launch and the activities of the next few hours in Bremen, Toulouse, Kourou and everywhere around the world. I am thrilled to have learned that both satellites have reached their target orbit. My thanks go out to the entire Galileo team for a job well done."
Dr. Ingo Engeln, a member of OHB System AG's Management Board, was present during the launch in Kourou, "The moment in which the launcher lifts off is an indescribable feeling. But with our responsibility for the satellites, the tension did not ease until a few hours after the launch when we knew that the satellites are functional in orbit."
Aliac Jojaghaian, head of the OHB team in charge of the early operation phase at the CNES control center in Toulouse was very satisfied, "We are all very grateful that the launch was completed without a hitch this time. Both satellites are in the right orbit, they have the correct alignment, the solar panels have unfolded properly and we have contact with Adam and Anastasia."
The Galileo control center in Oberpfaffenhofen will be assuming responsibility for Anastacia on April 5, 2015 and for Adam on April 6, 2015 on behalf of ESA and the European Commission. Later, the ground station in Fucino takes over the commissioning of the payload. They will be followed by a further 18 Galileo FOC navigation satellites for which OHB is also the responsible industrial prime contractor.
The first Galileo FOC satellite named Doresa reached its corrected orbit at the end of November 2014. Both the navigation payload and the search and rescue service payload underwent intensive testing in the following weeks, since passing all tests successfully.
The second Galileo FOC satellite has also reached its corrected orbit where the navigation payload can be tested. This involved the gradual lifting of the satellite over a distance of 3,500 km combined with a transition to a more circular orbit for the satellite. This operation commenced in mid-January and was successfully completed six weeks later after a total of 14 individual maneuvers.
The second FOC satellite Milena is currently undergoing the same payload testing as the first one and has so far successfully passed all tests.
The fifth Galileo FOC has already completed all function, performance and environmental impact testing, while number six has passed all function and performance tests and is scheduled for environmental impact testing over the next few weeks.
OHB in Bremen is currently working in parallel on the assembly of the Galileo FOC satellites at a total of seven production islands.
*The FOC (full operational capability) phase of the Galileo program is being funded and executed by the European Union. The European Commission and the European Space Agency ESA have signed a contract under which ESA acts as the development and sourcing agency on behalf of the Commission.
OHB Systems: https://www.ohb-system.de/
---
TS2 Satellite Brings Services To Iraq, Syria + Armenia
TS2 Satellite recently launched new KA-SAT satellite services using the HYLAS 2 spacecraft, providing high-speed data services to Iraq, Syria and Armenia.
The HYLAS 2 satellite carries 24 active Ka-band user beams and six gateway beams. The Ka-band spot beams are providing two-way communications services to facilitate high-speed delivery of data to end-user applications such as corporate networking, broadband Internet access, business continuity services and video distribution.
The new Ka-band service is based on the field-tested and proven technology provided by iDirect. Ka-band service requires smaller antennas, reducing the equipment and transportation costs and making for an easier installation.
Marcin Frackiewicz, CEO and founder at TS2 Satellite, said, "Our new service to Iraq, Syria and Armenia allows for downlink speeds up to 20Mbps, five times the previous maximum, using a smaller antenna. Higher performance is gained at a much lower cost, which allows up to four times higher connection speed at the same cost, if compared to previous Ku-band service, without compromising connection reliability and stability."
TS2 Satellite: www.ts2.pl/
---