---
Benchmark Space Systems had an amazing year that was loaded with significant milestones, tremendous growth plus exciting innovations.

Propulsion Foresight + Global Expansion
Ryan McDevitt, Co-Founder and Chief Executive Officer
The company has continued to build the world-class manufacturing and test facilities at the firm's headquarters located in Burlington, Vermont. We have also grown our pre-development testing at our Silicon Valley office. This year Benchmark went global — in May, the firm announced plans to expand into the UK space market.
To support this UK expansion, we built out a team to produce our flight-proven Halcyon propulsion systems at our new manufacturing and technology center, just six months after contracting with Catapult to establish operations at the Westcott Innovation Centre northwest of London.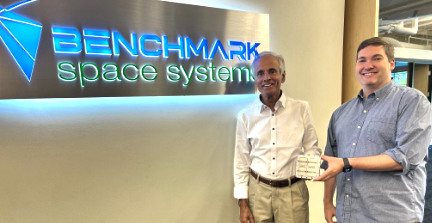 Benchmark Ryan McDevitt (r) and AASC President
Mahadevan Krishnan with Benchmark's Xantus
Metal Plasma Thruster
Benchmark's UK operation allows us to be an integral part of the exciting European space market — sharing our expertise with customers in the UK, Europe, and the US.
Some of our first products in the UK are being tailored to enable Space Forge to return the products the company will manufacture in space back to Earth via satellites powered by Benchmark propulsion.
The space industry has recognized the benefits of our propulsion products and has responded with a backlog of orders for more than 250 shipsets.
To meet this demand, in 2022 Benchmark nearly tripled the size of the global team as we increase production capacity to build more than a thousand engines during the next five years.
The company also announced key executive team hirings as we gear up for another year of exciting missions, continued growth and partnerships aimed at driving the success and sustainability of the space economy.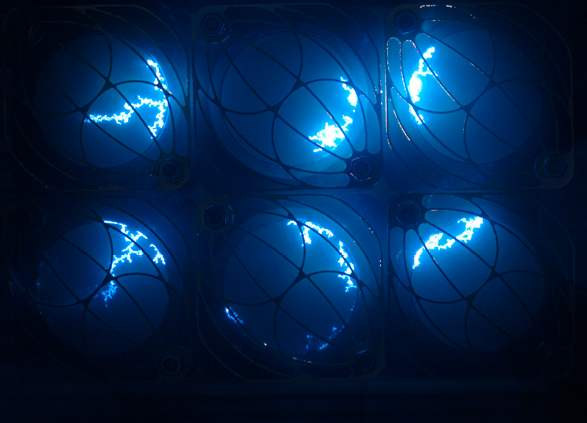 AASC MPT pucks light up the lab with thousands
of pulses per second during electric propulsion
tests earlier this year
Part of what is driving our optimism for the future is our belief in the importance of the hybrid propulsion space. In 2022, we acquired breakthrough Metal Plasma Thruster (MPT) electric propulsion technology developed by AASC (Alameda Applied Sciences Corporation) that has clear benefits in the millinewton thrust class.
Our MPTs light up like miniature lightning bolts as they deliver bursts of precision thrust to meet a broad range of applications aboard a wide range of spacecraft.
Whether as a single unit or assembled into clusters, this exciting new entry into the Electric Propulsion market will help enable new missions.
Benchmark Ryan McDevitt (r) and AASC President Mahadevan Krishnan with Benchmark's Xantus Metal Plasma Thruster AASC MPT pucks light up the lab with thousands of pulses per second during electric propulsion tests earlier this year
The MPT technology, and the Xantus Propulsion System (pictured upper right) product that it enables, is already an important new capability for satellite operators.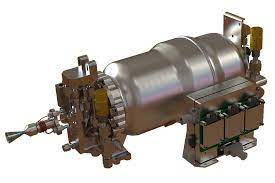 When combined with our Halcyon chemical propulsion systems, operators will no longer have to choose between speed and endurance.
We also unveiled our new Collision Avoidance (COLA) Kit, (pictured below left) that features our heritage chemical propulsion technology in a small form factor that is easily and affordably deployed aboard electric propulsion- powered and non-propulsive smallsats and ESPA spacecraft.
The kit will help operators avoid traffic conjunctions and orbital debris in pursuit of a safe and sustainable LEO ecosystem.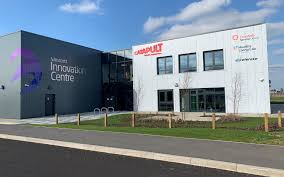 We're exploring strategic partnerships with a number of companies for this traffic management solution and additional hybrid configurations that are optimized for microsat and ESPA satellite classes.
Throughout all this growth and development, Benchmark Space Systems remains committed to our mission to enable sustainable and accessible space.
During 2023, look for Benchmark Space Systems to continue to build on our momentum with announcements of new strategic partnerships designed to support key commercial and government missions.
We will also unveil new programs aimed at keeping the space economy safe and viable for future generations.
www.benchmarkspacesystems.com
---

Bridge Technologies notes well that IP is moving the frontier of the broadcast segments ever forward.

A Monitoring Perspective
Simen K, Frostad, Chairman
However, as it pushes boundaries for market leaders, it opens up space for the rest of the market to move into previously occupied territory.
In broadcast, we see satellite occupying both progressive and middle-ground spaces; complimenting IP in places where the infrastructure is underdeveloped, but also opening-up to developing markets as they improve their linear offerings.
From a monitoring perspective — which is Bridge Technologies' raison d'être — last year saw consolidation of services as a really important activity in developing markets.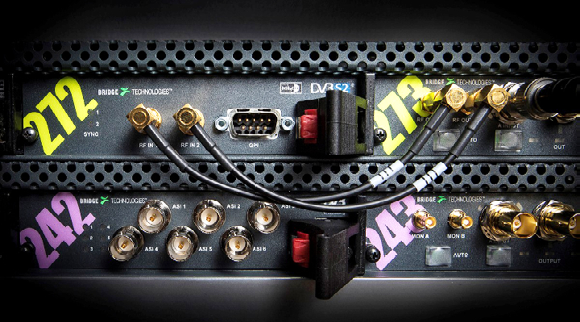 With this consolidation came the need to engage in detailed ingress monitoring in order to bring together a disparate range of Direct-to-Home (DTH) services and sources subject to their own peculiar quirks, and then embody them in a single platform with consistent, technologically progressive transmission standards and compression technologies.
Doing this well, and without error, required intuitive insight into the way data is behaving across the chain — which is exactly what Bridge Technologies provided.
In the South Eastern European market specifically, this meant moving from a situation where there were multiple satellite operators operating across an array of multi-orbital positions, broadcasting a varied range of compression types to disparate receiving antennas, to a situation where there will be one single orbital position, one form of uplink, and a standardized system of set-top access.
As a result of this move, last year saw a significant shipment of our satellite specific monitoring probe — the VB272 — to broadcasters covering various parts of the Balkans.
The VB272 input card offers monitoring and analysis of QPSK/8/16/32APSK signals found in DVB-S/S2 satellite transponders.
A chassis can be equipped with a VB120 or VB220 probe controller and up to two VB272 input cards under its control.
A complete configuration with a fully licensed VB120 and two VB272 interface cards provides real-time monitoring and alarming for as many as four DVB-S/S2 RF inputs, 10 IP MPTS/SPTS multicasts (upgradable to 50 streams) and one ASI TS input and output. Full ETSI TR 101 290 analysis is performed on all DVB-S/S2 inputs, the ASI input and the IP input in parallel.
Bridge Technologies invites readers to learn more about the firm's advanced systems for ensuring high-quality, profitable, digital media service delivery in satellite, production, broadcast, cable, terrestrial, OT T and telecoms applications.
bridgetech.tv
---
Over the past year, the theme for Calian, Advanced Technologies has been innovation. That theme runs throughout the sophisticated satellite communication systems, products and services they provide.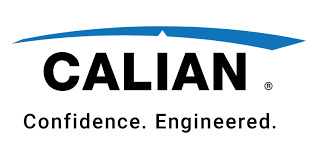 Insistence on Innovation​
Calian communications team​

Calian, Advanced Technologies' space business provides ground-based products, services and solutions.
Their focus is on providing space communications infrastructure supporting space exploration, commercial communications, emergency infrastructure, defence applications and precise timing and location. The company continues to invest in space, adding innovative hardware and software product offerings through their acquisitions, research and development.
One of the key strengths of Calian, Advanced Technologies is their ability to offer a full spectrum of capabilities through their highly integrated engineering and manufacturing capabilities. Built to support the type of work they do and the growth strategy of the organization, their main office is a beacon of high technology in the Canadian prairies and located in Saskatoon, Saskatchewan.
The company is supported by their other locations in Canada in Kanata and Vaudreuil-Dorion, and in Steisslingen, Germany. Together, they take on the tough challenges of their global customers, providing a full range of software and hardware solutions to meet their ground infrastructure needs.
Here are a few of the company's innovative projects worked on during the past year.
Communication Ground Systems + Services
Calian has communication ground systems engineering capabilities that span the integration of RF transmit and receive systems, antenna and tracking systems, capacity and payload management tools, modems, network and carrier monitor and control systems, plus cloud data management.
This broad range of skills enables Calian to deliver resources that help customers meet their network deployment requirements by providing a complete network solution. As customers pursue Ka-band and Q/V- band networks with higher capacities, Calian has demonstrated the skills and experience to face the challenges of super-broadband, high-frequency, high-reliability systems. Calian, with the continued support of their customers, deployed another 16 Earth stations in nine countries across four continents, including completion of the first commercial Q/V Earth station network deployment in the world.
10M Limited Motion Q/V/Ka-Band Antenna
The Calian ground communication systems group focused on customer satisfaction and project management from requirements definition through to the delivery of turnkey RF gateway solutions for L-, S-, X-, C-, Ku-, Ka-band, and the new Q- and V- bands.
4M Q/V LEO Antenna
In 2022, Calian, Advanced Technologies and Calian InterTronic worked together to design and fabricate a four-metre Q/V band LEO tracking antenna system. The antenna will be tested with a Q/V LEO satellite payload in early 2023, making it one of the only Q/V-band LEO tracking antennas to be tested on a live payload.
The Calian SatService GmbH team is based in Steisslingen, Germany. SatService GmbH provides multiple products and services for Satcom applications, including antenna control systems, tracking receivers, M&C software and L-band IF systems. In addition to turnkey ground station deployments, SatService GmbH also specializes in retrofitting existing antenna systems for customers with improved motion control systems and M&C software solutions.
The Calian InterTronic team is based in Vaudreuil-Dorion, Quebec, Canada. The company develops and manufactures advanced-, limited- and full-motion antenna systems for SATCOM (both LEO and GEO), radar, and radio telescope applications, providing a variety of pedestal, reflector and feed options. These products serve the science, intelligence, and communications industries across North America and the world.
Software-Defined Solutions The company's software-defined solutions division provides systems for satellite communications, capacity management and orchestration, network management solutions and performance monitoring. Over the past year, Calian Advanced Technologies has deployed a variety of satellite capacity and real-time management solutions around the world. Newly advanced highly flexible satellite payloads, along with complex and dynamic LEO constellations require advanced capacity planning and payload management tools.
Calian provides innovative real-time satellite resource management and capacity planning software solutions. These tools allow customers to efficiently plan and orchestrate the payload and the ground segment to direct satellite capacity to meet their geographical demands and changing business needs.
Satellite Capacity Management System
Satellite network operators are realizing the advantages of incorporating cloud computing and virtualization infrastructure in their networks, and they are looking to capitalize on the flexibility, scalability and configurability that these technologies provide. The centralized management platform is a prime example. It's a newly released product in the Calian network management solutions line that provides a highly extensible, scalable base upon which to configure and deploy a consolidated NOC NMS.
With the growth of the company's engineering pool over the past year, the Calian team has the agility and experience required to support the most complex needs of their customers and the satellite industry in general.
Satellite Communication Products
Calian Advanced Technologies' line of satellite communication products continues to provide their customers with innovative and high-performance units and systems used in satellite networks and integrated into their service offerings. These products also serve as the building blocks for the Calian satellite ground systems that they deliver directly to their customers.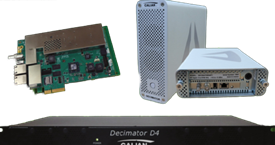 Decimator D4 Spectrum + Signal Analyzer
The Decimator D4 Spectrum and Signal Analyzer is the fourth-generation model of the Calian flagship product line, and its popularity continued in 2022, generating a solid demand for units into 2023. Decimator is popular for standalone operations in teleports and gateways, as well as for inclusion in satellite carrier monitoring systems from Calian and other vendors.
The Decimator D4 includes extensive built-in capabilities, plus advanced features for spectrum and signal analysis. The Spectator and Detector software add-ons provide an insightful graphical view into carriers monitored by the Decimator, identifying any issues before they manifest as a failure.
Calian satellite test and monitoring systems have continued to be widely adopted over the past year. The company has a variety of carrier monitoring options that provide cost- effective solutions to serve customers'needs, and they are field-proven to be reliable and comprehensive for satellite ground systems. Coupled with innovate uplink power control capability and their monitor and control systems, the Calian carrier monitoring system is an essential tool for always-on Ka-band and higher frequency Q/V-band gateways and TT&C systems
Calian On-Orbit Test (IOT) systems have become the de-facto standard for satellite operators and manufacturers to test communication satellite payloads after launch and during the lifetime of the satellite. This year, Calian modified their test system platform for in-factory test of payloads prior to integration with the space vehicle. Calian deployed multiple state-of-the-art IOT systems to several continents, where their team assisted in the testing of complex communication payloads to validate the payload operating characteristics after launch.
Calian product lines also include modulators and receivers for satellite transmission and reception. While their satellite modulator product line supports standard DVB-S/S2/S2X applications, they also specialize in developing custom and specialized products based on the latest technologies and architectural concepts.
The Calian multi-channel modulator and intelligent switching technologies offer an attractive and reliable way to reduce capital and operating expenses, while their low-data-rate SDTS modulator continues to have a significant presence in GNSS augmentation transmission for the satellite precise positioning market. Development is underway in several new and exciting product areas, with product announcements forthcoming in 2023.
2022 has been full of exciting and innovate projects for Calian, Advanced Technologies and they're looking forward to continued growth, challenges and opportunities in the year ahead.
www.calian.com/service-lines/
advanced-technologies/
---
Comtech removed the wraps from the company's next-gen Very Small Aperture Terminal (VSAT) platform Comtech ELEVATE™ earlier this year and the response was immediate and strong across a number of key verticals.

Elevating the VSAT Game
Next-Gen VSAT platform redefines
flexibility in connectivity
Vagan Shakhgildian, President
The all-inclusive and highly intelligent modular solution is capable of supporting small and large networks across any GEO, MEO or LEO satellite orbit.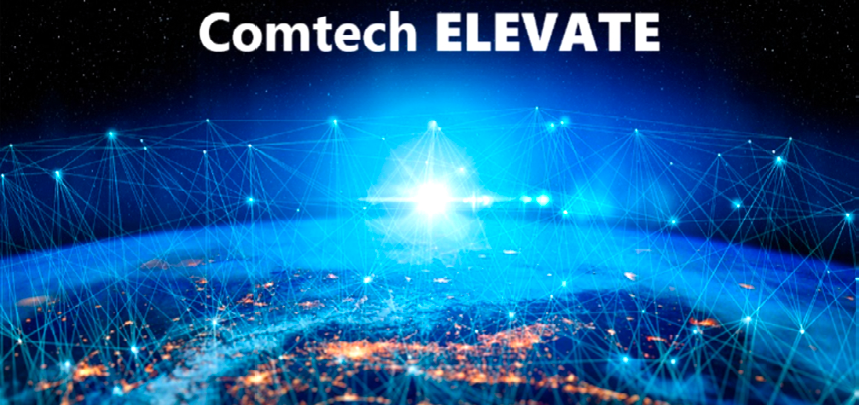 That's a game changer for a broad range of markets, from broadcast and government to mobility and enterprise, using a single ELEVATE platform.
Designed from the ground up, Comtech ELEVATE is a smart, software-defined, VSAT solution that brings together the best of Comtech's award-winning HEIGHTS™ Dynamic Network Access (H-DNA) and Comtech's revolutionary and industry-leading UHP MF-TDMA waveform flexibility and efficiency.
Comtech ELEVATE features a new D-RAM (Dynamic Return Access Mode) protocol with seamless switching between H-DNA and MF-TDMA waveforms, using the same pool of bandwidth and industry-leading data throughput in forward and return channels.
This breakthrough platform has unlimited potential for future development and can be deployed for every application imaginable, even those we haven't thought of yet.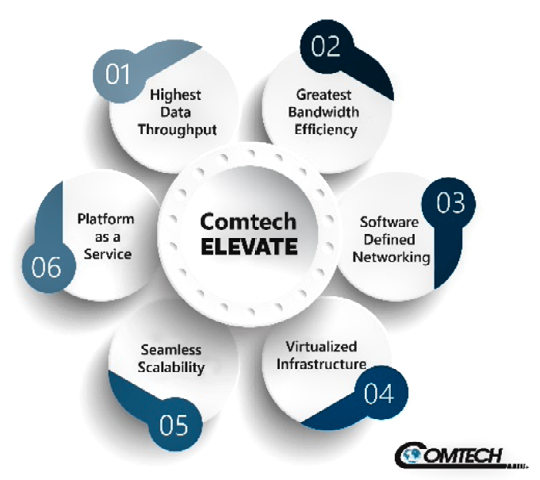 That unprecedented level of VSAT adaptability and flexibility has attracted interest from a full spectrum of service providers across the globe, who will be able to tailor and evolve their Comtech ELEVATE VSAT-delivered offerings for years to come.
Mission Critical Infrastructure Wins
Comtech has won a number of significant contracts for its Comtech ELEVATE offering in this inaugural year of the breakthrough platform, including a pair of big wins in Latin America and Asia.
A tier-one global service operator in Latin America is leveraging Comtech ELEVATE to provide 4G/LTE cellular backhaul connectivity to expand coverage across the region and improve the quality of service and experience for its cellular customers.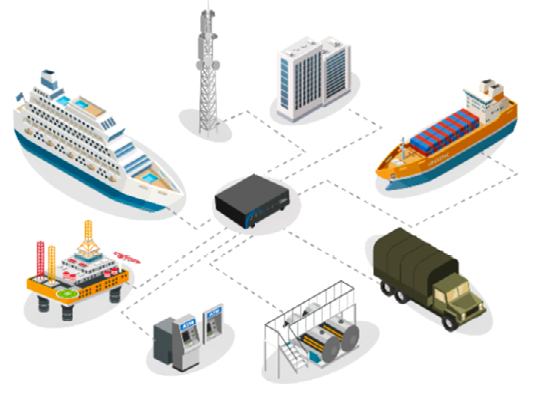 The Comtech solution features an ELEVATE hub, equipped with smart redundancy for highest reliability and operating across multiple beams of a software-defined Ka-band High Throughput Satellite (HTS) to connect hundreds of remote sites.
Comtech ELEVATE was selected among many competitive technologies for its high, spectrum efficiency, True Adaptive Coding and Modulation as well as many additional, advanced features.
A large provider of critical infrastructure services in Asia inked another major order for Comtech ELEVATE to connect as many as 600 remote sites for the delivery of highly demanding SCADA (Supervisory Control And Data Acquisition) and high- speed video applications.
It's quite the testimony to the unparalleled flexibility of the ELEVATE solution — Comtech and key partners designed the network to maximize network availability, employing two redundant hubs and using D-RAM along with other innovative architectural features — such as AES-256 encryption, X.509 authentication and spectrum spreading to ensure the robustness and security of the network.
2022 will be remembered as the year Comtech enabled customers to elevate their VSAT network adaptability and we look forward to empowering providers around the world in the months and years ahead.
www.comtech.com/comtech-elevate
---

2022 was an award-winning year and a year wherein EM Solutions consolidated their position as a globally recognized supplier of multi-band naval SATCOM systems.

A Year of Awards
Position consolidation
John Logan, Vice President of Programs
The company expanded the breadth of its one-meter multi-band maritime "
Cobra
" terminal installations across additional
R
o
y
al Australian Navy
vessels, including the
Enhanced Cape Class Patrol Boats
,
Frigates
and
LHD
ships
The company also commenced delivery and installation of the systems with naval customers in Europe and the Middle East.
EM Solutions is known as a "Company of Firsts" and 2022 didn't disappoint! The company made its first moves to become a full-service business with its contract with the Australian Commonwealth's Capability Acquisition and Sustainment Group (CASG).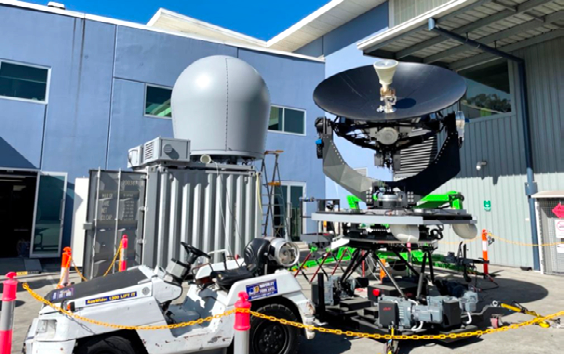 Factory Acceptance Testing of the King Cobra, dual two-meter X/Ka band maritime
The contract gives CASG the ability to purchase additional terminals as needed to meet requirements for new ship builds and for the provision of enhanced SATCOM capabilities to existing ships.
Another major first was the company's successful deployment of its first "King Cobra" (Fleet) two-meter, maritime terminal system with the Australian Navy as well as the delivery of the firm's first commercial systems to two European Navies.
This new EM Solutions terminal is unique — a full, mil-spec satellite terminal that simultaneously covers X- and the entire (commercial and military) Ka-band spectrum and will track LEO, MEO and GEO systems.
With features such as optical fiber interconnect between decks and complete built-in redundancy as an option, the King Cobra terminal will be an exciting new addition to the communications portfolio of many naval customers.
During the year, the EM Solutions team was recognized for their innovative work with three major Australian industry awards for Space (Manufacturer of the Year and Defence Business of the Year) and Defence (Export Business of the Year).
The company closes 2022 with a strong order book for naval maritime systems for delivery through 2023 and 2024.
www.emsolutions.com.au

John Logan is the VP of Programs at EM Solutions, a Brisbane, Australia-based technology developer of mobile satellite communications subsystems and terminals. John has over twenty years' industrial experience in the satellite telecommunications and electronics industry. John's role at EM Solutions is to project manage the satellite programs within Australia for the Australian Defence Force and assist international vendors who purchase the company's equipment to integrate with their systems.
---
This has been an action packed year at Exobotics — contracts have been sealed for lunar and Low Earth Orbit (LEO) missions, thereby developing the company's bespoke, smallsat product range and enabling the firm to get out and about to see fellow space innovators at various and important conferences and events.

Mission Agility
Nadeem Gabbani, Founder
Exobotics kicked off the year engineering a 12U cubesat platform as well as customer payloads, which included advanced propulsion and navigation systems, for the company's first lunar mission contract signed at the close of 2021.
The satellite will demonstrate simplified positioning and navigation capabilities for beyond LEO smallsats, as well as harboring blockchain related payloads.
In order to meet the demand, Exobotics opened new office space in Chiswick, London, which is now home to a brand- new engineering lab and cleanroom, alongside testing facilities.
The smallsat platform is due to be launched on the same rocket with the Intuitive Machine IM-1 rideshare that will be launched by SpaceX in 2023. — this will be among the first commercial lunar landers to land on the Moon since Apollo 17 in 1962.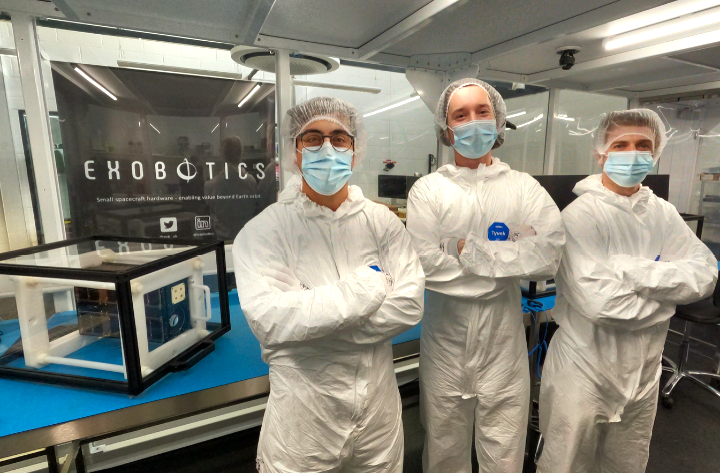 Two additional contracts were won for LEO missions. These contracts will provide two, 6U cubesat platforms and custom payloads for Earth Observation (EO).
Delivery of the EO platforms has accelerated the development of in-house sub-systems, including star trackers, solar panels, reaction wheels, electrical power systems, and imaging systems.
These projects have streamlined Exobotics' capability to oversee the entire production process, from concept to launch.
These contracts also encouraged the expansion of the firm's London labs, increasing the capacity to 2,000 square feet.
The positive contract news continued for Exobotics in 2022, winning a deal with advanced materials specialist GenMat for a hyperspectral imaging mission.
Exobotics constructed a 6U cubesat platform with an integrated hyperspectral imaging payload from Simera Sense that is capable of monitoring the natural environment for materials across the globe to reduce the costs of locating and extracting rare minerals, all the while limiting excavation environmental damage.
On the product front, sales of ground support equipment have are now worldwide, with customers in Europe, the United States, and Asia-Pacific.
The XO-VAC Desktop Thermal Vacuum (TVAC) Systems were particularly popular across the globe, offering a low- cost vacuum chamber for cubesats and small payloads to simulate the extreme environment of space.
This product improves the accessibility of testing, allowing for in-house simulations at a fraction of the cost of hiring full scale facilities.
Testing is a vital aspect of the process, with an estimated 40 percent of cubesat mission failures being attributed to a lack of ground testing, inspiring Exobotics' accessible testing range.
There were several tremendous events and meetups with the space industry in 2022, the pick of the events being the 73rd International Astronautical Congress 2022 (IAC) event held in Paris in September.
This year's conference, themed around making space accessible for everyone, welcomed 9,300 participants from 110 countries to celebrate the space sector.
This trade exhibition was a great opportunity to meet with fellow innovators, partners and customers to promote accessibility in the space industry, as Exobotics seeks to launch companies from outside the industry into space.
exobotics.space


Nadeem Gabbani
Nadeem Gabbani is the Founder, CEO and Principal Engineer for satellite company Exobotics, with eight years' experience in the space industry working across working across smallsat missions.
---