Regular readers will know we've kept a close eye on the fascinating Middle East market for years. We've watched the region explode in terms of the number of FTA channels being offered topping 500, and perhaps more importantly, the top dozen or so channels have significantly raised their broadcasting game. Content quality is now high, and this proves that competition raises everyone's game.
The region's three main pay-TV platforms have suffered at the strength of these FTA viewing options. If there are free sports channels, free movie channels, free documentary and kids channels, then one might validly ask why viewers need to pay for programming? And this seems to be the case.
Orbit
has long since dropped claiming its notorious "400,000 viewing points" nonsense, although the generally accepted position is that Orbit and
Showtime
's subscriber numbers (including wholesale connections via suppliers like
Du
and
E-Vision
) are no more than 200,000 for each operator — and perhaps much fewer.
The market leader in Mid-East pay TV is
Arab Radio & Television
(ART)
, the company founded by Sheikh
Salah Kamel
in the mid-1990's. ART might well have the top position in terms of subs numbers, but this is no guarantee that it is making meaningful profits. Not that profits need matter. Well-heeled investors, who seem staggeringly relaxed about losses that must, by now, be measured in the billions, fund all three operations. Everyone, including the pay-TV operators themselves, have each, at one time or another, agreed that consolidation would be the sensible route to follow — but until now, they have ignored their own advice.
The July 12th announced merger between Showtime and Orbit is undoubtedly good news for the operators themselves and viewers. The combined business will offer around 70 exclusive channels, and will, no doubt, start achieving the economies of scale that will help drive profitability.
Marc-Antoine d'Halluin
, currently running Showtime, is the new company's CEO. The announcement is of an "equal partnership" between Orbit, until now a wholly-owned subsidiary of the Saudi Arabia-based
Mawarid Group
, and
Showtime Arabia/Gulf-DTH
, which was owned by Kuwait's
KIPCO
and
Viacom
.
The merger of these two competing pay-TV platforms is partly aimed at addressing the fragmentation of the region's pay-TV sector, which has "not helped the consumer to make his mind up," according to
Samir Abdulhadi
, president and CEO of Orbit Group. A by-product is that the platforms are also likely to see "tens of millions of dollars" in synergies.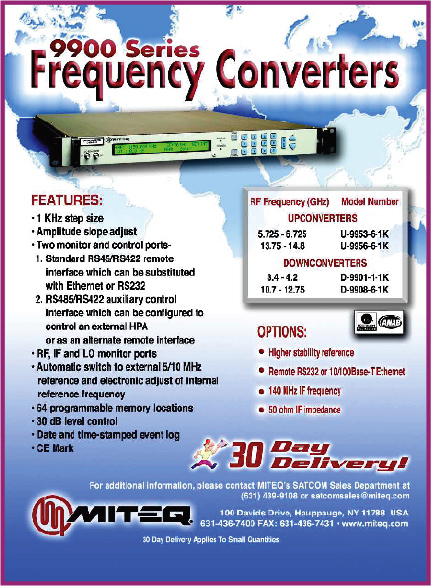 Orbit started transmitting in 1994 and was the first company in the world to use an MPEG-compliant digital system. Showtime went live in 1995. The new business will offer new packages to viewers on August 1 and will include HDTV in their offering. Formally, the deal will also close on or about August 1, according to the company's lawyers.
Inside Satellite TV
understands that Showtime Arabia and KIPCO bought out the small Viacom share in the business before the merger.
Commenting on the merger, Mr.
Faisal Al Ayyar
,
KIPCO
's Vice Chairman, said the merger was good news for customers, staff, and the industry: "This deal brings together two great brands into one company to offer customers the very best in Western and Arabic entertainment. "Showtime and Orbit were pioneers of the region's pay-TV market and we've both been calling for consolidation of the market for some time. Joining forces in this way is good news for customers, staff and the regional television industry."
Mr.
Abdulhadi
added: "This unprecedented merger is great news for the industry and customers alike, because it consolidates two leading pay-TV platforms, brings together the best channel line-up under one operator and combines all customer service and distribution networks into a single point of call."
Abdulhadi
said that with so many platforms competing for the same content, the platforms had pushed up the price of content without being able to offer consumers a total package. Mr.
d'Halluin
said he is "utterly convinced" the market for pay-TV in the Middle East is as potentially big as elsewhere, despite the region historically being slow to sign up, and despite the plethora of free-to-air channels available.
As in other markets where there are two or three competing platforms, there will be a sector that is unwilling to subscribe to platforms that don't offer all content, said
d'Halluin
. But the rationale behind the merger is to create a pay-TV "one-stop shop". "All Hollywood movies are on our platform. All without ads. All in wide screen. And we started in HD last week. All these things will unlock the potential of the pay-TV market in the region,"
d'Halluin
asserted.
Logistically, however, merging the two platforms will be a hard and perhaps lengthy task, as is usually the case with DTH mergers. "If we have to migrate [one set of subscribers], which we will need to do, that takes time and a lot of logistics and know-how... It will take the time it needs. Eventually we will come to the right technology, the right HD-compatible box, the right DVR."
Orbit's long-term losses are legendary, and Showtime pulled a long-planned IPO some two years ago, citing market conditions. However, both companies were well-backed financially by wealthy patrons.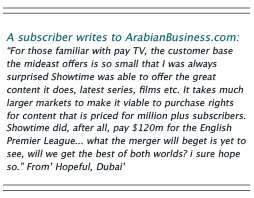 d'Halluin
said, "This merger creates MENA's largest pay-TV operator offering the very best premium channels in the region as well as truly innovative services to our customers including HD channels, Video on Demand and other interactive services.
"The new company will continue to run its core operations and corporate functions from Bahrain and Dubai, bringing together experienced and talented employees who are tasked with extracting significant synergies and delivering the best value from this merger for all our stakeholders and customers. We look forward to updating the market on this exciting merger and future plans."
Noorsat
, a virtual satellite operation using surplus capacity from
Eutelsat
, and owned by
Mawarid
, is not part of the new merger — neither is Orbit-owned
Media Gates
or
Orbit Data Systems
. These businesses will continue to be managed by their respective management teams independent of the new company. Media Gates, Orbit's Arabic production company, will continue to distribute the Arabic channel line up exclusively through the newly created platform.
There are many questions still unanswered, not the least of which is whether the companies will continue dual-illuminating their signals onto two transmission platforms — and for how long. Part of the consolidation has been underway for some months, given that Orbit selected
Irdeto
's
Conditional Access
some months ago. There is as yet no word on operational job losses and the other obvious ramifications of the merger, closing of call centres, etc.
Showtime broadcasts on
Nilesat
, which, given that Orbit uses its own Noorsat virtual satellite, (which, in fact, leases Eutelsat capacity), seems to suggest that the final consolidated platform will end up on Noorsat.
Mr.
d'Halluin
insists the merged platform will "have everything one can dream of". It is, he says, looking at a bright future. But
d'Halluin
also does not discount potential conversations with ART.
"We will be focusing on integrating the two platforms. If there are potentials for other combinations, we will consider them," he said. Mr.
d'Halluin
insisted that both parties to the merger had hundreds of thousands of subscribers and the combination of the two will essentially multiply by two the size of each one of the entity. "By that I mean the subscriber bases were not far apart, so at the very least it is a multiplication by two and in fact it's more than that for revenues. It is a very strong leading media player that we are building together, which will immediately be at the top of the ranking in terms of size and revenues in the Middle East and MENA region."
Which takes us right back to the old saying, "lies, dammed lies and subscription numbers!".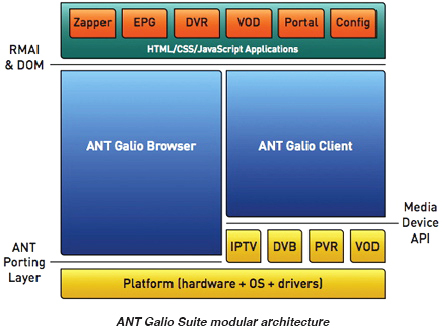 Perhaps Mr.
d'Halluin
thinks he is merging his numbers with Orbit's 400,000 "viewing points" and thus magically giving the merged business 800,000 "viewing points". The reality is significantly less. An
Inside Satellite TV
senior source, extremely familiar with the actual numbers, suggests the merged players will have an uphill battle to reach 400,000 actual subscribers. By any measure this is a miniscule viewing base (after 15 years of transmission in Orbit's case).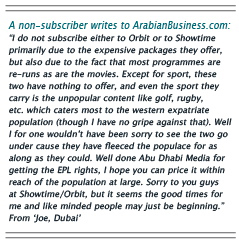 Added to this tale of woe is the fact that Showtime has just lost its Crown Jewel coverage of the
English Premier League
, that cost it more than $100m for three years' coverage. Its exclusivity ends in the Spring of 2010, when the contract switches to
Abu Dhabi Media
. Showtime is angling for a sub-licence for the games.
ART hasn't made an unequivocal statement, but senior insiders suggest that Sheikh
Saleh
's team will stay focused on its own challenges — and remain independent. Meanwhile, ART is quietly readying its own plans to consolidate and grow its own rival pay-TV business — and this includes MPEG-4 based HDTV and an IPTV-enabled set-top box (STB).
ART started broadcasting in the mid-1990's but has been somewhat hamstrung by the lack of enthusiasm for pay-TV in the region. ART has spent the past few years concentrating on sport as well as Arabic content. The broadcaster is now abandoning its previous dependence on non-proprietary (and so called 'zap' boxes) in favour of a purpose-designed and unique STB which contains ART-owned software and IP. It is also switching from Irdeto conditional access (which Orbit has recently adopted) and has selected Viaacess encryption from France Telecom. However, key to its strategy is its use of ANT's
Galio
browser and ANT
Galio Core Applications
for its new service.
The new ART service will have an entirely new look and feel designed by Arab Media Corp. (ART's parent company). The ANT architecture also enables the re-design and re-skinning of services on deployed STBs as and when desired after the initial launch of the service, an important capability in this programme.
"Not only is it important for us to build a compelling new service but also to have a solution that can continue to grow. ANT, with its standards based software architecture, is at the forefront of delivering next generation services and applications," said
Alan Constant
, CTO at Arab Media Corporation. "We are looking beyond what the market is currently demanding to the types of services that consumers will want next year and in future years."
However, long-established as these three pay-TV players are, there's shortly going to be a new kid on the block in the shape of Mr.
Charlie Ergen
and his
Echostar/Dish
operation.
Ergen
is not wholly 'new' as far as the Mid-East is concerned. Echostar-branded boxes have been sold in the region for 15 or more years. Echostar 'imports' some ART and other Middle East channels as part of its speciality linguistic packages on Dish Network. Now it thinks it can be a consolidator in the region. Not, they stress, among any of the existing pay-TV operators, but among the well-established and highly-professional free-to-air players.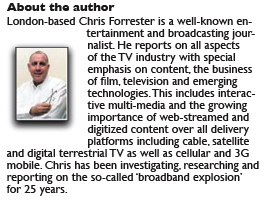 And Echostar wants to use HDTV as the catalyst for change. ART and Showtime/Orbit are starting to embrace HDTV, and the FTA broadcasters want to start tinkering with HD. They recognise it represents the future for TV, but as yet, HD's impact in the Mid-East has been miniscule.
Which brings us back to the satellite conundrum — think about these statements...
Arabsat wants to win the Echostar bouquet
Nilesat might well lose Showtime's support once contracts expire
Noorsat is the profitable arm of Orbit
SES has done a marketing deal with Abu Dhabi based YahSat
YahSat 1 will launch next year
Echostar & SES frequently work together