For many business executives, travel has become a common element of everyday working life. Globalization has seen larger organizations develop an International presence, with offices located worldwide. Whether taking a domestic or overseas flight to visit another office or customer, taking time out of work to travel is often considered an inefficient use of time and resources.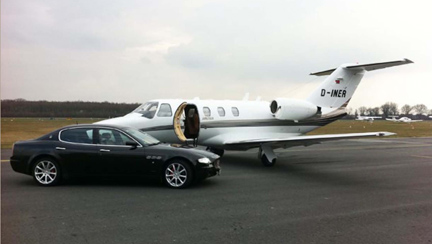 With the digital age firmly taking hold, more opportunities have become available for business jet travellers to stay connected while on the move. Thanks to the introduction of services such as
Inmarsat SwiftBroadband
, aircraft operators and passengers are now able to benefit from the wide range of applications provided by high-speed Internet. Whether it's catching up with emails before the next meeting or taking a conference call en-route to the next destination, the business-class passenger is now able to stay connected as the office-in-the-sky capability becomes a reality.
This has been the case for
Jarltech
CEO and Owner
Ulrich Spranger
, who recently purchased a
Cessna CJ1
model 525 aircraft with the view to significantly improving business efficiency. He said, "We are frequently required to travel to other office locations throughout Germany and the rest of Europe to meet with business partners and customers. Due to the nature of our business, it's vital that our travel does not impact productivity, so in purchasing the aircraft the availability of satellite communications was a key consideration."
Better Connected
Until recently, aircraft such as Ulrich's CJ1 525 now named '
D-INER
', would not have been suitable for installation of a SwiftBroadband solution, but thanks to Inmarsat's launch of the
SwiftBroadband SB200
service last year, the availability of high-speed connectivity for smaller business jets has been made possible. Designed specifically for compact and lightweight satcom terminals to allow for an easier and more cost-effective installation, the SwiftBroadband SB200 service enables owners and operators of smaller aircraft to take advantage of a host of affordable in-flight communications services including voice calls, text messaging, emailing and Internet surfing.
Spranger continued, "It makes a lot of business sense to be able to work from the aircraft when travelling from one destination to the next. While in the air, I find I have more time with minimal interruptions, so I'm free to make calls and send emails as if I was in my office on the ground. For me, and many of my employees, this provides an added benefit that when we arrive we feel more prepared knowing that we have been keeping up to date with our work while in-flight.
"The need to stay connected when on the move has never been so important. I often notice commercial flight passengers, who when the plane has landed are using their iPhones
®
and Blackberrys
®
at the first available opportunity to check emails and get back in touch with the office. While I fully understand this pressure, if you can do that while in the air it's a much more effective use of time, in my opinion. When I arrive back from a business trip, I can rest assured that I don't have to spend extra time catching up, giving me more time to relax with my family when I am at home."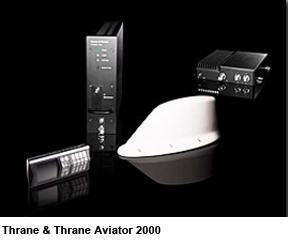 Wi-Fi™ Capability
The SwiftBroadband system installed aboard Spranger's D-INER aircraft is
Thrane & Thrane
's
AVIATOR 200
, which was the first SwiftBroadband SB200 system to be introduced to the aeronautical market. Compact and lightweight, the AVIATOR 200 system provides data speeds up to 200 Kbps and a single AMBE two-channel for voice calls. The innovative system also features built-in Wi-Fi capability, making it very easy for aircraft owners and operators to offer wireless connectivity aboard.
"Aside from the use of traditional devices such as laptops and mobile phones, there is now also a growing trend for passengers to use personal tablets and smart phones to quickly and efficiently access the hub of information available online. The introduction of SwiftBroadband SB200 fully supports this by offering wireless connectivity and ensuring users of iPads
®
, iPhones and Blackberrys can continue during the flight," explained
Andy Beers
, Director of Aeronautical Sales for the Americas region, Thrane & Thrane, as well as the author of this article.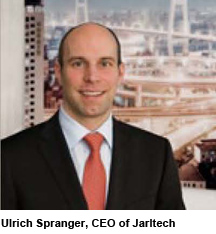 "The application for Wi-Fi enabled products reaches far beyond passenger use in the cabin and has begun to filter into the cockpit providing pilots and crew with access to extensive data at their fingertips. This is already proving useful for flight crews, offering access to real-time weather updates for example, and has sparked much debate about the replacement of traditional processes with this modern and innovative technology in the future," Beers added.
Endless Opportunities
The availability of high-speed connectivity to support a wide range of communications applications also offers a significant benefit to charter operators, adding value for their customers. For this reason, Ulrich Spranger is also making D-INER available to charter through German-based operator MACH airlines. He explained, "With the rise in demand for in-flight connectivity, we believe the integration of the AVIATOR 200 satellite communications system will make the aircraft extremely appealing to the charter market. In the same way that we benefit from in-flight connectivity, charter customers will be able to take advantage of the wide range of communications services provided aboard, whether it is for business or recreational use."
Spranger
concluded, "Thrane & Thrane's AVIATOR 200 is a great system for smaller aircraft offering a communications solution at the right performance and right price. The system is very easy to integrate with the aircraft and has the capability to improve productivity for business executives who regularly travel, which made it a deal maker in the decision to purchase D-INER. Without it aboard our aircraft, I don't think I would ever be able to leave the office!"
Whatever its application, the launch of the SwiftBroadband SB200 service and systems such as the Thrane & Thrane AVIATOR 200 has, and will continue to offer, a complete communications experience to a much broader range of aircraft, where this was not achievable before. For aircraft owners such as
Ulrich Spranger
, the AVIATOR 200 offers a special benefit of increasing productivity, allowing him and his team to use their time more efficiently as well as stay connected via the latest office-in-the-sky technology.
About the author
Andy Beers joined Thrane & Thrane in January 2007 as North American Channel Sales Manager. He currently holds the position of Director, Aeronautical Sales for the Americas Region. He is responsible for sales of Thrane & Thrane's portfolio of SATCOM solutions to both business aviation and military/government market segments. Beers has been in the aviation industry for over 15 years. Prior to joining Thrane & Thrane, he led sales activities for a well-known aircraft electronics manufacturer, Rosen Aviation, as Vice President of Sales & Marketing and was a member of its leadership team. During his career, Beers has worked directly with aircraft OEM accounts as well as retrofit and refurbishment centers world-wide.