---
By Fabrice Langreney, Founder, President and Chief Executive Officer
As we reach the close of 2014, BringCom can reflect on the challenges that have been successfully met for a mid-sized, international, satellite service provider, such as the slow erosion of current satellite customers as they move to fiber and the continuing competition from large private equity satellite industry rollups who are more eager for market share than a concern
for margins.

During 2014, we had to contend with larger integrators and satellite carriers losing their core business due to U.S. Government funding uncertainties. Once active military operations cutbacks resulted in excess bandwidth costs that needed to be covered and making the decision that our markets were the place to be, as well as considering services from new Ka- and MEO satellite entrants who have yet to prove the viability of their services in BringCom's markets.
That being said, BringCom's business has grown and internal resources have grown to accommodate satellite, fiber and wireless network infrastructure to reinforce BringCom's position as a leader in supplying innovative telecommunications solutions to governments and corporate customers who operate in Africa and other challenging regions of the world.
With the continuing economic growth and corresponding increase of corporate VSAT applications within the continent of Africa (i.e., broadcast applications, corporate private networks, cellular backhaul, access to remote areas), BringCom made a strategic decision to expand its capabilities in Africa and, in particular, at the Djibouti Teleport, all during 2014. The company worked with SES to install and service 9 meter antennas in order to add NSS-12 Ku-band coverage to current Apstar 7 Djibouti Teleport service offerings.
Additionally, BringCom worked with a number of leading satellite equipment and service providers to implement and maintain hosting and monitoring services. This was is in addition to the large bandwidth aeronautical services Bringcom has been supporting since January 2013. In conjunction with our Sterling, Virginia, teleport, the Djibouti Teleport improvements allow us to support commercial and government applications over the African continent as well as the Middle East.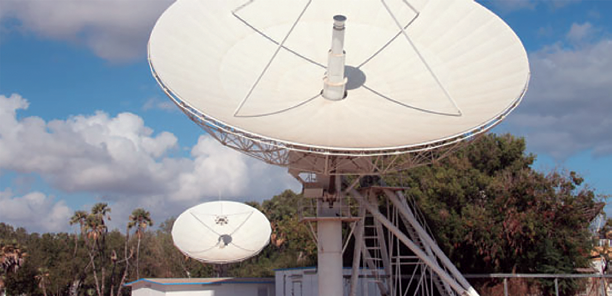 During the fourth quarter of 2014, the Djibouti Teleport was also connected to BringCom's recently announced MPLS Network. The initial PoP was established in Djibouti with termination in London, U.K. The Republic of Djibouti's strategic geographic position and extensive submarine fiber optic cable connectivity positions the region and BringCom for the establishment of a successful Pan African and worldwide MPLS network.
BringCom has focused marketing activities toward the commercial sector, in particular the enterprise market, promoting services to the oil and gas (West Africa), health care (Northern Africa) and financial (East Africa) industries.
These efforts leverage our network of associates in Zambia, Djibouti, Algeria and maximize our increasing coordination with dedicated agents operating in more than 25 countries in Africa.
Our success begins and ends with the success of our customers. This requires an understanding of the daily, real-world operational constraints they face. BringCom is well known for possessing in-depth knowledge of local business environments, having been an operator and supplier of telecom services in Africa for more than ten years. BringCom and its agents are in a unique knowledge/experience position to provide optimum solutions to challenging customer needs. The company understands what is required to establish, operate and maintain successful telecommunications networks in Africa and other remote regions.
As a telecom enabler, BringCom has continued to develop the engineering skills within the operations department to support all aspects of the telecommunications networks deployments. BringCom's Network Operations Centers (NOC) in Djibouti and the United States have deep expertise in IT, security and multiple wireless technologies. This allows the company to handle real-world installations, the monitoring and troubleshooting our customers require for their entire end-to-end circuit. With the addition of these engineering skills and continuous training, BringCom is in a position to better understand any client's applications and ensures our service supports our customer's successes. Bringcom also provides real-time visibility of purchased circuits and offers value-added services, such a traffic filtering, shaping and usage prioritization and other specialty services, if desired.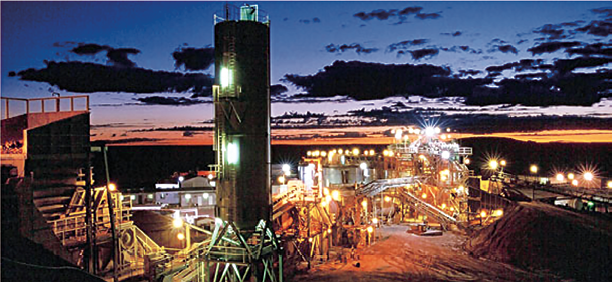 In 2015, the company's focus will remain on Africa, with this continent's economic growth forecasted to remain between 5 and 10 percent per year, with population growth projected to double within the next 30 years. This growth results in increasing intraAfrican and international commercial and governmental communication requirements—BringCom will support these activities, whether in oil and gas (O&G), manufacturing, mining, social services, financial industries or other sectors.
We will introduce new value-added services, such as a mobile GSM rapid deployment solution and disaster recovery satellite services, to fiber users, as well as expand our MPLS network with additional POP's in East, South and West Africa and increased satellite coverage of our U.S. and Djibouti Teleports.
Plans have also been established and implemented to enhance the training and capabilities of BringCom's local staff and agent network to better serve customers. Telecommunications will continue to be an enabler for Africa's economic success, and BringCom will be a vibrant player addressing this unprecedented growth by supplying satellite, microwave, and fiber connectivity within Africa as well as to the rest of the world.
Fabrice Langreney is the founder and implementer of BringCom's growth and vision as a leading telecommunications' services provider. Mr. Langreney created BringCom in 2004 and positioned the company as a unique provider of satellite, integrated fiber, and microwave solutions to challenging applications for commercial and government customers.
Prior to founding BringCom, Mr. Langreney was Chief Operating Officer at DiscoveryTel, where he was responsible for the company's carrier and satellite operations. Before joining DiscoveryTel, Mr. Langreney was Vice President, Corporate Development and Strategy at SkyOnline.
Mr. Langreney has a Master of Science degree in Electrical Engineering from the E.S.I.E.E., Paris, as well as an MBA in Finance and International Business from the University of Maryland.
---
By Drew Klein, Director of International Business Development
There can be little wonder that C-COM was listed as one of Canada's fastest growing companies in 2014 (PROFIT 500)—the company broke new ground this year, receiving a series of important approvals from satellite operators for its New Generation iNetVu® Auto-Acquire antennas.

Leading the Ka-band VSAT trend of developing smaller and faster performing antennas, C-COM Satellite Systems gained further credibility with its game-changing, top-of-the-line technology. The product continues to be globally renowned for its reliability, robustness, and cost-efficiency, while providing critical access to information and remote communications in the harshest environments. The iNetVu® reseller network continued to expand over the last 12 months, bringing the total number of active worldwide partners to approximately 700, in more than 104 countries. New partners were added in Africa, Asia and Europe—in countries that have never seen the company's automatic antenna line.
The company realizes that it can't do much without a loyal partner base, one that is well trained and supported on complex mobile VSAT systems. C-COM technical advisors travel the world to offer training at trade shows, provide support in the field to end-users, and offer demonstrations to existing and potential customers alike. The ultimate goal remains to continually improve not just the product line but the services and support offered.
Perhaps the most challenging feat of the year was the completion of multiple type approvals by major satellite operators. In 2014, the company received four new approvals, enduring the rigorous testing processes of Eutelsat, Viasat and Avanti. C-COM remains the only antenna manufacturer in the world with approvals on the same product (iNetVu® Ka-98) with three different operators: Eutelsat, Avanti and Yahsat.
At the same time, C-COM is the only company with both a Driveaway and Flyaway antenna approved on ViaSat's Exede™ network in the USA. C-COM now boasts a total of eight antennas that are approved on the world's largest satellite operators, a testament to the sturdiness and accuracy of the product.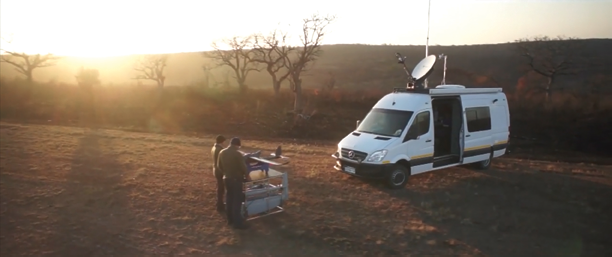 In January, C-COM received significant new orders from its largest Russian reseller, AltegroSky. These antennas were used for oil and gas (O&G) exploration in Russia by one of the world's largest oilfield services companies. AltegroSky has been supplying iNetVu® auto-deploy antennas to many customers in the energy market, and many other important customers. Efficient and effective resellers like Altegrosky help C-COM to maintain its position as the world's premier choice for oil & gas VSAT communications.
Satellite-based cellular backhaul for disaster recovery and emergency services was the most important vertical in 2014. In February, the company learned that the ViaSat approved 75cm Ka-band antenna had been used during the Super Bowl, but not for traditional SNG.
Deployed Communications and Technologies (DCAT) from Pennsylvania provided a complete turnkey system that delivered high-speed broadband connectivity into New Jersey TRANSIT's Emergency Operations Center. The one-button, auto-deploy antenna system mounted on the roof NJ TRANSIT's portable Communications On Wheels (COW) trailer delivered a solid 15Mbps downlink and 5Mbps uplink (with peaks reaching more than 26Mbps).
Over the summer, a number of iNetVu® antenna systems were deployed to assist with communications following a massive earthquake in China. Unisat, one of C-COM's largest resellers in China, and their customer, China Mobile, deployed iNetVu® mobile antennas in the earthquake affected region of Yunnan to re-establish cellular communications and provide emergency services.
Shortly thereafter, in nearby Japan, iNetVu® systems were deployed in the Western part of the country to assist with emergency communications in an area hit by major landslides. Japan Satellite Communications (JSC) deployed a significant number of mobile cell towers to the disaster areas which were very difficult to access. Using the same model following the Great Tsunami of 2011, which serves as the country's benchmark from which all satellite-based disaster recovery and emergency response is based, JSC, C-COM and Softbank Mobile once again provided quick communications relief to affected customers in the area.

Broadcasting was also a significant vertical in which the iNetVu® was put to good use. Several of the company's classic 1.2m Ku-band antennas were used in Brazil to broadcast from the World Cup—the largest soccer tournament on Earth. Simultaneously, one of C-COM's most significant dealers in the U.K., Primetech, deployed the New Gen Ku/Ka convertible 98cm system roadside during the Tour de France. Needless to say, C-COM's product line could be found at nearly all of the world's biggest events.
Smaller, but equally meaningful broadcasted events, such as the SPAR Woman's Day Road Challenge 2014 in South Africa, the biggest Woman's race in the World with more than 25,000 participants, were covered using iNetVu® antennas. The event was captured, compressed, edited and streamed, in a combined effort from StreamiT 360, Avanti, C-COM, and Saab Grintek Technologies. Saab Grintek, C-COM's largest partner in Africa, and recipient of 'Dealer of the Year' Award in 2013, has deployed hundreds of iNetVu® systems throughout the continent. The company is a diverse integrator, focused on any project that requires remote communications, whether its mobile banking, telemedicine or even helping to Save the Rhinos!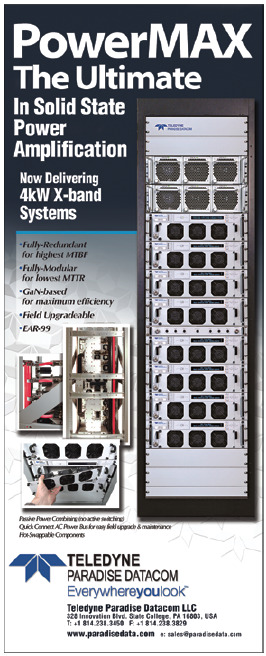 For example, The Great Limpopo Transfrontier Park, located in Mozambique, South Africa and Zimbabwe, is using iNetVu® vehicle mounted antennas to monitor and prevent the poaching of rhinoceros. Using multiple communication products, including C-COM's Yahsat-approved Ka-98H antenna, the unit provides constant video contact between the protected areas and the park's operational center. Any disturbance or potential breach of the region is recorded and can be responded to with great speed.
Park Rangers have the ability to monitor activities in the park in real-time, day and night, and intervene as required, as well as record the action for eventual prosecution of the poachers. Saab Grintek has provided the technology, experience and knowledge to outfit the local Rangers and put poachers in the area on notice.
In the autumn, C-COM announced that the company had entered into a partnership with Newtec, a company that designs, develops and manufactures satellite ground equipment and technologies. C-COM's proprietary iNetVu® antenna technology was integrated with Newtec's MDM3000 IP Satellite Modem series for the VSAT and broadcast market. It is fully compliant with Newtec's Sat3Play® broadband platform and the Newtec Dialog® SATCOM platform launched earlier this year. These systems will be promoted for Communications-On-The-Pause (COTP) applications through both company's sales and distribution channels. The combination of the highly acclaimed iNetVu® mobile antennas and the innovative Newtec technologies is expected to open up new opportunities, specifically in the SNG market, for both companies.
Late in the year, C-COM announced the most exciting development in the company's history: the design of a Low-Profile, Land-Mobile SATCOM-On-The-Move (SOTM) Ka-band antenna, expected to arrive in the market late in 2015. Jointly developed by C-COM and ViaSat, and in conjunction with the filing of a patent for a unique phase shifter with long time partner University of Waterloo, C-COM will soon step into a new market with much larger expectations. These revolutionary 'Always-On' systems expect to deliver technologically advanced, low cost, Ka-band COTM products, delivering broadband satellite based communications while in motion and Internet anywhere at all times.
Stay tuned for more news on this developing story and other inspirational tidbits from C-COM, one of the world's leading mobile satellite antenna manufacturers. We wish the entire satellite community a prosperous and healthy 2015!
Drew Klein is the Director of International Business Development for C-COM Satellite Systems, Inc. where his main focus is the management of the Sales and Marketing team. Drew acts as a liaison between C-COM's technical and support staff and the company's global customer base. Drew earned a Bachelor of Science with Honors degree from the University of Waterloo and was the Valedictorian of his graduating class.
---
By Casper Jensen, Vice President, Maritime Business
Change has continued apace at Cobham SATCOM during 2014 as we close out our integration period, bringing the Sea Tel, SAILOR, EXPLORER and AVIATOR brands together under a single umbrella.

The first part of the integration, which started shortly after Thrane & Thrane was acquired by Cobham in 2012, was focused on ensuring our customer bases in the maritime, land and aeronautical markets were still fully supported in terms of sales and servicing, but with this complete, in 2014 we have been focused more internally, concentrating our efforts on securing the efficiency of our extensive development and production facilities.
To this end, we have opened a new 'super-factory' in Pandrup, Denmark, which is responsible for the majority of our maritime and land antenna and equipment manufacturing. This is a state of the art facility with higher capacity to meet the current and predicted future demands for our equipment for use at sea and on land. Our aeronautical SATCOMs antennas continue to be manufactured in Cape Town, where our manufacturer base of expertise in this sector resides.
We have also established a clear line in the organization of our product development structure. Our site in Concord, California, has become the Cobham SATCOM competence center for large VSAT and bespoke Land and Maritime solutions and Maritime TVRO, while our R&D center in Lyngby, Denmark, is the Cobham SATCOM competence center for medium and small antennas, including Ku- and Ka-band VSAT and L-band.
We believe our new structure reflects the various strengths of Cobham SATCOM's maritime brands clearly. Sea Tel leverages its legacy as a VSAT pioneer to develop systems for high-end, complex networks with focus on specialized oil & gas vessels and platforms, while the unique standardized technology developed for SAILOR products serves a higher volume market such as shipping, fishery and to some extent yachting.
2014 was a strong year in terms of sales in the maritime sector, where we have recorded 10 percent growth in maritime sales. We have been involved in some significant oil & gas and cruise & ferry projects, where the strengths of Sea Tel's bespoke VSAT offering have been key, but our SAILOR standardized VSAT has performed well too. For instance, SAILOR 900 VSAT was selected as the antenna for the Seasat A/S designed SATCOM solution for 45 Maersk Supply Services ships, following the signing of a contract between Seasat A/S and A.P. Moller Maersk.
The complete VSAT solution is centered around Seasat's ready-to-use rack, which houses all below-deck equipment in a rugged 30 HE steel rack, providing Internet access to the ship and crew—as well as Voice over IP telephony. The solution features global Ku-band VSAT coverage with automatic handover between satellites. Maersk selected the system to meet the Increasing Charter and Crew demand for fast and reliable Internet, which is becoming so prevalent in the maritime industry and also for use of its ERP system.
A good service requires high quality equipment, a proven Satellite provider and second to none service support. Together with Seasat, we have been able to provide this to Maersk.
The smaller end of the maritime market remains important to Cobham SATCOM, with SAILOR being a highly respected brand in fishing, workboats and yachting. In April, we introduced a new SAILOR solution, which was the first available for the new Inmarsat Fleet One service. SAILOR Fleet One enables data connectivity up to 100kbps and a single voice line. Its capabilities offer significant communications functionality for recreational and fishing users. The Fleet One service is provided through the Inmarsat-4 satellite constellation, the same award-winning network used by the world's leading ship operators, utilizing the low cost SAILOR Fleet One terminal.
SAILOR Fleet One is designed to the same high quality standard as the SAILOR FleetBroadband product line—a fact more than 40,000
end-users have experienced so far. The antenna is light and easy to install, and connecting to the below deck equipment is simple enough that keen owners can handle the installation and maintenance themselves.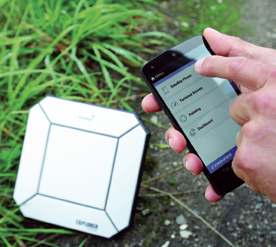 We also went small in land this year, with the development of EXPLORER 510, which is the smallest BGAN terminal on the market. Launched at IBC 2014 and featuring a unique new, compact design and focus on wireless connectivity, the ultra-portable EXPLORER 510 BGAN terminal is set to be a game changer for professionals who demand reliable and easy-to-use satellite communications when operating in the field. At 197mm x 197mm x 40mm, EXPLORER 510 is smaller than a standard laptop and weighs less than 1.4 kg. The compact, contemporary design and low weight makes it an ideal tool for field communication on its own, or as a companion alongside the EXPLORER 710, which delivers on-demand streaming rates at 650 kbps. EXPLORER 510 offers reliable performance globally for simultaneous high quality voice and broadband access at speeds up to 464 kbps, so it provides the flexibility and bandwidth needed for users in the field from a wide range of industries.
Cobham SATCOM's in-house development team has focused on wireless connectivity, with WLAN as the primary interface on EXPLORER 510. To fully embrace this, we developed a whole new way of connecting to and operating EXPLORER 510, via the innovative EXPLORER Connect App. With the EXPLORER Connect App users can use their own smart devices (and contacts) to make calls or easily access the Internet. The EXPLORER Connect App with a SIP softphone is available for Android and IOS. Inclusion of a USB host in EXPLORER 510 ensures users can choose their preferred wired interface also.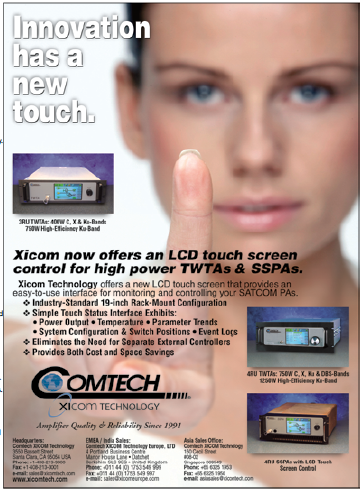 The EXPLORER Connect App is compatible with our most powerful BGAN solution, EXPLORER 710, which also had developments during 2014. We introduced a new software version that enabled the integration – or 'bonding' – of two EXPLORER 710 BGAN terminals, which doubles the streaming bandwidth available on Inmarsat's HDR service. The result is the ability to stream live video and audio at over 1mbps, whilst still using highly portable satellite terminals. The new bonding software will be installed on all new EXPLORER 710 terminals and was also made available as a free software upgrade for existing users of Cobham SATCOM's flagship BGAN solution in June 2014.
In the air, our focus has been on the forthcoming introduction of Safety Services. In September, Cobham SATCOM reached an agreement to equip Hawaiian Airlines' fleet of Boeing 767-300 aircraft with its AVIATOR SwiftBroadband satellite communications systems. The agreement represents an important milestone for us in the development of the next generation product family, AVIATOR S, as the system will be used for Safety Services data as well as for the provision of an IP pipe to the cockpit.
The new Cobham SATCOM contract will serve to demonstrate how the AVIATOR products can provide high speed IP data services and voice communication not only for the cockpit, but also other domains of the aircraft. Installation of the Cobham systems on the Hawaiian fleet is a significant step forward in the process of approval for SwiftBroadband as a safety service by the aviation authorities, which is a requirement for the operation of the AVIATOR S series. This technology demonstration, under FAA supervision, will pave the way for other airlines and equipment manufacturers. It will eventually allow the fast, efficient transfer of ACARS data messages over the SwiftBroadband link, as well as flight deck safety voice services and IP connectivity to the flight deck, enabling other flight operations and cockpit services.
Hawaiian's B767s will be retrofitted with Cobham's current generation AVIATOR SwiftBroadband SATCOM hardware, which includes an IGA-5001 intermediate gain antenna. The system is capable of providing both voice and data communications with the addition of many enhanced features such as immediate aircraft tracking information and Ethernet ports for connecting devices like Aircraft Interface Devices (AIDs) and Electronic Flight Bags (EFBs) for the pilots to obtain real-time information including graphical weather updates. The connectivity will facilitate dynamic routing to favorable winds and away from unfavorable weather.
These enhanced features will become the centerpiece of Cobham's AVIATOR S product family, which is designed specifically to leverage Inmarsat's new SwiftBroadband Safety service and will ensure a system configuration that can meet the requirements of all aircraft types. AVIATOR S will be available in 2016 to coincide with approvals for FANS 1/A services over SwiftBroadband.
In parallel to our work on Safety Services, 2014 has been a strong year for Cobham SATCOM in the aeronautical market. We have experienced double digit growth, thanks in part to the integration of the expertise of the AVIATOR (ex. Thrane & Thrane) team with the ex. Omnipless team in Cape Town. Together they form Cobham SATCOM's strengthened aero business unit, and are doing a fantastic job in developing new technologies and working with aircraft manufacturers and airlines to have them tested and installed.
Looking to 2015, we see only additional growth on the horizon. The demand for high-speed connectivity continues to expand across all of our markets. This will drive the demand for new satellite services which we will be ready to enable with our antennas. Next year will certainly be interesting, with new High Throughput Satellite (HTS) services expected to be available.
Cobham SATCOM has been preparing for this eventuality, with new Ka-band antennas and field conversion kits already designed and in the market. A certain percentage of customers may not be prepared to wait for these services though, and many satellite service providers have developed new services and packages designed to rival HTS, so we still expect good performance from our portfolio designed for current generation services during 2015 and beyond.
---
By Roger Franklin, Chief Executive Officer
2014 has been a particularly interesting year, both for Crystal and the satellite industry as a whole. The company has grown rapidly and we expect such to continue over the coming months and years. Our company growth has closely paralleled the growth, globally, in the video and satellite industries.

Satellite networks are increasing in complexity with satellite uplink facilities experiencing more demands than ever before—consumers are accessing more content across a diverse set of consumption channels. With many OTT (Over The Top) video services launching across the globe, traditional broadcasters must meet consumer demand by offering service on as many platforms as possible in order to stay relevant and competitive.
During 2014, we witnessed a sharp rise in TV Everywhere. As a result, broadcasters must create and manage several versions of each asset and distribute this content across various platforms. There is a growing trend for personalization of services, such as translation or subtitles in local languages, regional commercials, unique graphics, crawls and ratings, and, of course, targeted advertising.
An increase in managing various formats requires multiple content control requirements downstream, resulting in increased complexity. As a result, we launched Crystal Solutions Connect™ to solve the problem of handling multiple distribution paths and the associated variety metadata to effect downstream personalization functionality.

2014 was a significant year in the world of satellite interference. Crystal Solutions' continues to be involved with the Satellite Interference Reduction Group (IRG) and assisted with the group's Carrier ID initiative. This initiative gained a great deal of momentum this year. While the new Carrier ID technology was standardized in 2013, 2014 has focused on implementation of the technology across the globe.
Another important milestone in 2014 was the introduction of a Carrier ID database by the Space Data Association (SDA), just in time for the Football World Cup in June. The SDA announced at a meeting in Washington, DC, that the database is freely available to all satellite operators, not just members of the SDA. Access to the database by all is important to ensure that it contains as much information as necessary to reduce the effect of RF Interference.
The largest satellite operators are populating the database and will continue to do so throughout 2015. To allay any concerns, it is important to understand that the only information in the database is a unique identifier and the name of the satellite operator to which that identifier belongs—the individual operator must store uplinker contact information in their own, internal databases.
With Carrier ID gaining momentum, attention is now turning to the tools and technology needed to detect and ensure it is truly effective. Many broadcasters and uplinkers already have the capability and simply need to activate Carrier ID in their newer modulators. Others will need to plan for a technology refresh in the coming year so they'll have the technology available, especially if they operate an SNG truck.
At the Satellite 2014 show in March, Crystal launched the Crystal Solutions CID Detection System, which allows uplinkers and SNG fleet operators to ensure they are correctly transmitting Carrier ID. This is important to satisfy the FCC mandate that goes into effect in June of 2016. The system provides an overview, enabling automatic verification, and accurate identification using readily available off-the-shelf equipment.

The system supports automatic background Carrier ID detection allowing satellite access operations to identify carriers and populate the central CID database, as well as their own database, without disrupting or prolonging existing access procedures.
Big Data is the "hot topic" of the moment, with a strong belief that collecting and analyzing enough data can predict the future. This past year has seen its importance increase, reflected in the use of metadata of various sorts.
For video content providers, inserting metadata creates new business and revenue models. The more information gathered about consumers' viewing habits, the more the provider can deliver consumers with better value, and advertisers better returns on their investments. This enhanced capability will ultimately result in more revenue for video providers.
In 2015, we expect these aforementioned trends to continue. The complexity of satellite and video networks will further increase and a greater need for intelligent control and automated monitoring solutions will be required for business success.
The trend of inserting metadata in video content will be increasingly important over the coming months and years, with the expectation that all content providers will insert and validate metadata. Inserting metadata enables new business and revenue models the ability to accurately analyze and validate that metadata, and recover from errors quickly, and is crucial to ensuring and protecting this new revenue source.
At Satcon 2014 in November, Crystal launched the new Video Metadata Analyzer (VMA). This technology ensures metadata accuracy by capturing and logging video metadata, such as SCTE 104 and SCTE 35 messages, along the transmission path.
At Crystal Solutions, we continue to innovate and expand our products, services and solutions to meet our customers' current and future demands. We look forward to announcing a number of new enhancements in the
year ahead.
2015 promises to be an exciting year as Crystal Solutions continues to expand our growing global footprint.
---