The preparations for IBC2019 are well under way, with the event set to bring thought-provoking and disruptive conference tracks, hundreds of vendors and developers highlighting the technologies of today and tomorrow, and timely new features.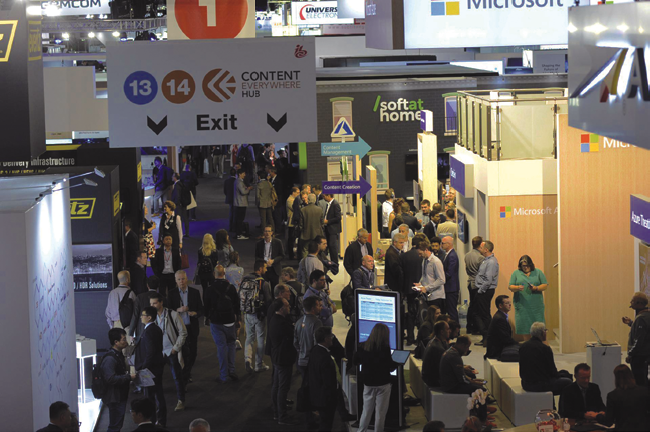 What's New?
People always want to know what is new at IBC. A key organizational feature this year is that the IBC conference and exhibition have been brought back into alignment, instead of starting and finishing the conference a day earlier than the exhibition.
When visitors could take the time to attend for the entirety of IBC, this made a great deal of sense; however, IBC recognizes that visitors today make many more targeted trips to IBC and need to make the best use of their time.
In terms of new features, esports is firmly in the spotlight at IBC2019, as this sector continues to experience unprecedented global growth. For the first time at IBC, the IBC Esports Showcase, supported by ESL, Lagardère and EVS, will feature a full esports tournament staged in the Auditorium, bringing the excitement and fan engagement generated by esports events, while demonstrating the size and scale of a typical event. The showcase will also present a series of esports focused scene-setters, panels, keynotes and interviews.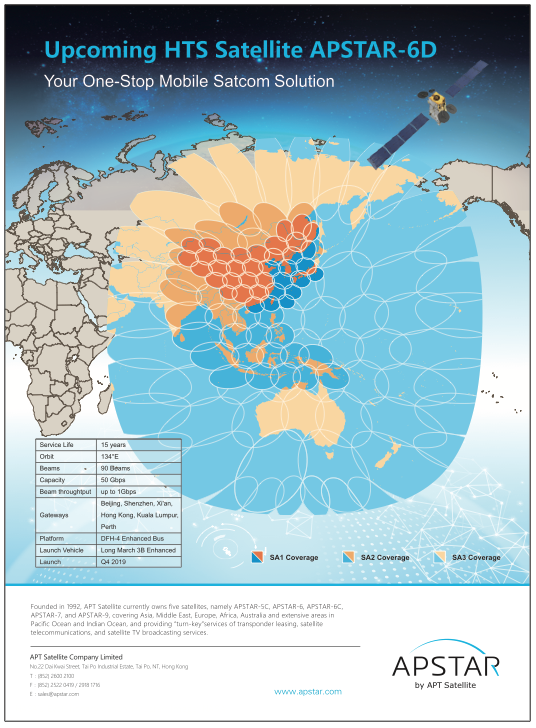 Another exciting, new collaboration between IBC and TM Forum will bring the Media-Telecom Catalyst projects to IBC. Three unique Catalyst projects will drive open innovation between the telecoms and media industries and include participation from Al Jazeera, Associated Press, BBC R&D, RTÉ and more to exploit 5G, AI, and data management to solve business and technology challenges and improve customer experience.
Putting Consumers First
This year's Conference program is looking very special, with an overarching theme of Consumers First: A New Era in Media. IBC's Content Steering Group (CSG), a collection of industry experts and thought leaders from diverse industry sectors brought together by IBC, are the driving force behind the conference, setting the agenda for a compelling event program that addresses the biggest opportunities and challenges faced by the industry.
Something to note is that the program is completely non-commercial; IBC is not driven by vendors with deep pockets. The CSG has the clout, on IBC's behalf, to attract the most influential speakers. The result is that IBC is the one global forum where the big questions are asked and answered.
The keynote track has some excellent presenters lined up, including leaders like Cécile Frot-Coutaz, head of YouTube EMEA; Arnaud de Puyfontaine, the Chairman of Vivendi; and Max Amordeluso, EU lead evangelist, Amazon Alexa.
The main conference is divided into five, new tracks, with a different daily focus on each stage of the end-to-end media content chain, providing attendees with invaluable insight from more than 300 expert speakers from around the world.
• Create & Produce: Creating Disruption offers insights into new technologies and concepts including interactivity and 8K production.
• Manage: Automating Media Supply Chains looks at AI and other new technologies that can create more successful media supply chains.
• Publish: Embracing the Platform Revolution presents new business models that are disrupting the industry.
• Consume: Engaging Consumer Experiences delves into consumer consumption habits and next-gen fan engagement.
• Monetize: Scaling Audiences and Revenues shines a light on brands as broadcasters and new models of advertising.
Each track will include Tech Talks, presenting cutting-edge technical papers and in-depth discussions on the technology enabling the media content chain.
The Publish track on Saturday, September 14, features numerous topical sessions, including discussions on which business models work for different regions, the future of linear broadcasting and how smaller, niche services can compete with global SVoD titans.
The Lounge Talks program — more informal chats about key topics — will also return, looking at topics that are harder to fit into the formal program, including corporate social responsibility and inclusion.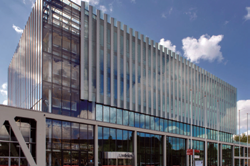 RAI Center, Amsterdam.
And There's More...
In other news, visitors will see the return of the popular IBC Global Gamechangers Stage this year. This hosts the biggest business, creative, technical, news and future-facing talent that are making waves around the world who will talk about what is going to change the game for the media industry.
Speakers include Gary Shapiro, President and CEO of the Consumer Technology Association; Jane Turton, CEO of All3Media; and Lisa Opie, Managing Director, UK Production, BBC Studios.
The Big Screen will deliver a stunning program of events and screenings that take full advantage of the latest cinema projection and sound equipment. With sessions from the BBC Studios Natural History Unit ahead of David Attenborough's next big wildlife epic, insight on the craft and technology of Game of Thrones with an exclusive screening of The Long Night, and the team behind Toy Story in line with the release of Toy Story 4, the Big Screen is one of this year's must-attend features.
IBC2019 is also pleased to welcome the award-wining news presenter and journalist, Kirsty Wark, to host this year's invitation-only Leaders' Forum, which once again will run alongside the Cyber Security Forum and Telco & Media Innovation Forum, bringing together the industry's most influential executives to discuss and debate the future of the industry.
The prestigious IBC Awards ceremony will occur on Sunday, September 15, to celebrate the industry's highest achievements. Two new awards have been introduced this year to reflect the way that the industry is changing.
As a longtime supporter of young talent, IBC wanted to recognize those settling in to our industry who are already having a significant impact.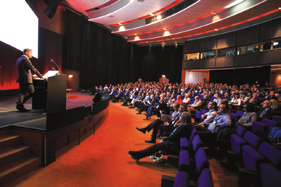 The IBC2019 Young Pioneer Award will go to an awardee who is under 30 who has already carved out a role that combines excellence and leadership, whether that is technical, commercial or creative. The second new award focuses on social responsibility, both corporate and individually.
Those that want to catch a glimpse of what might be around the corner for the media industry should certainly spend some time in the Future Zone, where the latest ideas, innovations and concept technologies from international industry and academia come together in a specially-curated exhibition area within the IBC Exhibition. In the main Exhibition, visitors have the opportunity to meet more than 1,700 businesses presenting products and services that span the media, entertainment and technology industry. SatMagazine readers are likely to be highly interested in Halls 1 and 14, where exhibitors that include Eutelsat, Intelsat and Globecast are located.
It's All About the People
A key element of IBC is the opportunity to network — there are plenty of opportunities for everyone to catch up with old colleagues and meet new people to share knowledge and experience, and perhaps even spark ideas for future collaboration.
Michael Crimp, CEO, IBC, said, "Everyone comes to IBC with their own set of goals, so my first wish is that they achieve them, whether that is in researching technologies and solutions, or in buying or selling. I hope, too, that attendees go home equipped with shared knowledge and experience, which will help them drive their own businesses forward in the year ahead. What they see at IBC should energize and motivate them and reveal new opportunities – for their businesses and as individuals."
Register for IBC2019 at this direct link: show.ibc.org
---