As additive manufacturing (AM) / 3D printing gains more and more traction as a production technology, so scrutiny on the end products produced by the process become more and more intense. When the 3D printing process is used to make prototypes, small deviations from original design intent are not ideal — at the same time, they are not disproportionately important.
However, when the parts produced need to perform an end use function, occasionally in mission critical applications, verifiable conformance with design intent is vital, as is the maintenance of an accredited quality system to ensure minimum levels of performance and repeatability.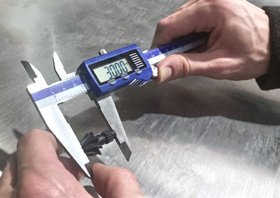 Parts are randomly chosen for measuring to increase
our awareness of the dimensional accuracy of each
of our machines.
In this conversation, we obtain a behind-the-scenes perspective on quality and validation from Alessandro Catania, Quality and Compliance Manager at 3DPRINTUK, a company that specializes in low volume 3D print production using state-of-the-art, powder bed infusion using polymer materials.
3DPRINTUK is working at the moment toward ISO 9001 accreditation. Please outline the process you are going through.
Alessandro Catania
For years, we have been building an incredibly in-depth, order management system that tracks all aspects of a customer's order progress. Since the beginning of the year, we have slowly but confidently built a Quality Management System (QMS) fit for ISO 9001:2015 accreditation on top of the existing system. We have just recently passed the Stage 1 audit with flying colors. Neither non-conformance nor observations were raised during the audit, which means that full accreditation before the end of the year is almost certain.
What do you think the main takeaways are for a customer when you get the ISO accreditation?
Alessandro Catania
For our smaller clients (generally hobbyists) who may or may not have an understanding of what ISO 9001 entails, the main takeaway is that they can have more confidence in our services knowing that their parts are being printed to the highest quality standards. For the larger OEMs in our customer base (especially for those who already have the standard), gaining ISO 9001 is a further assurance that their supplier has all the right quality assurance checks in place to deliver the right parts on time every time.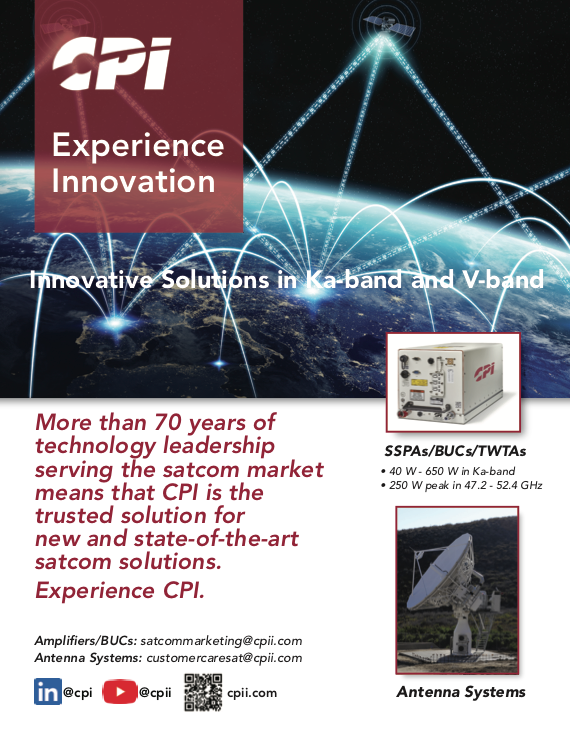 How easy is it to spot potential quality issues with such a high number of printers?
Alessandro Catania
We feel that the depth of our in-house QMS is unrivaled in the industry. The in-depth non- conformance side is able to monitor stats generated from failed parts and identify trends in said non-conformances at lightning speed. This allows us to evaluate, identify and eliminate any machine issues at a much faster rate than we used to, massively reducing the impact of any potential manufacturing problems from almost any machine.
When looking at customer builds, what are the main quality concerns you are looking for, and do they vary process to process?
Alessandro Catania
Surface finish, strength and dimensional accuracy are the three main factors that, for us, determine a conforming part. The parts we print are all visually inspected after the build, after each post-processing stage, and again one last time before shipment. We print betweenb80,000 and 90,000 parts every month, so we know that sometimes a small blemish can be missed, which is why components are checked so many times. Each build also features a printed quality control sample that is measured to give us assurance on the general dimensional accuracy of the parts. If any of the dimensions of the sample are outside specific tolerances, then we measure all the parts in the build prior to shipment.
What sort of tolerances can be attained, and how far do these tolerances need to slip before a part is rejected?
Alessandro Catania
We guarantee a maximum tolerance of ±0.3 mm up to 100 mm, and 0.3 mm for anything bigger. Most of the parts we print are well within ± 0.15 mm. We also have a minimum guaranteed thickness of 1 mm for any printed part, which increases to 2 mm if there are any post-processing requirements.
What sort of yield does 3DPUK attain on the different processes?
Alessandro Catania
We monitor our yield by tracking the Right First Time KPI. MJF is our most reliable technology with a RFT score in the high 90s. SLS is a slightly more temperamental process but not far off from MJF. We constantly monitor part failure data and we have noticed that a major contributing factor to part failure is lack of DfAM knowledge. We often receive designs that aren't quite suitable for our processes and this results in part failures, and the rebuilds ultimately affect our RFT score. Lack of DfAM knowledge is unfortunately a common issue in our industry but we are certain that by raising awareness of a few DfAM principles, our yield would be significantly higher. We have already started by publishing a short, 3-part DfAM guide on our blog; however, with the upcoming website update, we aim to share more useful information and design guides with our customers.
When it comes to Design for Additive Manufacture (DfAM), what are the main issues at play?
Alessandro Catania
DfAM requires a very different approach compared with traditional design for manufacturing and assembly (DfM&A). The latter focuses on designing products in such a way that manufacturing and assembly costs and difficulties are reduced, while DfAM aims to capitalize upon the unique capabilities of AM to design and optimize a product or component, thereby promoting innovation.
Key here is the use of the characteristics of AM to improve product functionality, according to the capability of the AM process. This typically indicates that designers can tailor their designs to utilize the advantages of AM for complex geometries and light-weighting opportunities while taking the AM process limitations into consideration, to ensure the manufacturability of the product.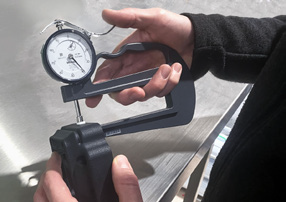 Wall thickness gauge, checking the consistency of the
wall thickness
New flexibilities in design are a key benefit of 3D printing. However, it is not without its own restraints, which is why specific DfAM skills are essential to successful adoption. As with any manufacturing process, there are good designs and there are bad designs, and understanding this is essential for successful outcomes. For many design engineers and manufacturers, however, this is a leap into the unknown, and it can be a barrier to adoption.
Is it fair to say that quality issues are one of the most fundamental brakes on the use of 3D printing as a production technology?
Alessandro Catania
I guess so. To produce high quality 3D printed parts, there are a number of challenges that need to be mitigated. The quality of powder used can be a big determining factor when it comes to outcomes, so we need to monitor for contamination and moisture content and so on... and how material is transported, stored and handled. Also, we need to monitor process control from engineering, into production and beyond into post-processing. So much in this chain can affect the quality of outcomes, from internal machine issues such as laser path and intensity all the way through to design of support structures.
Without good quality control and quality assurance methods, these issues can be difficult to address and standardize build to build, and you can end up with an inefficient, potentially expensive, and time-consuming trial and error approach that ultimately ends up countering the key benefits of 3D printing, namely the timely, cost-effective production of small batch geometrically complex parts and components.
And there is always the human factor to add into the mix?
Alessandro Catania
Certainly — humans introduce mistakes, and the human influence in the 3D printing process chain is disproportionately high initially in design, setting process parameters, then manual checks during printing, inspection before post-processing, and of course during post- processing. Manual involvement in assessing quality indicators can be an impediment to the quality and repeatability of outcomes.
And the answer is?
Alessandro Catania
To clear the path to the easy adoption of 3D printing for industrial production, it must be acknowledged that these issues first and foremost really do have to be addressed. Quality management in 3D printing needs to be addressed with an end-to-end approach, first looking at material, then DfAM, then build parameters and build, and then post-processing. How rigorous this approach is, is driven to a large extent by the specific applications, and the required level of precision and accuracy. The focus is quality assurance in design and build instead of just a focus on the quality of the part produced as would be the case in traditional manufacturing processes.

It's not simple, and it is a reason that so many companies lean on subcontract 3D printing specialists such as 3DPRINTUK as we live and breathe these technologies and obsess about quality, reducing the headaches for our customers. For sure, 3D printing is already becoming an important technology that is disruptive across numerous industrial sectors, and I hope that I have shown how a fundamental end-to-end focus on quality assurance is key to increasing its level of adoption.
www.3dprint-uk.co.uk
3DPRINTUK is a specialist in low volume production using state-of-the-art powder bed fusion (PBF) 3D printing systems with polymer materials, and will be certified as ISO 9001 compliant end December 2022. The company bridges the void that exists between prototyping and injection moulding, such that if tooling costs are prohibitively expensive for an application that does not require the volume demanded by injection moulding, 3DPRINTUK can provide a high quality, cost-effective and fast solution.
3DPRINTUK has mastered the process of 3D printing with polymer powders, with no need for support material, virtually no layer lines and short turnaround times. The company is an ideal partner for producing one-off prototypes through to production runs of tens of thousands of parts — on demand.
---