As one of the leading providers of products and services for high performance satellite-based communications networks, Gilat Satellite Networks Ltd. (Nasdaq: GILT) enables communications networks across the globe. Asia is a major market for Gilat's VSAT (Very Small Aperture Terminal) solutions due to a plethora of business opportunities.
First, satellite services are advantageous due to their ability to provide cost effective communications, even with vast distances between sites or regions unavailable to terrestrial communications systems.
Second, many countries are deploying universal service obligation projects and satellite provides a quick solution for broadband connectivity, GSM coverage in remote regions, and telephony.
Third, the disparate needs of rural and urban communications require high availability and reliable communication solutions, which only satellite can provide.
Finally, the growing demands for broadband Internet, telephony, GSM coverage and video for various homeland security applications, such as disaster response, border patrol, and internal security, add new levels of complexity to incumbent telecom systems. Gilat has vast experience in helping operators, enterprises, and governments meet their growing telecommunications and broadband data needs.

Satellite based communications networks are the most effective method wherein adding capacity or bringing online new services is required, becoming a catalyst for the growth of the entire communications sector. There is an increasing need for more broadband services as traditional telephony shifts to the Internet and to cellular networks and as governments are required to reach remote locations within all outlying geographic areas.
Gilat has a long-standing presence in Asia. During 2009 and 2010, Gilat deployed and was awarded contracts to supply networks for different projects. One of
Gilat
's advantages is the Company's ability to partner with customers to provide custom, integrated solutions that fit a client's specific requirements. This has boosted business in the region, especially in the deployment of solutions for many a diverse sets of applications.
One customer is
China National Offshore Oil Corporation
(CNOOC). They are using the SkyEdge II high performance platform, which supports the delivery of high-speed connectivity to CNOOC's ships and offshore platforms. Gilat VSATs enable ship-to-ship and ship-to-shore communications and, as the Oil & Gas sector continues to expand drilling to remote regions and into ever deeper reaches of the ocean communications, this functionality is a highly critical need. In addition, the requirement for broadband connectivity also comes from the need to use ERP applications in all locations, even on ships. For such requirements, Gilat's VSATs provide an efficient and cost effective solution that is high in performance.
In Central Asia, Kazakhstan's major service providers and long-standing customers,
Kazakhtelecom JSC
, (KT) and
ASTEL
, recently expanded their satellite communications networks based on Gilat technology. Parts of these deployments serve KT's
Universal Service Obligation
. In 2009, KT added Gilat's cellular backhaul solution to its satellite communications network enabling deployment of hybrid networks to extend the reach of their terrestrial and cellular infrastructure to remote communities.
The
SkyAbis
cellular backhaul solution was integrated with IP 3G base stations to support KT's expansion of communications services to regions where such was not formerly economically feasible. The cellular backhaul solution provides the country's remote citizens with high-quality telephony and data services similar to such services that are offered in the more highly developed regions of the country. The installed solution features traffic optimization and dynamic bandwidth allocation for GSM, CDMA 2000, and UMTS.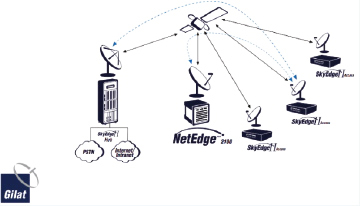 ASTEL also upgraded its network with a broadband satellite communications network that included Gilat's recently announced
NetEdge Gateways
, a number of
SkyEdge II
satellite hub stations, and VSATs for the remote sites. The network will deliver a wide range of interactive data applications, including VoIP, video conferencing, and virtual private networks primarily for government and enterprise use. NetEdge creates new revenue opportunities by extending satellite-based services to small private networks and offers service providers, such as ASTEL, the best of both worlds — one-hop corporate network connectivity with shared bandwidth for excellent network efficiency.
NetEdge is designed to make possible a bank branch being able to communicate directly to the main data center via satellite, and for the data center to send data directly to the branches, rather than through the main hub. In the past, this was only possible with full mesh connectivity or with a private network.
NetEdge can also be used for Abis backhaul, to connect GSM base-stations (BTS) to the base-station controllers (BSC). In cases where multiple BSCs are connected to a relatively small number of BTSs, NetEdge provides an excellent solution due to its advanced Dynamic Bandwidth Allocation Mechanism that shares the bandwidth between the BTSs, rather than allocating fixed bandwidth for each individual site. The bandwidth can also be shared within a BSC and between BSCs.
Gilat platforms can be deployed quickly in harsh terrain and perform well in severe weather conditions — important attributes for many remote villages, where mountainous terrain and cold or difficult weather make it difficult to implement and maintain a communications infrastructure. One project to note within a harsh environment is Gilat's cellular backhaul project on Mt. Everest for
Nepal Telecom
. The broadband satellite network, based on SkyEdge, adds the provision of toll-quality telephony services to villages on the mountain, making it the world's highest ground-based satellite communications network.
In Kazakhstan, Gilat continued to gather steam from the successful deployment of broadband satellite Internet service for passengers of
Temir Zholy
, the country's national railway company. To entice more riders and enhance its overall technology portfolio, Transtelecom (the government-owned telco that promotes the national railway's communications needs) contacted Gilat and requested the creation of the first satellite-based broadband service for train passengers in the region.
This is especially relevant for passengers on the 1,300 km trip between Almaty, the capital, and the country's important business city, Astana. The groundbreaking train deployment provides riders with free broadband Internet and telephony service on this route, which primarily goes through areas where there is minimal access to regular broadband Internet services.
China Unicom
, one of China's largest telecom providers, took a big step forward in 2009 by deploying a cellular backhaul solution to enhance GSM mobile connectivity throughout the country's Xianjiang region in the northwest. Gilat systems facilitate high quality mobile voice and data services in the region where such had not been economically feasible to similar services already offered in China's developed and urban areas. The SkyAbis optimized cellular backhaul solution allows China Unicom to add new niches and move in new directions as they extend the range of cellular services to the country's remote locations. They have also been working with Gilat equipment for many years and deployed a VSAT network to provide rural communications applications throughout the country.
Gilat is empowering communities in Asia with turnkey projects serving up rural telephony, mobile communications, and broadband Internet.
Over the past four years, Papua New Guinea's
Telikom PNG
has been provided with VSAT-based networks to meet the country's need for robust communications solutions as well as to serve the island's corporate financial services sector's interactive data communications requirements. In Thailand, solutions for rural telephony and broadband Internet services covering hundred of sites have been offered to create new opportunities for local residents and to add them to the world communications grid.
The financial services sector demands extremely high availability — VSATs have been selected in many projects and their deployments are for three main applications: connectivity for ATMs, core banking, and stock exchanges. ATM deployments are growing worldwide, especially in cash-economies where credit cards are not often accepted or used. In many of the deployments, VSATs provide the communications necessary to provide the ATM services. Though ATM traffic may be relatively low, availability is critical because if the network is not working, the service cannot be provided.
Core banking is an internal banking application used within bank branches. These applications require a broadband communication network with very high availability and high performance. Banks with terrestrial communications also require VSATs for backup communications as existing DSL, ISDN or E-1 connections suffer from frequent outages. Gilat and
Cisco
are cooperating in Asia to assist banks with improved communications integration, security, and reliability through the deployment of Cisco's VSAT NM that plugs into the ISR product family.
Stock and commodity exchanges also use VSATs, with India a leader in this field. There is a great deal of growth of more sites and the use of VSATs for backups. VSATs' advantages for this application are clear. First, the technology provides high speed multicast services to numerous sites and supports extremely high load of transactions at all times, all the while providing the reliability and security such customers mandate.
Gilat's growth strategy includes two main components: commercial satellite communications and solutions for defense and homeland security. In 2009 and in 2010, there has been impressive growth in defense and homeland security projects. In late 2009, the Company received a multi-million dollar contract from a government defense agency in Asia to deliver a turnkey broadband communications solution. This turnkey solution integrates a variety of technology platforms and includes the SkyEdge II high performance platform, enabling the delivery of high-speed data, video, and voice applications to serve various units within the organization.
Gilat is also working closely with
Nera Telecommunications Ltd
., a Singapore-based solutions provider for transmission, SATCOM, and information communications, to serve a government organization. The SkyEdge II network is providing secure, high-performance advanced communications to carry end-to-end MPLS data.The system handles converged services including broadband IP, voice, video, and multicasting to meet the customer requirements. With its modular design, the system facilitates add-on modules required for mesh, embedded voice ports, and other future technologies.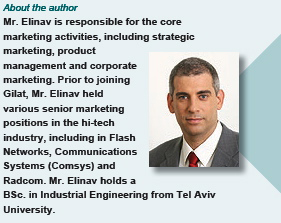 Recently, Gilat announced an agreement to acquire
Raysat Antenna Systems
(RAS). RAS provides low profile antennas for two-way satellite communications. These products are often used for defense or homeland security applications and, there is good synergy between Gilat and RAS. A large number of these low-profile antennas are sold in Asia and market analysts also expect the market to experience future growth.
Gilat's ability to anticipate the market with products that meet forward-looking requirements is the foundation of our business relationships within Asia, as well as in the rest of the world. The Company strives to meet the evolving communications market and see the enterprise and financial services markets, as well as that of various government agencies, as primary drivers during the next few years.