On June the 11th, Surrey Satellite Technology Ltd (SSTL) celebrated 25 years of space innovation. The British company was incorporated on June 11th, 1985, to commercialize small satellite research from the University of Surrey and has since become the most successful cash exit from a UK university spin-out when it was acquired by EADS Astrium last year.
During the past 25 years,
SSTL
has earned an international reputation for delivering cost effective space missions in rapid timescales with the successful launch of 34 small satellites, together with its contributions to third party space missions, made possible by its committed employees and the continuing close cooperation between SSTL and the
Surrey Space Centre
. SSTL Executive Chairman and founder Sir
Martin Sweeting
commented, "As a PhD student in 1985, I was not afraid to take risks — I believed that the costs associated with space could be cut dramatically by taking a new approach to engineering. We have changed the face of space by taking a highly innovative approach to both technology and management of space projects and exceeded expectations by consistently delivering highly capable and reliable space missions. We continue to apply this principle and determination in everything we do — from producing commercial Earth Observation missions to enabling cost effective interplanetary exploration."
SSTL has taken advantage of the latest advances such as Solid State Drives (SSD) or powerful microprocessors and rapidly applied them in space, offering more capable satellites at ever more affordable prices. This is clearly shown by today's 2G
Disaster Monitoring Constellation
(
DMC
) satellites, which have ten times the capability of the original satellites launched just five years ago. In October 2010, SSTL will launch
NigeriaSat-2
, one of the most capable small satellites in orbit. By the end of 2010, a further seven SSTL-built satellites will be in orbit using the best available advances in technology. In 2005, SSTL completed the first
Galileo
program test satellite,
GIOVE-A
, on time and within budget for the European Space Agency (ESA). This satellite embraced SSTL's space engineering principles resulting in a highly cost effective solution. It soon proved its worth when GIOVE-A secured the radio frequencies necessary for the European satellite navigation system, ensuring that Galileo could progress. The success of this mission ultimately led to SSTL and its partner
OHB System AG
being awarded a contract to build the first 14 fully operational spacecraft following the validation phase in January 2010.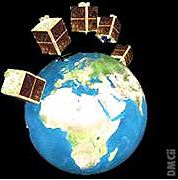 Also in 2005, SSTL proved that small satellites could provide state-of-the-art high resolution Earth observation for security with the
TopSat
mission, which was built for the UK Ministry of Defence (MoD) with support from the UK Government's
MOSAIC
program. This seed corn funding also resulted in the launch of Algerian
AlSAT-1
, the first satellite in the international
Disaster Monitoring Constellation
(
DMC
). This constellation has since grown to six satellites, all built by SSTL for different member nations, providing countries such as Nigeria, Algeria, Spain and the UK with the ability to map changes in the environment and assist with disaster relief campaigns. From this small initial investment, SSTL has since made £95m of export sales of EO satellites, achieving greater than a 10:1 return on the investment.
What's next? SSTL believes that in the short term remote sensing constellations will continue to develop, improving our knowledge of the Earth, its environment and its resources, with more up to date and cost effective information. Since 1981, SSTL has launched 34 satellites as well as providing training and development programs, consultancy services, and mission studies for
ESA
,
NASA
and commercial customers, with its innovative approach that is changing the economics of space. Based in Guildford, UK, SSTL is owned by
EADS Astrium NV
.