Sky Deutschland is Rupert Murdoch's German pay-TV operation, sitting nicely alongside BSkyB and Sky Italia. Except that News Corp's German operation has had a troubled history, with allegations of falsifying subs numbers, disappointing progress, and too high a churn of CEOs! Murdoch recently appointed Brian Sullivan as CEO and he is doing the rounds of the investment banking community — and the first impressions are wholly positive. Sullivan took over on March 31st from Mark Williams, although Sullivan has been 'shadowing' Williams since the start of the year.

As a report from investment bankers
Morgan Stanley
says, "Sullivan has a good pay-TV pedigree", having enjoyed a stellar 13 years at BSkyB, most recently looking after Sky's launch of Sky+ and Sky HD services. However, few doubt the challenges ahead he is now facing. Despite his predecessor spending around €100m on a July re-launch last year, the end results remain disappointing, says the bank's report, generating gross additional subs of 201,000 in Q3, and 167,000 in Q4. The net numbers were a poor 67,000 for Q3 and just 39,000 in Q4. Nevertheless, Sullivan says he sees "significant opportunities for growth." He highlighted the potential benefits for Sky Deutschland — of the access to the experience and expertise of the other pay TV businesses within the News Corp affiliation.
The stated financial targets of Sky Deutschland include:
For 2010, Sky expects an EBITDA loss of between €130m - €170m
Sky looks for an operating cash flow break even on 2.8m-3.0m subs in Q1 2011. This implies 66k-106k net adds per quarter over the next five quarters
Sky Deutschland expects full year 2011 to be significantly EBITDA positive
"
Sullivan
is determined that
Sky
should meet its target of being EBITDA positive in 2011. He believes that it is important internally, externally and amongst customers, that
Sky Deutschland
be deemed to be a successful business. This will be prioritised. At the same time Sullivan does not want to abandon the 2.8m-3.0m subscriber target by Q1 2011 although he admits that the target is tight. Our forecast is for zero net subscribers in Q1 2010, while Sullivan's innovations won't really begin to make their impact until Q3, when the Bundesliga season restarts. Q4 is then a big quarter.
Despite this limited road space ahead, Sullivan is hopeful that the subscriber target can still be met," stated Morgan Stanley.
Sullivan pronounces five key themes:
A solid base has been established by the re-launch with good progress on programming, new pricing packages and brand awareness
Quality, value, innovation: Sullivan wants to market the benefits of having Sky more effectively and plans to add value to customers with new services and features at the same price points
Accelerate growth — the key priority. Sullivan believes observers will be impressed over the next 6-9 months by the product introduction profile
Improve customer service: Many of the 2009 customer service issues have been overcome, although there is still room to improve. Sullivan thinks service could be a key differentiator for Sky Deutschland
Hit Targets: Sullivan is determined to hit the significant EBITDA profitability target for 2011 and the 2.8m - 3.0m subscriber target for end Q1 2011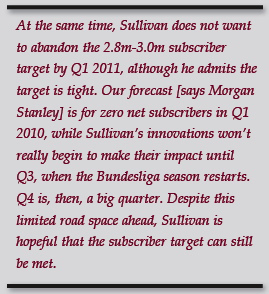 "Although the subscriber targets were clearly missed at Sky Deutschland in 2009,
Sullivan
highlighted just how much hard work has already been achieved in the last 12 months. In particular Sky has recaptured the
Bundesliga
(and Austrian football league) rights, has rebranded the business from Premiere to Sky and achieved 70 percent plus brand awareness, and dramatically restructured the program packages and pricing.
Sullivan
described Sky Deutschland as 'a strong lean machine,'" according to the bank's report.
Brian Sullivan
's key priority above all others is to accelerate growth. Essentially the business needs to move off the plateau of 2.47m subscribers at which it stood at the end of 2009. From the achievement of growth the other expected benefits, including financial ones, is expected to flow.
A key theme was the idea of product innovation and making the product more attractive to attract and retain more customers.
Sullivan
's diagnosis is that in 2009 Sky rebranded but failed to tell customers why they did so. At the same time, prices were raised considerably, but subscribers did not receive extra value for their higher priced subscriptions. The focus is now to reveal the attractiveness of the Sky packages and to place perceived value back into the offering.
Product Innovations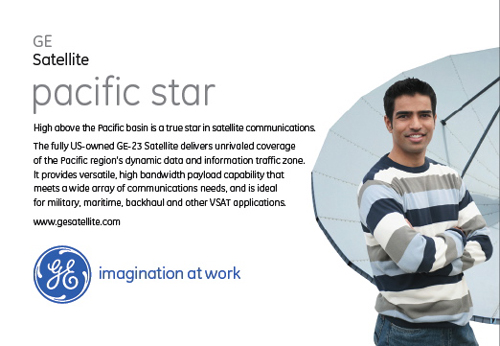 Sullivan declared that the "product introduction profile will impress over the next 6-9 months". Although he did not reveal his plans fully, the directions in which he intends to move the product line up were clear to us.
Features will include...
The introduction of a Sky Plus PVR product: the satellite version will be available in May and the cable version by the end of the year. Sullivan sees the utility and attractiveness of the PVR as a key boost to the customer proposition
The introduction of a 'Sky Anywhere, Anytime' concept. This implies that Sky Deutschland will introduce an online feature (similar to the Sky Player in the UK) and mobile applications. These will be made available at low cost to customers with the main subscription, and potentially at no cost to customers on the higher packages, such as HD. Sky will also make itself available on the emerging new mobile platforms.
Sky will introduce the concept of a Multiroom product in the next few months
There will be a continued focus on HD. All boxes being provided by Sky now are HD boxes and the operator has nine HD channels rising to 13 later in the year, the most comprehensive offering in the German market. There will be significant marketing of this feature to highlight the differentiation this represents for Sky
Sky has signed a deal with a small cable player to make the Sky content available (at full price) within the cable operator's triple play bundle. The cable operator will discount the broadband and telephony. This is an interesting development as a new route to market for Sky. Sullivan reiterated, however, that he sees no reason to move into wholesale of the Sky product
Possible promotional activity on packages. Sky Deutschland is wary of recreating a two tier customer base with different customers paying different prices for the same product but Sullivan does see an opportunity to use taster promotions to get customers to try out Movies and Sports packages leading to eventual higher penetration
Sullivan
said his Sky Deutschland team would also be focusing on customer satisfaction, already known to be a key element in holding onto subs at
BSkyB
although not seen as a particular problem for Sky in Germany.
These appear less pressing than they were during Q3 and Q4 of 2009. The in-house customer service centers work very well according to Sullivan and are close to best in class, being able to resolve customer difficulties with little escalation.
The main area of challenge rests in the outsourced customer service centers where multiple customer problems by type cannot be handled by a single operator.
Brian Sullivan
has instituted a change program which he anticipates will take around 18 months
"At present,
Sullivan
feels that customers are comparing the prices that they pay for the Sky packages unfavourably with what they paid before for the Premiere packages," says the bank. "Over time, this effect should fade and Sky will instead concentrate on "quality, innovation and value" to persuade customers to look at the price against what customers are actually receiving. Sullivan is very upbeat about the quality and breadth of the Movies and Sports packages," added the bank.
There will be a focus on service delivery. Sky observes that there are very few TV products in Germany where service is offered by the provider and sees an opportunity to differentiate itself in this area
Sullivan claims that there are very high satisfaction scores amongst existing customers and that this is a key strength. He hopes to recreate the situation in the UK where customer advocacy is a major source of growth for BSkyB
Churn peaked in Q3 2009 at 23.3 percent and fell to 21.6 percent in Q4. Sky Deutschland has anticipated a gradual decline in the level of churn through 2010. Our model suggests that churn averages 17.7 percent during 2010. Brian Sullivan also identified the number of subscribers who remain on the old style 24-month Premiere packages. These are also a source of somewhat higher than normal churn. The remaining number is around 0.6m-0.7m subscribers, around 25 to 30 percent of the base. These should phase out gradually over time.