Satellite technology plays the single most important role in delivering connectivity to rural and remote village and enterprise communities throughout Africa. The vision of a ubiquitous fiber infrastructure across Africa is a noble but unrealistic aspiration. As such, VSAT deployments will continue to form the basis for rural connectivity for the foreseeable future because they deliver the only affordable, cost-effective and reliable means to reach the parts that other transmission technologies cannot.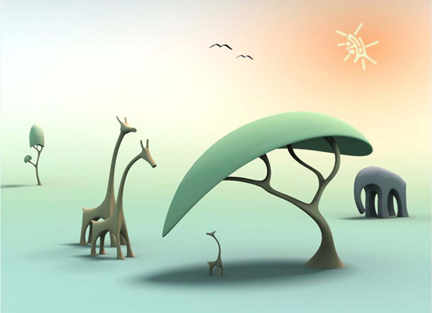 However, is VSAT technology yet delivering to its full potential? At the recent
VSAT 2011 Forum
in London, a
Maxis
executive outlined a compelling case study for maximizing VSAT assets in the context of rural and remote communities, simply by bundling nano / pico-GSM base stations with VSAT technology. Through the use of such technology, remote enterprise communities — for example, remote palm oil plantations throughout Malaysian Borneo — could enjoy the economic and social benefits of mobile voice and mobile data connectivity, using the enterprises' existing VSAT terminals to provide the GSM backhaul.
This initiative runs contrary to the common supposition among mobile operators and regulators globally that network expansion beyond urban strongholds is commercially unviable due to high truck-roll costs, lack of backhaul infrastructure, an absence of cost-effective, reliable power sources, low consumer uptake and fearfully low ARPUs.
Central to this widely held view lies a perception that satellite backhaul is fundamentally too inefficient and, therefore, too expensive as a means of backhaul, particularly in low subscriber communities. That is, indeed, the case for standard 2G or 3G bases stations, which are manufactured with urban deployment solely as their main thrust. However, for GSM base stations designed purely with a satellite backhauled, remote community connectivity in mind, the picture is altogether different.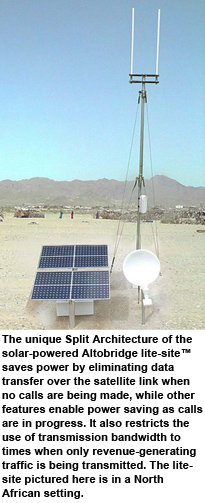 For instance, a two-transceiver, outdoor and passively-cooled GSM base station, serving the needs of as many as 1,000 subscribers in a remote village or enterprise community, requires only 50kbps of satellite bandwidth capacity. Across Africa, that represents a monthly OPEX in the range of only USD$300 per month. In business-case terms, that same remote site, with 750 mobile subscribers each generating a monthly ARPU of USD$3.50 — or higher in many cases — is delivering a monthly revenue of USD$2,625, and because each deployment is solar powered, the USD$300 backhaul cost is the only OPEX cost incurred to be offset against the revenue.
This '
VSAT asset sweating
' delivers purely incremental and profitable subscriber and revenue growth for mobile network operators and VSAT service providers as well as delivers a key secondary benefit — mobile voice and data connectivity for the remote enterprise workers and villagers.
These low-cost, solar-powered, mini-tower, or pole-mounted BTS solutions, have already been deployed in enterprise and village communities in the Middle East, Asia and Africa. In Niger for instance,
Orange
™
Niger
has already deployed the
Altobridge
lite-site
™ solution throughout the country. From Tabelot and Bazagor in Central Niger to Dingazi Banda in the west, agro-pastoral communities are now, for the first time, reaping the social and economic benefits of mobile connectivity.
About lite-site™
The Altobridge lite-site is a combination of two Altobridge breakthrough technologies —
Split Architecture
™ and
Local Connectivity
™. Together with a cost-effective remote base station, the
altoPod
™, mobile network operators (
MNO
s) can bring telecommunications services to isolated areas at low cost.
About the author
Peter Tuomey is the Marketing Director for Altobridge