With recent discussion about the importance of training to reduce errors, and therefore, satellite interference, this theme has become a hot topic for the IRG's End Users Initiative Advisory Committee.
The IRG Team paired up with the Global VSAT forum (GVF) to build a bespoke training courses and certification programs for the broadcast community. This course was featured strongly at our workshop at the close of last year where lengthy discussions about how to ensure users are aware of the subject's importance and role within the industry, the training programs available and making training an inherent part of operations.
But how much difference does this really make? To answer that question, we asked the major satellite operators and the answer is, an awful lot, it's at the top of the initiative list.
According to Eutelsat 's Andreas Voigt, Communications System Manager, this isn't all about peaking antennas or easy to teach technical questions, "it goes much further in many different areas: lack of knowledge and awareness of good practice, security aspects, and ignorance of health issues."
Lack Of Understanding
For many users, there is, quite simply, a total lack of understanding about the technology they are using, the potential for interference, and the correct procedures to follow to negate such conditions. They are often lacking even the most basic understanding and, without any formal training, they are placed in their positions and start pressing buttons and pointing antennas with no clue about the potential impact on other services.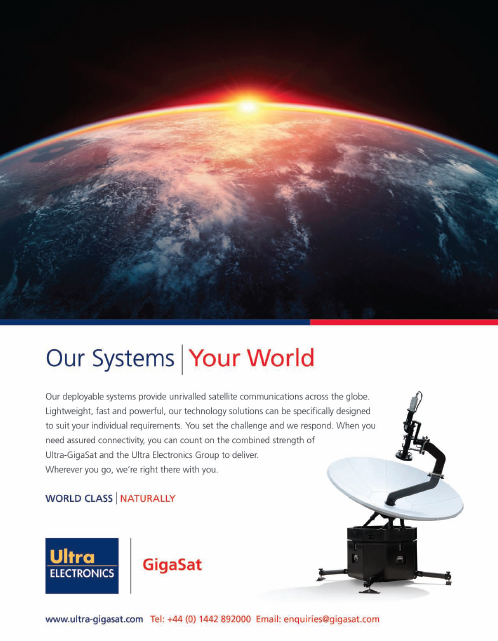 With such a lack of knowledge, pointing to the incorrect satellite is rather easy to accomplish, without even realizing what has been done and what has transpired to cause significant interference to other users. There are numerous examples of this happening. For example: A journalist recently destroyed a contribution link when using an auto-pointing antenna. When he was questioned about the issue, he literally had no idea there had even been an issue!
Operating The Equipment
All right, so we get past the total lack of understanding, then the problem is that people who are not trained properly are now operating technical equipment. Again, and recently, a customer transmitted to the wrong satellite as he didn't know how to operate a spectrum analyzer and consequently took out a live OU feed. Sadly this is just one of many such disastrous examples.
Operators are also experiencing numerous Adjacent Satellite Interference (ASI) cases caused by customers not knowing how to properly operate an MF-TDMA VSAT return channel system. There is a serious lack of knowledge concerning Network Management System (NMS) settings, how the system actually works and in different layers, and the correct antenna installation of peak and pol settings. This is undoubtedly due to either knowledge transfer from the VSAT Network Manufacturers not getting through to the user, or within the user's organization where training programs have not been established.
Knowledge Transfer
Indeed, there is a considerable breakdown in knowledge transfer in several areas. For example, those leasing space capacity often don't forward, agreed operational restrictions or procedures to sub-lessees, and often they don't seem to understand the need for that knowledge transfer. However, without such recognition, mistakes happen because procedures are not followed.
One operator recently received an issue from a customer that accessed their own leased capacity without coordination with the Operations Center. The customer transmitted without adjusting the isolation and consequently caused Cross-Pol interference to live sports coverage. The operator reacted promptly, but the affected customer was, of course, not happy to have had interruption to the live feed—ultimately this interference cost the operator the revenue from that disrupted feed.
There seems to be a consensus that a large proportion of interference cases are caused by a total lack of knowledge, understanding, or experience. Therefore, if we were to train every single person responsible for operating satellite equipment, the amount of interference would be dramatically reduced. Of course, in practical terms, that is no mean feat. In order for us to make that happen, training needs to be more accessible to everyone, and we need to ensure that users are aware of the importance of training. Or, dare I suggest, there should be mandated training for the operation of all satellite equipment.
That said, there are good training courses available today. GVF already has a large portfolio of training products and they have worked with our EUI advisory committee to develop a broadcaster-centric training and certification programs. There are also other providers who specialize in different industries. By working together, they bring more training development and ideas to the table.
Throughout this year, one of the IRG's biggest remits is to educate the user about satellite interference and what can be done to mitigate this problem—training will, of course, be a big part of this global effort.
Please note: At Satellite 2015, the IRG will be hosting their next workshop at the Intelsat Headquarters on Thursday, March 19, in the afternoon and all day on Friday, March 20.
For additional information or to register, please visit http://www.satirg.org
Martin Coleman started his company, Colem, as an engineering services and design consultancy. Using his experience in management systems, Colem now supplies a unique satellite and broadcast control system design based on the industry standard GE Proficy iFIX Process Control platforms.
Martin has worked with numerous broadcasters and satellite operators, improving their process control, including BSkyB, Reuters and YLE. Prior to establishing Colem, Martin was involved in the engineering and operations of various BT satellite projects for Madley and Goonhilly ground stations in the U.K. His background is in satellite and international telecommunications.
---