Alan Young isn't looking through rose colored glasses. And you won't catch him wearing a pair of the old red and green ones either. The CTO at SES WORLD SKIES is determined to help the industry do 3DTV right.
"3D has received a bad rap due to all of the failed attempts over the years," explained
Young
, whose realistic approach to 3DTV is a driving factor behind a brand new initiative at
SES WORLD SKIES
. "This time around, it's in everyone's best interests to make certain consumers receive an enjoyable
3DTV
viewing experience."
SES WORLD SKIES is hosting a new ecosystem set to initiate extensive 3DTV testing. The global operator and services enabler has advanced 3D-ready satellites and its state-of-the-art teleports in New Jersey and Virginia will serve as the distribution backbone. A wide range of partners, from programmers to TV set makers are signing on to complete the end-to-end testing platform.
"There is a lot of work being done in the areas of 3D production and screens, but no one was considering the end-to-end chain and how to distribute 3DTV over the existing infrastructure in the U.S.,"
Young
said. Until now, industry 3DTV tests have for the most part been performed in isolation. The new low-risk, high learning ecosystem environment has eight major components that will be tested under real-life scenarios, including content acquisition and production, formatting, encoding, uplinking and transmission, headend reception, network distribution and display.
A Clarion Call
"This is a clarion call to anyone doing 3DTV. We have the platform for collaborative testing," said
Bryan McGuirk
, senior vice president of media solutions for SES WORLD SKIES. "By bringing together all the elements of a leading 3DTV system, we can speed up the evolution of standards and best practices for 3DTV distribution." McGuirk and his team support the global transport needs of some of the biggest names in media and entertainment. Many were quick to accept the invitation to join the 3DTV trials.
"We're very keen on accelerating the adoption of 3DTV. That's the bottom line," said
Steven Corda
, vice president of market development for SES WORLD SKIES, who envisions test findings leading to invaluable insight. The results of planned market research, focus groups and demos tied to the ecosystem and cable test labs, for example, could be shared among participants. "No question 3DTV in some capacity is going to become a big part of the at home entertainment experience. We want to make sure it's a long-term commercial success," Corda explained.
New Dimension Challenges
Questions abound when it comes to 3DTV. But one thing is for sure: consumers are infatuated with 3D movies. The breakthrough film Avatar is now the biggest box office hit of all time. How can television capitalize on the 3D love affair? For starters, ESPN, Discovery and DIRECTV are launching new 3D channels this year. In Europe,
BSkyB
is at least 18 months into its 3DTV testing with support from SES WORLD SKIES' sister company
SES ASTRA
.
SES WORLD SKIES is convinced 3DTV success requires an end-to-end strategy. "People want better, more immersive television experiences, so I think 3DTV is inevitable," said
Young
, who is a member of the 3D at Home consortium. "But it will require an entirely new dimension of collaboration to do it right."

While stereoscopic 3D television formats are being debated, the new ecosystem will allow programmers, makers of displays and shutter glasses, cable operators and technology providers to see what really works and what doesn't. There are many questions that even the more advanced content producers haven't answered yet. For example, what happens when you convert MPEG 4 to MPEG 2? Is that even feasible with 3DTV? The industry understands the impact of compression artifacts on HD, but what about 3D? Will side-by-side, over-under, or checkerboard formats work best with progressive or interlaced 3D signals?
"Companies are very eager to see how their technology and content performs in a wide range of environments," explained
McGuirk
, whose team has been instrumental in several of the major networks' experimental 3DTV broadcasts to date. "They can test different formats, bit rates and technologies, learn from those system trials and ultimately put those best practices into their operations as they go live."
Building On The HD Momentum
SES WORLD SKIES engineers and marketers will be pulling on their deep HD expertise. Together with SES ASTRA, SES WORLD SKIES delivers more HD channels than anyone in the business. The impressive high-def channel count is closing in on 200, and the firm's advanced satellites and neighborhoods (such as
HD-PRIME
) have become the defacto home for leading HD content.
Many of those same top HD programmers are strongly considering their 3DTV options. Unlike the HD skepticism 10 to 12 years ago that slowed rollouts, 3DTV could gain mainstream momentum much faster. "The old 1950s 3D monster movies are a thing of the past. Consumers have gotten a taste of real 3D and they're voting with their wallets at the movie theater," explained
McGuirk
, who sees sports, movies and spectacle events as the obvious momentum builders out of the gate. He added, "3D is already out of the gate faster and more vigorously than any technology I've ever seen." And he should know, as he, who played a key role in NBC's HD launch while he was with the network. Recent sales of advanced 1080p HD flat screens could bode well for 3DTV, as many consumers will continue to want the very latest in home entertainment. "I firmly believe 3DTV will be a replay of the blockbuster movie called HD," McGuirk said. "Huge audiences are ready to dive into this whole new world of television."
Future Looks Bright
Satellite will play a major part in the commercial success of television's third dimension. New advancements have made the point-to-multipoint technology more than relevant in the delivery of 3DTV. "We've seen more innovations in satellite technology in just the last six years than we had in the past two decades combined," explained Young, referring to new modulation and compression advances that are allowing a broad range of content providers to fulfill their lofty ambitions.
"There's no better medium to distribute 3DTV than satellite. Our industry is ready. The technology is developed. And consumers are asking for it," said
Corda
, noting 3DTV could potentially require between 1.2 and 1.5 times more satellite transmission capacity than HD. "We must ensure that we have an end-to-end distribution system that's ready to commercially and successfully meet growing 3DTV demand."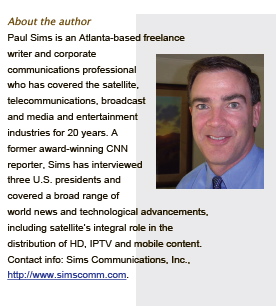 As for
Alan Young
's preference in shades, it won't be long before he's donning a pair of 3DTV glasses. "You'll have to wear the latest shutter glasses to catch the best in 3D at home," said Young. "It will take some time, but the future looks very bright. Our ecosystem is absolutely the right idea in the right place at the right time." For more information, visit www.ses.com.