Nigel Gibson is Vice President International Sales for Telesat, where he is responsible for expanding use and revenue on the Company's international fleet. These satellites include: Telstar 11N and Telstar 12 which mainly serve the Americas and EMEA regions, Anik F1 and Telstar 14R that serve the Americas, and Telstar 18 over Asia. A new satellite to be launched in the second half of 2012, Anik G1, is now under construction by Space Systems/Loral and will offer coverage of both North and South America.
Telesat has posted a strong record of success since its merger with Loral Skynet in October 2007 and — industry experts have noticed. Telesat was named "Global Satellite Operator of the Year" in 2010 by Euroconsult and Satellite Finance. This award was followed by a World Teleport Association survey of its operator-members worldwide in which Telesat was named the satisfaction leader on both operational and commercial factors among the Big Four FSS companies (Intelsat, SES, Eutelsat and Telesat).

Latin America has been a focus of Telesat's since the 1990s. The company has considerable capacity over the region with four satellites — Anik F1, Telstar 11N, Telstar 12, and Telstar 14R — and will be adding Anik G1 next year. SatMagazine was pleased to meet with Nigel Gibson and hear his views on the Latin American satellite market, its key demand drivers, along with opportunities and challenges for both operators and customers in the region.
SatMagazine (SM)
Welcome to Executive Spotlight, Nigel. Latin America has become a leading regional market for the FSS industry with new satellites, new sources of demand, and stable prices. How do you assess these trends?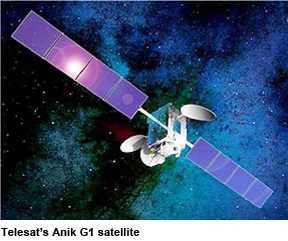 Nigel Gibson
These trends are real, and quite exciting, for Telesat and our industry. One of the factors behind all the excitement is what I would call the "Latin American turnaround." In the 2005 timeframe, analysts sized the market at about 500 C- & Ku- transponders and forecasted very modest growth for the region to 2010 — some 40 new transponders with a CAGR below two percent. What actually happened is that C- & Ku- demand increased by more than 200 transponders to 2010, placing Latin America's growth among the highest of any FSS region in the world. The demand outlook to 2015 is now equally as strong.
SM
A turnaround like that is obviously very impressive and always gets people's attention when a region, or a sports team, goes from "worst to first." Is this simply a matter of economic growth?
Nigel Gibson
We have seen that economic growth — wherever it occurs — is a main driver of satellite demand. An expanding middle class can afford payTV services that lead to rising subscriber numbers that attract new video platforms and providers who require satellite capacity. Governments have more tax revenue to pursue digital inclusion projects — the expansion of satellite broadband. Businesses have the need for improved communications to gain efficiencies and sell to new markets.
All of these elements contribute to increased satellite demand. However, in Latin America it's been more than just economic growth. The market and regulators have come to recognize the many advantages that satellites can provide to a vast region with limited terrestrial services. When Telesat does business in the region today, we often deal with sophisticated customers who are already sold on satellites and have the authorizations in hand along with the expertise to rapidly implement a new network or service. This is a big change from just a few years ago.
SM
Telesat launched a new satellite in May, Telstar 14R, that was to bring significant new capacity to Latin America. The satellite's north solar array failed to fully deploy after separation from its launch vehicle. What impact is this anomaly having on Telesat's Latin American plans?
Nigel Gibson
Telstar 14R
began commercial service in July and is performing well at its
63 degree West
location. Although the satellite did not bring all the new capacity we had planned on receiving, there is still a fair amount of good news for our customers. First, about 60 percent of the satellite's total planned capacity can be used. Second, Telstar 14R has brought more than a 50 percent increase in Ku-band capacity to Latin America compared to the satellite it replaced at
63 degrees West
,
Telstar 14
. This means more service opportunities for our customers and an expanded presence for Telesat in the region. Of course, we would still like to have even more Ku-band to meet rising demand, but Telstar 14R is proving to be an important addition to the Latin American market.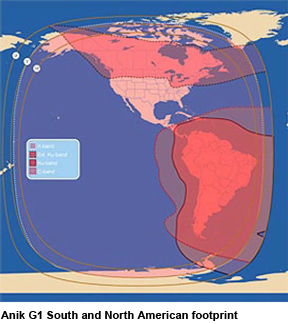 SM
What about your new Anik G1 satellite under construction? Will that also increase Telesat's capacity over Latin America?
Nigel Gibson
Anik G1
is a multi-mission spacecraft that will serve the Americas as well as the Pacific Ocean region with X-band for the military. It is scheduled to launch in the second half of next year and will be co-located with Telesat's
Anik F1
at
107.3 degrees West
that already serves South America. Anik G1 will match F1's Ku-band capacity over the region and double F1's C-band transponders that serve South America. Anik F1 is highly used today, but the added C-band of G1 creates opportunities for video distribution that we are currently exploring with in that market. Anik G1 has full coverage of South America with high C-band power over much of the continent including Brazil. There continues to be strong demand for C-band over South America. The
2014 World Cup
and the
2016 Summer Olympics
in Brazil will add to this. Telesat's planned launch of Anik G1 next year is stirring a great deal of interest.
SM
Telesat has had a presence in Latin America since the 1990s and has really established itself as a leading FSS operator in the market. What do you see as some of the keys to your success?
Nigel Gibson
We are obviously pleased with the way the market has developed but, in addition to that, Telesat made a big commitment to Latin America early on. In 1999, we launched
Telstar 12
located at
15 degrees West
, which has excellent Ku- coverage over much of the region. In the same year, Telesat had the winning bid with
Anatel
to secure Brazil's
63 degree West
slot for
Telstar 14/Estrela do Sul
. A year later Telesat launched Anik F1 with extensive South American coverage in C- & Ku-. Today we have a number of people employed in Brazil and most of our business activities in the region — sales, engineering and operations — are carried out at Telesat facilities in Rio de Janeiro and Belo Horizonte. Much of our success has to do with the commitments we made to the region early on, along with our focus on service, quick response, and adhering to business practices that support our customers, versus competing with them. Telesat was very pleased that the
World Teleport Association
survey of teleport operators issued earlier this year acknowledged the value customers place on Telesat's business practices.
SM
What types of demand are you seeing in the region today?
Nigel Gibson
Main demand drivers in Latin America are well known to most readers and include video — both DTH and cable distribution, along with data for enterprise and government services. Cellular backhaul is another key driver of demand with the surging growth in web access from smartphone subscribers across the region. Telesat is also seeing good demand from the resource sector that consists of oil & gas companies operating in-region as well as those based in Europe and the Middle East seeking to reach across the Atlantic to countries like Brazil, Bolivia and Colombia. Telstar 12 is an ideal solution for this type of requirement going from a headquarters location in Europe and the Middle East to Latin America.
SM
What are some challenges Telesat is finding in doing business in the region?
Nigel Gibson.
We feel we are very well positioned at this time. Although additional C- & Ku- capacity is expected to come to the region over the next few years, there is the possibility of creating "excess supply" for operators, I believe demand will be strong enough to avoid this situation.
SM
This is all very interesting, Nigel. We are sure our readers will appreciate your insights. Any other thoughts on Latin America?
Nigel Gibson
Telesat greatly values its role in Latin America and we believe the region has much to be proud of. The economic crisis that affected so much of the developed world and is still roiling financial markets did not have the same effect in Latin America. Economies across the region are better managed and more resilient today and this is resulting in continued strong demand for satellite services from both businesses and the government sector. Many analysts see the long term outlook for Latin America as highly favorable, and Telesat is pleased to be delivering the types of satellite solutions that are making economic growth possible.