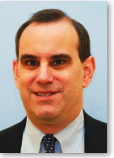 Jonathan Weintraub joined MTN Satellite Communications (MTN) in 2008 with the charge of expanding MTN's business portfolio via entry into new market segments. He has spent his career advising and managing growing companies. MTN, recognized as the industry leader in maritime VSAT services for cruise lines and the luxury yacht market, has sharpened its focus to serve other verticals — commercial shipping, offshore energy, government, and aviation. Under Weintraub's leadership, MTN has grown, and continues to aggressively grow its global infrastructure and portfolio of innovative products and services to meet customers' communication needs worldwide and in diverse markets.
SatMagazine (SM)
Good day, Jonathan, and thank you for giving us the time to learn more about MTN. Can you tell us about your background and what brought you to MTN?
Jonathan Weintraub
I was immediately drawn to MTN's unique value proposition in the satellite and space business, having served as the company's chief financial officer and acting chief executive during the SeaMobile period, prior to my appointment as CEO. My background has been focused on consulting with high-growth companies and MTN had a similar make-up and potential.
Prior to joining MTN, I held various positions with investment firms such as Lake Washington Capital based in Seattle, WA; UBS Investment Bank in New York; and Dillon, Read & Company, where I advised and invested in high-growth technology, telecommunications, and consumer-focused companies around the world. The common theme, if you look at my background and my position at MTN, involves companies that are changing the landscape of their specific market with leading technology and a strong, internal infrastructure to support it.
SM
How did the acquisition of MTN by SeaMobile come about? Has it been a success?
Jonathan Weintraub
SeaMobile was formed by a group of investors who saw an opportunity to develop technology that would permit passengers aboard cruise ships to use their mobile phones. It didn't take long for them to realize that this technology was dependent on the availability of broadband satellite links to transmit mobile phone calls to and from the ship when out at sea beyond the range of shore-based cell towers. After much due diligence for a partner to bridge the gap, it was apparent that MTN was the clear technology leader in cruise ship VSAT services with a commanding market share.
SeaMobile's investors acquired the much larger and well-established MTN as a natural extension of their business. At the time, MTN had a shipboard mobile phone solution of its own, which had been developed as a joint venture with AT&T Mobility, and ultimately the SeaMobile shipboard cellular service was combined with the MTN/AT&T joint venture. The original intent was to rebrand MTN under the SeaMobile banner and deliver the new services under a new brand. However, because the MTN brand was so strong, and because the name can be seen on vessels around the world via our radomes, it did not make sense to try to change an industry staple, so we are in the process of reverting to the MTN brand.
SM
What are the core benefit propositions MTN offers global marketplace?
Jonathan Weintraub
Clearly, the benefit of MTN's services is providing high-quality, reliable and responsive global satellite communications solutions suited to meet any customer's needs anywhere, anytime. When you combine customers' ambitions and needs with our portfolio of communication and content services, there really are no limits to what we will accomplish together. As the world is always connected, we at MTN realize that the expectations from a consumer and mission-critical business perspective are constantly pushing the limits and bounds of technology available today. Our extensive network infrastructure and satellite broadband experience allow us to tailor our products and services to a wide variety of communication needs on land, at sea, and in the air. We actively work with our customers to develop innovative solutions we believe will improve their business operations and meet their consumer needs.
Additionally, the scale achieved by aggressively growing our satellite network and dedicated team of people supports further improvements in our customer service — from expanded teams to enhanced tools.
SM
Jonathan, can you tell us how MTN is faring in the marketplace.
Jonathan Weintraub
Over the past five years, MTN has more than doubled in size, averaging 15 percent annual revenue growth. MTN's success can be attributed to our over 20 years' experience in the maritime VSAT industry and our value proposition of reliable, global service that leverages state-of-the-art technology, an unparalleled satellite and terrestrial network, network operation centers (NOCs) strategically located worldwide, and a great team of people dedicated to providing outstanding customer support. Furthermore, we have had a tremendous year, as we continued to retain existing customers, expand contracts with new customers in various markets, and win government contracts such as our 5-year, $50 million DISA government contract.
As we grow our client base, we are also expanding our global network and are currently working with Ezra, the leading Spanish satellite services company, to open and operate our Santander teleport. A major achievement was the acquisition of security clearance for our Holmdel teleport, and we continue to partner with technology leaders to deliver unparalleled services to our diverse group of clients.
SM
You mention a diverse group of clients. What vertical markets do you serve and how do they break down in terms of percentage of your total business?
Jonathan Weintraub
MTN operates in four major vertical markets: (1) cruise and ferry, (2) megayachts, (3) commercial maritime and energy, and (4) government/military, with a fifth vertical market we are working to penetrate. The cruise and ferry sector is where MTN got its start. It has been a mainstay of our business ever since. MTN has a commanding market share in this sector, with over 80 percent of the world's major cruise ships in our client portfolio. Our expert teams continually work with our cruise line partners to bring to market revenue-generating and innovative, value-added services to satisfy the needs and wants of passengers and crew, leveraging our worldwide broadband satellite coverage and high network reliability.
Our experience in the cruise ship sector naturally led us into serving the large luxury yacht market. Many superyachts have considerable demands for high-bandwidth satellite connections to support the critical voice and data traffic for owners and guests as they travel to the most remote locations in the world. We offer a wide range of owner, crew, and passenger services such as crew calling, IPTV, Internet browsing, video conferencing, and fixed and mobile phones, to name a few.
Through innovation and dedication to providing best-in-class communication services, we have established a strong position in this market, with more than half of the world's 100 largest private yachts under contract with MTN. Add to that the commercial marine and offshore energy sectors, both of which are growth markets in which we are aggressively expanding. Particularly with the commercial marine sector, we find it is not so critical that the satellite system operates to near 100 percent reliability, and so a number of lower-cost competitors have entered the market.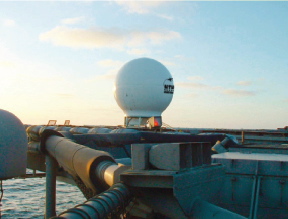 Despite this very competitive, lower price-driven marketplace, we are well positioned to compete and differentiate ourselves by offering ship owners and managers a strong value proposition of wide-area coverage, high network reliability, responsive worldwide customer service, local field service and support, guaranteed uncontended bandwidth, and predictable, fixed monthly service plans. The government and military are our fastest-growing business areas, driven by increased demand for commercial satellite bandwidth to augment dedicated government-owned satellite resources.
We established MTN Government Services (MTNGS) as a separate, wholly owned subsidiary with headquarters in Leesburg, Virginia. Our government team consists of subject matter experts who work with soldiers in Afghanistan, non-government organizations (NGOs) involved in disaster relief and recovery efforts in areas such as Haiti, scientific research ships mapping the ocean floor for NOAA, and a host of other government agencies with mission-critical communication needs.
SM
What can you tell us about new developments in your cruise and ferry business? Yacht services? Government services? Commercial?
Jonathan Weintraub
In March 2010, we launched MTN Worldwide TV, the cruise industry's first fully digital, global broadband television service. MTN Worldwide TV delivers live programming from seven major U.S. and international television networks globally and is installed on more than 40 cruise ships. Since its successful launch, we have received high interest from our other markets for this live television service and we are working to include MTN Worldwide TV as a service offering for the other businesses. Notably, we recently signed an agreement with E! Entertainment Television to add their channel to the MTN Worldwide TV service lineup, giving cruise passengers access to popular Hollywood movies, news, and entertainment programming.
Additionally, a number of cruise lines have expressed interest in news and entertainment channels in the languages primarily spoken by their crews and passengers, which we are working to develop as a potential new feature. Furthermore, we are currently working closely with Royal Caribbean on the new Allure of the Seas project. The Royal Caribbean team has incredibly ambitious plans, and we expect to surpass the amazing technical accomplishments we achieved during the Oasis of the Seas launch last year. For yacht services, we recently outfitted MY Eclipse, the world's largest yacht, with the MTN DirectNet guaranteed bandwidth service used for more demanding applications such as video streaming, online trading or IPTV, where constant bandwidth is a must.
We also launched FlexNet, a cost-effective and flexible satellite communications service, which takes advantage of our multi-regional Ku-band satellite network. Combined with our advanced Automatic Beam Switching (ABS) technology, megayachts are able to enjoy seamless connectivity around the world. Government services, as previously mentioned, was recently awarded a 5-year $50 million DISA contract to supply global C- and Ku-band satellite bandwidth to support mission-critical requirements.
In addition, we are near completion of launching a new multi-band VSAT flyaway product and installing a suite of broadband communication services for the NOAA ship, Okeanos Explorer. We also have had very successful installations in commercial shipping both for new customers and for several of our flagship customers located worldwide, such as Teekay Shipping, Elcano, Hartmann Offshore, Goodwood Ship Management, and Beluga Shipping, to name a few.
Finally, to support our increasing customer base and demand for MTN VSAT communication services, we have been aggressively securing new partners and resellers around the world. Moreover, we continue to expand our global satellite network by strategically adding new satellite footprints, further improving worldwide secure connectivity requirements for customers traveling the farthest reaches of the world.
SM
How is MTN able to effectively meet the needs of such a growing customer base in the satellite industry?
Jonathan Weintraub
I believe there are several key elements required to successfully support demand by customers from cruise and ferry, government, commercial shipping, offshore energy, private yachts, and aviation. These include developing and maintaining a comprehensive product suite with the ability to add unique, value-add features to the core products; building up technical expertise and experience in satellite systems; and sustaining a systems integration capability that is responsive to changing customer requirements.
For more than 20 years, MTN has continually demonstrated a superior standard of performance in providing solutions that meet critical customer requirements across these verticals. This puts us in a perfect position to move forward and address critical needs for delivering reliable capabilities beyond the maritime industry, extending to land and air applications.
At this time, I believe the company is one of the best in this business at delivering solutions that represent the best value propositions in the marketplace. Our job is to sustain this technology leader position while continually refining and improving our contribution to the marketplace to achieve increased productivity and maximal operational efficiency for our customers.
SM
Where do you see your main growth opportunities in the short term? Long term? What is your business strategy for growing the business?
Jonathan Weintraub
In the short term, we have plenty of growth opportunities in our core business. We'll work diligently to ensure that we are meeting the mission-critical needs of our customers for increased bandwidth, reliability, and quality products and services. We are also focused on communicating effectively to our customers and the marketplace to spotlight the extensive breadth and depth of MTN's satellite capabilities.
In the long term, we'll keep this customer focus a main priority and expand our capabilities through internal and external growth as well as strategic acquisitions. We'll continue to broaden our service offerings, as we've been very successful on focusing on complicated, demanding applications for remote or mobile usage that require outstanding reliability, consistency, and responsiveness. Over the longer term, we will continue to look for markets that demand those kinds of solutions.
Armed with critical skills, technologies, and experience, we can bring our outstanding satellite communication solutions to larger, more complex challenges in the industry. My mission as CEO is to help the company reach its full potential technically, strategically, and financially while strengthening our core capabilities.
About MTN Satellite Communications
MTN Satellite Communications (MTN) is the global service provider of communications, connectivity, and content services to remote locations around the world. MTN's maritime VSAT solutions and global satellite communications network offer the reliability that only "Always On – Always Available" systems can provide. More than 600 vessels and land-based terminals worldwide, including cruise ships, commercial ships, offshore drilling and production sites, government and military vessels, private yachts, and ferries, depend on MTN's voice and data networks to allow them to "be in the middle of nowhere and at the center of everything." Premium services include remote access for Internet, fixed and mobile phones, fax, television, onboard newspapers, banking services, direct payroll deposit for crew, and other enterprise solutions. MTN is based in Miramar, Fla., and has offices worldwide.
For more information, visit
www.mtnsat.com.