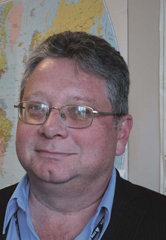 The exactEarth team is led by Peter Mabson, who brings over 27 years of experience in the space sector and product businesses. In particular, Mr. Mabson has held various executive positions within COM DEV related to the creation and development of new businesses and new business opportunities.
Since 2002, Mr. Mabson held the position of Vice President of Corporate Development within COM DEV where he was responsible for Corporate Strategic Planning and for Mergers and Acquisitions. He was appointed President of exactEarth Ltd. in 2009 with proven expertise in product design, business management, sales and marketing, and new business development.
He has written many technical papers related to satellite communications systems and has extensive experience in international business dealings having been involved in more than 20 international programs across the globe. Mr. Mabson graduated from McMaster University with Degrees in Engineering Physics and Business Management in 1981. He also served on the technology advisory board at Conestoga College in Kitchener, Ontario.
SatMagazine (SM)
Mr. Mabson, you have a great deal of experience in the space community and related products environs…would you tell us of your background?
Peter Mabson
I have worked for more than 30 years in the global space industry. During that time my career has ranged from designing satellite payload systems to creating new initiatives and businesses in the satellite industry and I have been involved with most major global players in the commercial and government space community. It has been, and continues to be, a very exciting ride because, as you can appreciate, in that time period the industry has grown tremendously and has created many of the capabilities that we now take for granted—such as satellite navigation, weather forecasting, satellite television, Earth observation and now satellite delivered Internet and personal communication. Being a part of all of that has been very exciting.
SM
How did you decide to steer your career into the space sector?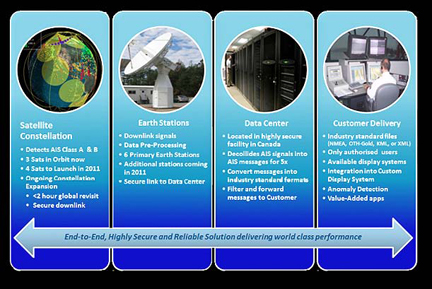 Peter Mabson
As a boy growing up in the sixties with a bent for science and science fiction, I was immersed into the tremendous drama of putting a man on the moon and became hooked on space from that point on. Nevertheless when I graduated from University I initially worked in more conventional industries, but when a former professor of mine phoned me and told me that a new small satellite technology company had just relocated into my area I immediately went over for an interview. The company was COM DEV, which at the time only had about 50 employees, and as soon as I walked through the door I knew that I wanted to work there. As a young engineer, the prospect that I could be involved with developing a new piece of technology from conception through construction and then put it on a spacecraft and launch it into orbit and see the results was just too compelling to turn down. I went to work there and I have been hooked on the space industry ever since.
SM
What coursework do you recommend for young students today who wish to develop their own careers in the satellite and space world? How can our industry promote STEM training and encourage more interest in our industries?
Peter Mabson
This is a very important topic. Over the years myself and a number of my colleagues have been active with local schools, colleges and universities to promote our industry and to help set up courses in relevant fields such as materials science, electronics technology and systems engineering. There is a concern that with the end of the "Space Shuttle" era that one of the visible icons of the space industry that served as a draw for young minds is now being lost and that this might result in fewer students coming into our industry. In fact the opportunities in the space industry are greater than ever—both because of the rapid growth of new services and capabilities as well as the fact that the Space Industry is facing its own "Baby Boom" retirement wave. Students who have an interest in the space industry should focus on such subjects as physics, electronics or materials science.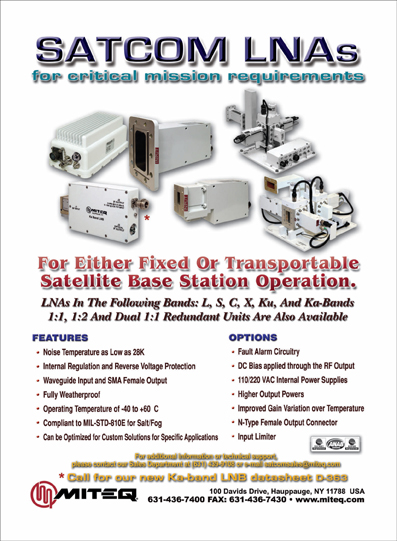 I would also highly recommend participation in co-op programs and seeking out work terms with space related companies—this provides invaluable exposure to the industry and will help you focus more specifically on what career interests you. Satellite companies such as exactEarth are always interested in taking on co-op students—it helps us attract the bright minds that we need to support our future growth
SM
What led you to make the move from the executive team at COM DEV into that Company's exactEarth subsidiary? How does HISDESAT enter the picture for exactEarth?
Peter Mabson
At COM DEV eight years ago I was leading the group responsible for creating and developing strategic growth initiatives. In that role, together with a couple of colleagues in my team, we first developed the satellite AIS business initiative that would ultimately become exactEarth. I was so excited by the potential of this business and the prospect of working once again with a small team to create something incredible that didn't exist before that I moved over to run the company when we formed it. I am constantly amazed at the resourcefulness and creativity of our team here at exactEarth as we have wrestled with the myriad of issues involved whenever you take on something like this—it is truly an invigorating environment.
With respect to Hisdesat, they were the ideal choice for us as an investor in terms of the capabilities and expertise they bring as an established satellite operator as well as the market strength and access they provide for us in Europe and the Spanish-speaking countries. For them the exactEarth business is synergistic with the Earth Observation business they are developing so it has worked out to be a great relationship.
SM
Can you explain the history of your company and what is the primary product of exactEarth?
Peter Mabson
As I said, exactEarth started as a strategic initiative within COM DEV looking to use new micro-satellite technology. It turned out that this technology was ideally suited to create global ship tracking capabilities that were not previously possible. Following a path of aggressive development and investment to prove the technology, COM DEV realized such a venture would require global partnerships and more focus and presence than a division of the company could provide. exactEarth was then established in 2009 and shortly after in September 2010, HISDESAT was brought on board as a joint owner. All technology was licensed to exactEarth to enable the company to operate independently helping to build partnerships, raise investments and sell the data service.
exactEarth provides an end-to-end global vessel tracking solution to its customers. Our premium product is exactAIS, providing a global capability for monitoring all AIS-equipped vessels using our own satellite constellation and global network of ground stations. In simple terms we provide our customers with the ability to track all AIS-equipped vessels anywhere around the world—and to look at their complete voyage history over the past few weeks, months or even years. This fundamental capability enables a huge number of applications that improve maritime safety and security.
SM
Please explain the AIS (Automatic Identification System) and LRIT (Long-Range Identification and Tracking) mandates for maritime shipping? What are the main applications of AIS?
Peter Mabson
The AIS consists of low power automated radio transponders that are required by regulation to be fitted on all large vessels (over 70,000 currently) and that broadcast a data stream several times a minute which contains the vessel's identity, GPS position, course, speed and a range of other parameters. The original intention of this system was just to aid in collision avoidance but the system has also been used to track coastal vessel traffic and now, with satellite detection, to track vessels on a global basis. LRIT is a government-based secure system which provides identity and GPS information for a smaller number of vessels (~30,000) on a less frequent basis but which can also be directed during crises to accelerate vessel reporting rates to as low as every 15 minutes. Therefore the AIS and LRIT systems are complementary.
Although AIS has been previously used only for collision avoidance and coastal tracking now that satellite AIS can provide this data on a global basis with rapid update a whole new range of applications are now opening up such as: improved maritime security, long range search and rescue, vessel traffic analysis, improved safety through route monitoring and "off-track" alarms, cargo movement and tracking analysis, unsafe weather alerts to targeted vessels, monitoring of sensitive marine environments, maritime pollution enforcement, Arctic vessel tracking, and many more applications that will emerge in the coming years.
SM
Over the last few years there appears to be more emphasis on tracking ship locations: What is prompting this increased activity? Are there legal issues pertaining to the requirement for tracking?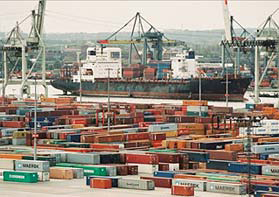 Peter Mabson
More than 90 percent of the world's trade (estimated at over $9 trillion) occurs at sea and 70 percent of the surface of the planet is covered by oceans. As such, there has been a huge interest in ship tracking for a long time, and there has always been importance placed on the economics of shipping, the safety and the environmental impacts. Certainly the environmental concerns, or impact, have perhaps gained in importance recently as we assess man's impact on the environment. There is also a growing interest in emissions at sea at the moment.
Ship tracking is not a new concept—systems such as AIS and LRIT and high frequency radio have existed for some years now. What has changed recently over the last two years, as the satellite AIS technology has emerged, is our ability to now 'see' away from the coasts and to truly get a global picture for the first time.
Satellite AIS is the new player here as it extends the range of ship tracking, the application possibilities and the quantity and quality of data. Satellite AIS is more feasible and a more low-cost solution per square mile than any alternative and is therefore the most economical solution for global vessel tracking.
With respect to your question on legal issues there is currently no regulated requirement regarding the tracking of vessels—there are however regulated reporting systems wherein a vessel is required to report as it enters certain areas or is within 96 hours of its intended port. In addition I would note that the AIS system is, by design, an open broadcast system and therefore there are not currently any legal restrictions on the use of or distribution of this data. Having said that, exactEarth has been working closely with maritime governments and agencies over the last two years to establish standards and policies for the distribution of such data. As part of our licensing with the Canadian government we have such a data policy in place and this is a very important part of our role as a good corporate citizen and we take this very seriously.
SM
What role does the United Nation's IMO (International Maritime Organization) play? Where does the IMO obtain its regulatory power?

Peter Mabson
The IMO is a UN organization made up 170 member states that debates and establishes Maritime Policy recommendations which are then enforced by the member states. The IMO created the AIS system and debates and recommends regulatory policy for its use.
SM
Please tell us about your Company's satellite constellation and ground stations.

Peter Mabson
The purpose of our overall satellite and ground infrastructure is to meet the needs of our customers in four areas that they care about: (i) How complete is the data? (the "Detection" issue), (ii) How often is it updated? (the "Refresh rate" issue), (iii) How quickly do I get it after the satellite has received it? (the "Latency" issue) and (iv) Will it always be available (the "Reliability" issue).
Our system has been designed to meet their needs and expectations in these critical areas—our goal is track all of the roughly 80,000 vessels currently equipped with class A AIS transponders every day, to update their locations on an hourly basis globally and to provide these hourly updates with an average latency of no more than 30 minutes to our customers worldwide.
This is really an astounding new capability for the global maritime community when you think that by comparison radar and optical satellites would currently take around 20 days to map the whole globe. In order to achieve this capability, we deploy small satellites in Low Earth Orbit, and equip them so that they can look at very large areas of the ocean at once. Advances in micro-electronics have allowed these smaller microsatellites (less than 100kg) to achieve these high performance capabilities at a relatively low cost to orbit.
Our system is designed to meet these performance levels and has called for us to deploy a constellation of eight satellites together with a ground network of eight Earth stations and two data processing centers. We are currently at the halfway point now in this operational deployment and expect to have the full system completed by the end of next year. The Refresh rate is set by the number of satellites and their orbits, the Latency is set by the number and location of the earth stations but the real key to a high performance satellite AIS system lies in the detection technology and this is where exactEarth has a distinct advantage.
The detection problem in satellite AIS occurs because the AIS satellites in orbit see very large areas of the ocean at once—up to 5000km in diameter—and therefore can be receiving the AIS transmissions from several thousand vessels in the same time period. The situation is analogous to being on the catwalk above a large dining hall and hearing all of the conversations at once and needing to be able to understand all of them.
It's not a simple job and what differentiates exactEarth here is our patented de-collision technology that separates out the individual conversations from all that 'noise' quickly and accurately and allows us to detect up to four times as many vessels in a single satellite pass compared to competing technologies. That is a very big deal
Plus, we have full control of a complete end-to-end operational supply chain from source to customer comprising satellites, ground stations, and a data processing centre in Toronto with Internet-based delivery of data. The whole system operates 24/7 and is designed to be rugged, reliable and secure with failsafe measures built-in, this deals with our customers' requirement for high reliability.
SM
How is data processed and delivered? Do certain people have access to certain types of data?
Peter Mabson
We have the ability to receive and decode all AIS messages on the ground (GBP) which is an important point to make. The alternative approach is to do initial processing on-board the satellite before downlinking to the ground station. We do have the ability to do this On-Board Processing (OBP) also but our preference is always to download the entire 'spectrum' of data captured in Space.
The reason for this is that it means we always have an entire archive of everything that the Satellite captured and it allows us to throw more 'horse power' for the processing on the ground in our Data Processing Centres than would ever be possible on the satellite. Not only that but it also allows for continuous improvements to be made to our algorithms and process flows over time so we can re-visit previously captured data and improve our detection performance, something that could never be achieved in space.
Data are received by one of our Ground Stations and then transferred to our Data Processing Centre in Toronto. Here the data are very rapidly filtered for customers requiring a 'live feed' of data, and is also archived in our database. The AIS messages can be filtered by any attribute as well as by geography. We then translate the messages into standard formats, segment by Area of Interest (AOI), time, etc. and then send to a customer directly either live through a proxy, or using Secure FTP. Every customer can choose what data they wish to receive and for which AOI.
We know it is hugely important for our customers to be able to quickly and easily consume our data into their own systems and importantly to fuse our data with other sources to make decisions. We therefore supply our data in a range of industry standard formats. Increasingly, as its use widens, we are seeing a demand now for data in more generic geospatial formats and we are working to support these, and to provide data as web map services for even quicker assimilation into target systems. We are committed to Open standards such as OGC Web Map Services, KML, XML etc. to facilitate this.
There are also many applications where our AIS data is combined with other data sets to produce an application—for example combining current weather data with vessel location/type in order to identify vessels that may be heading into dangerous conditions. exactEarth does not actually integrate data ourselves; we leave this to our partners or customers, but we are seeing increasing use of our data fused with Radar imaging, Weather and Ocean characteristic data, and also other local sources of Vessel Information to create a myriad of new applications.
We are also now beginning to offer secure web services for machine-to-machine communication where we respond automatically to 'requests' for data. These data can then be transmitted as WMS or through a Data API which we publish to our customers. We offer a global service, a restricted area service, or even a service restricted to certain vessels.
SM
What are the greatest challenges to shipping traffic today? Where is more attention needed in the future?

Peter Mabson
Well I have already mentioned the applications of our data to improve vessel safety from a route-monitoring and search and rescue point of view. Another current challenge is certainly piracy—here our AIS data is being used proactively to help manage the routing of vessels through high risk areas as part of the international community's war on piracy.
Another challenge lies in logistics. Ninety percent of the Worlds' trade takes place across the Oceans. An ability to track shipments fully from source to destination would aid in planning, increase efficiencies, and back on the environmental theme help reduce emissions. Also being able to monitor vessels more completely would allow Port Logistics/Management applications to manage the schedules so that a ships speed was controlled so that they arrive in port on time, saving fuel by not travelling too fast and/or wasting fuel and time sitting at port if they arrive early.
Another important topic is weather-related vessel damage or groundings. Currently more than ten thousand containers are lost during ocean voyages each year, which entail not only an economic loss but even more importantly become a hazard to shipping in their own right. In addition, early identification of ships in distress could prevent environmental disasters. For example, exactAIS allows for correlation of hydrographic and meteorological data to plan better ship routing to avoid dangerous weather and sea conditions. By comparing ship movement data with weather data, it is also possible to proactively identify ships that may be in potential danger.
In terms of future issues we would expect a focus on environmental issues and specifically on the areas of vessel engine emissions and vessel pollution of the maritime environment. It is estimated that 10 percent of the Earth's carbon footprint can be attributed to shipping, and although in this high profile area standards and metrics exist for most things, they have yet to be set for the Maritime Domain. Perhaps one of the reasons has been an inability to monitor and measure. Satellite AIS, with its ability to measure course and speed over the entire voyage, brings an important new data capability with respect to this issue. Satellite AIS, when combined with other sensor technologies, is also expected to be important in detection and prosecution of illegal dumping of pollutants from vessels.
Another important future topic is the management of global fish stocks and the combatting of illegal fishing. On this important issue Europe has already decided to place AIS on every fishing vessel and other nations are expected to follow suit. There is growing recognition that fish stocks must be managed on a global basis and that illegal uncontrolled fishing cannot be allowed to continue. Global AIS tracking of fishing vessels represents a proven low-cost approach to start tackling this issue.
SM
Looking back upon your career, what are the projects you have been responsible for that have brought you a great deal of satisfaction?
Peter Mabson
Although I was pleased to be involved in the early days of satellite communications and satellite—delivered television I have to say that what we are doing here at exactEarth is very exciting and satisfying. It harkens me back to the beginning of my career in the space business—here, once again, we have a small team that is creating something truly breathtaking and making a difference in the world. The first time at exactEarth that we had customers call to tell us that they had used our data to catch a polluter, or to help rescue a vessel, or when they call you so excited as they realize the possibilities of what your data is going to enable them to do—well I have to tell you that is a really cool feeling.
I think that it was John Masefield who said "All I ask is a tall ship and a star to steer her by"—so at exactEarth, I guess we're giving the stars a bit of help.