As the next generation of High Throughput Satellites (HTS) are launched, the impact to our industry will be profound.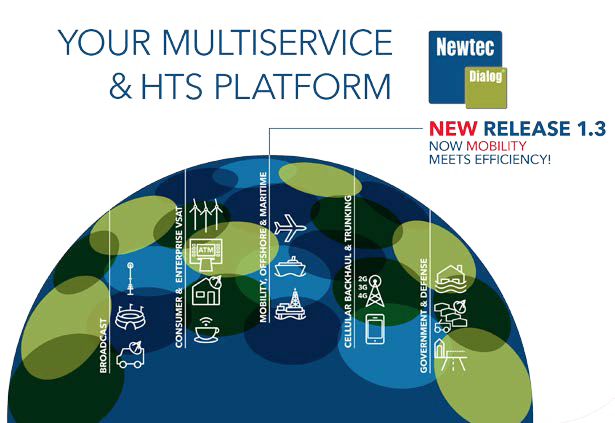 With abundant capacity and much better economics, these systems will significantly improve existing VSAT services, as well as drive the emergence of new applications. As with any new technology, HTS will also bring new challenges with these opportunities.
Next Generation Space Segment Requires Next Generation Ground Segment
In order to fully realize the benefits of HTS, satellite operators need to upgrade their ground infrastructures and adapt their business models to this new paradigm. With smaller footprints, powerful spot beams and wideband transponders, HTS will require unprecedented flexibility, scalability and efficiency from VSAT platforms.

Essentials For HTS: DVB-S2X + Mx-DMA™
In 2012, Newtec helped pioneer the new transmission standard which improves the efficiency of HTS by up to 50 percent by supporting wideband carriers and more granular MODCODs up to 256APSK.
Two years later, Newtec Dialog® was launched, a DVB-S2X-ready, multiservice VSAT platform designed for HTS. With three return technologies (SCPC, TDMA and Newtec's patented Mx-DMA™) and a full line of modems, Newtec Dialog can support a wide range of applications, including mobility.
This is achieved through Newtec's unique Mx-DMA return technology which combines the low overhead of SCPC with the dynamic bandwidth allocation capabilities of TDMA. Mx-DMA assigns dedicated SCPC carriers to each terminal and seamlessly resizes them every second in response to changing demand and weather conditions. It is also fully adaptive, with 40 MODCODs up to 32APSK. Overall, Mx-DMA is up to 50 percent more efficient than TDMA.
Relief Is In Sight For High-End Mobility
While the effects of HTS will be felt across the entire industry, the demanding high-end mobility market will enjoy some of the most dramatic benefits. For the last few years, cruise ships, super yachts, oil & gas rigs and government vessels have been pushing the limits of existing satellite platforms. With thousands of users onboard, some of these vessels are like floating cities, consuming hundreds of megabits of bandwidth as they move around the world.
Until now, these high-end vessels were forced to rely on low-end TDMA services or expensive SCPC circuits that lacked the performance and flexibility to meet their needs. The advent of HTS, along with the next generation Newtec Dialog VSAT platform, will bring much needed relief to this market.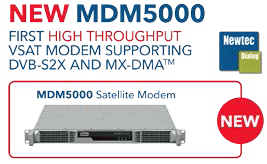 With Newtec's upcoming 1.3 mobility software release and its soon-to-be-released high-performance MDM5000 modem, Newtec Dialog will unleash the full power of HTS for high-end mobility applications.
The First VSAT Modem To Support DVB-S2X
The MDM5000—due to be launched at SATELLITE 2016—will be the first VSAT modem to support DVB-S2X on market. The modem is capable of receiving wideband carriers up to 140 MHz, with throughputs exceeding 200 Mbps. On the return channel, it will support SCPC, TDMA and Mx-DMA, up to 80Mbps.
Expanding The Mobility Market
SATCOM solutions have historically been a natural fit for mobility applications. However, the high cost of bandwidth and large antennas generally limited the market to large, high-end vessels. Fortunately, the evolution of smaller, lower cost antennas, coupled with HTS and ultra-efficient Newtec modems, will expand the mobility market to thousands of smaller vessels. The emergence of multi-band antennas will further improve the economics, allowing next-generation terminals to roam between today's legacy Ku-band networks and lower cost Ka/Ku HTS networks.
Enabling Growth Through Multiservice
Of course, mobility is just one of many applications supported by Newtec Dialog. With many more HTS due to be launched in the near future, the range of applications operators need to address will also grow exponentially. As such, it is of utmost importance that operators can scale their operations and enter new markets, without the need for large investment each time.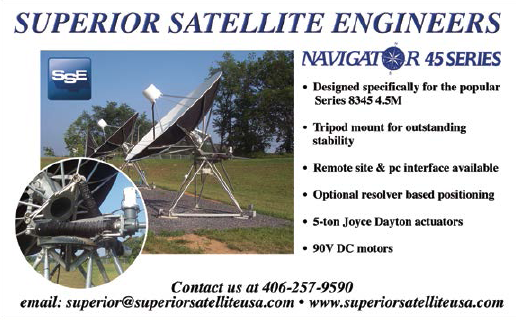 This optimal approach to growth can be achieved through Newtec Dialog. With a diverse modem portfolio and three complementary return technologies, this solution gives operators the flexibility to address a wide range of applications. Since its release in March 2014, Newtec Dialog has already been chosen by many customers as a way of streamlining, expanding and future-proofing
their businesses.
The latest software release of the platform—Newtec Dialog 1.3—will be launched at SATELLITE 2016, with new features including DVB-S2X on the forward link, Layer 2 bridging and a protocol to enable communication with antenna control units for beam switching.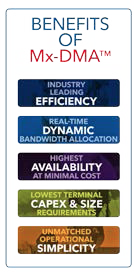 In addition to mobility, the MDM5000 enhances Newtec Dialog by further providing support for Small-to Medium-sized Enterprises (SMEs), general enterprise networks, Satellite News Gathering (SNG), government, oil & gas and cellular backhaul.
The Optimal Solution
Newtec has always been a frontrunner with its professional equipment portfolio and has a strong reputation of achieving the highest data rates, speed and efficiency. For instance, in 2015 the Newtec MDM6000 Satellite Modem with the all-digital built-in Bandwidth Cancellation (BWC) technology set a world-record by putting 20 Mbps into 2MHz. With the MDM5000, we have taken our reputation for the highest efficiency to a new level to also accomplish this in the VSAT market.
Regardless of which sector operators choose to enter, the MDM5000, with its implementation of DVB-S2X on the forward link and the choice of three technologies—TDMA, SCPC and Mx-DMA on the return link—will ensure the optimal solution for every application and price point and provide the highest efficiency available on the market today.
newtec.eu/
---