A Walloping Good Start
NASA commercial space partner Orbital Sciences Corporation launched its Antares rocket at 5:00 p.m. EDT on April 21st from the new Mid-Atlantic Regional Spaceport Pad-0A at the agency's Wallops Flight Facility in Virginia.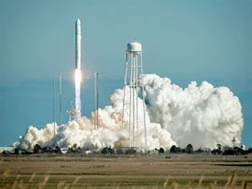 This test flight was the first launch from the pad at Wallops and was the first flight of Antares, which delivered the equivalent mass of a spacecraft, a so-called mass simulated payload, into Earth's orbit.
The test of the Antares launch system started with the rocket's rollout and placement on the launch pad April 6th, and culminated with the separation of the mass simulator payload from the rocket.
The completed flight paves the way for a demonstration mission by Orbital to resupply the space station later this year. Antares will launch experiments and supplies to the orbiting laboratory carried aboard the company's new Cygnus cargo spacecraft through NASA's Commercial Resupply Services (CRS) contract.
Orbital is building and testing its Antares rocket and Cygnus spacecraft under NASA's Commercial Orbital Transportation Services (COTS) program. After successful completion of a COTS demonstration mission to the station, Orbital will begin conducting eight planned cargo resupply flights to the orbiting laboratory through NASA's $1.9 billion CRS contract with the company.
NASA initiatives, such as COTS, are helping to develop a robust U.S. commercial space transportation industry with the goal of achieving safe, reliable and cost-effective transportation to and from the International Space Station and low-Earth orbit.
NASA's Commercial Crew Program also is working with commercial space partners to develop capabilities to launch U.S. astronauts from American soil in the next few years.
NASA Administrator Charles Bolden said, "Congratulations to Orbital Sciences and the NASA team that worked alongside them for the picture-perfect launch of the Antares rocket. In addition to providing further evidence that our strategic space exploration plan is moving forward, this test also inaugurates America's newest spaceport capable of launching to the space station."
* * * * * * * * *

Much Ado About PEO C3T
Parvus Corporation, a Eurotech subsidiary and Cisco Systems Solution Technology Integration (STI) partner, has signed a teaming agreement with SAIC to support task orders under the Global Tactical Advanced Communications Systems (GTACS) program.
SAIC is one of 20 companies selected by the U.S. Army to compete for task orders under the multiple award, indefinite-delivery indefinite-quantity (IDIQ) GTACS contract to supply the Army's Program Executive Office for Command, Communications and Control-Tactical (PEO C3T) with communications devices and systems.
"We are excited by the opportunity to support SAIC to meet the Army's needs under the GTACS contract," said Parvus President Dusty Kramer. "Demanding mission requirements call for low-power, high-performance systems designed to withstand front line conditions; just the kind of capability we bring to the SAIC team."
The initial task orders are expected in 2013 and will continue over a five-year period. When appropriate, SAIC will look to Parvus for products and services as part of their proposed solutions.
* * * * * * * * *

A Site For Young Eyes
The Center for the Advancement of Science in Space (CASIS), the nonprofit organization promoting and managing research on board the International Space Station (ISS) U.S. National Laboratory, showcased its new education website, "CASIS Academy," at the National Science Teachers Association conference in San Antonio, Texas.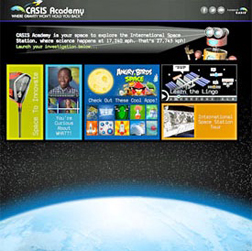 CASIS Academy is an interactive learning website created to educate middle school students about the ISS and to pique their interest through multimedia videos and features.
The website incorporates multiple sections, including breakthroughs resulting from ISS research, a tour of the station and interactive definitions of key terminology.
Statistically, U.S. students are most likely to lose interest in science fields while in the middle grades. CASIS Academy targets students at this critical age, using the excitement of space as a tool to maintain and improve interest in science, technology, engineering and mathematics (STEM) careers.
"The unveiling of CASIS Academy highlights a core function of our organization: advocating the ISS National Lab as a STEM-learning platform," said CASIS Interim Executive Director Jim Royston. "Educating students on the innovative advances that have come from ISS exploration and the opportunities that exist in microgravity will inspire today's students to pursue careers in science and engineering tomorrow."
CASIS decided to unveil CASIS Academy at the National Science Teachers Association conference in San Antonio, Texas, due to the abundance of science educators in attendance.
For more information, please visit
www.casisacademy.org
.
Educator resources complementing CASIS Academy, aligned to support national education standards, can be found at
www.iss-casis.org/educators
.
* * * * * * * * *

Support In The Outback
Beam Communications Pty Ltd. has provided a satellite communication solution to Just 4 Kids Children Charity to be used on their adventures trips for disabled and disadvantages children.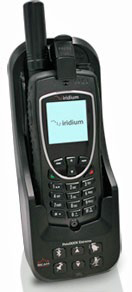 The organization, Just 4 Kids Inc., arranges several events to very remote areas in Australia. The worst nightmare for them is to be without communication in the middle of nowhere when a car breaks down.
To travel in remote areas with a lot of people needs planning, not just for food and accommodations, but for any scenario that can go wrong. Reliable communication is crucial to cover for any emergency situation. With no mobile phone service and poor UHF and HF Radios during day periods, satellite communications is the most reliable communication in the outback.
"We travel extensively in remote areas where it is no phone service. Satellite communications is a life saver for us when something goes wrong. One fundraiser event to the geological center in Australia (Lamberts) saw us break two springs in our food wagon crossing from Cameron Corner to the Strzelecki Track, an extremely remote location in the middle of the desert. The accident delayed our arrival at Arkaroola for the night. Needing to feed 100 people a quick Iridium call to the chief at Arkaroola Village, some 400 km away in South Australia, we organized a meal for all of our personal that evening. We were also able to call our spring manufacturer in Queensland to make arrangements for a new set of springs to be sent to Alice Springs," said Just 4 Kids Motorail Director Mark Louez.
Just 4 Kids Motortrails uses Beam's PotsDock 9555 (pictured to the left), which is mounted in the car with a privacy handset. The Iridium 9555 handset fits securely in the docking station which also features phone charging, RJ11/Pots, GPS, tracking, Bluetooth, and can be configured to support periodic polling or emergency alert reporting.
* * * * * * * * *

Setting Up For SatFilm
Deluxe/EchoStar LLC has announced that it has been selected by the Digital Cinema Distribution Coalition (DCDC) to provide digital asset management, distribution by satellite and other means, as well as operations support for its advanced theatrical digital delivery platform.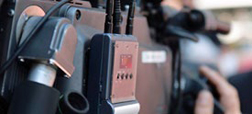 The Deluxe/EchoStar joint venture was formed in 2010 to bring together the digital asset management and distribution expertise of industry veteran Deluxe Digital Cinema Inc., a subsidiary of Deluxe Entertainment Services Group Inc.; with the satellite operations and transmission expertise of EchoStar Satellite Services L.L.C., a subsidiary of EchoStar Corporation.
DCDC was formed by AMC Theaters, Regal Entertainment Group, Cinemark Theaters, Universal Pictures and Warner Bros. to create a state of the art digital network open to all content providers and exhibitors for delivery of movies and other content to theaters in North America.
Theater owners across the country have invested heavily in digital upgrades at a cost of $70,000 to $100,000 per screen. Currently, most digital content delivery is achieved by loading new releases on hard drives that are shipped to and from theaters around the country. Secure satellite delivery of content will lower movie distribution costs, enabling exhibitors to offer theater goers live events and other special content.
* * * * * * * * *

Divider + Conquer
KRYTAR, Inc. now has a new 2-way power divider offering high performance over the broadband frequency range of 1.0 to 40.0GHz in a compact package.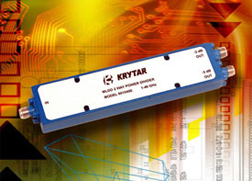 KRYTAR's new power divider offers the widest frequency coverage in a single package on the market and provides superior performance. Targeting broadband electronic warfare (EW) systems and complex switch-matrix applications, KRYTAR has used its proprietary design to produce a wide assortment of matched-line directional dividers (MLDD) with ultra-high performance over a broadband frequency range.
KRYTAR's technological advances provide excellent operating performance of this new 2-way unit. Model 6010400 covers the frequency range from 1.0 to 40.0GHz with 14dB Isolation and ±0.60dB Amplitude Tracking. The 2-way divider exhibits Insertion Loss of <2.5dB across the full frequency range. Maximum Input VSWR is 1.85 from 1 to 20GHz and 1.85 from 20 to 40GHz.
Maximum Output VSWR is 1.50 from 1 to 20GHz and 1.70 from 20 to 40GHz. Phase Tracking is ±7 degrees from 1 to 20GHz and ±14 degrees from 20 to 40GHz.
The power divider is a compact package measuring just 4.15 inches (L) x 1.00 inches (W) x 0.43 inches (H), weighs only 3-ounces, and comes with standard 2.4-mm coaxial female connectors.
* * * * * * * * *

Driving Away To New VSAT Heights
Advantech Wireless Inc. has released the new addition to its suite of Drive-Away VSAT Antenna line that includes Pioneer™ and Enterprise™ type of antennae: and the POLARIS K-Class ultra-compact, high performance, high quality, roof mount antenna system.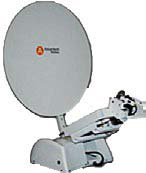 The POLARIS130K and POLARIS155K antennas use the patent pending Next Generation Removable Roto-Lok
®
Cartridge Drive System, specifically designed for no maintenance, ease of repair, and zero backlash. These antennas encompass the industry well-known Roto-Lok
®
wire drive pedestal and iPoint™, auto-positioning controller and amplifier into the antenna enclosure, making the system a robust standalone sub-assembly ready to install onto almost any vehicle.
With Integrated Auto-Pointing iPOINT Controller or separate Indoor Controller options, the new POLARIS K-Class Antenna acquires the satellite in less than three minutes. The iPOINT Auto Acquisition Controller uses industry standard position transducers and a sophisticated pattern recognition algorithm to confirm and refine its heading information using visible satellites.
"The system is simple to install, set up and use," stated Cristi Damian, VP Business Development at Advantech Wireless, "combined with the New Generation of High Power GaN based SSPAs/SSPBs, the POLARIS K-Class Antennas offer the ultimate solution for Broadcast Applications."
* * * * * * * * *

Circuit Emphasis
BringCom, Inc. has been awarded a new contract and several contract extensions by prime U.S. Government contractors.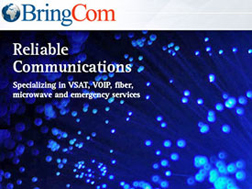 The awards, collectively valued at $3.8 million, call for BringCom to provide satellite and fiber optic circuit services to U.S. Department of Defense-related projects operating in Africa, the Middle East and the Caribbean/Latin America regions.
The satellite contracts use BringCom's teleport facilities in Djibouti City, Republic of Djibouti, and Sterling, Virginia, USA, with connectivity through the Apstar 7 and Amazonas 2 satellites.
BringCom will also provide managed fiber-optic connectivity from Africa and the United States to customer-designated termination points under these contracts.
"These new or extended contracts reinforce BringCom's position as the reliable provider of carrier-grade fiber-optic and satellite services to U.S. Government prime contractors and international customers operating in these global telecommunications markets," said Fabrice Langreney, President and CEO of BringCom. "The awards of additional contracts from international customers with demanding requirements validate BringCom's strategy and investment in these regions. They are also a reflection of the dedication of BringCom's staff and partners in meeting and exceeding the needs of its customers with very challenging telecommunication applications."
The contracts use BringCom's extensive local partnerships in the Africa and Middle Eastern regions. They include connectivity, construction of in-country facilities, and continuing maintenance activities by BringCom's satellite and fiber network-capable Network Operations Centers (NOC) in both the United States and Djibouti.
* * * * * * * * *

Added Value, No Added Cost
In a rapidly changing technological world, speed and costs are everything in the world of connectivity.
NewCom International and XipLink have teamed up to increase the bottom line QoE (Quality of Experience) for clients by adding value to their broadband experience at no additional cost, while preparing their network architecture for further efficiency enhancements with optional equipment.
Jaime Munera, Director of Product Development & IT of NewCom International, said, "The beauty of this technology is we have the infrastructure in place to enhance the service given to all our clients on the iDirect platform in USA, Latin America and Africa, thus increasing their bandwidth efficiency. When our customers choose NewCom's iDirect-based service for your satellite communications needs, they automatically benefit from our built-in WAN optimization solution that optimizes outbound traffic across all of our multiple networks."
Munera explains that customers can also benefit even more with optional low cost equipment at their remote end for a 2-sided boost in performance and the result is an increased QoE on as much as 30 percent.
Jack Waters CEO of XipLink said, "There was no hesitation on the part of NewCom when it became apparent that this technology was available to improve customer quality of experience (QoE). The NewCom technical team was extremely diligent and helpful adjusting and improving the technology to insure their customers received the best possible service benefit from XipLink's products."