The teleport industry got its start in the days when monopoly telephone companies ruled and, in the U.S., COMSAT was the sole gatekeeper for access to domestic and international satellites. Then the Reagan Administration's Open Skies policy ended COMSAT's lock on satellite access, and entrepreneurs jumped on the new opportunity.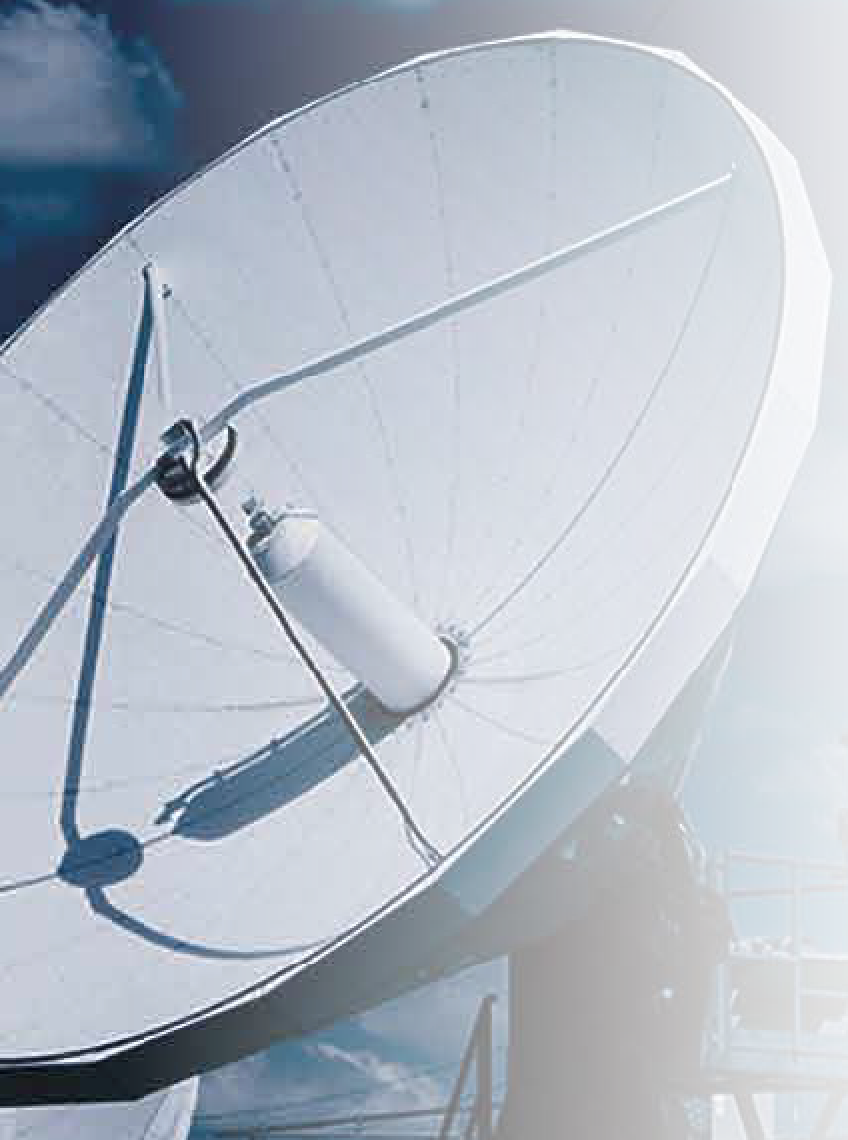 My personal favorite was Jeff Sudikoff, a rock concert promoter who rented a satellite truck on his personal credit card to provide live coverage of the concert — and was so happy with the result that he started a company called IDB Communications. The company grew like a weed, buying other new teleport operators in a frenzy of acquisitions, then expanding into broadcasting, mobile and international telephony. IDB went public in 1986. Eventually, the over-leveraged company got into serious trouble and, in 1999, Jeff went to jail on an insider trading conviction.
In the 19 years since then, it is almost unbelievable how much the industry has changed. The industries where IDB Communications pioneered are still important to the teleport industry, but the current generation of leaders are preparing for opportunities that Mr. Sudikoff could hardly have imagined. Teleports originate and distribute online video and connect with ships, oil rigs, trucks, trains and aircraft. They help deliver consumer broadband and push the Internet of Things beyond the edges of the terrestrial network. They are integrating cloud services into their solutions and providing gateway services for the growing number of high-throughput GEO, MEO and LEO satellite networks.
Pulse of an Industry
The World Teleport Association recently published a market-sizing study of the global teleport industry. The study updated research last published in 2010 to provide estimates of the number of commercial teleports in operation, their revenues, satellite capacity usage, capital expenditures and headcount. Using this data, decision-makers can estimate the global and regional market share for a teleport operating company, conduct due diligence for mergers and acquisitions, and identify potentially underserved regions for investment and market development.
Over the past seven years, the teleport sector has seen consolidation as companies build scale to gain cost efficiencies and improve their competitive position. This has produced an industry that is smaller in the number of facilities it operates but larger in total revenues. The number of commercial teleports worldwide has decreased by 3 percent from 2016 to 2018, for an annual average of 1 percent. In 2010, WTA reported a worldwide commercial total of 996, representing an average 3 percent annual decline in facilities from 2010 to 2016. In that context, the 2016-2018 period saw a slower pace of consolidation in physical facilities.
Over the same period, however, estimated total revenues of the teleport sector grew 6 percent from US$9.813 billion in 2016 to US$10.384 billion in 2018. Average revenue per teleport rose 9 percent from US$13.9 million in 2016 to US$15.2 million in 2018. For the sector as a whole, consolidation did its job of creating fewer, more productive assets.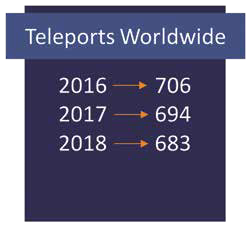 Consolidation, however, is hardly the entire story. In a mature technology market, while mid-size companies become larger and the largest seek further increases in scale, new players enter the market to exploit new demand created by technology and market change. The teleport itself undergoes radical change: packing far more services into fewer antennas, virtualizing operations into software that once required massive hardware investments and substituting terrestrial networks for satellite distribution where they can.
Where the Growth Is...
The growth of the teleport sector has been a boon to satellite operators. On a global basis in 2017, the teleport industry purchased 222,500 MHz of satellite capacity for an estimated US$5.3 billion. Spending on capacity rose 6.5 percent across all regions from 2016 to 2018, as teleport operators continued to make satellite a vital part of their network operations.
Where are teleport executives planning to put this capacity to work in the coming years? In January, WTA published a report called Teleport Opportunities 2018 based on a survey of teleport executives conducted at the end of 2017. The survey was conducted at a time when the business environment in which teleport operators work is being disrupted by technology and market change. Their established businesses face disruption from new models of connectivity (HTS, MEO and LEO), by the rising domination of software over hardware, and customer demands for seamless global service. They are disrupting their own operations by innovating up the value chain to meet new customer needs, which requires a new depth of technology knowledge and strong management skills.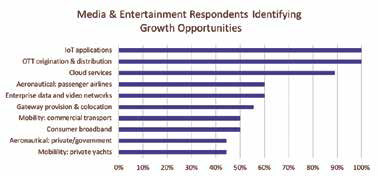 The survey asked executives to identify the markets they are targeting for growth, where they are investing, what technology is on their wish list, and how they are staffing up for the future. Their answers differed depending on whether their primary market was video for the broadcast, cable and DTH market, or data for the corporate, telco and government market.
Media-centric companies see their top opportunities in the Internet of Things (IoT), Over the Top (OTT) video distribution, cloud services, aeronautical service for passenger airlines and enterprise data and video networks. That's a very interesting list — because only two of those five growth opportunities are in the media and entertainment business. That seems to reflect a dim view of the future of their core business. Nearly half of media-focused operators expect future decline in DTH, terrestrial and cable origination and distribution and are shaping their investment plans accordingly.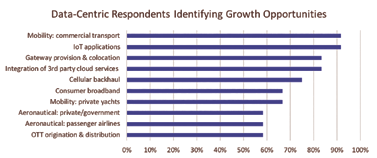 Data-centric companies have a different set of growth targets, of which the top five are mobility for commercial transport (maritime, trucking and rail), IoT, gateway provision for satellite operators, the integration of third-party cloud services into their offerings, and cellular backhaul. Their planned investments are broadly in line with those expectations — with the notable exception that some 20 percent expect to reduce their investment in conventional cellular backhaul.
Part of the Whole
However the future unfolds, all signs point to the need to deepen the integration of teleports and satellite into the broader telecom market, where growth in demand seems to know no end. Arqiva in the UK is the top provider of satellite services to the broadcast industry — but also runs the terrestrial transmission tower network and even pipes video into the London Underground over fiber. GLOBECOMM in the U.S. has a partnership with AT&T to serve as that company's satellite provider for IoT applications and is a partner of Amazon Web Services for cloud computing. Speedcast works with telcos to extend their services to the maritime industry with specialized email, voice and network management services that minimize bandwidth costs for price-sensitive shipowners. As the CEO of a teleport operator in Europe told us, "Our future is in having deep relationships with major telcos and integrators. I have five salespeople. They have 5,000. I want them selling services where my company plays a role, even if it is a small one in terms of the total deal. That's how my company succeeds."

Robert Bell is the executive director of the World Teleport Association (www.worldteleport.org), which conducts research into the teleport and satellite industry and offers a Teleport Certification program to service providers. This article is based on data from Sizing the Teleport Market 2018 study published in March and the Teleport Opportunities 2018 report published in January.
---