Greg Ewert joined Iridium in 2004 and is responsible for business development for Iridium as well as its relationship with its distribution channels. Mr. Ewert brings 19 years of experience at senior-level positions in the global communications industry. Prior to joining Iridium, from 2002-2004, he served as Executive Vice President for Marketing, Sales, Product Development, Business Development and Customer Service for COMSAT International. Prior to COMSAT, from 1998-2002, he held executive positions within Teleglobe Inc., ranging from Senior Vice President of Global Data Services to Vice President and General Manager of Carrier and Emerging Markets. Before Teleglobe, he worked for Sprint from 1987-1997, where he held various positions including President of Sprint International of Canada.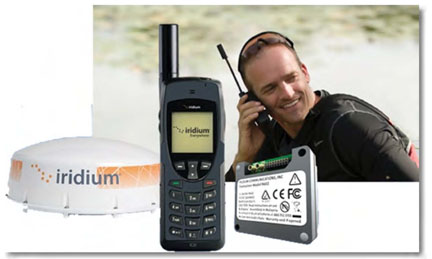 SatMagazine (SM)
First, Greg, can you tell our readers about your background and your current responsibilities as executive vice president for global distribution channels?
Greg Ewert
I joined Iridium in 2004 and am currently responsible for business development as well as building relationships with our distribution channels. Prior to Iridium, I served as Executive Vice President for Marketing, Sales, Product Development, Business Development and Customer Service for COMSAT International. Prior to that, I held the position of Senior Vice President, Data Services at BCE/Teleglobe. I started my telecom career at Sprint, where I served in various capacities, including as President of Sprint International Canada. I was also a member of the executive management team of GlobalOne, an international joint venture of Sprint, France Telecom and Deutsche Telecom based in Brussels, Belgium.
SM
I see you've just completed your annual partner conference in New Orleans. Can you give us a high-level report on that significant Company event?
Greg Ewert
This year's Iridium Partner Conference — themed
The Future is Everywhere
— was more impactful and richer in content than previously experienced. We had more than 400 attendees representing 130 partner companies from all over the world participating in the event. The two-day conference included presentations by Iridium's senior management team and breakout sessions that were dedicated to specific Iridium product lines and vertical markets, as well as case studies from customers.
Iridium CEO
Matt Desch
offered a report on the state of the company and the mobile satellite communications marketplace. Also,
Elon Musk
, president and CEO of Space Exploration Technologies (SpaceX), reported on the successful launches of the new Falcon 9 rocket, which will be the primary launch vehicle for the Iridium NEXT satellite replenishment program.
The conference served as a platform for partners to introduce new Iridium-based products and solutions and provided a forum for networking opportunities among partners and Iridium team members. It's truly exciting to see the synergy at work among the partners attending the conference, sharing ideas and opportunities with each other.
SM
You often refer to your network of service partners as an ecosystem. What exactly do you mean by that?
Greg Ewert
An ecosystem is typically defined as a system formed by the interaction of a community of organisms with their environment. Our partner ecosystem refers to Iridium and all the components that interact and connect with each other to create partnerships. For us, the "ecosystem" is Iridium, the solution providers and the end users, all working together and operating on the Iridium network.
SM
Can you give us a concise description of the types of partners in Iridium's ecosystem?
Greg Ewert
Iridium service providers (SP) and value-added resellers (VARs) sell Iridium products through their dealer networks. VARs also take the raw Iridium data products, combine them with solutions, and resell the integrated products. For example, a VAR that sells both Iridium equipment and airtime. Value-added manufacturers (VAMs) manufacture the equipment and have the sophisticated knowledge required to get products and solutions through the certification processes. Value-added developers (VADs) supply the solutions, such as email or specialty billing services, which support the products.
SM
How has your partner network grown and changed over the past several years?
Greg Ewert
The number of partners in our network has steadily grown each year. Iridium's partner ecosystem now stands at more than 250 companies spanning the globe. Over the years, Iridium has made a substantial move from primarily voice services towards more data-centric partners. Our driving force is to provide global satellite M2M service to parts of the world where no other network can go. Iridium has consistently sought to develop relationships with a strong partner base that includes some of the most successful companies in the industry across key vertical markets.
Introducing the revolutionary
Iridium 9602 Short Burst Data
(
SBD
)
Transceiver
has allowed our partners to build and implement new innovative 9602-embedded products and has made global satellite M2M communications service obtainable to a much larger group of partners and applications. In addition, the introduction of
Iridium OpenPort
®
, which provides the world's only global voice and data service, has considerably grown our partner network throughout the maritime industry.
SM
How do you see the partner network changing over the next few years?
Greg Ewert
We anticipate continued growth across the vertical markets as our partners continue to develop products, applications and solutions for an even broader range of customers and end-users.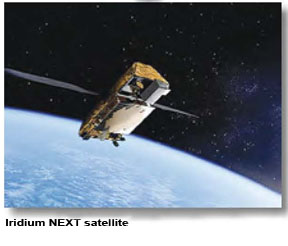 Iridium NEXT, our next-generation satellite constellation, is expected to begin launching in 2015. Our partners can expect to experience a seamless transition to the greater capabilities of Iridium NEXT and can expect 100 percent backward compatibility. As with the current satellite network, the Iridium ecosystem of partners will have full access to the robustness and resiliency of Iridium NEXT to support their products.
SM
I understand you have instituted a new certification program for partner products operating on the Iridium satellite network. How does that work, and how will it improve your service to end users?
Greg Ewert
The Iridium product certification process has been streamlined to more efficiently move partner products and solutions through. We have team members in our product certification department working around the clock, reducing the amount of time it takes for products to achieve certification and ensuring that more Iridium-certified innovations are brought to market sooner.
SM
How will Iridium NEXT affect your distribution strategies?
Greg Ewert
We do not expect to make any drastic changes in the way we distribute to the market. The current partner system works very well for us. Indeed, it's the innovative products and solutions developed by our partners that drive Iridium's surge into a position of market leadership. Importantly, Iridium NEXT will be totally backward compatible with the current satellite, so all user equipment will still function on the new network. But I'm sure that Iridium NEXT will be a major driver of growth for our company and our partners, enabling new and exciting capabilities.