Media, resources, maritime and aeronautical industry requirements from commercial and consumer perspectives are growing at an increasingly rapid rate. Global demand for Communications On The Move (COTM) is driving the evolution of the satellite industry to continue to provide fresh capacity and develop the associated technologies.
The globalization of content and data movement; emerging economies with rising middle class income; broadband connectivity with wireless and bandwidth heavy applications; mobility for broadband at sea, on land and in air; format proliferation from devices through to ultra HD—these all highlight the vital role of satellite communications and the importance of available satellite capacity around the world.
So noted Claude Rosseau, Senior Analyst for Northern Sky Research (NSR) recently, "As airlines continue to seek the best business models to offer connectivity during flights, it is not a question of if, but when will they provide Wi-Fi and data services via satellite."
Current Australian Assessment
Communications play an integral role in the information society in which we currently live, whether it be in-flight entertainment and connectivity for airline passengers or executive transport operations and maritime patrol and troop missions.
With the geographical constraints of a large continent such as Australia, the consideration of travel time and schedules within and outside the country is vital for real-time decision making, employee productivity and operational efficiency. Internet access employing satellite broadband enables true mobility and satisfies the demands from government, enterprise and consumer markets for constant access to the flow of information with reliable, secure connectivity anytime, anywhere.
For example, by June of 2013, 19.6 million subscribers had Internet access via a mobile handset in Australia. That's an increase of 13 percent from the end of December 2012. The volume of data downloaded via mobile handsets between April and June 2013 was 19,636 Terabytes, a 43 percent increase from the period October to December 2012, according to the Australian Bureau of Statistics.
In Australia, airline activity has undergone an increase, according to the Bureau of Infrastructure, Transport and Regional Economics (BITRE). In September of 2013, 2.681 million international passengers, and in October of 2013, 5.24 million domestic passengers boarded aircraft, leading to a 5.8 percent and 2.2 percent increase, respectively, compared with the same months a year earlier.
Australia has 91.5 percent of their international cargo transported by sea, equating to 1,068,000,000 tons carried annually by Australian and foreign vessels.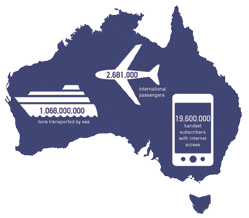 Additionally, shipping has seen 130 percent growth over the last 10 years to a level of 52,206 voyages annually. In June of 2012, the Office of the Inspector of Transport Security also reported that Australia is currently the fifth largest LNG exporter in the world and the industry is developing projects that will make Australia the world's first or second largest LNG exporter by 2018.
At the same time it reported that Australia's offshore LNG projects are extending further northwards, with major developments underway in the JPDA between Australia and Timor Leste and closer to Indonesia. From another maritime perspective, the unique requirements from government and military, particularly in relation to maritime intelligence, surveillance and reconnaissance (ISR), are also key demand drivers.
The Role Of SATCOM
With the abundance of enterprise, government, maritime, aeronautical and consumer demand for anywhere-anytime broadband around the globe, satellite communications is the technology to cater for bandwidth demand and information sharing on the move. With the infrastructure, technology and capacity for two-way communication between air, land or sea vessel and head office, satellite provides time critical Internet, voice, video and data for mobility, maritime and aeronautical markets.
The seamless integration of enterprise networks which ensure that every remote employee can communicate, whether they are sitting at the next desk on land, on the other side of the world at sea or in the sky, is among the vital roles played by satellite communications in today's bandwidth dependent, mission critical, information society.
Bandwidth Availability
In response to requirements for high bandwidth for fixed and broadcast services, together with more targeted coverage, Ku-band satellites provide capacity to supplement the saturated C-band, as well as to complement Ka-band capacity—their use has spawned a range of innovative satellite applications.
Ku-band was initially adopted for satellite communications exclusively, eliminating competition and signal interference from other communications systems. It enabled high-speed uplinks and downlinks using smaller, end-user antennas. Ideal for deploying services to multiple users, Ku-band enables focused bandwidth and high-quality communications across larger geographical regions.
It's all about meeting the growing demand from remote sites, virtual employees and exploration teams requiring real-time data transfer and video conferencing to onsite office services, remote asset monitoring, and workplace health and safety. These high bandwidth mobility applications will continue to require "new" capacity to function effectively.
Fresh Capacity
It is the capacity from satellites such as NewSat's Jabiru-2 that will ensure the bandwidth required for innovative mobility applications is available upon demand, providing highly targeted Ku-band coverage in and around Australia. Set to launch in early 2014, Jabiru-2's high bandwidth connectivity in the Australasia region is opening up new satellite possibilities for oil & gas, mining, maritime, aeronautical, media and carrier-grade telecommunications markets in the area.
The highly focused capacity across Australia, Timor Leste, Papua New Guinea and the Solomon Islands will deliver to enterprises and governments the network cohesion of communications across large geographical territories and the knowledge that, wherever they are, reliable and secure communications are available.
The Countdown Begins
The MEASAT 3b satellite which hosts the Jabiru-2 payload was built using the Astrium Eurostar 3000 platform. NewSat Chief Technology Officer, David Ball, noted, "We are pleased Jabiru-2 construction is complete and look forward to working with MEASAT as we continue to prepare for launch."
NewSat Chief Commercial Officer, Scott Sprague, said, "There is a lot of interest in Jabiru-2. Jabiru-2 will further facilitate NewSat's services across the emerging and growth regions of Australia, Papua New Guinea, Timor Leste and the Solomon Islands. With high intensity zones and its focused capacity, Jabiru-2 will enable NewSat to deliver the high-quality, exceptional services our customers expect."
Jabiru-2 is currently in storage at Astrium's Toulouse site in France and, once a launch date in H1 2014 is confirmed, the satellite will be securely transported from Toulouse to the European spaceport at Kourou, French Guiana.
Jabiru-2 will be launched by Arianespace on the industry leading Ariane 5 launch vehicle and reside in the orbital slot at 91.5 degrees East. The satellite will have a 15-year contractual in-orbit mission life, a launch mass of approximately six tons, a wingspan of 40m (once its solar arrays are deployed in orbit), and spacecraft power of 16 kW.

About the author
Bob Gough is a communications systems engineer who has spent over 35 years in the satellite communications business, with the European Space Agency and in the Industry. During seven years at ESA Bob worked on a number of communication satellite projects, and was involved in spacecraft and Earth station development as well as end-to-end SATCOM system design. Bob worked as part of the team that developed the very first European Ku-band and Ka-band satellites. Mathematical modeling and computer simulation of FDMA, TDMA and CDMA signal transmission through end-to-end nonlinear satellite links is a specialty.
Upon leaving ESA, Bob founded a successful satellite communications equipment manufacturing company with an international customer base. Tracking systems, VSATs and digital modems were a specialty. He subsequently held senior management positions in publicly listed defense, computer and communications companies. Now based in Australia, Bob runs an independent satellite communications consultancy, Carrick Communications Ltd. Bob Gough, BSc (Hons), PhD, MIET, CEng is a Chartered Engineer and a Member of the Institution of Engineering & Technology.