Over the last five years, the newsgathering (NG) market has experienced strong growth on all fronts. Euroconsult's latest report on Video Content Management and Distribution highlights the total number of NG terminals in service increased rapidly, from 16,400 in 2008 to approximately 30,000 in 2013 (13 percent CAGR).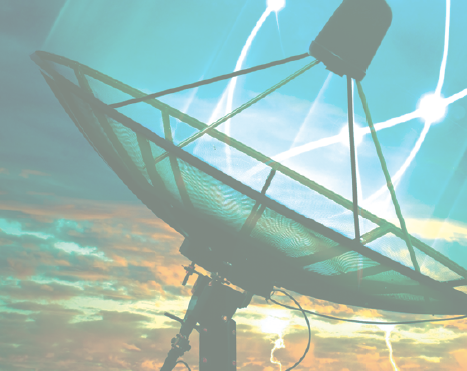 2014 is expected to hit a new peak mainly driven by major sports events such as the Sochi Winter Olympics and the FIFA World Cup in Brazil. For example, TV channel NBC presented 539 hours of linear content from the Sochi Olympics, which was 103 more hours than the last Winter Olympics in Vancouver.
The market for newsgathering is mainly driven by the multiplication of live events and the increase in the number of TV channels as well as the number of NG units per channel. These factors are also expected to drive demand for news gathering services in the future. The internationalization of news means that TV channels need to send more news gathering teams around the world to cover all types of events.
Moreover, international and national broadcasters are progressively migrating from standard definition (SD) to high definition (HD). As the viewer increasingly expects a real HD experience, the TV station cannot simply upgrade their studio operations; they must also update their remote production facilities to provide NG services in HD starting from field production.
The Newsgathering Terminal Toolbox
TV broadcasters and service providers own, and or lease, NG solutions that enable instant access to news wherever it may take place. Depending on the type of event and its location, broadcasters will use different solutions ranging from satellite news gathering trucks, fly-aways, and MSS units to Cellular 3G/4G devices.
The increasing usage of HD in the contribution market will enhance the requirements on NG terminals to transmit content at higher data rates. In addition, broadcasters are continuously seeking opportunities to reduce their total cost of ownership.
The newsgathering market has recently seen several technological changes to meet increasing user requirements. The first HTS Ka-band terminals were rolled out in 2012–13, and following months of field testing by broadcasters and service providers—they are now commercially available.
In the meantime, we have observed the rapid expansion of 3G/4G networks and the growing ability of bonded cellular units to upload HD content at competitive prices. As a result, 3G/4G units are increasingly considered as a replacement to satellite terminals rather than a complimentary tool. As these technologies are expected to drive the future news gathering market, let's benchmark their performance on three key criteria of coverage, cost and performance.
Coverage
The continuing expansion of cellular networks and HTS systems is undeniable. Euroconsult's report on High Throughput Satellites highlights that capacity supply will continue to double every two years to reach more than 920Gbps by 2015.
On the other hand, 85 percent of the world's population will have 3G coverage by 2017, while 50 percent of the world's population will be covered by 4G/LTE networks according to Ericsson's Traffic and Market Report.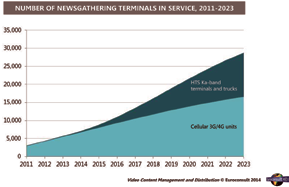 These statistics, however, only tell us part of the story. Although nearly all developing countries have launched 3G services, the coverage is far from nation-wide. While 3G and 4G coverage typically has limits to the most populated urban and suburban areas, HTS systems do often provide nation-wide coverage. The current drawback of HTS systems is that capacity is commercially available in only a few countries in Latin America, Middle East/Africa, and Asia. Inmarsat's Global Xpress system will become the first global HTS Ka-band constellation with near ubiquitous coverage operational from 2015.
Cost
Both HTS Ka-band and 3G/4G technology developments are making NG solutions significantly more affordable for the broadcaster. The equipment prices for HTS Ka-band units are still in the same range as traditional fly-aways. However, the real cost advantage comes from the bandwidth prices, which can be up to 50 percent cheaper than regular capacity. 3G/4G bandwidth is even cheaper, as broadcasters typically pay below $3,000 per month for a fixed number of hours. Moreover, 3G/4G cellular devices start at a fraction of the fly-away cost, although more professional bonded devices with enhanced security features retail around $15,000 -$30,000.
Performance
Broadcasters typically put high requirements on the reliability, availability, ease-of-use and throughput of their NG solutions. HTS Ka-band units and Cellular 3G/4G units both have different advantages in terms of performance. While HTS Ka-band units are more robust and reliable, the 3G/4G cell units outperform in terms of ease-of-use and portability.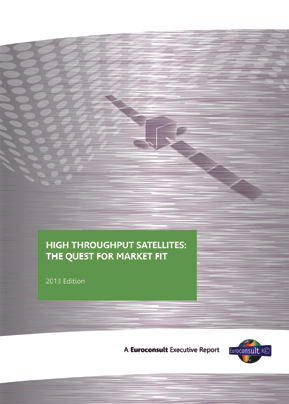 Some broadcasters have expressed concerns on the reliability of HTS Ka-band related to rain and dust fade and, therefore, require extensive testing before adoption. HTS Ka-band can facilitate higher data rates which results in a better picture quality for cellular solutions—this is crucial for high-profile events.
Despite bonding cellular signals, bandwidth is often limited at major news events as news gathering teams compete with local smartphone users.
Euroconsult Market Prospects
The question remains whether 3G/4G will substitute or complement traditional satellite news gathering solutions. Many TV channels should continue to use 3G/4G solutions as a backup or in parallel to the main system, but a growing number of channels should increasingly use them as their main system, once they become more reliable. Moreover, broadcasters that do not have NG terminals are expected to be more interested in owning or leasing HTS Ka-band lightweight units and 3G/4G units, due to the increasing ease-of-use and lower cost of ownership.
As a result, Euroconsult projects the use of HTS Ka-band and cellular solutions to grow in coexistence at a nearly equal pace, adding respectively 12,000 and 11,000 terminals between 2013 and 2023. Although part of the growth will come at the expense of traditional satellite news gathering solutions, the majority of terminal growth will significantly expand the market.
For more information regarding Euroconsult, please visit http://www.euroconsult.com/
For more information regarding the company's Video Content Management and Distribution report, please visit
http://www.euroconsult-ec.com/shop/home/44-video-content-management-and-distribution.html
To access Euroconsult's report on High Throughput Satellites, visit:
http://www.euroconsult-ec.com/shop/satellite-communications/39-high-throughput-satellites-the-quest-for-market-fit.html
Ericcson's Traffic and Market Report may be accessed at http://www.ericsson.com/news/1617338
About the author
Nathan de Ruiter is a Senior Consultant for Euroconsult's SATCOM practice, based in Montreal, Canada. He is the editor of two thematic reports on High Throughput Satellites and Hosted Payloads and a major contributor to Satellite Communications & Broadcasting Markets Survey and Company Profiles: Analysis of FSS Operators. He can be reached at deruiter@euroconsult-na.com