The beauty of mobile satellite communications is that customers are able to move and still maintain the ability to communicate effectively even in the most remote of areas. Despite the fact that terrestrial networks are on the rise, there are still many areas which have limited infrastructure thus leading to a dependence on satellite communications to stay in touch with the rest of the world. With ubiquitous coverage in 140 countries in Europe, Africa, Middle East, Asia and Australia, Thuraya is able to provide reliable and mobile satellite based communications to a range of market segments and customer types regardless of their location. The Company achieves this through a versatile and growing portfolio of voice, data, fleet tracking and maritime solutions. Mega markets for the operator are in the Middle East and Africa which have seen extensive use of Thuraya products since the Company's inception in 1997.
The Resource Rich Middle East
"In several areas in the Middle East,
Thuraya
has been the number one source of communication. To be more specific, when we use the term Middle East, we are talking about the
GCC
(
Gulf States
), an area rich in natural resources. The most obvious resources are oil and gas, and there are large investments in these sectors. As the operations of this sector are normally located in areas where there could be limited terrestrial networks, satellite communications is the ideal partner of choice," said Thuraya's Executive Manager Marketing and Sales,
Mr. Muiz Saad
. He also added that Thuraya has worked closely with several oil and gas companies in Saudi Arabia, Qatar, the United Arab Emirates and Libya to ensure they are provided with the most advanced and modern methods of communications.
"Thuraya's handhelds have always been the main products demanded by the oil and gas sector because they are compact, lightweight and incredibly smart devices. We are now seeing increased demand for our data and maritime services from the oil and gas sector and most importantly our tracking services," elaborated Mr.
Saad
. In fact, Thuraya is currently engaged in a project with a large oil company in Saudi Arabia that uses the Thuraya network through a specialized device called
Thuraya Module
which is installed in the oil company's tracking devices to ensure access to the network.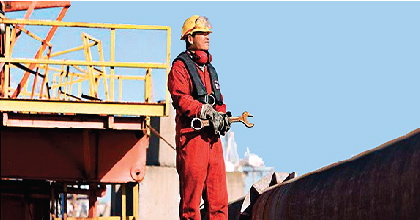 "Thuraya Module is a multi-purpose satellite modem that has been designed to be the core unit of new products being developed by Thuraya or third parties. The module supports voice, data, fax, SMS and GmPRS. It has been strategically designed to create opportunities for partners to use the versatile capabilities of the Thuraya satellite system," said Mr.
Saad
. The oil company is Saudi and is using Thuraya's tracking services for the monitoring of their fleets, especially in remote areas.
The oil and gas sector in the Middle East also benefit from Thuraya products as the coverage area allows data, maritime, voice, and fleet management solutions for onshore and offshore operations. Multinational companies that are dispersed throughout the coverage area can communicate very reliably and efficiently with Thuraya solutions via the network.
"Thuraya's solutions are used by oil companies in the Middle East for communication between remote sites and headquarters since the majority of operations of the energy sector such as rigs, wells and platforms are in areas which may not have access to terrestrial networks. Moreover, Thuraya is a very suitable back up for fixed satellite services which sometimes experience interference during rough weather conditions. The advantage of Thuraya is weather conditions do not affect the ability to communicate reliably," added Mr.
Saad
.
He elaborated that Thuraya can boost operational systems, such as
SCADA
, by enabling the monitoring of oil wells and pipelines. If an oil company wishes to monitor the pressure, corrosion, and temperature of a pipeline and accordingly communicate this information at regular intervals to make timely decisions, this is possible with Thuraya IP.
"Most importantly, Thuraya's communications solutions are highly demanded for oil company crew welfare since they spend large periods of time in tough conditions. With Thuraya, the crew can browse the net, watch movies, chat, use VOIP, make voice calls, and constantly feel connected with the rest of the world," said Mr.
Saad
.
Within the Middle East, Thuraya solutions have gained impetus with sectors in addition to oil and gas. Government agencies in the Middle East require Thuraya's services for the monitoring of borders and security. On an individual level, there are several customers who venture out into the desert for hunting and camping who use Thuraya's solutions, especially in areas where there is little or no GSM reach. "In Saudi Arabia, there are several individual users who roam into the Thuraya network," mentioned Mr. Saad. "The region is a main trade route for several shipping lines and, as Thuraya covers the Arabian Gulf, Red Sea, Mediterranean and the Arabian Sea, the Company's maritime services are also in demand. Additionally, Iraq and Afghanistan are very unique markets for Thuraya. We were the only source of communications and we enabled troops in both countries to make phone calls very easily," said Mr.
Saad
.
Rural Communities + Conflict Zones In Africa
Africa is also a core market for Thuraya due to its size and the fact that several regions are under-developed and lacking in terrestrial networks. In many areas in Africa, satellite services are the only source of communication. As a MSS operator, Thuraya supports economies and sectors, such as agriculture, which use our products for the exchange of business and information," mentioned Mr.
Saad
. "In addition, the presence of large
Non-Government Organizations
(
NGOs
) in Africa, such as the United Nations and others who require satellite communications for their operations in remote areas, creates vast demand for Thuraya," added Mr.
Saad
.
Thuraya's voice solutions have proven to be the most reliable and effective means of communication in many parts of Africa. "In rural areas where there are no terrestrial networks or any form of development, Thuraya's
Rural Telephone Solutions
such as the Public Calling Office and Pay Phones have generated immense interest. In 2005, we installed 2,500 Thuraya Public Calling Offices (PCOs) and 500 pay phones across much of Libya's desert areas and on oil and gas rigs, to cater to the huge workforce in the industry. As the project was subsidized by the Libyan government, it meant that — for the first time — rural inhabitants in Libya were able to use telecommunications services and stay in touch through the successful implementation of Thuraya's satellite PCO and pay phone services," elaborated Mr.
Saad
.

Africa is a region that is filled with conflict zones such as Darfur in Sudan or Chad. In several areas of these countries, satellite communication is crucial.
"Since we started our business in Africa, Thuraya handhelds and pay phones have been used for receiving phone calls at no charge in Darfur. In Chad to help in the monitoring of borders and to facilitate refugee migration through NGOs, our handhelds have also proven to be effective," said Mr.
Saad
.
"Both the Middle East and Africa are significant markets for Thuraya and have depended on the Company's voice solutions for a long time. With the increase in demand for data, both regions have witnessed an increased roll-out of Thuraya IP which is a generation enhancement of Thuraya DSL which was widely used in Africa. Thuraya's voice, data and maritime solutions are recognized for their user-friendliness, compact designs and cost-effective payment packages which adds to their competitiveness in the Middle East and Africa which Thuraya will continue to serve customers through specialized products and services that meet the needs of several key vertical market segments."