Aireon(sm)—Air Traffic Surveillance Advancements Ahead
For the first time ever, air traffic management agencies around the globe will be able to continuously track aircraft anywhere in the world.

Aireon LLC, a planned joint venture announced by Iridium Communications Inc. (Nasdaq: IRDM), will make this transformation possible.
Aireon will deliver this revolutionary surveillance capability to Air Navigation Service Providers (ANSPs) around the world and their commercial airline customers through a planned joint venture between Iridium and NAV CANADA with support from the U.S.
Federal Aviation Administration (FAA) and suppliers Harris Corporation (NYSE: HRS) and ITT Exelis (NYSE: XLS). NAV CANADA, whose participation is subject to the completion of formal agreements in the near future, intends to be Aireon's first customer.
Aireon will enable fully global and continuous space-based monitoring and control of aircraft, even over oceans and remote regions where it is not currently possible.
Aireon's service will use space-qualified Automatic Dependent Surveillance-Broadcast (ADS-B) receivers built into each of the 66 satellites in Iridium NEXT, Iridium's second-generation satellite constellation, to deliver this transformational capability. Iridium NEXT satellites are scheduled to launch from 2015 to 2017, and will provide this capability as the new satellites are commissioned, with full service expected by 2017.
Aireon's new offering will enable commercial airline operations to be more efficient, safer and more environmentally friendly.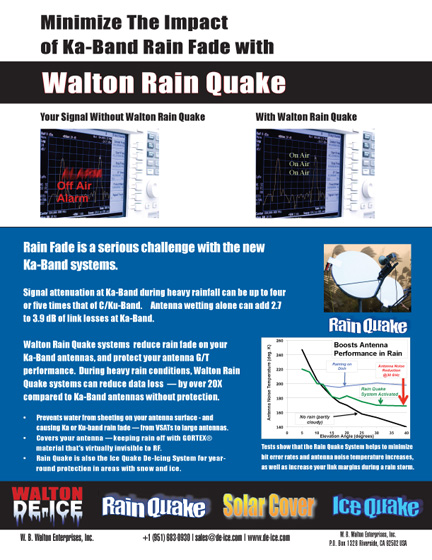 Today the world is divided into Flight Information Regions where ANSPs safely manage aircraft within their designated coverage areas. For example, across the heavily traveled North Atlantic, the FAA, NAV CANADA and NATS in the UK manage traffic between points in Europe and North America but need to keep aircraft widely-spaced in part because of the lack of radar visibility over oceanic airspace. Aireon will provide complete visibility to all aircraft everywhere, helping ANSPs decrease inefficiencies.
NAV CANADA is ideally suited to be a partner in Aireon since it manages the second largest air navigation service in the world by traffic volume. In its North Atlantic operation, NAV CANADA provides air traffic management for 1,200 flights per day—the busiest oceanic airspace in the world. NAV CANADA operates one of the world's most advanced oceanic air traffic management systems, and has been a pioneer in the use of ADS-B over remote areas and now into the North Atlantic through ADS-B ground stations over Hudson Bay, the Eastern Arctic and Greenland.
"I am excited that Iridium will once again be able to use its unique global satellite network to expand connectivity beyond the limitations of ground-based systems," said Matt Desch, CEO of Iridium. "Just as we opened the world of personal communications far beyond the 10 percent of the Earth's surface that is covered by terrestrial networks, we are now extending the reach of land-based aircraft tracking systems. This is a big milestone for commercially hosted payloads and it will be a ground-breaking use of Iridium NEXT. Iridium is the only company with the capability and reach to enable this, and we are thrilled that our service will make air travel more efficient and safer. Aireon is truly revolutionary."
For Iridium, Aireon is the product of its multi-year commitment to establish an innovative use of the hosted payload capability that will be available on Iridium NEXT. The ADS-B 1090 MHz Extended Squitter (ES) receivers on every Iridium NEXT satellite will complement ground-based air navigation systems currently in use by seamlessly relaying, in near-real time, position and status information of aircraft flying over oceans, poles and remote regions to air traffic controllers on the ground.
This new capability will extend the benefits of current radar-based surveillance systems, which cover less than 10 percent of the world, to the entire planet. The Iridium NEXT constellation, a low-Earth orbiting (LEO) system of inter-linked satellites, is the only system that will be able to seamlessly provide ADS-B coverage globally.
"We have pulled together a world-class team of experts in air traffic management and communications to make this venture possible," added Don Thoma, president and CEO of Aireon and an Iridium executive vice president for more than a decade. "By bringing together Iridium, NAV CANADA, Harris and Exelis, Aireon will represent unparalleled experience in developing and deploying advanced air traffic surveillance systems. Together, we will create a very unique and important service, and we are poised to help the aviation industry evolve to new levels of efficiency and safety."
Multinational mandates already require commercial aircraft to be fitted with ADS-B transmitters. Given that such upgrades are already underway (and required to be completed in U.S. airspace by 2020 as part of the FAA's NextGen initiative), Aireon will enable air carriers to maximize returns on billions of dollars in aircraft avionics upgrades they are already making without the need for any additional onboard equipment. They will benefit from improved climb profiles, more flexible routing, and more efficient use of airspace —saving substantial fuel and time on oceanic routes.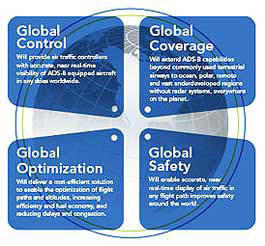 "NAV CANADA and other ANSPs around the world have made significant progress in our efforts to enhance flight efficiency in oceanic airspace using today's technologies and procedures; however, there are still significant limitations due to the absence of viable surveillance over most of the world's oceans," said John Crichton, president and CEO of NAV CANADA. "These limitations ultimately waste fuel and increase carbon emissions, despite the best efforts of air traffic services personnel. Aireon will enable a quantum improvement. For that reason, NAV CANADA aims to be a major user of this new ADS-B capability, starting with the busy North Atlantic airspace. Furthermore, we feel that this Iridium innovation is so important to the future of air traffic management—with significant transformative potential—that we have decided to become a partner in this venture, subject to the completion of formal agreements."
In the U.S., the FAA has been working with Iridium and the Aireon team over the past year to evaluate the capabilities of space-based ADS-B systems.
"Because the insight and control of air traffic management through space-based ADS-B is unparalleled, the FAA will be engaged with Iridium and its Aireon partners in setting the specifications and configuration of space-based ADS-B surveillance," said Chris Metts, FAA air traffic vice president, Program Management Organization.
Aireon will deliver significant value to both public and private stakeholders in the global aviation community. Planned benefits delivered by Aireon will include:

– Operational Cost-Savings
– Lower Environmental Impact
– Extended Operational
Exelis has been the systems engineering provider for Aireon and has extensive experience collecting and providing air traffic information as the operator of the FAA's ground-based ADS-B system.
"Exelis has been working closely with Iridium on the development of the space-based ADS-B system applying our experience designing, deploying and operating the terrestrial ADS-B network in the U.S., which serves as the backbone of the FAA's NextGen initiative," said Mike Wilson, president of Exelis Information Systems. "With this proposed joint venture our goal is to ensure that the space-based ADS-B service offered by Aireon seamlessly integrates with, and extends, existing ground-based services, setting a foundational building block of a globally harmonized space-based air traffic management system."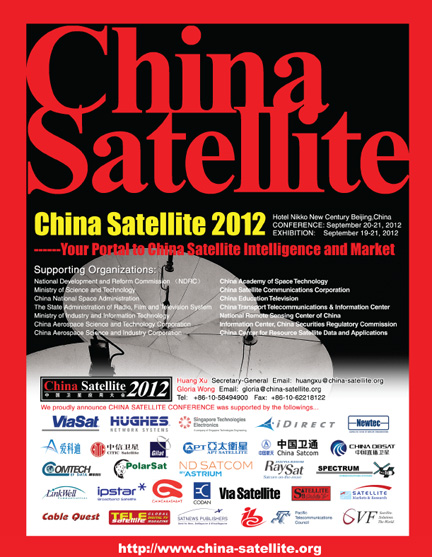 Harris Corporation has been selected as the payload provider for Aireon after an extensive, competitive process. Leveraging more than 50 years of space experience and a close relationship with the FAA, Harris will provide 81 space-qualified ADS-B receivers to fly as hosted payloads on Iridium NEXT, including in-orbit and ground spares.
"This is the most significant hosted payload program in the space industry to date," said Bill Gattle, Harris Corp. vice president of space systems. "Through our partnership with Aireon, we will leverage our deep technical expertise in space payloads and air traffic control systems to deliver extremely flexible solutions at an affordable cost."
Assuming the successful negotiation of long-term service contracts with NAV CANADA and other ANSPs, and related financing, Aireon is expected to generate approximately $200 million in one-time hosting fees for the integration and launch of the payloads between 2014 and 2017.
Iridium also expects to receive annual data fee revenue and have a significant retained interest in Aireon, which will evolve it from being the largest shareholder today to between 40-50 percent ownership during the deployment of Iridium NEXT. The Company expects that Aireon will be accommodated on future Iridium constellations, enabling continuity of its operations well beyond 2030.
Fieldstone Partners and NEXA Capital Partners are advising and supporting Iridium in the formation of Aireon LLC. Aireon LLC, a Delaware limited liability company, will be headquartered with Iridium in McLean, Virginia.
* * * * * * * * *
Capturing Capacity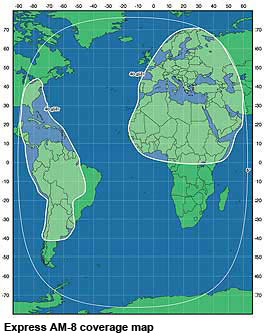 The Russian Satellite Communications Company (RSCC), the Russian state satellite operator, and Earthly Orbit Communications Limited, a U.K.-based satellite solution provider, jointly announced that they will grow their existing relationship, which currently includes leasing large volumes of capacity on Express AM44 (11 degrees West) and Express AM22 (53 degrees East), with a cooperation agreement for Express AM-8, to be launched in 2013.
The agreement was reached during a series of meetings at the Cabsat 2012 exhibition in Dubai a signing at CommunicAsia 2012.
Earthly Orbit provides customers with a choice of teleports to operate using RSCC satellites and additionally with high quality link performance analysis and capacity optimisation, utilising the latest advances in satellite communication technologies, modulations and coding. This makes it possible for Earthly Orbit to provide best value and service across the globe, often reducing client costs. Earthly Orbit serves a diverse range of clients, including Teleports, Oil & Gas, Mining, Banking, Military, Maritime and Mobile users.
The Express-AM8 satellite is scheduled to be launched to 14 degrees West in the third quarter of 2013. The satellite will be equipped with six high-power Ku- and two C-band spot beams providing coverage of Europe, Africa, the Middle East, North and South America. Express-AM8 is designed for high-quality video, voice and data services in both local and transatlantic networks. Earthly Orbit will initially be committing to three C- and two Ku-band transponders.
* * * * * * * * *
Cheers! See You In London
Learn experts' views regarding the future needs of customers and the development of new applications and platforms, all this and more (whew) at the Lancaster London Hotel from September 12-14, which means there are less than three months to go until VSAT2012
.
At this event, the leading innovators in the VSAT market will deliver their views on the future needs of customers and the development of new applications and platforms. COMSYS has negotiated special discounted rates at the Lancaster London Hotel for conference attendees, subject to availability. Please click on the photo at the top of the next column for further information.
The COMSYS VSAT Conference reports indicate it draws the highest profile global speakers and delegates from the industry because it is the only event which covers operational experiences and customer application examples from all regions of the world. Whether you need an industry update, coverage of new technologies and market developments, a chance to network with some of the most influential people in the VSAT business or just some inspiration, the COMSYS VSAT2012 Conference will meet your requirements. Building on 13 years of success , COMSYS VSAT2012 has moved to a larger venue to satisfy the demand for additional places—the Lancaster London Hotel. On the day before the main conference COMSYS there's also a choice of one-day workshops (VSAT Market & Technology Essentials or Satellite Communications Fundamentals).
VSAT2010 and VSAT2011 conferences were sold out—book early to secure your registration.
* * * * * * * * *
Two To Go, Please
Group HISPASAT CEO Carlos Espinós and Executive Vice President Mike Larkin of Orbital Sciences Corporation have signed a contract in Santander, Spain, for the construction of two new satellites, Amazonas 4A and Amazonas 4B.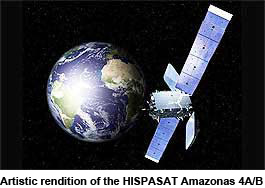 These satellites will be located at orbital position 61 degrees West longitude to enhance the company's presence in the Americas, where HISPASAT is a leader in the dissemination of content in Spanish and Portuguese.
The Amazonas 4A and 4B satellites will allow HISPASAT to meet the growing demand for satellite capacity, mainly for satellite television platforms, in Latin America. This demand is expected to increase even more due to major sporting events taking place in Brazil in the coming years, including the World Cup 2014 and the 2016 Olympics.
These two satellites, together with the upcoming launch of the Amazon 3, are examples of HISPASAT's strong commitment to the Latin American market. Thus, HISPASAT will strengthen its position in the region, characterized by high growth potential for both video and broadband services, and maintain a significant market share. In 2011, 49.1 percent of HISPASAT's total capacity leasing income came from the Americas.
The Amazonas 4A and 4B satellites, along with those already provided in its Plan for Growth and Expansion, will double HISPASAT's in-orbit fleet over the next four years. Five satellites are currently in orbit and will soon be joined by the Amazonas 3, the AG1 spacecraft, followed by the two new satellites from Orbital, and the Hispasat 1F. HISPASAT's total investment will exceed one billion euros and will provide significant returns for Spanish companies in the aerospace sector.
The Amazonas 4A satellite will carry a payload of 24 Ku-band transponders with coverage of South America, from Venezuela and Colombia in the north, to Argentina and Chile in the south. Satellite performance will be 46 to 48.5 dBW throughout the South American mainland.
The launch of Amazonas 4A is scheduled for early 2014. The higher-power Amazonas 4B, whose final design will be determined later depending on market requirements, will be launched into orbit in 2015.
Both GEOStar satellites will be designed, manufactured and tested at Orbital's facility in Dulles, Virginia, in the United States. Amazonas 4A and 4B are the 34th and 35th geosynchronous-Earth orbit communications satellites ordered by Orbital customers around the world, 26 of which are in orbit with nine others (including the two new Amazonas satellites) in design, production or pre-launch preparations.
Orbital's highly successful communications satellites are based on the company's GEOStar satellite platforms, which are able to accommodate all types of commercial communications payloads and are optimized for satellite missions requiring 2.5 to 7.5 kilowatts of payload power. In most instances, GEOStar satellites can be built and delivered in 24 months or less.
* * * * * * * * *
Microwave Makings
COM DEV International Ltd. (TSX:CDV) has been awarded three contracts to deliver hardware for commercial and military communications satellites.
The combined value of the contracts is in excess of $11 million. One of the contracts is initially structured as an Authorization to Proceed, and is expected to lead to a fully funded contract valued at a further $3 million, bringing the total expected value of the three contracts to more than CA$14 million. COM DEV will provide switches, multiplexer assemblies and other passive microwave equipment for the satellites.