SM
Please tell our readers about your Company's business focus, and history, within the various European market segments.
Martin A. Kits van Heyningen
KVH provides satellite communications, Internet access, and satellite TV services to customers on the move, primarily in the maritime market. Our company has been active in Europe through the support of national distributors since 1985, and we opened an office in Denmark to support the EMEA markets in 1998. That office is now our European headquarters, KVH Industries A/S. We target a diverse cross section of the European maritime market, including the yachting, commercial shipping, commercial fishing, government, and oil and gas segments.
SM
What European SATCOM sectors do you believe offer the most potential for Company growth and why?

Martin A. Kits van Heyningen
br /> Growth in Europe will come mainly from the important commercial shipping segment of the maritime market. Broadband services like KVH's mini-VSAT Broadband(sm) offer reliable connectivity offshore, which can be used to drive profitability through initiatives to reduce vessel operating costs, automate administrative tasks, improve route planning for better fuel efficiency, remotely monitor and assist in repairing equipment, and improve crew morale.
SM
How is your Company coping with euro fluctuations?
Martin A. Kits van Heyningen
For the most part, we deal in U.S. dollars—KVH products and services are sold in U.S. currency and most of our costs are in U.S. currency, as well. We do have a few European operations where we have costs that are not in U.S. dollars, but even in those isolated situations, costs are in local currency as opposed to the Euro.
SM
How will the European markets impact global, as well as your Company's business opportunities?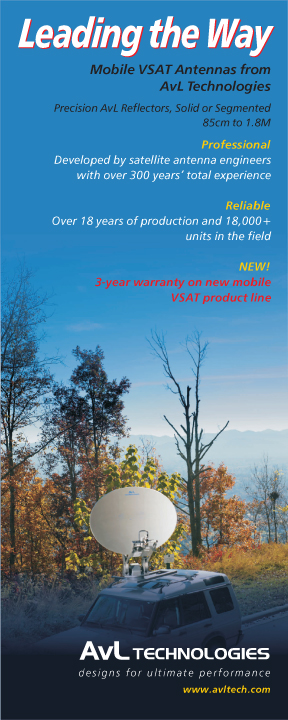 Martin A. Kits van Heyningen
With more than half of all commercial shipping companies headquartered in Europe, this market is vital to the global maritime market. Many of KVH's large fleet customers, including V.Ships and Vroon, are based in European countries.
KVH's mini-VSAT Broadband network is the world's leading maritime VSAT network (source: Euroconsult "Maritime Telecommunications by Satellite" report), working exclusively with our TracPhone® V-series satellite communications antenna systems. This means that our business opportunities for these products and services are impacted heavily by major maritime market segments like those throughout Europe.
SM
What obstacles do you see facing your Company? How do you plan on overcoming such challenges?
Martin A. Kits van Heyningen
KVH is growing quickly, and our mini-VSAT Broadband service has become the most widely used global maritime VSAT service on Earth. Meeting this rapidly increasing demand with a very high quality of service is a significant challenge. By adding satellite capacity that is readily available from commercial satellite providers like Intelsat and upgrading our network infrastructure with transmission prioritization equipment, we have assured that present and future customers will continue to receive the outstanding service that mariners have come to expect from KVH.
SM
What new technologies/products will your Company be working on and/or releasing over the next few months?
Martin A. Kits van Heyningen
KVH will go beyond delivering affordable, premium quality service to onboard terminals using very small antennas to delivering fully integrated network management, our next-generation TracPhone V7IP and TracPhone V11 antennas, which will be launched at the SMM show in Hamburg, Germany, will deliver fully integrated network management capabilities, along with a host of other attractive features that commercial operators can use to reduce costs and increase efficiency across their fleets.
SM
What changes have you seen in the European SATCOM market over the past 10 years?

Martin A. Kits van Heyningen
Ten years ago, vessels traveling offshore had limited choices for global satellite communications service and were forced to pay very high rates to Inmarsat, which had a monopoly on the market at that time. Inmarsat's airtime rates for its Fleet service (new to the market at the time) were $30 per megabyte, creating an economic barrier that made it unprofitable for shipping companies to harness the efficiencies of the Internet for their vessels around the globe. In desperation, vessel owners tried to use VSAT services designed for land applications on offshore platforms, adapting large and expensive antennas for maritime use. While cumbersome, this did provide reliable service at a small fraction of the price of Inmarsat service.
Five years ago, KVH introduced the mini-VSAT Broadband service, which uses advanced spread spectrum technology from our technology partner, ViaSat, to deliver fast, affordable VSAT service to antennas as small and affordable as Inmarsat equipment. Since its inception, mini-VSAT Broadband has grown to be the world's leading maritime VSAT service and we've expanded our line of TracPhone V-series antennas, designed specifically for maritime use, to meet the needs of any mariner, anywhere in the world, at a price that fits their budget.
About the author
Martin A. Kits van Heyningen, one of KVH's founders, has served as president and a director since 1982, as chief executive officer since 1990, and as Chairman of the Board since July 2007. From 1980 to 1982, Mr. Kits van Heyningen was employed by the New England Consulting Group, a marketing consulting firm, as a marketing consultant. Mr. Kits van Heyningen received a B.A. cum laude from Yale University and has been issued several patents.