The annual 'Big Four' gathering at the recent satellite show in Washington D.C. (SES' Romain Bausch, Intelsat's Dave McGlade, Eutelsat's Michel de Rosen and Telesat's Dan Goldberg), delivered some powerful, home truths to the industry. Each of these luminaries combined to praise the innovation that's come from Elon Musk and his SpaceX low-cost rocket venture, saying the degree of imagination and fresh thinking that's come from Musk was a benchmark that fellow rocket builders—and satellite suppliers—need to embrace.
"SpaceX is redefining our industry" was the message from Romain Bausch. "Their industrial process is very different and there must be similar changes across the industry."
Questioned whether the satellite building industry needed an 'Elon Musk' approach, the panel wholeheartedly agreed. "We need someone with that sort of entrepreneurial approach and thinking," said Intelsat's Dave McGlade.
Musk has "shaken the launch industry to its very roots and in a very positive way," said Eutelsat's Michel de Rosen. "Arianespace is certainly challenged and needs to respond to that challenge. They need to do a lot to stay competitive, and I am sure they will do what is needed to give us a launcher that we want to buy. Satellite manufacturers are like us. They respond to us, their customers, and to competition."
The panel agreed that SpaceX had the ability through lower launch costs to materially impact the cost per transponder of launching satellites and could change the economics of the satellite business. "Satellite builders need their own SpaceX," said McGlade. "We need to move from expensive hand-built cars to high production value, mass-production [vehicles]."
Romain Baush said that new applications and business segments were evolving, thanks to the growing availability of High Throughput Satellites (HTS). An example offered is the SES-backed O3b constellation, which was delivering 1.6GB/s with a latency of just 122 milliseconds and which "represented a huge new opportunity for satellites." Bausch told the packed hall at the event that O3b was already being used for on-board connectivity for the Royal Caribbean cruise line aboard its 'Allure of the Seas' vessel.
McGlade said he was looking forward (as were all of the participants) into 4K happening soon, "and then 8K at a later date."He was also anticipating procurement reform at the Department of Defense (DoD), where he felt Intelsat would thrive as the operator could speedily bring on more capacity as needed, as well as faster and more cost-effectively than the government could manage the same efforts. He also welcomed the blurring of lines between the FSS and MSS sectors of the satellite industry. "This trend will continue," he said.
Dan Goldberg, the CEO at Telesat, said he had a "ton going on, and it was fun being in the industry just now. Our challenge at the moment is meeting the growing demands of our customers. Our fleet is pretty full and we are seeing strong demand, which means we are designing and procuring new capacity. We are looking at how our satellites are designed, and how our launch demands might be met."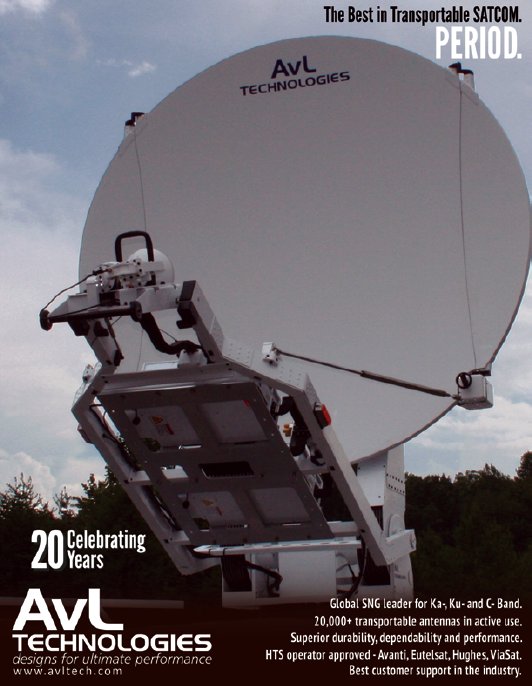 Goldberg said that he expected to order new satellites this year, and Telesat subsequently went on to announce its relationship with the now, Arabsat-owned, HellasSat. Goldberg added, "We are pretty thin in Asia," adding that Asia was probably not the most likely place for expansion by Telesat.
Michel de Rosen, Eutelsat's CEO, said that revenue growth in Western Europe was not doing as well as the rest of the world. "There is growth in the emerging markets, and estimates suggest that 80 percent of future growth will come from the southern Hemisphere markets. Contrary to our friends at SES, Intelsat and Telesat, we had no presence in Latin America [other than its shareholding stake in Hispasat's Amazonas craft] and we see this continent as providing growth for a number of years. We saw SatMex as a brilliant company, with growth potential because of its relationships with its customers, its orders with Boeing, and with a great leadership team. We are also excited by the future prospects of what is this industry's Number One revenue stream—broadcast video—where there's a lot going on. We are seeing the beginning of the expansion of HD broadcasting, and where we have more than 10 percent of our channels now [transmitting] in HD, which suggests plenty of growth potential. We are also seeing the arrival of UltraHDTV, which will ensure more growth for the next 20 years. We anticipate terrific times ahead."
Romain Bausch was making his final appearance at the show as the CEO of SES. At the end of the session, he was given a standing ovation by the giant crowd and some highly complementary words from his fellow-panelists. However, prior to this demonstration, he told delegates that he was still excited by the satellite industry, not the least of which by the new demands and applications that are now emerging into the marketplace. "The geographic perspective is also getting larger, helped by new emerging satellites. I believe that O3b and its 1.6Gb/s throughput and very low latency of 122 milliseconds represents a huge advantage for the industry." He added that this was also true of video, where new developments such as SES' Sat-IP and IP-LNB products would make a material difference to operator's business models.
"Emerging countries are generating the highest growth operators," he added, saying that it was time for the established players to cooperate, or consolidate, with the growing number of national satellite operators.
Warc 2015
Described as a "hot topic" for the industry, the battle over C-band and other frequency rights also generated heated discussion. McGlade denied that the industry was 'sleepwalking into disaster,' arguing that, as a whole, satellite operators were quite aware of the risks. "We are very active, both individually as well as through the various cooperating organizations. Telcos and the cellular industry are attempting something of a land grab. Google is talking about Wi-Fi in dense urban areas, but we have to prove that cellular operators and others do not actually need all of their target capacity. We also have to improve our own message communication to the industry as to what we are doing in general, and we need to drive that message forward."
Michel de Rosen agreed that while C-, L- and S-band were all on the agenda for Warc15 and Warc18, and that the industry "cannot be passive—we as an industry must think ahead, otherwise, there will also be threats made on Ku- and Ka-band. We need to explain that the mobile sector has made some extremely flawed and incorrect assumptions. The ITU's demand for spectrum is simply flawed, and there's a major problem in that the demand for spectrum [has been grossly exaggerated] by between 10 times and 100 times the actual demand. We are all committed to fight these plans, and we can see a positive outcome for us if we educate the ITU, governments and other policy makers what the real figures are."
SES—By The Numbers
A few days after the Washington show, SES unveiled its global reach numbers. Counting individuals around the planet, SES now touches almost 800 million viewers. Expressed as a global reach at the end of 2013, SES is now present in 291m TV homes. Expressed as individuals, SES suggests that the total number viewing one or more of its clients' channels is close to 800m. The data comes from SES' annual Satellite Monitor study, with information gathered at the close of last year.
Europe, alone, reaches 151m TV homes. SES claims market leadership by some considerable margin over its arch-rival, Paris-based Eutelsat. SES says it has a 60 percent market share as compared with all other satellite operators (Eutelsat, Telenor, Amos, HellasSat, etc.), and up from 58 percent a year ago. Some 75 percent of satellite homes are serviced by SES craft (up from 73 percent) operating at its five, key, European positions.
Its European satellite viewership is up seven percent year-on-year to 106m homes (up from 99m), while its indirect reach via cable has also grown by 1 percent to 153m connected homes. IPTV-based viewership has shown the largest growth, albeit from a lower base, of 27 percent, from 25m to 31m homes.
There has been y-o-y growth for each of the SES regions. Its North American reach is up by 3 percent to 75m homes, Africa/India/MENA region is up an impressive 18 percent to 31m, while LATAM has seen growth of five percent, from 21m to 23m homes. The APAC region has expanded 7 percent, from 11m to 12m homes.
SES also stated that 35 percent of European TV homes are receiving signals by direct satellite (up from 34 percent). This places satellites at the top of the distribution tree, ahead of terrestrial (29 percent), Cable (27 percent) and IPTV (9 percent). When European digital reception is measured, SES says there are 210m digital TV homes in Europe, and satellite leads the market with 41 percent, ahead of digital terrestrial (30 percent) and cable (19 percent), while IPTV delivery has a 10 percent market share.
• Biggest satellite market is Germany (18m)
• Biggest satellite market share is Ireland (65 percent)
• Biggest increase in satellite homes (Ukraine)
• Biggest satellite HD market is the UK (9m, and 73 percent)
Of those European numbers, some 86m homes are watching HDTV services, again with satellite leading in terms of market share (38.3 percent) ahead of cable (21 percent), digital terrestrial (15 percent) and IPTV (12 percent). This equates to 81 percent of satellite TV homes in Europe being serviced by SES satellites. SES' European satellites are carrying more than 488 HD channels, up from 356 a year ago.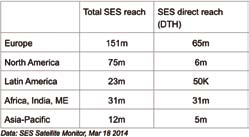 Remarkably, the SES Satellite Monitor also reveals several notable trends. First, in many markets, the importance of terrestrial TV is less for y-o-y. In the UK, for example, there are only 9.87m terrestrial TV homes (analog and digital), down from 10.32m as at two years ago, and well down from the 2009 position of 11.65m homes. The position in the Irish market is even more marked, where terrestrial viewing is down from 410,000 homes in December of 2008 to just 180,000 today. Satellite has grown significantly during the same period, from 680,000 in 2008 to 1.02m today.
"The results of this year's SES Satellite Monitor and market research confirm, again, the strong role that SES is playing as a high performing video and TV broadcasting infrastructure," said Ferdinand Kayser, Chief Commercial Officer (CCO) of SES. "Our strong growth is a direct result of our significant investments in new satellites, especially in the highly important and dynamic emerging markets. We could also further take advantage of our strong infrastructure and service offerings in mature markets and realize further gains, on a high level, in Europe and North America. As a leader in video broadcasting, DTH, digital transmission and HD, SES plays a critical role in the provision of communications infrastructure globally and the company is well positioned to further drive digitalization and the deployment of high performing video neighborhoods in mature as well as demanding emerging markets."
Eutelsat Tops 50m From 7-8 Degrees West
Not to be outdone, Eutelsat has also claimed some remarkable numbers. Eutelsat used the locally important Dubai CabSat show to unveil its last MENA numbers, which are impressive. When taken together with Nilesat (and in recognition of its joint venture operation) at the adjacent 8 degrees West slot, the combined reach for Eutelsat and Nilesat now tops 50m homes in the MENA region and stands at 51.5m.
Michel de Rosen, the company CEO, commented on the figures. "Our new survey confirms the exceptional dynamics of the video market in the Middle East and North Africa and the key role played by satellites, that now reach into more than nine out of 10 homes in the region. This result reflects longstanding partnerships between Eutelsat, Gulfsat, Nilesat, Noorsat, Viewsat and anchor media groups, including Al Jazeera, MBC and OSN, that are experiencing strong commercial success and are well placed for further expansion in the region."
The two operators (plus the wholesaled capacity to the likes of Noorsat) are now carrying more than 1050 channels. He added, "Going forward, we believe that the move to higher quality afforded by HD and, for the future, 4K, will further consolidate satellite as a core infrastructure in the region."
Overall, the MENA satellite TV universe continues to expand and satellite is the first choice for multi-channel viewing. Out of a population base of 77.1m TV homes across 15 countries, more than nine out of 10 (92 percent) favor satellite reception for payTV or Free-To-Air (FTA) viewing. In 2010, satellite reception accounted for 67 percent of TV homes in the region, showing like-for-like increased penetration of 25 percentage points over the last three years.
Over the same period, the number of homes receiving analog terrestrial TV slumped from 18.2 million in 2010 to 4.1m in 2013, confirming satellite as the most popular route to digital switchover. IPTV has gained some ground in the Gulf region with 0.7 million households that are exclusively equipped for IPTV.
Indeed, terrific times ahead.

About the author
Senior Contributor Chris Forrester is a well-known broadcasting journalist and industry consultant. He reports on all aspects of broadcasting with special emphasis on content, the business of television and emerging applications. He founded Rapid TV News and has edited Interspace and its successor Inside Satellite TV since 1996. He also files for Advanced-Television.com . In November 1998 he was appointed an Associate (professor) of the prestigious Adham Center for Television Journalism, part of the American University in Cairo (AUC), in recognition of his extensive coverage of the Arab media market.