With revenue growth over 400 percent last year, and five milestone missions set to launch in 2021, Benchmark Space Systems, a propulsion solution innovator, for the past two years has exceeded their fundraising and growth expectations.
---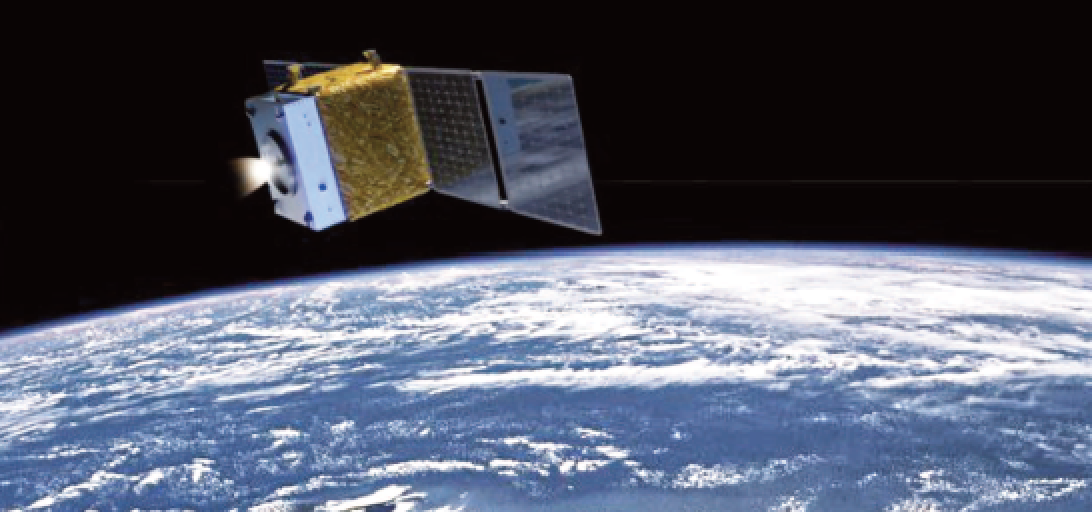 Artistic rendition of a Benchmark Space Systems Halcyon propulsion system onboard an onorbit cubesat. Image is courtesy of the company.
---
The company is in the midst of a rapid ascent akin to one of their patented thrusters that is maneuvering a commercial or government mission into space. In fact, Benchmark's Starling thruster is set to kick off 2021 with a demonstration launch aboard a 3U satellite rideshare bound for space on Firefly's Alpha, their first launch vehicle.
The propulsion systems innovator is coming off a banner 2020, all the while navigating the global COVID-19 pandemic. Benchmark increased revenues and backlog off the backs of some significant deals, more than doubled the size of the company — both its employee base and state-of-the-art facilities in Vermont and California — and is poised for an even bigger 2021 ahead.
Benchmark Space Systems Executive Vice President of Business Development, Chris Carella, talked with SatMagazine about the company's focus for 2021, which he stated will continue to redefine the propulsion sector — and investors are taking note.
Benchmark Space Systems was founded just four short years ago and yet you're already securing major contracts with the likes of the Air Force, NASA, Spaceflight and many others. How have you propelled Benchmark so quickly as one of the leaders of the propulsion market?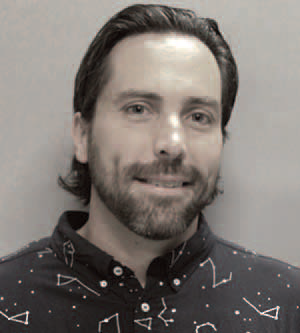 Chris Carella (CC)
Benchmark hit the market at exactly the right time with a disruptive green chemical propulsion solution that is specifically designed for the smallsat sector. After combining forces with Tesseract this year, we have expanded product and thrust class offerings. We have government programs ongoing for each of our integrated products and, obviously, the Spaceflight OTV partnership is key.
Newly featured across our range of products, our control electronics can be paired with any thruster configuration in our product quiver — being able to change thrusters from mission to mission with little to no reapplication cost is a game-changer for the satellite market. We treat each customer as a partner, from mission planning to decommission, all backed with an agile architecture for a customer's varying needs.
As a result, our company is growing fast, aligning with key technology partners, closing on important deals, while adding some service offerings and creative pricing models to accommodate a variety
of customer interests. A nimble approach and good stewardship has allowed Benchmark to expand our product set of launch-vehicle agnostic propulsion systems to serve a broader spectrum of spacecraft. Our sweet spot includes everything from the smallest 1U cubesats through ESPA-class satellites to large lunar landers and orbital transfer vehicles (OTVs).
---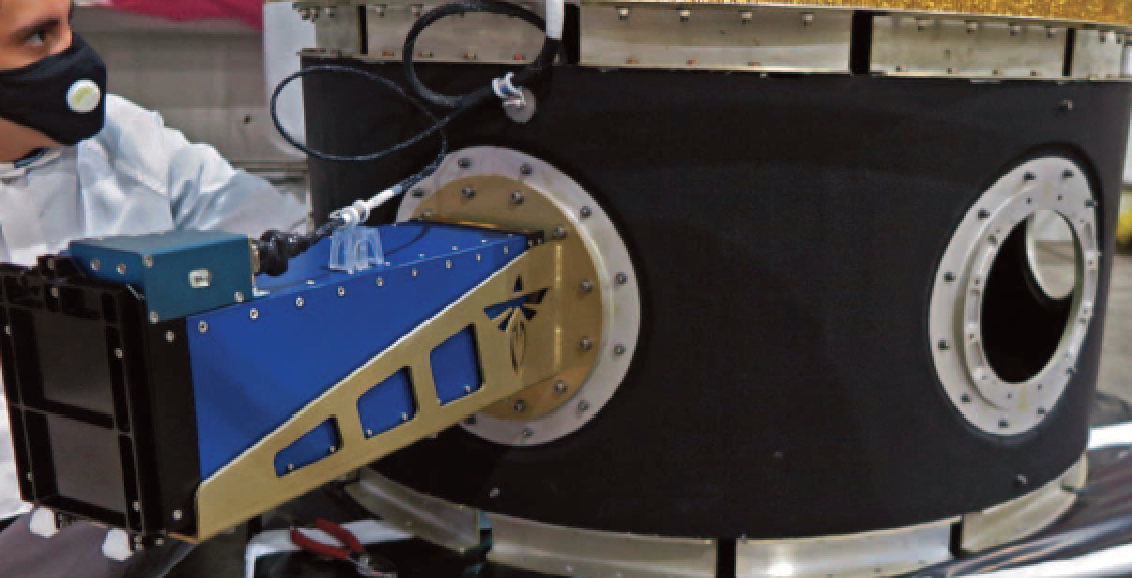 Benchmark's BSS1 Satellite, designed and built in partnership with NearSpace Launch, being integrated into Firefly's Alpha separation ring. Photo is courtesy of the company.
---
That breadth of solutions, enabled in part by our permanent licensing partnership and IP integration with Tesseract Space, has really captured the imagination of rideshare leaders such as Spaceflight and satellite integrators with a range of mission profiles. Last fall, Spaceflight signed an exclusive agreement with us for a green chemical propulsion solution aboard that firm's next-generation Sherpa LTC OTV.
---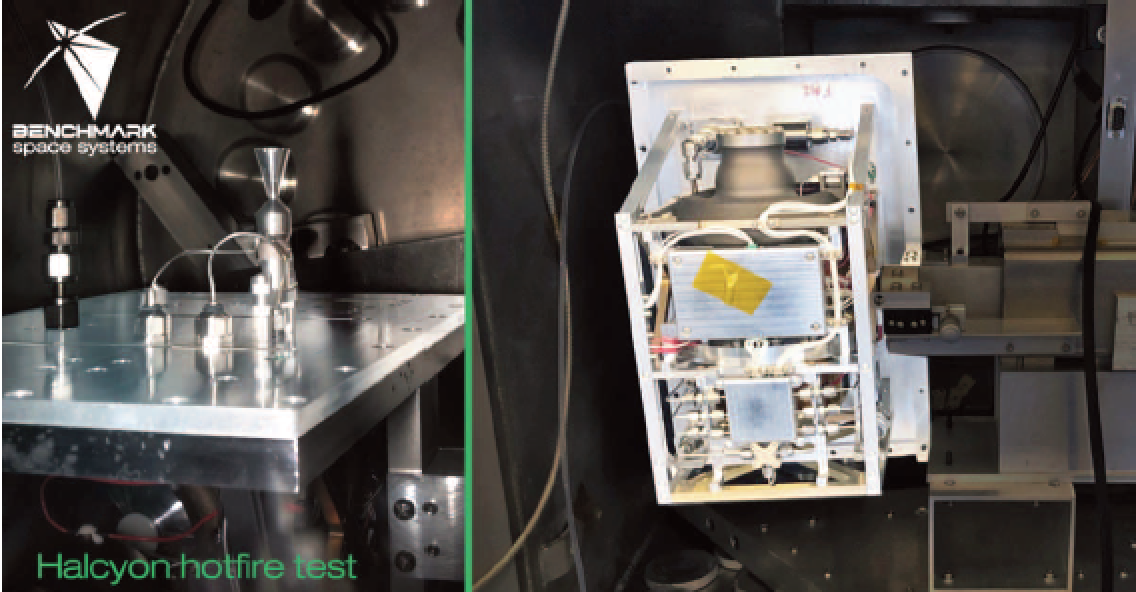 Final hotfire test to a Halcyon Flight unit prior to delivery. Photo is courtesy of Benchmark Space Systems.
---
Our safe chemical propulsion will be featured on the Sherpa-LTC as early as this year. Benchmark's propulsion has a patented On-Demand Pressurization System (ODPS) that secures an inert launch mode that can be prompted to pressurize the thruster once the OTV is deployed from the launch vehicle.
Spaceflight's "Go fast" Sherpa variant equipped with Benchmark propulsion allows their smallsat rideshare missions to leverage low-cost launches to sub-optimal locations in space, where the OTV can easily maneuver spacecraft to ideal orbits in a matter of hours or days — this enables their customers to quickly get into operational and revenue generating position.

That level of innovation in space is really helping to fuel the smallsat rideshare boom and is also a fast-track for Benchmark growth, as well.
Your Spaceflight OTV propulsion deal was certainly a highlight in 2020. What other key milestones and wins would you point to and what do you expect to be among the highlights this year in 2021?
CC
As we speak, our Starling thruster, integrated aboard a 3U satellite that we built with Near Space Launch out of Indiana, is set to liftoff aboard Firefly's inaugural Alpha rocket from Vandenberg Air Force Base.
This is a big milestone for Benchmark as it marks flight heritage on a truly unique product and sets the stage for other key launches and innovations to come later in the year. These landmark events aim to debut four unique products on-orbit as we celebrate four years since the firm's founding in June of 2017.
We plan to continue executing our business exactly as we did in 2020 and we're set to launch our Starling and Halcyon thrusters in the first part of the year, with Halcyon Avant, and Starling R variants set for orbit in the second half of 2021.
Benchmark Space SystemsIntegrated Spacecraft propulsion systems shown to the right...
The team has been laser focused on the development and growth of our product line to offer our customers a single source for all in-space mobility needs. Through exceptional talent, innovative technology and strategic partnerships, we are on pace to add real horsepower to our slate of offerings. This includes our on-site fueling offering and mobility-as-a-service price model. We have superb leadership and support from our advisors and investors.
What excites you most about Benchmark in 2021?
CC
The sheer interest in what we're doing to redefine propulsion has been encouraging and energizing as we take Benchmark and our customers' capabilities and revenue potential to the next level. The incredible talent that we're bringing onboard in preparation for what will no doubt be our biggest, most important year to date, is having a direct impact on our ability to exceed our 2021 objectives. Our Engineering Director, Brad Hoover, who we lured from Lockheed back in 2018, has been able to get new team members quickly plugged in to the day to day operations and contributing to key programs in a meaningful way.
Look for us to continue growing our team, which doubled from 12 to 24 last year, and build on our sales pipeline, which grew another 4x over the last 12 months. On the BD side, we're really excited to unlock some of that 'backlog' as we demonstrate what we can accomplish on-orbit.
We opened a new 4,200 square foot, state-of-the-art, technology and testing facility at the Hula campus, our headquarters in Burlington, Vermont, and we're looking to upgrade facilities in California, as well This allows us to house new equipment and team members in state-of-the-art facilities to help meet the production requirements and lead times the market demands. Our goal is to reach production lead times as low as 4 months, and production rates of over 100 units per year.
By bringing the latest propulsion technologies to fruition, a full range of in-house capabilities and all-star team under one roof, we are ensuring that our commercial and government customers have exactly what they need for their missions to succeed in space. Look for our upcoming announcements around strategic partnerships and growth strategies to keep pace with the market's transition into operational phase as demonstration periods close and additional launch capacity comes online.
Benchmark is financially solid after a successful funding round despite the global pandemic. The company is planning to complement our booked and projected revenue with additional fundraising this year. Opportunistic investors see our momentum, roadmap and how it folds into the greater goals and aspirations of today's satellite missions through to future on-orbit logistics including OSAM (on-orbit servicing, assembly and manufacturing). Compared to other valuations in the mobility segment, our team, technology, and traction will make Benchmark very attractive at our anticipated valuation.
---


Benchmark's new headquarters office under construction.
Image is courtesy of the company.
---
We look forward to building and expanding relationships across our global government and commercial customer base, with the addition of our first two European team members. These are unprecedented times across the space industry and Benchmark is very well positioned to become the one-stop, in-space mobility partner of choice and a real enabler in key initiatives, ranging from orbital space debris mitigation and rideshare mobility to servicing and refueling capabilities for commercial and military operations.
Benchmark Space Systems will be making a series of announcements throughout the year — with some very exciting initiatives taking place beginning this month. This will be an action-packed 2021 at Benchmark.
www.benchmarkspacesystems.com
Benchmark Space offers scalable thruster designs with additively manufactured core components that can be easily configured for individual spacecraft to large constellations. We attribute the growing demand for our products to our On-Demand Pressurization System (ODPS™), "green" propellants, and the ability to deliver integration-ready systems in a best-in-class lead time.
---