Geomatica 2016 Rolls Out From PCI Geomatics
PCI Geomatics has released their Geomatica 2016, the latest version of the company's complete and integrated desktop, geo-image processing software featuring tools for remote sensing, digital photogrammetry, geospatial analysis, mosaicking and more.

Geomatica 2016 improves accuracy and speed for key geo-image processing steps, including aerotriangulation and bundle adjustment, automatic contrast control and mosaic touch-up.
This new version also provides enhanced support for airborne scanners, SAR data handling and compact polarimetric tools.
Geomatica 2016 is immediately available for 64-bit versions of Microsoft Windows (7, 8.x, 10) and CentOS/RHEL Linux (7.x).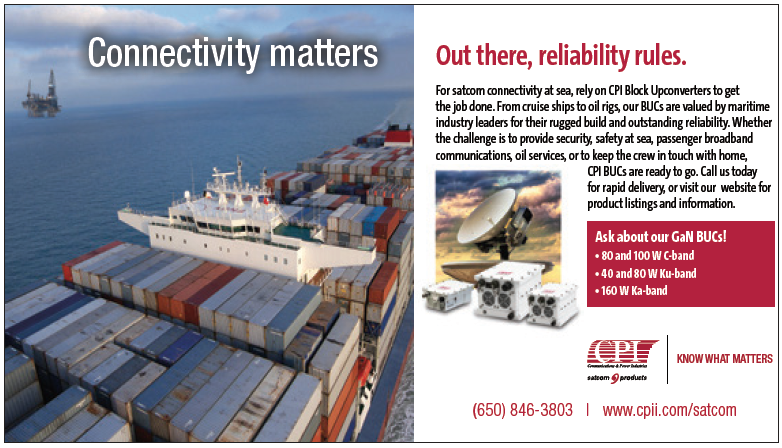 "We've designed this release around the concepts of sensor support and overall workflow with the goal of making Geomatica more accurate and more flexible for different customers," said David Piekny, Product Marketing Manager at PCI Geomatics
"We see a lot of diversity in how our customers use Geomatica. In Geomatica 2016 we're able to work with even more types of geospatial data through specific additions to the software, but at the same time have improved on widely-used tasks like tie-point collection, DEM extraction and automatic color balancing."
pcigeomatics.com/software/geomatica/professional?/geomatica
---
Ultra-Deepwater Project Awarded To ITC Global
ITC Global has been awarded a multi-million dollar contract to provide remote offshore communications to two floating production, storage and offloading (FPSO) vessels in Western Africa.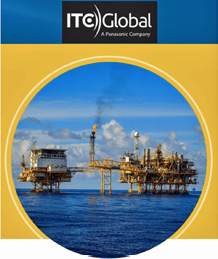 The seven-year, $6.5 million contract, awarded by Saipem, is part of the Kaombo Field Development Project in offshore Angola.
The ultra-deepwater contract is one of the most significant offshore projects in the world today, dedicated to developing oil deposits spread across six different fields with water depths of 1,400 to 1,900 meters (4,600-6,200 feet).
Saipem is a world leader in drilling services, as well as in the engineering, procurement, construction and installation of pipelines and complex projects in the oil and gas market.
Saipem was awarded contracts for the installation and commissioning, and operation and maintenance services for the FPSO vessels, which are owned by leading European-based oil and gas company, Total.
The FPSOs will both be outfitted with two C-band stabilized antenna systems, delivering between 5 and 10 Mbps high data rate service to each vessel.
In December, ITC Global announced that it had been awarded multiple offshore communications contracts for five separate FPSO vessels operating in the Congo, Angola, and Equatorial Guinea. This latest award solidifies ITC Global as one of the industry's most stable and trusted providers.
ITC Global was acquired by Panasonic Corporation in 2015. The organization has a long-term strategy for growth that includes an expanding network portfolio of traditional wide beam, high throughput and extreme high throughput capacity, delivering near 100 percent uptime with coverage spanning 98 percent of the world's most trafficked maritime routes.

As the world's largest buyer of commercial space segment, Panasonic is revolutionizing today's VSAT market with game-changing pricing and service delivery.
"This award speaks to ITC Global's reputation for delivering reliable communications for highly complex projects in key geographic regions for our customers across the oil and gas sector," said Joe Spytek, Chief Executive Officer, ITC Global.
"Our customers continue to count on us for their long-term requirements in Western Africa, where we are able to leverage our local presence and expertise. It's a great example of what ITC Global can do in the current market environment in terms of partnering with a customer to understand their long-term requirements and developing a solution that still delivers more bandwidth and better performance while providing significant cost efficiencies."
itcglobal.com/
saipem.com/sites/SAIPEM_en_IT/home/saipem-homepage.page
---
Keysight Technologies To Maximize Customer Technology + Migration Services
Keysight Technologies, Inc. has introduced their new portfolio of technology extension and migration services that focuses on maximizing customers' test asset value and consequent utilization—Keysight's Technology Refresh Services program is making it easier to get the latest technologies while accessing limited funding.
Technology advances across all industries are rapidly changing, while budgets are continuing to be constrained. Defense industry companies must adopt leading-edge test and measurement solutions while maintaining long-term program support to keep communications and security systems operating at peak performance over many years. The wireless industry needs to transition affordably to next-generation technologies, such as 5G. In addition, they need to speed up design, validation and test development to meet the tight time-to-market schedules and reduce the possibility of any design rework.
Trade in for eligible Keysight or non-Keysight test equipment offers attractive credits when trading in or trading up to new equipment. For example...
• 50 percent credit when purchasing a new X-Series signal analyzers B version models.
• $30,000 (U.S.) credit on a new N995xA, N996xA FieldFox Handheld analyzer when trading in an eligible analyzer.
• 50 percent credit for Infiniium V-Series and Z-Series Oscilloscopes when customers trade-in eligible oscilloscopes from any manufacturer
Additional information regarding Keysight's new customer services is available at: www.keysight.com
---
Opportunities For Wireless Backhaul Links Examined By ABI Research
The evolution toward 4.5G and 5G will be imminently accompanied by substantial network densification and massive deployments of small cells.
The trend will completely transform the backhaul market and create tremendous opportunities for wireless backhaul links. ABI Research forecasts that the market will deploy more than one million Sub-6 GHz licensed backhaul links by 2020. As the fastest growing market segment, Sub-6 GHz will challenge microwave and millimeter waves for the largest market share of 35 percent in 2020.
The combined wireless backhaul equipment revenues from Sub-6 GHz links and millimeter waves make up nearly 57 percent of the total backhaul revenue in 2020.
Over the course of 2016, outdoor small cell rollouts will gain momentum. As Wi-Fi and distributed antenna systems (DAS) continue to advance and compete with small cells for the enterprise and in-building connectivity, their impact on the outdoor deployments is imminent.
ABI Research suggests suppliers consider offering professional services, including high-resolution 3D mapping for backhaul link placement. They should also support multiple backhaul technologies and partner with Tangible Asset Monetization Companies (TAMCos), like advertising agencies, cable providers, and tower companies, to offer rights of way, and attach permits for small cell sites.
Service providers should look into leveraging network sharing schemes, unlicensed spectrum, and virtualization technologies in order to lower the cost of expanding backhaul and increase the overall ROI. These findings are part of ABI Research's Fronthaul and Backhaul for Next Generation Networks Service, which includes research reports, market data, insights, and competitive assessments.
abiresearch.com/market-research/service/fronthaul-backhaul-next-gen/
---
Thuraya + WiCis Sports Combining Their Expertise For Expeditions
Thuraya Telecommunications Company and WiCis Sports have joined forces in a bid to support climbing expeditions to the Himalayas.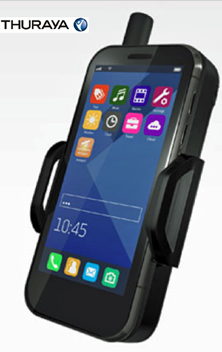 The expedition, which started on March 19, is part of a six-month project which will take climbers from Jomsom in Nepal, to Lo Manthang, on to a high-altitude trek, followed by a trip to K2 in June.
Thuraya Telecommunications has donated its IP+ terminal, SatSleeve+ and SatSleeve Hotspot, to help Madison Mountaineering climbers stay in touch during their expedition. Madison Mountaineering is a boutique mountain guide service based in Seattle, Washington.
The company specializes in mountaineering expeditions to the "7 Summits" and other renowned international and domestic peaks, as well as unclimbed peaks in extremely remote regions.
The WiCis Adventure Sports Solution includes small, wearable devices that compile and save data such as heart rate, body temperature, oxygen saturation, location, altitude and speed of each climber.
This data is then uploaded to the cloud via the Thuraya IP+, SatSleeve+ or SatSleeve Hotspot and is accessible and downloadable in 'real time' by health professionals and the climbers themselves.
The climbers also have access to weather updates and can upload their data to social media platforms using the Thuraya products.
Weighing only 1.4 kg, the Thuraya IP+ has speeds of up to 444 kbps on standard IP and 384kbps on streaming IP with an integrated antenna. Light and compact, the portable IP+ broadband terminal delivers the fastest IP speeds from a terminal of its size. It can be easily deployed from backpack to broadband in a matter of seconds, however remote the location.
A simple, sleek accessory that looks like a phone cover, SatSleeve+ clips easily on to smartphones, turning them into satellite phones. With Thuraya's SatSleeve+, users can make calls, send emails and messages, and use their apps directly on their smartphone. SatSleeve+ also has an SOS function which enables users to set up a predefined emergency contact person to call on in times of trouble.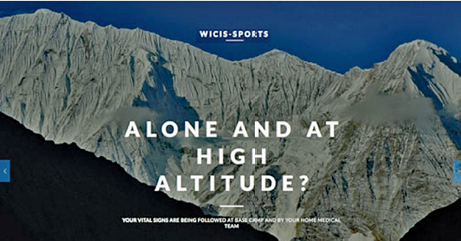 For those on-the-move, the SatSleeve Hotspot is a portable satellite WiFi hotspot which comes complete with a stand in the package. Created for users preferring to use their smartphone separated from the satellite unit, simply place the Hotspot outside your tent or campervan and make a call, send an email and message, or use social media or info apps in satellite mode, indoors.
Customers can start using the WiCis solution in just three easy steps: Ensure all equipment is fully charged, attach the wearable monitors, connect to the Internet via the Thuraya IP+, SatSleeve+ or SatSleeve Hotspot and then start monitoring your health details.
The modern, WiCis Sports Adventure Solution can help save lives. Those monitoring the progress of adventurers now have access to vital health information, which can help doctors and emergency response teams react faster in critical situations, particularly in remote locations.
Randy Roberts, Chief Innovation Officer, Thuraya, said, "When these wearables are connected to our IP+ terminal or the SatSleeve+, the WiCis monitoring solution will keep climbers and adventurers in touch with family, friends and healthcare professionals."
Carlota Fenes, President, WiCis, said, "Our latest solution is perfect for explorers and outdoor adventure enthusiasts. It can be used on smartphones and smart watches. It checks, tracks, and reveals vital health details and gives weather updates while on-the-move, even in remote locations."
thuraya.com/
wicis-sports.com/
---