Arianespace launches their tenth mission of 2018
Arianespace's 10th mission of 2018 orbited satellite payloads on December 5 for the Indian Space Research Organisation (ISRO) and the Korea Aerospace Research Institute (KARI), using the workhorse Ariane 5 on a launch performed from the Spaceport in French Guiana.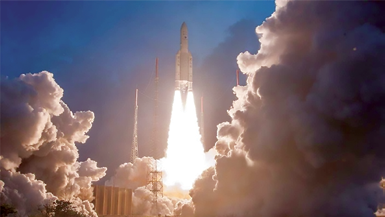 The Arianespace flight VA246 lifts off from the Spaceport in French Guiana.
Designated Flight VA246 in Arianespace's launcher family numbering system, it delivered the ISRO GSAT-11 relay platform for Ku- and Ka-band communications, along with KARI's GEO-KOMPSAT-2A, which is to provide meteorological and space weather monitoring data.
"I want to express my deepest gratitude to two very special partners since the beginning of their space ambitions: ISRO and KARI," said Arianespace CEO Stéphane Israël in post-launch comments from the Spaceport.
Israël noted that GSAT-11 was the 22nd ISRO satellite orbited by Arianespace and Ariane-series launchers, tracing the relationship back to India's APPLE small experimental communications spacecraft, which had a liftoff mass of 670 kg. and was lofted in 1981 by an Ariane 1 version rocket. On this Ariane 5 mission, GSAT-11 weighed in at 5,854.6 kg. — the largest and heaviest satellite ever built by the Indian space agency.
Deployed first during Ariane 5's 33 minute mission to geostationary transfer orbit, GSAT-11 will be positioned at 74 degrees East, providing communications services in Ku- and Ka-bands in both forward and return links.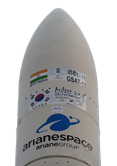 This close-up photo
shows the Ariane 5
payload fairing logos
for Flight VA246's
GSAT-11 and GEO-
KOMPSAT-2A passengers,
along with a decal for the
Community of Ariane
Cities and Les Mureaux.
Photo is courtesy of
Arianespace.

The satellite was designed and manufactured by ISRO, with its multi-spot beam coverage over the Indian mainland and nearby islands to bring significant advantages to users when compared with existing India's INSAT/GSAT satellite systems. GSAT-11's design expected lifetime is more than 15 years.
GEO-KOMPSAT-2A was carried in Ariane 5's lower payload position and released second in the sequence for Flight VA246. Developed by KARI at its South Korean facility in Daejeon, this 3,507.2 kg. satellite will deliver meteorological and space weather monitoring from an orbital position of 128.2 degrees East as part of a Korean government national program.
"Arianespace is proud to maintain such a close bond with South Korea," Israël stated, adding that Flight VA246 marked the seventh time South Korea's flag has appeared on the fairing of an Arianespace launch vehicle.
In addition to the Ariane 5's payload fairing logos representing Flight VA246's two satellite passengers, also included was a decal recognizing the French city of Les Mureaux — home to the ArianeGroup site responsible for integration of Ariane 5 cryogenic main stages today and for Ariane 6 launchers in the future.
Israël noted that Arianespace has once again confirmed its flexibility and reliability by performing five launches in two and a half months — from September 25 to December 4 — with liftoffs coming every two weeks since early November.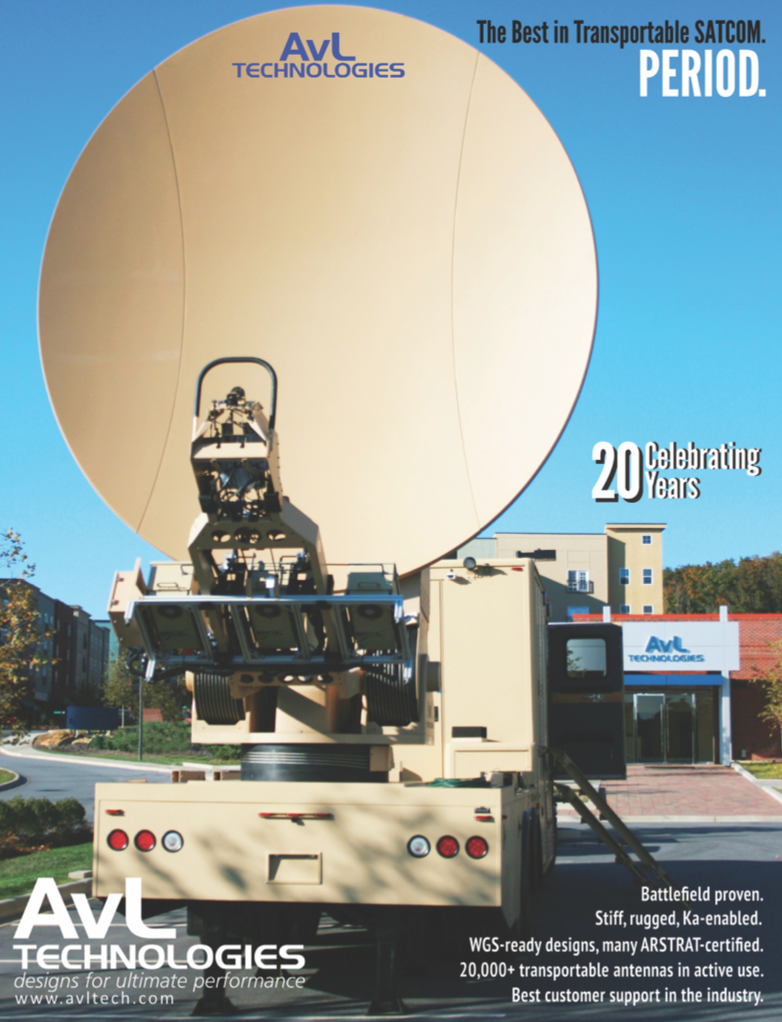 "What an impressive tempo," Israël concluded, noting that Flight VA246's orbiting of the GSAT-11 and GEO-KOMPSAT-2A satellites for connectivity and weather data gathering fulfills Arianespace's motto: "Space for a better life on Earth."
Arianespace has one more mission scheduled before year's end, using the Soyuz medium-lift member of the company's launcher family to orbit the CSO-1 spacecraft for France's DGA (Direction générale de l'armement) defense procurement agency) and the French CNES space agency.
---
SpaceX launch is the biggest ever from the U.S. of a single rideshare mission
The successful launch, from Space Launch Complex 4E (SLC-4E) at Vandenberg Air Force Base in California on December 3 of the SpaceX SmallSat mission was the first of its kind in the U.S. and is the largest, single, rideshare mission from a U.S.-based launch vehicle — 64 smallsats from 17 countries were lofted to their respective, orbital destinations.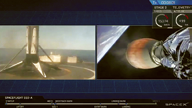 SpaceX Falcon 9 booster successfully
landed on the drone ship (left), while
the second stage of the rocket continued
into space for deploying a record 64
satellites into low Earth orbit (right).
Photo is courtesy of SpaceX.
With a launch requiring 300,000 lbs. of thrust, the Falcon 9 soared and separated its payload according to schedule — the 'cherry on top' of the launch was that this Falcon 9's first stage returned and landed perfectly on the 'Just Read the Instructions' drone ship in the Pacific Ocean, making this the third successful return for the Falcon 9. Until this launch, no "repurposed" SpaceX rocket has flown more than two missions.
The original launch date was supposed to have been on November 19; however, SpaceX delayed the SmallSat Express mission to conduct additional tests. Then, inclimate weather caused additional delays.
A series of six deployments occurred approximately 13 to 43 minutes after liftoff — then Spaceflight began to command the smallsat deployment sequences, which were expected to occur over a period of approximately six hours.
The smallsats mission includes 15 microsats and 49 cubesats from commercial and government entities, including universities, startups, and a middle school.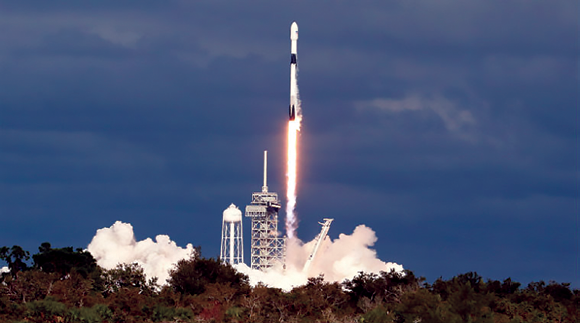 The Falcon 9 blasted off from Vandenberg Air Force Base
in California.
The payloads, which vary from technology demonstrations and imaging satellites to educational research endeavors, are from 17 countries, including the U.S., Australia, Italy, Netherlands, Finland, South Korea, Spain, Switzerland, U.K., Germany, Jordan, Kazakhstan, Thailand, Poland, Canada, Brazil, and India.
Some of the smaller satellites aim to build an internet network capable of supporting smart devices back on Earth's surface.
Nearly all of the satellites on SpaceX's payload aim to prove that a combination of smaller, simpler and less expensive satellites can perform similar, or the same, complex functions as much larger, more expensive satellites.
Spaceflight also constructed a unique payload stack, which is one of the most complex and intricate endeavors that the company has undertaken. The smallsats will be integrated with a variety of dispensers and avionics.
www.spacex.com
spaceflight.com
---
SSL's robotic arm on NASA's InSight Lander gets a grip on Mars
SSL, a Maxar Technologies company (NYSE: MAXR) (TSX: MAXR), has congratulated NASA on the successful touchdown of the agency's InSight Lander on Mars, following the craft's six-month interplanetary voyage from California.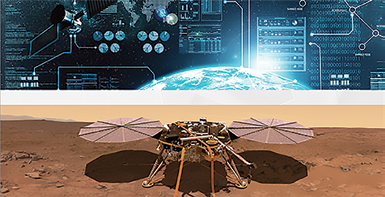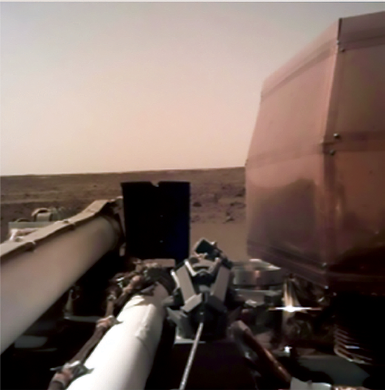 NASA's InSight Lander has begun
operations on Mars with an
SSL-built robotic arm. Image is
courtesy of NASA.
The lander is equipped with a highly capable robotic arm built by SSL Robotics in Pasadena, California, which has begun to perform mission-critical operations in support of NASA's goal to study Mars' deep interior. The mission underscores SSL's long legacy as a trusted contractor to NASA, having provided all five of the robotic arms used on Mars.
InSight, which stands for Interior Exploration using Seismic Investigations, Geodesy and Heat Transport, will collect seismic, rotational, and thermal measurements to determine the present level of tectonic activity on Mars.
Data of this sort is critical to understanding the processes that formed the rocky planets of the inner solar system approximately 4.5 billion years ago.
The SSL-built Instrument Deployment Arm is a lightweight, four-degree-of-freedom, two-meter class robotic arm, with joints at the shoulder, elbow, and wrist.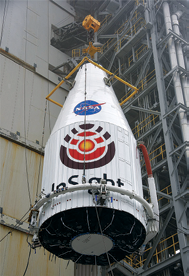 A crane hoists NASA's InSight lander
inside its fairing for mating atop a ULA
Atlas V rocket. Photo is courtesy of the
USAF's 30th Space Wing.
It has the mission-critical job of placing the lander's sensitive instruments onto the dusty Martian surface, a process that future landers are expected to repeat when offloading payloads onto the surface of the Moon.
The lander's instruments include a seismometer capable of detecting Marsquakes and a heat flow probe that will burrow as deep as 16 feet into the ground.
SSL's long history of accelerating innovation for advanced space robotics began well before InSight. The company has built every robotic arm used on the surface of Mars, including:
Curiosity rover, launched in 2011 to explore Gale Crater;
Phoenix lander, launched in 2007 to study the history of water in the Martian arctic and search for evidence of a habitable zone;
Spirit and Opportunity rovers, which were launched in 2003 to search for answers about the history of water on Mars.
SSL is also building the Sample Handling Assembly robotic arm for NASA's Mars 2020 rover. The arm is designed to provide extreme accuracy under severe temperature variations within a dusty and dirty environment.
Richard White, the President of SSL Government Systems, stated that SSL is committed to providing innovative space systems that build a better world and advance humankind's understanding of the universe. SSL has a long and successful history as a trusted supplier to NASA and JPL, and that the company is delighted that the SSL-built robotic arm on InSight is beginning operations.
---
Orbital Micro Systems and NanoAvionics to partner on smallsat rideshare mission
Orbital Micro Systems (OMS) is partnering with NanoAvionics to conduct a rideshare mission to fly one of OMS's miniaturized passive microwave sensors — this mission will use the NanoAvionics M6P 6U satellite bus.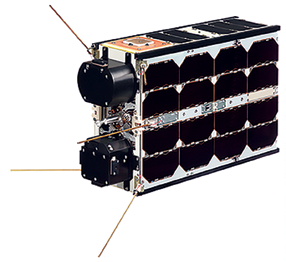 The NanoAvionics Multi-Purpose 6U Satellite Bus.
OMS is on track to launch multiple weather observation satellites in 2019. This mission will carry a humidity and precipitation monitoring sensor that will enhance the company's data collection capabilities. These important atmospheric parameters play a role in decision-making, affecting many industries.
NanoAvionics' innovations in bus technology include a green propulsion system, reliable avionics and control systems, and multiple transmission options.
The M6P bus provides up to 5U of payload capacity which can be segmented for multiple systems or applications with compatible orbital requirements.

William Hosack, CEO for OMS, said the company is delighted to work with an industry leader such as NanoAvionics in deploying an additional passive microwave sounder.
He added the M6P is quickly becoming the gold standard for flexible bus solutions and provides a high degree of reliability which enables the company to deliver better weather data collection technology.
Hosack noted this advanced bus architecture will help us accelerate OMS activities and enable the firm to quickly expand into multiple vertical and geographic markets.
Vytenis Buzas, CEO of NanoAvionics, said the goal at NanoAvionics is to provide a highly functional and reliable satellite bus which innovative payload developer,s such as OMS, can use to deliver space-based applications quickly and frequently. Space missions leveraging the firm's services and buses can become much more economical for participants in shared missions through distributed launch costs.
---
SpaceX launches again... to the ISS
The week of December 2 was rather momentous for SpaceX after the company completed a successful launch of 64 satellites from 17 countries on December 3, then on December 5, the company launched their 16th commercial resupply services mission to the space station from Cape Canaveral Air Force Station in Florida.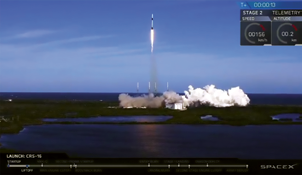 Onboard SpaceX's Dragon spacecraft are more than 20 payloads sponsored by the International Space Station (ISS) — a record breaker. This mission represents a diverse combination of science and technology research with the capacity to benefit life on Earth that include crystals, barley, and dental glue, among other things.
The Dragon spacecraft that supports the CRS-16 mission previously supported the CRS-10 mission in February of 2017. Contrary to Monday's performance by Falcon 9, when the first stage returned and landed perfectly on the 'Just Read the Instructions' drone ship in the Pacific Ocean (making that the third successful return for this Falcon 9), SpaceX was unable to recover Falcon 9's first stage on Landing Zone 1 (LZ-1) at Cape Canaveral Air Force Station, sending the first stage into the Atlantic . First reports indicate the hardware is undamaged and still transmitting and a recovery ship was dispatched. to the location.
Dragon is filled with more than 5,600 pounds of supplies and payloads, including critical materials to directly support more than 250 science and research investigations that will occur onboard the orbiting laboratory.
CRS-16 is the sixteenth of up to 20 missions to the International Space Station that SpaceX will fly for NASA under the first CRS contract. In January 2016, NASA announced that SpaceX's Falcon 9 launch vehicle and Dragon spacecraft were selected to resupply the space station through 2024 as part of a second Commercial Resupply Services contract award.
Under the CRS contracts, SpaceX has restored the United States' capability to deliver and return significant amounts of cargo, including live plants and animals, to and from the orbiting laboratory. A variant of the Dragon spacecraft, called Crew Dragon, is being developed for U.S-based crew transport to and from the space station.
On Saturday, December 8, International Space Station crew members will use the station's 57.7 foot (17.6 meter) robotic arm to capture the Dragon spacecraft and attach it to the orbiting laboratory.
Dragon will return to Earth with about 4,000 pounds of cargo after an approximately five-week stay at the International Space Station. About five hours after Dragon leaves the space station, it will conduct its deorbit burn, which lasts up to 10 minutes
It takes about 30 minutes for Dragon to reenter the Earth's atmosphere and splash down in the Pacific Ocean off the coast of Baja California.
The International Space Station (ISS) U.S. National Laboratory is enabling a new era of research in space aimed at improving life on Earth. The SpaceX Commercial Resupply Services (CRS)-16 mission is slated for launch no earlier than December 4, 2018, carrying multiple ISS National Lab payloads.
The SpaceX CRS-16 mission includes a variety of payloads representing diverse science investigations, ranging from the life and physical sciences to Earth observation and remote sensing, as well as educational experiments intended to engage and excite the next generation of scientists and engineers.
---