X Marks The New BUC
Comtech Xicom Technology has debuted a new 50 watt solid-state X-band SATCOM BUC, the Model XTS-50X1-B1 X-BUC, which takes advantage of new X-band capacity on Xtar and WGS satellites.
System integrators can offer much higher data-rate uplinks with rugged, compact, transportable, SATCOM terminals. The X-BUC provides 50 Watts of 1 dB compressed output power in a self-cooled, feed-mountable, package specifically designed to operate in harsh environments and meet the stringent RF requirements of today's X-band systems. This high performance design provides more than 32 watts of linear output power as defined for the WGS system.
The new X-BUC is packed full of performance features including temperature compensation, gain control, harmonic filtering, and an output isolator, all in a compact outdoor unit weighing 10.5 pounds and measuring only 10.58 inches long x 5.68 inches high x 4.43 inches high.
Product info... http://www.xicomtech.com/products/documents/XTS-50X1-B1%20Rev%205.pdf
* * * * * * * * * * * * * * * * *
Saudi Studios Setup
Harris Corporation has been awarded a contract to supply products spanning its entire HD broadcast portfolio to Saudi Arabia's Ministry of Culture and Information (MOCI) at four new HD studio facilities.

The new studios — to be built in the cities of Arar, Al Joaf, Najran and Al Baha — add to the number of Saudi Television HD facilities using Harris broadcast equipment, with additional studios and transmission projects currently underway. Harris is working with Riyadh-based dealer and systems integrator
First Gulf Company
(FGC). The new HD studios will incorporate control rooms and playout facilities and feature interoperable solutions from Harris including:
– Videotek® TVM test and measurement devices to maintain signal integrity
– Fiber optic solutions for inter-/intra-facility transport of HD signals
– Predator II and Predator II-GX multiviewers for monitoring
– Inscriber® G-Series graphics products for live production
– Platinum routers for processing video and audio signals throughout the facility and across different sites
– NEXIO® servers for content acquisition, production, distribution and media management
– A range of Harris core processing technology including up/down/cross converters and multiplexers/demultiplexers to ensure all content is processed at the highest quality HD
* * * * * * * * * * * * * * * * *
MENOSatisfaction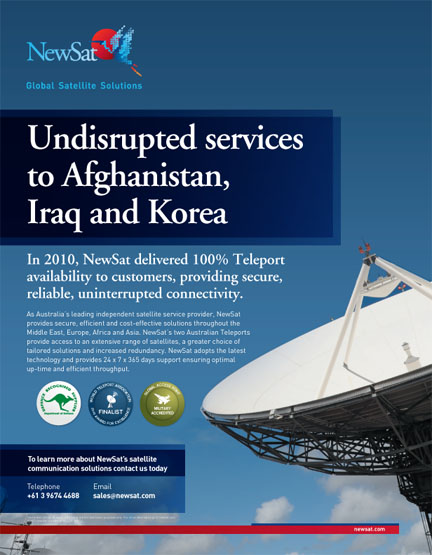 ASBU, Arabsat and Newtec are offering extended services and products for fast news gathering (FNG) and HDTV contribution and exchange on the Multimedia Exchange Network Over Satellite (MENOS™) platform for existing and new customers throughout the MENA region.
FNG on the MENOS platform offers a range of benefits that bring FNG within reach of any broadcaster or news agency. MENOS FNG opens up the opportunity for any broadcaster to procure an FNG capability at a very attractive total cost of ownership. MENOS FNG is also based on open standards, such as DVB-S2 and MPEG-4 AVC SD. The rapid rate of development of MPEG-4 AVC equipment ensures that quality for a given bit rate will continue to improve, making it a very competitive and future-proof environment for broadcasters investment. MENOS supports a unique capability of multilateral live FNG: The contributing flyaway FNG can choose to multicast the live content to a selected list of MENOS TV and FNG receivers, gaining the capability to simultaneously contribute live to multiple news rooms.
Newtec details at their website http://www.newtec.eu/
* * * * * * * * * * * * * * * * *
Add In Six More

Globalstar, Inc., a provider of mobile satellite voice and data services to businesses, government, and consumers has released information regarding the launch of its new 2G satellites.



Globalstar expects to conduct the next launch of six satellites in May, plus two additional launches of six satellites per launch within 60-90 days following the previous launch. All three launches will use the Soyuz launch vehicle and each will be conducted from the Baikonur Cosmodrome in Kazakhstan. In October, Globalstar successfully launched six new 2G satellites using the Soyuz.

More info at Globalstar's website http://www.globalstar.com/en/

* * * * * * * * * * * * * * * * *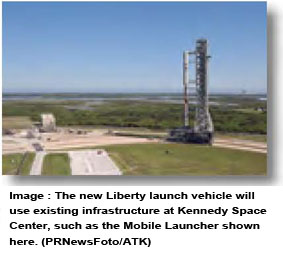 Liberty Is Afoot

ATK and Astrium are working together in response to NASA's Commercial Crew Development-2 (CCDev-2) procurement.

The team is offering NASA launch services with the Liberty™ rocket. This new launch vehicle combines two of the world's most reliable propulsion systems, with a collective heritage of nearly 150 successful flights. ATK would supply the human-rated first stage, which it developed under NASA's Space Exploration Program.The five-segment solid rocket first stage is derived from the Space Shuttle's four-segment solid rocket boosters (SRBs) which are built by ATK and have flown 107 successful missions since 1988 (encompassing 214 SRBs).

* * * * * * * * * * * * * * * * *
Capturing A Crisis



Stratos Global has been providing integrated media solutions that are enabling many of the world's largest news organizations to broadcast ongoing coverage of the Egyptian political crisis.

The solutions include Inmarsat BGAN mobile broadband satellite services with GuaranteedAccess managed end-to-end IP network connectivity. These organizations began broadcasting reports of the crisis from Cairo and other Egyptian cities on January 25th. Days later, the Egyptian government shut down all terrestrial Internet connectivity and mobile phone service. BGAN enabled these broadcasters to continue newsgathering in Egypt and transmitting live reports to their studios, without interruption. BGAN from Stratos streaming services are being used by the BBC, Fox News and others for live video streaming from the protest sites. The broadcasters also are using BGAN for Internet connectivity, store-and-forward video clips, and audio streaming for radio broadcast. All BGAN traffic from these organizations is routed via the Stratos global IP network, known as StratosNexus, into the broadcasters' studios worldwide.


As it did for last year's Haitian disaster, Stratos is continually monitoring its BGAN network and StratosNexus during this period of heightened usage in Egypt — and is providing frequent status reports to its media customers. Inmarsat also is taking measures to ensure the usual high level of availability and reliability of its Inmarsat-4 satellite network during this crisis. BGAN from Stratos enables media organizations to perform at optimal levels at any remote location. Journalists can effectively use BGAN services with minimal training. The premium BGAN X-Stream service allows a guaranteed minimum symmetrical video streaming rate of 384 kbps, with up to 450 kbps expected under optimal conditions.

* * * * * * * * * * * * * * * * *
The BUC Stops Here

Teledyne Paradise Datacom has released their, new 80 watt X-band Block Up-Converter (BUC).


The Model VBUCX80A is housed in a lightweight enclosure that weighs 11 pounds and delivers 56 watts of WGS Linear Power, making it the most powerful X-band BUC in its weight class. This full-featured BUC includes Ethernet, FSK and Serial M&C, Output Power Detection and Output Isolation.

The internal converter will automatically detect and synch to 5, 10, 20, 25 and 50 MHz reference signals. Based on the latest Gallium Nitride transistor technology, Teledyne Paradise Datacom's line of vBUC amplifiers includes 80 watt C- and 40 watt Ku-Band models in the same package, with a 10 watt Ka-band version soon to follow. GaN devices operate at higher power levels and at higher temperatures and are more efficient than their Gallium Arsenide counterparts.

Download the product infosheet http://www.paradisedata.com/collateral/datasheets/208796_Rev-.pdf


* * * * * * * * * * * * * * * * *
A Glutton For Receptions

Antenna Technology Communications Inc. (ATCi), a provider of satellite communications systems, introduced at the CABSAT Conference in Dubai, its Simulsat Multibeam antenna system specifically designed for Middle East Market applications.


Simulsat is the world's only multiple satellite antenna that is capable of receiving satellite transmissions from 35+ satellites simultaneously without adjustment or degradation in performance from one satellite to the next. For more than 20 years, ATCi has been the world leader in multibeam technology and the ATCi proprietary Simulsat Multibeam has been providing programming to over 30 million cable subscribers in the U.S. market and abroad.

ATCi's President Gary Hatch noted that the company's Simulsat Multibeam was specifically re-engineered to handle the unique applications that are specific to broadcasters in the Middle East. "It is a testament to ATCi's continuous commitment to our customers that the Company was able to re-engineer the legacy Simulsat Multibeam system to meet the unique needs of Middle Eastern broadcasters," he said. "It is a validation of our engineering, and we are honored that broadcasters throughout the EMEA region can now rely on ATCi's Simulsat to provide the essential C and Ku Band downlink capabilities essential to their business."

Product info... http://www.atci.com/datasheets/Multibeam_Earth_Station/Simulsat_CKu.pdf

* * * * * * * * * * * * * * * * *
Super Bowl For Leathernecks

Encompass Digital Media, Inc. joined forces with the U.S. military's Defense Video and Imagery Distribution System (DVIDS) for the first, HD satellite feed for Camp Leatherneck, Afghanistan.

This resulted in the delivery of video coverage to deployed U.S. service members of the big game. Live footage aired via Fox's exclusive broadcast of Super Bowl XLV at Cowboys Stadium in Arlington, TX. Since 2004, Encompass has been an essential partner for DVIDS' media operations. As a result, the military has been able to produce broadcast-quality video, still images and print materials. These packaged products offer real-time distribution 24/7/365 via Encompass' satellite and fiber infrastructure.

Encompass info at http://www.encompass-m.com/

* * * * * * * * * * * * * * * * *
A CABSAT Triple Play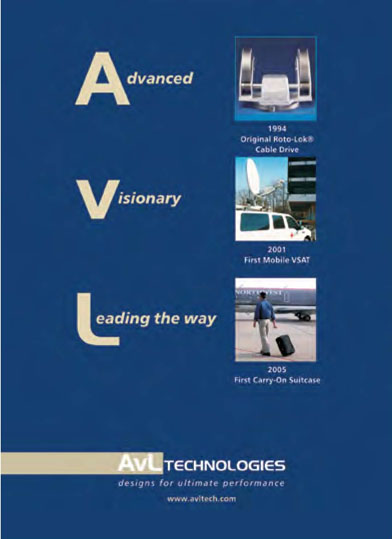 VT iDirect, Inc. (iDirect), a company of VT Systems, Inc. has announced that Sky-Stream FZ LLC, a Dubai-based provider of connectivity and satellite service solutions, has launched a satellite IP-TV streaming service over the iDirect platform.

The recreational service, which uses the Apple TV platform, allows customers in the Middle East and Africa to immediately access on-demand programs in remote locations where such services are not accessible. Sky-Stream's IP-TV service provides on-demand, high-quality streaming for movies as well as news and sports shows offered through Apple TV. The new offering is an expansion of Sky-Stream's standard Voice over IP (VoIP) and Internet service that it provides to military and civil defense customers in Iraq, Afghanistan and parts of Africa.

The new service is powered by iDirect's satellite platform, providing built-in TCP acceleration on an IP-based system that allows Sky-Stream to offer high download speeds to customers for immediate access to the programs they want.

More info at iDirect's homepage http://www.idirect.net/

* * * * * * * * * * * * * * * * *
Going Totally Global

Global Crossing (NASDAQ: GLBC), an IP solutions provider with the world's first integrated global IP-based network, has announced that the broadcast and media services offered by its Global Crossing Genesis Solutions unit are available across its high-performance IP network in Argentina, Brazil, Chile, Colombia, Ecuador, Panama, Peru, Mexico, Venezuela and the Caribbean region.


Global Crossing Genesis Solutions' timing could not be better. As Latin America prepares to host the 2011 Pan American games in Guadalajara, Mexico; the 2014 FIFA World Cup in Brazil; and the 2016 Summer Olympics in Rio de Janeiro; the HDTV subscriber market is experiencing rapid growth in this part of the world. Global Crossing Genesis Solutions uses a proprietary customer interface called uCommand/IRIS, which provides a unique "on-demand" capability that gives customers direct access and control over their global media distribution network and enables self-provisioning and monitoring of all aspects of their transmission services.

The Global Crossing Genesis Solutions homepage http://www.globalcrossing.com/genesis/genesis_landing.aspx

* * * * * * * * * * * * * * * * *
A Merging Of Interests

Canadian Satellite Radio Holdings Inc. (CSR), the parent company of Canadian Satellite Radio Inc. (XM Canada) (TSX: XSR), ihas announced that CSR's shareholders have overwhelmingly approved the merger of XM Canada and Sirius Canada at CSR's annual and special meeting of shareholders that was held in Toronto.

It is expected that a combined XM Canada and Sirius Canada will yield synergies of approximately $20 million (on an annualized basis) within 18 months of closing by allowing the combined company to better manage costs through improved efficiencies and greater economies of scale. With an expected total subscriber base of more than 1.8 million, the combined company will benefit from a highly experienced management team with extensive industry knowledge in media and broadcasting operations, consumer electronics, customer care and subscriber management, automotive engineering and information technology. The combined company will create a stronger platform for future innovation within the audio entertainment industry through key content and programming relationships and distribution agreements with every major automaker and retailer nationwide. Automakers are responding to customer demand for in-vehicle entertainment and the combined entity will lead to 50 per cent of vehicles sold in Canada having factory installed satellite radios as an option. This further demonstrates how important satellite radio is becoming to Canadians. The consummation of the merger remains subject to the satisfaction of, or compliance with, certain conditions, including receiving all necessary regulatory approvals (including CRTC approval) and the successful refinancing of the Company's indebtedness. The transaction is currently expected to close during the third quarter of the Company's 2011 fiscal year.

XM Canada homepage http://www.xmradio.ca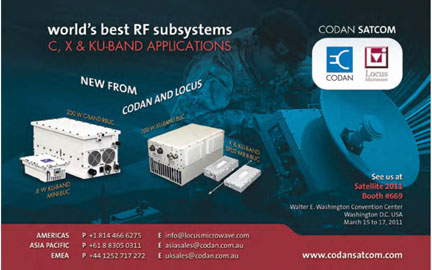 * * * * * * * * * * * * * * * * *
A Step Ahead

Intorel has launched a new edition of Visionic Professional, Visionic 5; a brand new; Internet based M&C solution for satellite, broadcasting or any other telecom system.

Among its many novelties, Visionic 5 offers an Internet based GUI designed to be flexible, easy to use and to reduce time and money investments to minimum.

Visionic Professional is a reliable and flexible, cost effective, M&C platform, already well established in broadcasting and satellite industry. This latest edition is an Internet-based solution developed to make a process of system design more flexible than previously possible, allowing users to monitor and control the telecom system locally or over the Internet.

While inheriting all its reliability and stability from previous editions, Visionic 5 now introduces a variety of new features — available online, convenient, stores files in a central repository, and requires no programming experience. As a commercial, off the shelf (COTS) product, Visionic 5 requires no special equipment, user training, installation time or costs. Visionic 5 cooperates with heterogeneous equipment and hundreds of device drivers and also supports a variety of interfaces (Serial, Lan, Snmp, Modbus, and many others).

For the first time ever, it is possible to design a system online and run it on your local network. This is a far easier easy method to draw designs for a technical system, regardless of complexity or size.
Once the system is designed, it can be downloaded to a local computer and executed as a real time system on a local network. An Internet connection is not required in order to use the system. To simplify making changes in design, demo versions and design files are maintained online. Meanwhile, the data itself is retained securely on the local network. This central repository allows for the management of all projects in one place, 24/7, from any physical location.

Beta testing is scheduled from the 25th of January to the 1st of June; anyone interested can take part in the beta by registering at the Visionic 5's website, http://www.visionic5.com.
For those who may be interested, Intorel offers a Visionic 5 Enterprise server, designed to be used in a local network environment. Introle's Visionic solution is one of the most uniquely future-proof systems available for satellite monitoring and control, Earth station control and other industrial and SATCOM applications.

Further details at... http://www.visionic5.com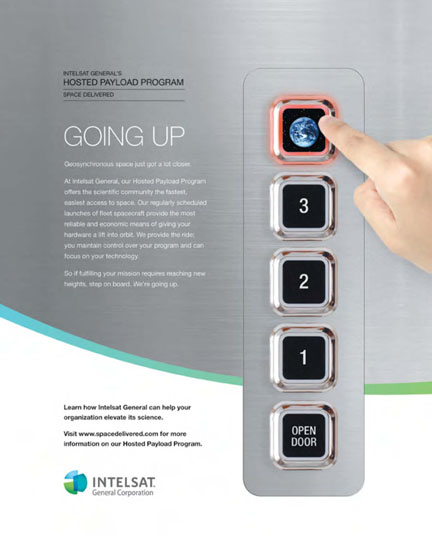 * * * * * * * * * * * * * * * * *
Acquiring Minds Wish To Know...

EchoStar Corporation and Hughes Communications, Inc. have an agreement pursuant to which EchoStar will acquire all of the outstanding equity of Hughes and its subsidiaries including its main operating subsidiary, Hughes Network Systems, LLC ,in a transaction valued at approximately $2 billion, including Hughes debt expected to be refinanced in connection with the transaction.

Under the terms of the transaction, which has been approved by the Boards of Directors of both companies, Hughes' shareholders will receive $60.70 per share without interest, which represents a premium of 31 percent over Hughes' unaffected closing share price of $46.43 on January 19, 2011. The transaction is expected to close later this year, subject to certain closing conditions including receipt of federal regulatory approvals. Investment funds affiliated with Apollo Management IV, L.P., who own a majority of Hughes' outstanding stock, have approved the transaction by entering into a written shareholder consent.

EchoStar homepage... http://www.EchoStar.com

* * * * * * * * * * * * * * * * *
Doing Unto DTH

SES WORLD SKIES has entered into a multi-year, multi-transponder agreement that covers all 12 Ku-band transponders on the India beam of the SES-7 satellite.

The capacity on SES-7 will be used to support the growth and expansion of India's thriving DTH market. Deepak Mathur, SES WORLD SKIES Vice President of Sales for South Asia and the Middle East, said, "SES provides significant satellite capacity for the explosive growth in the Indian media, DTH and telecommunications industries. SES currently supplies capacity to the Indian market via four of its satellites NSS-12, NSS-6, NSS-11 and SES-7, and we are committed to meet the growing demand requirements of the Indian DTH market, which is the fastest growing DTH market in the world with an estimated 30 million subscribers and is projected to overtake the US as the largest DTH market".

SES WORLD SKIES homepage http://www.ses-worldskies.com/worldskies/

* * * * * * * * * * * * * * * * *
Certifiably So...

International Communications Group's (ICG's) NxtLink ICS-400 has successfully completed the Iridium Compatible Equipment Certification (ICE) testing, conducted by Iridium Communications Inc., and is approved for operation on the Iridium constellation and network.


The ICS-400, which combines four Iridium channels with an internal cabin telecommunications unit (CTU), offers global voice service coupled with telephone services similar to those found in contemporary office PABX systems. The NxtLink ICS-400 can be integrated with conventional telephony devices, other satcom systems or legacy CTU systems through standard 2- Wire "Tip and Ring" circuits, 4-Wire audio connections or CEPT-E1 digital circuits. Standard CTU features include intercom calling, call transfer, conferencing, follow-on dialing and voice prompts.

Designed into a 4 MCU Line Replaceable Unit (LRU), the ICS-400 can be installed on any size aircraft as the sole communications facility or as an additional/restorative communications system. The system architecture permits installation on any size airframe or aircraft model, providing flexible connectivity options and solutions for all communications requirements. The NxtLink ICS-400 also provides ARINC 429 connections and a dedicated Short Burst Data (SBD) transceiver to support ACARS messaging. The device is simple to operate offering standard dialing conventions and PABX operations with familiar call progress tones.

Product brochure download here http://www.icg.aero/Document_Manager/ICG%20NxtLINK%20Series%20ICS-400%20Rev%20D.pdf

* * * * * * * * * * * * * * * * *
3D Makes The "Scene"

3net, the joint venture television network from Sony Corporation, Discovery Communications and IMAX Corporation, have announced that DIRECTV will be the first distributor to launch 3net, the 24/7 3D network, starting on February 13th, 2011.

3net will initially be available to millions of DIRECTV customers across the country and will go live at 8:00 PM ET on DIRECTV (channel 107) with a primetime slate featuring world premieres of new, one-hour, native 3D original programs CHINA REVEALED and FORGOTTEN PLANET, in addition to the world 3D television premiere of INTO THE DEEP 3D. Throughout February, the network will offer an unprecedented rollout of original 3D series and new program debuts every night at 9:00 PM ET.

DIRECTV 3D infopage http://www.directv.com/DTVAPP/content/contentPage.jsp?assetId=P6820033&footernavtype=-1&_DARGS=/DTVAPP/global/component/cmpt_v.jsp&_requestid=1380934

* * * * * * * * * * * * * * * * *
Sustaining Sea Services

AST Australia has installed the first Thrane & Thrane SAILOR 90 satellite TV antenna in Australian waters on Offshore Unlimited's vessel, Limitless.


Offshore Unlimited required an on board satellite TV system for their vessel believing it is essential to keep their crew and clients in touch with world news, sport and entertainment, especially as their crews work a five week on, five week off rotating roster. AST Australia provided a Thrane & Thrane SAILOR 90 antenna to fulfill Offshore Unlimited's needs.

Offshore Unlimited services its clients' needs in Australian waters, with its modern fleet of offshore support vessels operating from the ports servicing Australia's oil and gas industry. They provide a comprehensive range of offshore services, including offshore installation re-supply, survey, seismic ship re-supply, standby, dive & ROV support, crew transfer, scientific research and chase boat services. Their latest vessel is Limitless which is a 28.7m catamaran built for offshore support and is based at Exmouth, Western Australia.

Company homepage link http://www.asta.net.au

* * * * * * * * * * * * * * * * *
Satellite Supported Streaming

SatStream is providing a live 24 hours stream to francophone channel, Montagne TV.

Montagne TV is a France-based channel dedicated to broadcasting every facet of mountain life, from daily life for those who live there, to sporting activities. SatStream is providing the live stream using ChannelStream, which the company launched at IBC last year. The feed is taken from Montagne TV in France and transcoded into multiple web formats at SatStream's specialist facility in the heart of London, then streamed live via SatStream's Content Delivery Networks (CDNs) to Montagne TV's dedicated website at http://www.montagnetv.com.

Thanks to Channel Stream's use of optimized satellite capture combined with quality streaming technology, viewers of Montagne TV across the globe are able to enjoy a seamless viewing experience, without buffering. ChannelStream also supports delivery to popular mobile devices, such as Windows, Android and Symbian-based mobile phones and the iPhone / iPad.

More info at http://www.satstream.com/

* * * * * * * * * * * * * * * * *
Entertaining Connections

Panasonic Avionics Corporation (Panasonic), a provider of state-of-the-art in-flight entertainment and communications (IFEC) systems, has signed a Letter of Intent (LOI) with Scandinavian Airlines (SAS) to deliver full broadband connectivity and mobile phone service on SAS' domestic, pan-European and intercontinental flights.

While final terms are still being negotiated, the LOI allows the parties to immediately begin developing the plan to deploy Panasonic's eXConnect solution, and its eXPhone product delivered in collaboration with AeroMobile, across SAS' fleet with installations to begin in fall 2011. Panasonic's eXConnect system provides two-way broadband connectivity to an aircraft. It supports a wide range of passenger and crew applications, and SAS will use the solution to provide in-flight broadband Internet access over WiFi to passengers. The company's eXPhone product, offered in collaboration with AeroMobile's inflight mobile phone service, will allows SAS passengers to use their mobile phones, smart phones and BlackBerry® devices onboard to make and receive voice calls if selected by the airline, send and receive SMS text messages, and use GPRS services such as email and internet access.

Additionally, the Company has announced the first test flight of its eXTV service. During the flight, which took place on January 26, 2011, the company used eXTV to successfully deliver a live television feed to a Boeing Business Jet equipped with Panasonic's eXConnect service. Panasonic's eXTV television network will use the company's eXConnect in-flight Ku-band communications service to deliver high quality television programming to passengers during their flight. It will provide live, uninterrupted content to aircraft flying all over the world, even over oceans. The service will offer several baseline channels in addition to optional, premium programming.

More details here http://www.mascorp.com/Products/XSeries.aspx

* * * * * * * * * * * * * * * * *
Hot Bird Happening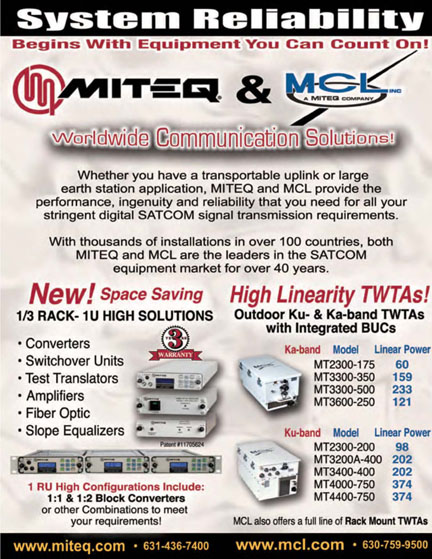 Elettronica Industriale, the network operator of Italy's Mediaset Group, and Eutelsat Communications (Euronext Paris: ETL) have signed a 12-year contract for capacity at the HOT BIRD™ video neighborhood.

The new contract for one transponder further consolidates a 20-year relationship between the two companies, increasing Mediaset's HOT BIRD™ resources to five transponders. It will support Italy's nationwide transition into a fully digital broadcasting environment, particularly addressing Mediaset's requirement to deliver chann.els to its network of Digital Terrestrial Television (DTT) transmitters

Eutelsat's infopage link... http://www.eutelsat.com/

* * * * * * * * * * * * * * * * *
Getting Their New Act Together

The Satellite Broadcasting and Communications Association (SBCA) has launched the SBCA Foundation. The SBCA Foundation will place emphasis on health, welfare and education projects that benefit specific communities and populations where the consumer-based satellite industry has a presence.

The amount of money or goods allocated to grants will be based on need and will be implemented in areas where similar efforts are not already underway, so as to reflect the unique purpose and character of the consumer-based satellite industry. Grants will be awarded on a schedule and according to a set of guidelines to be established by the Board of the Foundation and implemented by SBCA staff. Particular emphasis will be given to projects and needs in areas of the U.S. where the satellite industry is a well known and valued service.

The SBCA Foundation will rely on feedback from the network of manufacturers, distributors, instillation providers and retailers who all have a part in providing satellite services to the customer. They recognize that these businesses are important in their local communities and understand their needs best. SBCA plans to have an inaugural event in the summer of 2011. More details will be released closer to the event date. The initial Board of Directors are Andrew Reinsdorf of DIRECTV, Jeffery Blum of DISH Network, and Joseph Widoff of SBCA.

The SBCA infopage... http://www.sbca.org/