As technology continues to improve by leaps and bounds in almost every sub-sector, at times, in the satellite business, improvements seem to come at a snail's pace.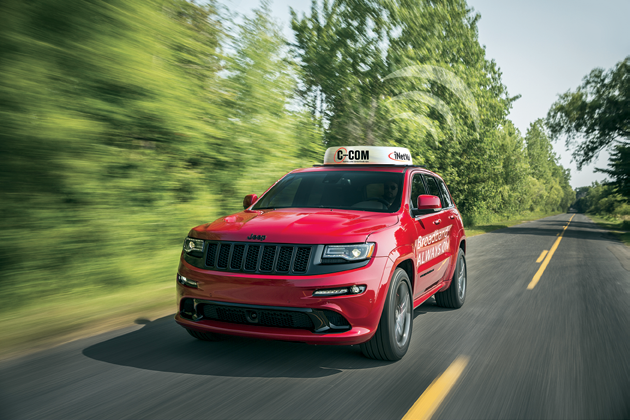 The traditional SOTP (SATCOM-on-the-Pause) land-based antenna market has remained, for all intents and purposes, a stagnant product hindered by the laws of physics, with slow improvements being made to the technology, and little cost reduction available to the end user. Ku-band and C-band products continue as reliable, if not bulky, solutions for most vertical markets.
To the layman it might not be fully appreciated that an auto-deploy antenna can find a satellite 22,000 miles away, lock onto it in a few minutes with just the push of a button, and begin transmitting and receiving data with only a 600ms lag. This truly is a remarkable feat – but what have you done for us lately?
With total global bandwidth consumption doubling almost every 2 years, the thirst for faster, quicker and cheaper solutions in our industry are always being sought. The push for improved mobility, as well, remains a key issue for manufacturers, integrators and users alike. People who travel via plane, train, automobile or boat expect connectivity wherever they go.
Big changes have begun in earnest and, like most technologies, are taking some time to gain global acceptance. Ka-band and the emergence of High Throughput Satellites (HTS) are moving into the mainstream in the satellite world. In 2012, ViaSat gave us ViaSat 1: the highest capacity satellite ever launched, with 10 times the throughput of any previous Ka-band satellite, and thus pioneering the next generation of satellite capacity.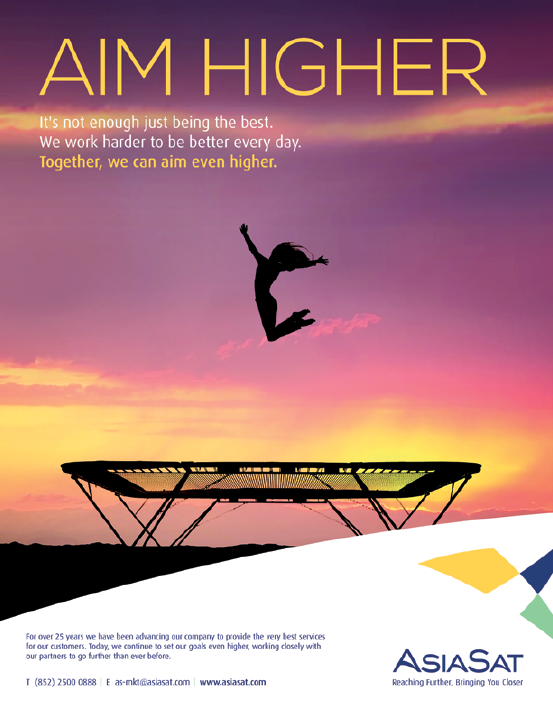 A few weeks later, Hughes launched Jupiter-1, another enormous pipe in the sky. Many other satellite operators and service providers are breaking the mold as well, from Intelsat's EPIC, O3B's ambitious constellation and Inmarsat's Global Xpress eventual worldwide coverage.
Even more interesting is the notion that satellite technology is moving out of the shadows and into the forefront of the communications dialogue with respect to quenching the thirst of the bandwidth starved global community. Facebook, Google, One Web and others are all angling with impressive projects. Big names like Richard Branson, Bill Gates, Greg Wyler and Elon Musk are now involved. Things are changing, and perhaps finally, changing more quickly than they have in the past.
The relatively recent acceptance of Ka-band SOTP land-based products into markets in North America, Europe and MENA has begun a small tide shift. Smaller antennas, lower cost bandwidth, lower power requirements, and a significant increase in bits per dollar has been the biggest improvement in the hardware side of this market in over a decade. While Asia, LATAM, Australia and parts of Africa still have yet to see complete coverage in Ka, it's generally accepted that the natural progression is towards more Ka-band solutions which will eat away at some of the Ku and C-band markets.
Similarly, the evolution of mobile antenna systems from 'on-the-pause' to 'on-the-move' is progressing. While SOTM antennas have been around for quite some time, specifically in the maritime business and in the growing aeronautical market, there is no specific advancement to replace all SOTP products with SOTM for land based SATCOM. It's simply not cost effective and the technology isn't ready at this point.
But it's only natural that the antenna business should progress from a technology that works only while stationary to one that works during any kind of movement.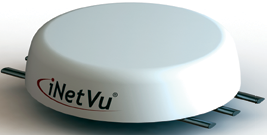 C-COM Satellite Systems Inc. is a global leader and pioneer in the SOTP auto-acquire antenna business and is one of the first mobile antenna manufacturers in the world. Currently, the iNetVu® brand has been deployed in over 100 countries and there are over 7,000 transportable antennas in the field being used as vehicle mount, flyaway or fixed motorized. The company was also the first designer and manufacturer to have both driveaway and flyaway solutions approved for use on Ka-band services from ViaSat, Eutelsat, Avanti and Yahsat. The development towards a SOTM solution was inevitable and C-COM is pursuing several options for its 'in-motion' antennas.
C-COM has been working with ViaSat in adapting their successful aeronautical antenna into an affordable terrestrial solution for trains, buses, and other land-based vehicles. The Ka-band antenna, which will be unveiled at IBC in Amsterdam in September 2015, will operate and be certified first on ViaSat's Exede service in the US and later on Eutelsat KA-SAT service in Europe. Shortly thereafter, C-COM will integrate the antenna to work on all emerging Ka-band services worldwide. Full production is expected to begin in mid-2016.

"Our reseller network was surveyed for their ideal Ka-band in motion product," said Leslie Klein, President & CEO of C-COM. "Based on their feedback, and at the intersection of science and economics, we arrived at a product design which we believe will meet and exceed most of their requested requirements. The antenna system will be the first low-cost, Ka-band, land-based, in-motion commercial product developed to capture a number of vertical markets looking for a high performance," Klein continued.
The iNetVu® inMotion Antenna will provide affordable broadband connectivity via Satellite to all mobile ground platforms. Rugged, low profile (sub 33cm), and with look angles from 20-90 degrees, the flat-panel antenna will have operation wind loading of 350km/hr, which will make it usable on even the highest speed trains and in the most exhaustive terrains. With data rates up to 20Mbps of download and 6Mpbs of uplink and at a price tag unseen in the market today by any approved system, the inMotion product will stand alone in the today's available SOTM offerings.
As SOTM has been slow to implement in the commercial world, we need to ask why that is. Part of the answer lies in the technology, but just as important, the cost of the bandwidth has been prohibitive.
"Most SOTM systems make use of spread spectrum bandwidth which spreads the power required over a wider bandwidth to reduce the carrier's spectral density," said Paul Seguin, Sr. Technical Advisor for C-COM Satellite Systems. "This reduces the effective interference created by the motion, impacting the transmitter's ability to remain pointed precisely at the satellite."
As the actual bandwidth required to support a given speed of data has been more than the actual amount required, based on the spreading of the frequency, the cost of SOTM has historically been much higher than a SOTP system for the same speed and volume. This higher monthly cost has been an impediment for a lot of people and has curtailed the move to SOTM.
"The new technology that C-COM will deliver will eliminate the spread spectrum issue and should allow a user to connect using standard fixed or SOTP bandwidth," continued Seguin. "This is exceptionally good news as it should mean that having connectivity on the move could be as economical as SOTP bandwidth."
In parallel with the ViaSat project, a much more ambitious project is underway. C-COM and the University of Waterloo are developing a hybrid mechanical and electronic beam steering antenna which will include C-COM's patented phase shifter technology.
"C-COM is exploring several antennas technologies in its quest for developing a low-cost, low profile high performance land mobile SOTM Ka terminal," said Bilal Awada, CTO for C-COM. "The Phased-Array antenna technology currently in development has been focusing on the antenna sub-arrays. These modules will be used as the building blocks for a complete SOTM antenna platform," Awada continued.
The new antenna technology will allow for a less complex design, will consume less power, reduce noise level, and will be less costly than any phased array system ever designed. The result is expected to be a considerably smaller antenna which will be even lighter and more low profile than the earlier version.

The proof of concept for this unique phased array antenna is expected by the end of 2015, with full production expected in 2017. This will be timely so as to coincide with the significant number of upcoming HTS launches; 1.34 TBps of capacity is expected to be available by 2020 from these new satellites and satellite operators will be looking for novel antenna designs to capitalize on the bandwidth that's available.
Drew Klein oversees the sales and marketing departments at C-COM responsible for the promotion of the iNetVu mobile antenna. Drew directs global sales via our existing worldwide dealer network and reaches new resellers who wish to support and integrate the iNetVu brand. After graduating from the University of Waterloo in 2000 with a Bachelor of Honours Science (Biology), Drew worked for nearly 10 years in the financial markets in California running his own commodity brokerage firm.
---