---

---
James Webb Space Telescope's Successful Launch + Upcoming Milestones
The James Webb Space Telescope — the Webb mission — an international partnership with the ESA (European Space Agency) and the Canadian Space Agency, launched aboard an Ariane 5 rocket on December 25, 2021, from Europe's Spaceport by Arianespace from Kourou, French Guiana. The observatory had been folded up, origami style, to fit inside an Arianespace Ariane 5 rocket for launch. Webb is now in the complex and intricate process of unfolding in space as it travels nearly 1 million miles to its destination, the second Lagrange point, or L2.

The launch of the James Webb Space Telescope
by Arianespace. Photo is courtesy of the company.
Webb's deployment sequence is a human-controlled process that provides the team with the flexibility to pause, assess data and adjust, as needed. The timing and order of all milestones may therefore change. NASA will host live broadcast coverage to mark the following milestones, with specific times and dates updated as they approach: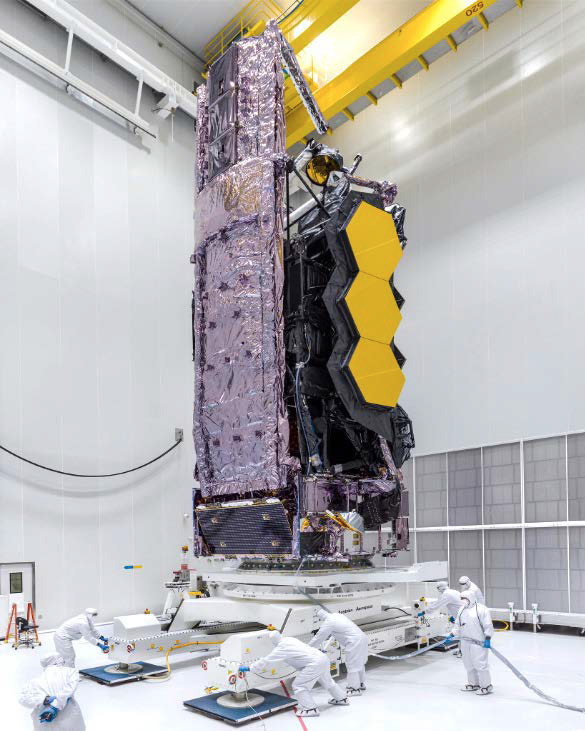 James Webb Space Telescope in the cleanroom.
• Sunshield tensioning: The full deployment of the sunshield, the most challenging element for Webb, will mark a critical milestone for the mission. This step is scheduled for completion about eight days after launch, no earlier than Sunday, January 2.
• Secondary mirror support structure deployment: The support structure that holds the secondary mirror in position to focus light collected by the primary mirror is set for deployment about 10 days after launch, no earlier than Tuesday, Jan. 4.
• Webb deployments complete: With the unfolding of the second of Webb's primary mirror wings, the Webb team will have completed all observatory deployments. This is scheduled to take place about 13 days after launch, no earlier than Friday, January 7.
NASA provides regular updates on the Webb telescope blog. The public can also follow Webb's deployments online via a "Where is Webb?" interactive tracker and a Deployments Explorer.
The Webb mission will explore every phase of cosmic history — from within the solar system to the most distant observable galaxies in the early universe… and everything in between. Webb will reveal new and unexpected discoveries and help humanity understand the origins of, and our place within, the universe.
"[This] launch is the mission of the decade," said Stephane Israël, Chief Executive Officer of Arianespace, "one that demonstrates the reliability of Arianespace's launch services in the eyes of the international space community. It's a great honor for us to have been chosen for this launch, which will enable humanity to take a giant step forward in its knowledge of the Universe. The mission demanded 20 years of preparation hand in hand with NASA. It's the third launch we have performed for the American space agency, clearly illustrating the advantage of large-scale international collaboration in space. I would like to thank ESA, NASA and CSA for entrusting us with their invaluable payload. To launch on Christmas morning 42 years after the takeoff of the first Ariane from this same Kourou site… What a great end of year present for the space community gathered today for this launch. I would also like to thank the teams of Arianespace, ArianeGroup, Cnes and ESA who worked without letup to ensure this success, all motivated by the same passion."
"This latest success is undoubtedly one of the most iconic space exploration launches performed by Ariane 5, following the Rosetta comet mission and Europe's ATV resupply vessels for the International Space Station," said André- Hubert Roussel, CEO of ArianeGroup. "Ariane 5 is known as the world's most reliable launch vehicle, but, like everybody who contributed to the success of this mission, we were holding our breath when our launcher lifted off with this scientific jewel, one protected by a special fairing tailored for its sophisticated instruments. All previous launches also prepared this one, because we knew that the eyes of the world would be on us. There are just five more Ariane 5 launches scheduled before this legendary launcher bows out. Everybody at ArianeGroup is fully committed to making Ariane 6, scheduled for a first launch from Kourou in 2022, Europe's next great achievement in space. I would like to thank ESA, NASA and CSA for placing their trust in us, and also all of our Ariane 5 partners in Europe, who are surely as proud as I am today."
---
BryceTech's Launch Site Map

Bryce has updated their informative Orbital and Suborbital Launch Sites of the World chart.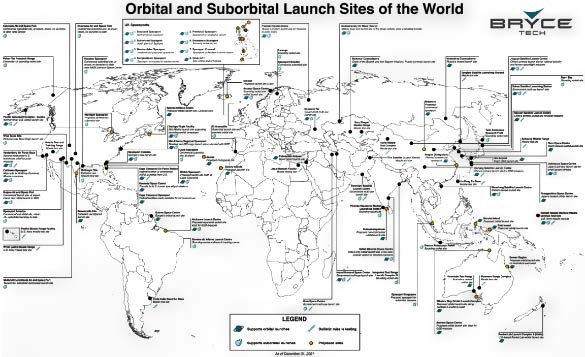 This map is a comprehensive representation of global spaceports, highlighting their capabilities to support orbital, suborbital and ballistic missile launches.
The BryceTech team characterized more than 80 operational, planned and announced spaceports and major ballistic missile testing sites globally. Of those locations shown, 17 are active orbital launch sites supporting vertically launched vehicles only.
Most sites support vertical suborbital launches (for example: sounding rockets), a few sites support horizontal suborbital launches (an emerging capability) and 13 are exclusive ballistic missile testing sites with infrastructure that could be modified for space launch activity. There are more than 20 proposed sites, with more being planned. The map illustrates the existing Bryce spaceport dataset, which includes operational attributes and competitive factors, from launch statistics and infrastructure details to weather and climate data.
Download the map at this direct link…
---
Arianespace's 63rd Soyuz Mission Lifts 36 OneWeb Satellites To Orbit
On Monday, December 27, 2021, at precisely 06:10 p.m. local time at Russia's Baikonur Cosmodrome (01:10 p.m. UTC), Soyuz flight ST37 lifted-off with 36 OneWeb satellites. This flight was the 63rd Soyuz mission carried out by Arianespace, the 37th with the Starsem affiliate and the 12th mission for OneWeb.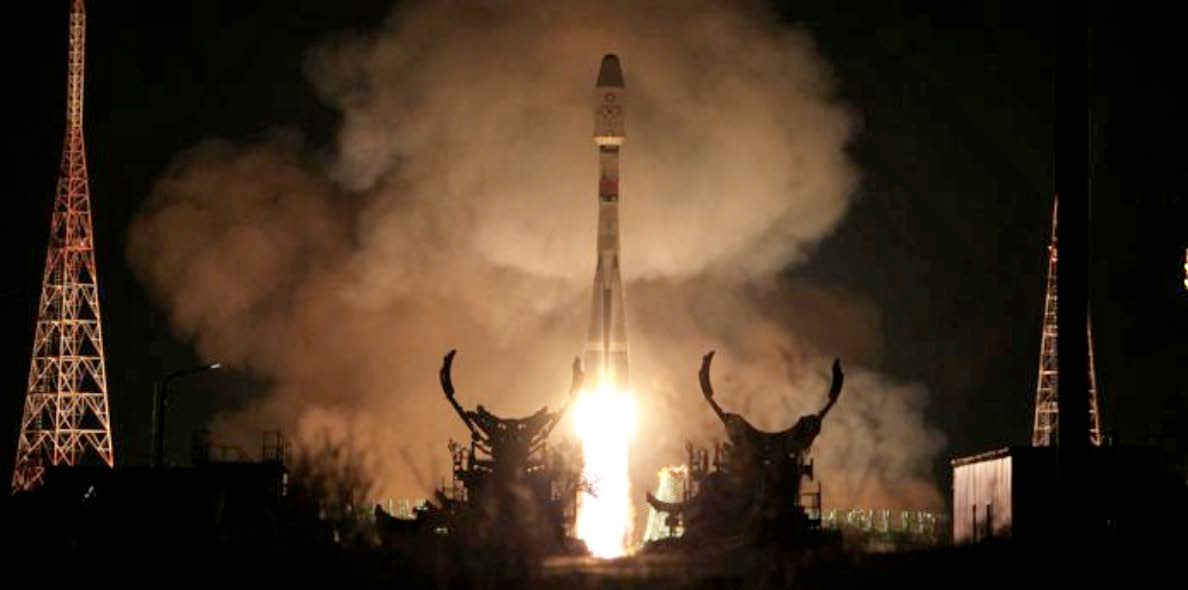 The mission lasted three hours and 45 minutes. The 36 satellites were deployed during nine separation sequences, at an altitude of 450 km. This was also the 15th successful launch operated by Arianespace's teams during 2021, bringing to 1,101 the total number of spacecraft orbited since the start of the company's operations.
This launch also was the first time Soyuz delivered 36 satellites — instead of the usual 34 — from the Baikonour Cosmodrome.
The OneWeb constellation will deliver high-speed, low-latency connectivity to a wide range of customer sectors, including aviation, maritime, enterprise and government. Central to its purpose, OneWeb seeks to bring connectivity to the hardest to reach places, where fiber cannot reach, and thereby bridge the digital divide.
The satellite prime contractor is OneWeb Satellites, a joint venture of OneWeb and Airbus Defence and Space. The satellites were produced in Florida, USA, in the company's leading-edge satellite manufacturing facilities that can build up to two satellites per day on a series production line dedicated to spacecraft assembly, integration, and testing.
The launch of the satellites was operated by Arianespace and its Euro- Russian affiliate Starsem under contract with Glavkosmos, a subsidiary of Roscosmos, the Russian space agency.
Arianespace is responsible for the overall mission and flight-worthiness, with the support of Starsem for launch campaign activities including management of its own launch facilities at the Baikonur Cosmodrome.
RKTs-Progress (the Samara Space Center) is responsible for the design, development, manufacture and integration of the Soyuz launch vehicle as well as for the 3-stage Soyuz flight. NPO Lavotchkin is responsible for the launch preparation operations and flight of the Fregat orbital vehicle.
"It is a very special time of the year, right between Christmas and New Year's Eve. I would like to warmly thank all the Arianespace and Starsem teams involved in this mission and the incredible work they did alongside our Russian partners in order to allow us to launch, from Baikonour Cosmodrome, our 15th and last launch of 2021. This year has been marked by key milestones, the latest one being that, with today's flight, we will officially have deployed more than 60% of OneWeb's constellation," said Stéphane Israël, CEO of Arianespace.
He continued, ""2021 has been a really busy year for us with 15 launches operated from three different spaceports, which represents a 50% increase in launches over 2020. With 2022 headed in the same direction, we are sure to demonstrate that our services and solutions answer our clients' needs: any time, any mass, any orbit."
---
Teledyne Technologies' Infrared Detectors Aboard The James Webb Space Telescope
Teledyne Technologies Incorporated (NYSE:TDY) provided 15, extremely sensitive, H2RG infrared detectors that are used in three of the four science instruments of the James Webb Space Telescope (JWST): the Near-Infrared Camera (NIRCam), the Fine Guidance Sensor (FGS), and the Near-Infrared Spectrograph (NIRSpec).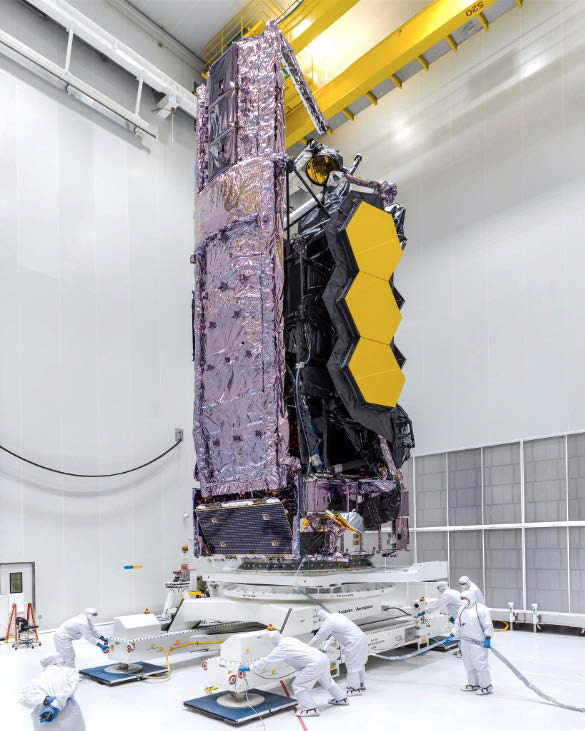 The James Webb Space Telescope in the Cleanroom
at the Guiana Space Center, in French Guiana. Webb
was carefully lifted from its packing container and
then raised to a vertical position. Image is courtesy
of NASA/Chris Gunn.
Ten Teledyne detectors in NIRCam will study the structure and morphology of the universe. Three Teledyne detectors in FGS will be used to point and stabilize the telescope.
Two Teledyne detectors in NIRSpec will reveal information about chemical composition, temperature, and velocity of what JWST observes. Teledyne also provided the SIDECAR ASIC focal plane electronics that operate the H2RG detectors.
Teledyne provided most of the detectors for NASA's flagship astronomy missions. JWST's predecessor, the Hubble Space Telescope, uses Teledyne detectors for imaging in ultraviolet, visible, and infrared light.
JWST, however, will concentrate solely on infrared imaging and spectroscopy. This is because JWST will explore the very distant universe, for which ultraviolet and visible emissions have been stretched by the expansion of the universe into infrared wavelengths, a process known as redshift.
Teledyne's infrared detectors enable JWST to observe the first stars and galaxies, allowing scientists to understand the early evolution of the universe. In 2027, NASA will launch its next flagship astrophysics mission, the Roman Space Telescope, for which Teledyne recently delivered the infrared detectors. For example, Teledyne provided imaging detectors for the Advanced Baseline Imager in the U.S. National Oceanic and Atmospheric Administration's Geostationary Operational Environmental Satellites (GOES), and NASA's Orbiting Carbon Observatory-2 (OCO-2).
Teledyne sensors are also included in multiple European Union Sentinel satellites, including the anthropogenic CO2 emissions monitoring (CO2M) mission and the Copernicus Hyperspectral Imaging Mission for the Environment (CHIME).
In addition to imaging sensors, a Teledyne system provides the electricity that operates the Curiosity and Perseverance Mars Rovers; the electrical power is produced by Teledyne's Multi-Mission Radioisotope Thermoelectric Generator (MMRTG).
Robert Mehrabian, Chairman, President and Chief Executive Officer of Teledyne, said, "For decades, scientists have used our ground-based and space-based detectors to look outward to our solar system, to the stars and exoplanets of the Milky Way, and to galaxies millions and billions of light years from Earth. More recently, our detectors have been extensively used to look down upon the Earth, monitoring pollution and greenhouse gas emissions, and enabling environmental science and climatology."