Euroconsult Studies
Space Markets
Euroconsult recently announced the findings of their just-published report, Government Space Markets, World Prospects to 2020. According to the report, government spending on space hit a number of major milestones in recent years, including a historic peak in combined government spending of $71.5 billion in 2010. However, after 10 years of spending increases across the globe, this trend is about to come to a halt. According to Euroconsult, public space program financing will slow dramatically in the next five years due to several factors.


"Government investments in many space applications are cyclical, particularly when related to the procurement of operational systems," said Steve Bochinger, President of Euroconsult North America. "Defense procurement, which has driven budget growth for a decade — particularly in the United States — is a typical example. Furthermore, following stimulus funding allocated to space projects to support national economies and innovation, most governments have returned to more stringent budget spending. This has already resulted in cutting non-priority budget items and, potentially, space programs."

Civil Programs Support Investments In Space Applications
According to the Euroconsult report, overall growth in civil program expenditures will be sustained — albeit at more moderate growth rates — thanks to a growing commitment from a wider range of countries and agencies. Leading programs such as those in the United States, Europe, and Japan, are expected to see continuing budget pressure. In Russia and countries reaching 'space maturity' (e.g., China and India), space expenditures will continue to grow, though more modestly than in the past.

Defense space programs are expected to be influenced by military agency procurement cycles as well as the completion of most programs currently under development, especially in the United States. Developing initiatives in other countries (such as Australia, Canada, and emerging countries) are expected to open the door to other commercial opportunities for the commercial space industry, the Euroconsult report indicates.
A total of 692 satellites will be launched by governments in the coming decade, up 43 percent from the previous decade. This is a direct reflection of the increasing number of new space-capable countries across the globe. Civil agencies will launch roughly 75 percent of these satellites, a significant increase compared to the last decade during which they accounted for 67 percent of all government satellites launched.

Spending Trends In Key Applications
Applications that drove overall spending increases in 2010 included manned spaceflight, SATCOM, and Earth observation. Government spending on space security, satellite navigation (SatNav), science and exploration, and access to space declined. According to Euroconsult, in the coming five to 10 years, a number of important trends will emerge or continue that will have a major impact on overall government space spending.

• SatCom grew by 49 percent in 2010 to reach $8.4 billion fuelled, primarily by defense spending. Spending should, however, return to historical levels in the short term.

• Manned spaceflight spending totaled $11.6 billion in 2010, but the current transition of the American program should lead to decreasing investment in the future.

• Earth observation reached $8 billion and spending will continue to be driven by defense, climate change and the growing participation of emerging space nations in Earth observation, with spending likely to exceed the $9.5 billion mark by 2015.

• Science and exploration budgets totaled $5.6 billion in 2010. After a period of decreasing investment, budget growth should resume in the coming years, especially in the United States.

• Access to space (launch capability) investments reached $4.6 billion in 2010, and should be sustained in the coming years as more governments see independent access to space as a top priority of their space programs.

• SatNav spending totaled $2.9 billion, a 22 percent drop due to the end of the European Space Agency's financing of Galileo. Growth should resume in the short term with deployment of several new domestic systems.

• Space security budgets fell to $1.7 billion, a 47 percent decrease, which is linked to program challenges and cancellations in the United States. Governments are expected to support funding in this area to adapt to a wide variety of threats to protect their space assets and capabilities.

The Euroconsult report details of developments on government expenditures on an application-by-application basis, including in-depth analysis on each of these applications.

Budget Pressures To Encourage Partnerships
With governments across the world adopting strict spending policies, the space sector will experience a new era of cooperation as governments strive to make their programs as efficient as possible in order to compensate for budget limitations. According to Euroconsult, these constraints will lead to enhanced cooperation with the private sector and more multilateral government projects. Areas of cooperation will likely favor innovation in programs, financing and management.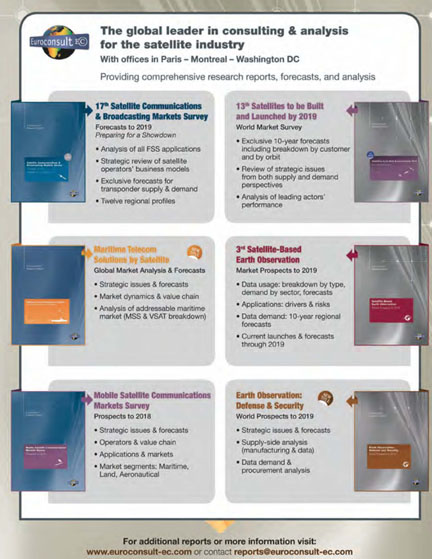 "We have seen a trend towards partnerships and innovative schemes for financing and risk sharing with the private sector," said Bochinger. "European countries have pioneered these innovative schemes in the late 1990s because they were facing tough budget constraints. Whether it be public-private partnerships, Private Finance Initiatives, hosted payloads, COTS or service agreements, more governments across the world are looking for extended cooperation with the private sector. Countries are also expected to undertake an increasing number of international cooperation projects in an effort to reduce costs. This is applicable not only to space science and exploration projects but also for satellite applications including defense and security."

About the report
Government Space Markets, World Prospects to 2020, is an exhaustive assessment of all the applications important to government space programs. The report provides accurate insight into government agencies looking to benchmark and initiate partnerships and serves as an indispensable planning tool for companies looking for government space business. It offers exclusive data, forecasts, and analysis for all major space applications including Satcom, Earth observation, Satnav, space science, manned spaceflight, access to space, and space security. Each application is analyzed in detail, including priorities and objectives, current trends in civil and defense programs and future trends in government spending and satellites to be launched. The comprehensive overview pulls all that information together to assess consolidated trends and identifies budget trends and leading agencies in terms of investment in a given application.

* * * * * * * * * * * * * *

SMi is delighted to invite all to attend the launch of their inaugural MilSatCom Asia 2011 conference and exhibition, which runs from May 23rd through the 24th at the Merchant Court Hotel in Singapore. This is the largest gathering of high level government, military and industry MilSatCom experts in Asia Pacific.

Following in the footsteps of SMi's flagship event and Europe's largest military satellite conference and exhibition, Global MilSatCom, MilSatCom Asia will attract regional and international SATCOM experts to a highly regarded niche conference unique to Asia. This show will be the ideal place to keep up-to-date with issues affecting the MilSatCom industry across Asia. The exceptional speaker line-up includes:



• Jonathan Hung, President, Singapore Space and Technology Association
• Major General (Dr) Siva Kumar, Chief Executive Officer, National Spatial Data Infrastructure, Department of Science and Technology, India
• Atsuo Suzuki, Director Defence Policy Planning, Head of Space Policy, Ministry of Defence, Japan
• Brigadier General John W. "Jay" Raymond, Vice Commander, 5th Air Force and Deputy Commander 13th Air Force, Yakota Air Base, Japan, United States Air Force
• Professor Chau Van Minh, President, Vietnam Academy of Science and Technology
• Lieutenant Colonel James Dryburgh, JS01 CIS (J6), New Zealand Defence Force
• Dr. Mohammed N Murbarek Alahbabi, Information Communication (ICT) Advisor, United Arab Emirates Air Force
• Captain Michael Rothewell, Director, Satellite Communications Capability HMAS HARMAN DNOC-1C 12 CIOG, Department of Defence Australia Group
• Captain Praphon Vibisukh, Director of Space Affairs, Department of Defence Technology and Space, Ministry of Defence Thailand
• Bhaskar Burman, Additional Director, O/O Scientific Advisor to Chief Naval Staff, Defence Research and Development Organisation, India
• Commander Andy Raynor, S01 Core Networks, Cap CC&11, Ministry of Defence UK

Attendees will hear timely case studies from key regional and international SATCOM experts on their latest national SATCOM programs and initiatives.
Issues will be discussed that range from national requirements, to technological challenges and emerging technologies.
The opportunity will be present to network with major MilSatCom players from across Asia and the rest of the world to help establish future strategies.

There is also a half day post-conference interactive workshop on the May 25, 2011, that will be led by Cobham Technical Services and will focus on Why Ka-band? — advantages and disadvantages of Ka-Band and Mobile Satellite Systems

Additional information:
http://www.smi-online.co.uk/events/overview.asp?is=1&ref=3640