SatMagazine (SM)
Please tell our readers about European Satellite Operators Association's (ESOA) focus, and history, within the various European market segments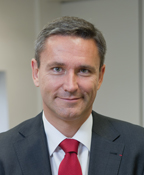 Eric Béranger
ESOA represents the interests of Europe's satellite operators vis-à-vis Brussels and other regulators. Since its creation in 2002 ESOA has grown to be the only satellite association worldwide that brings together all European satellite operators represented by their CEOs on its board.
At its inception, ESOA worked on Europe's early attempts to organise space policy at European Union level, well before the EU had any official competency in space matters. Its focus evolved following policy developments to work on the switch from analog to digital transmission, knowing that the satellite sector has lead transmission in the newest formats, from standard digital to high definition to ultra high definition and 3D transmission; the earliest attempts to bridge the digital divide with Commissioner Liikanen at the turn of the century; and the review of the Electronic Communications Framework.
Today ESOA's focus is on ensuring a level playing field for satellites in an era when policymakers are pushing for subsidies and investments into terrestrial infrastructure to bring ultra-fast broadband to all citizens and on ensuring that satellite has ongoing access to the spectrum it needs now and in the future to continue to provide its essential services the world over.
SM
What European SATCOM sectors do you believe offer the most potential for your association's companies' growth and why?
Eric Béranger
Different service sectors provide different members growth opportunities. More generally however it is worth noting that as satellite operators tend to provide essential communications infrastructure and 'everyday' services that are not cyclical or dependent on the economic climate but that are often based on long-term contracts, we are able to maintain growth at times when other sectors might struggle. This explains the constant growth rates that many operators have shown over the last few years. Those service sectors include broadcasting, where satellite continues to be the most efficient means of transporting video content to masses—an important aspect considering that linear and live TV viewing, in increasingly better definition, is expected to continue growing.
At present, for instance, HD services are a key growth driver in this segment, and this may also be the case for Ultra-HD viewing. Also government services including secure and emergency services remain an area of ever increasing growth, noting the uncertainty and increasing number of vulnerabilities the world is exposed to. It's worth also noting that mobile services—for both maritime and air—are becoming increasingly sophisticated and, hence, represent a growth sector for mobile operators in particular and finally perhaps broadband via satellite is worth mentioning as a market with enormous potential given that Europe still faces a digital divide problem of some 10 million households.
In addition, because of the ability of satellite services to provide connectivity over broad geographic areas, our sector also allows European companies to seek growth in the global markets—from providing broadband infrastructure for private data networks in emerging markets to distributing media content to new audiences in remote regions.
SM
How are the European satellite and related companies coping with euro fluctuations?
Eric Béranger
Different companies have different approaches on which ESOA will not comment.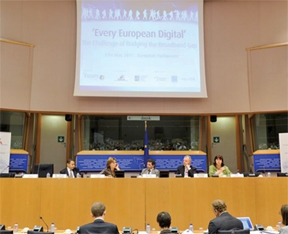 SM
What obstacles do you see facing the various companies that are member of your association? How do they plan on overcoming such challenges?
Eric Béranger
Satellite operators are central to many broadcast, telecoms, Internet and data networks, but we are a relatively small industry within this overall TMT sector, still holding a key role. Collectively through ESOA we are working to foster a better understanding and visibility of our role so as to ensure ongoing and unfettered access to essential frequency spectrum. One initiative that ESOA is taking to achieve this is to organise a showcase of critical satellite applications to Brussels policymakers which will take place on September 27th 2012.
SM
What new technologies/products will European companies be working on and/or releasing over the next few months?
Eric Béranger
ESOA members are innovative companies who will continue to develop attractive products and services that maintain the relevance of satellites in the overall communications mix. Satellite continues to play an important role, specifically in the field of broadcast distribution of new bandwidth heavy TV applications, which in the not too distant future will include technologies such as Ultra HD (also known as super Hi vision).
Just to show the scale of the market that satellites serve for DTH, NSR estimates that out of a total 1.1 billion TV homes worldwide, up to 20 percent receive channels on a pay-TV or FTA basis.
Delivering Quality of Service for client broadcasters is a key concern for all ESOA members, particularly as the number of users accessing satellites continues to grow. This issue has driven the initiative to introduce Carrier ID, a stamp on DVB uplink signals that will enable satellite operators to more efficiently identify transmissions to their satellites and thereby accelerate coordination with Earth station operators in the event of signal interference. Quality assurance of DVB satellite transmissions is engaging the satellite community at large, including satellite operators, encoder and modulator manufacturers, broadcasters and uplink providers.
The effort is also supported by three international associations: the World Broadcasting Unions-International Satellite Operations Group (WBU-ISOG), the GVF (Global VSAT Forum) and sIRG (satellite Interference Reduction Group). In advance of the London Olympic Games, ESOA members that include Eutelsat, Intelsat and SES have completed the process of adapting their earth station information tables to include Carrier ID information so they can read, extract and interpret data.
This is the first phase of a long-term collaborative undertaking to implement Carrier ID in order to further raise the bar of quality to our broadcast customers. Satellite services are set to play a major role in enabling broadband services to commercial and private airlines and vessels. Soon passengers will be connected on the seas and in the air through high performance satellite capacity.
New satellite designs will allow for higher throughput and better economics, resulting in a healthy satellite sector that will continue to be relevant to global communications infrastructure for decades to come.
About the author
Eric Béranger, CEO of Astrium Services, is the Chairman of the European Satellite Operators Association (ESOA) board. ESOA represents some of the largest satellite operators in the world. All European satellite operators are full members of ESOA: Astrium Services, Avanti Communications, Eurasiasat, Eutelsat, HellasSat, Hispasat, Inmarsat, Intelsat, SES, Telenor and Telespazio.
* * * * * * * * *
What Is The ESOA?
The European Satellite Operators' Association (ESOA) was formed in March 2002 to represent the interests of the industry with key European organisations, including the European Commission, Parliament, Council and the European Space Agency as well as other international organisations. ESOA's goals include ensuring that satellites benefit from the appropriate political, industrial and regulatory environment to fulfill their vital role in the delivery of communications. ESOA is governed by a Board of Directors, made up of the CEO's of its 10 Member Companies.

ESOA is often consulted as reference point for the industry by policy makers, national and international regulators, other industrial groups, associations and academics for information concerning facts and views of the industry or with requests to cooperate on specific issues. It often participates in conferences representing the space or satellite operator's industry.

As the provision of satellite communications through ESOA members in fact implies global coverage, ESOA also has co-operations with other organisations on issues that affect members' business outside Europe.
ESOA Activities
Through ESOA, European satellite operators aim to reassert the pervasive nature of satellite-delivered services and the potential they offer in allowing democratic and economical broadband access to telecommunications services. Even though satellites are part of our everyday lives with almost 60 percent of European households today receiving television directly or indirectly via satellite, satellites often still only assume an ancillary role in the minds of regulators and policy makers. It is in this context that ESOA recently met with Commissioners Reding and Verheugen of the European Commission.

Through minimal infrastructure providing ubiquitous coverage, satellites allow communications across national boundaries, without discriminating on the base of economic differences between nations or lacking infrastructure. The only requirement is the goodwill of policy-makers to recognise their benefits and facilitate friendly political, regulatory and industrial environments in their territories, so that satellite communications can be implemented there for the good of their citizens.