The battle for control of the maritime and aviation markets is no longer just a skirmish. It's now apparent that Intelsat means business in its attempt to wrestle maritime and aviation market dominance from Inmarsat—and Inmarsat is fighting back. Those who followed the October 8th GX Investor Conference and its aftermath found themselves witnessing a battle of conflicting claims and counterclaims between the two communications giants.
To counter the Inmarsat threat and assure that the market understands the unique advantages of
EpicNG
, Intelsat Vice President,
Michael DeMarco
, has taken the offensive and is spearheading the launch of a new, dedicated mobility-marketing group. Led by former Head of Maritime for Inmarsat,
James Collett
, the new Group carries with it the mandate to take on Inmarsat with a dedicated and well-financed marketing thrust. As the companies struggle for dominance, certain segments of Maritime VSAT markets continue their growth while others remain constrained. In Aviation, adoption of VSAT Broadband continues to accelerate.
Maritime
In
Offshore Service Vessels
, Product and
LNG Tankers
as well as the
Cruise markets
, VSAT demand remains robust and largely unaffected by the economic downturn. However, Tanker and Containership companies continue to delay purchases of VSAT as daily
spot freight rates
fall to new lows, causing operators to charter at rates below Break-Even (see the chart below).
Baltic Dry Index Jan 08 to Date
To date, continuing additions to the world's
Offshore Service Vessels
(
OSV
) and
Cruise Fleet
and Japan's growing demand for LNG imports have supported these VSAT Markets, while in Brazil, demand is soaring for VSAT for new OSVs. In the
Cruise Industry
, the just closed competition for
Carnival
's
107 Vessel Tender
and the increased demand for bandwidth demonstrates healthy growth in that sector.
Despite these select segments, unfavorable economics in the Oil Tanker and Containerships sectors have combined with the confusion created by the recent introduction of
Global Xpress
and now, Intelsat
EpicNG
to restrain overall market demand. Furthermore, numerous providers of
MVSAT
services entered the market in the last three years. The result is a wave of industry consolidation.
Industry Consolidation
As the recent acquisition of
Speedcast Ltd.
by
TA
of Boston and the potential sale of
Globe Wireless
illustrate, industry consolidation is well underway. Daily, we hear rumors that several of the other well-known providers are seeking buyers, and we expect that the number of MVSAT vendors will be vastly reduced as we move into 2013. In addition to the trend to consolidate, we also see big changes in industry product and service offerings.
Technology Change
As
Harris CapRock
's win of the
Royal Caribbean
business demonstrates, the demand for high capacity systems capable of providing high throughput on the uplink is increasing in such markets as
Cruise and Oil and Gas
—a trend that should benefit such providers as
Comtech
and now
iDirect
with its new
Evolution 7 Platform
.
In addition, the race for an Inmarsat-free Broadband alternative has become a top priority among former Inmarsat distribution partners who, stung by Inmarsat's going direct initiative, and their price hike on low volume, backup FBB services, now compete against Intelsat with their own Ku-based MVSAT services.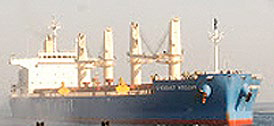 For example,
KVH
's
V11
, which employs a combination of Ku- and C-band delivered on a single antenna,
Spread Spectrum
platform, is the first major competitive offering to emerge that offers global coverage without the need for Inmarsat. Other vendors, as well, are rushing to alternative solutions such as
Iridium Pilot
and the use of C-band.
As Ku-Band coverage of more remote ocean routes is increasing and
Near Shore Broadband
solutions such as
WiMax
,
LTE
, and
Stabilized Microwave
become available, overall satellite capacity requirements will drop. Witness the just announced
MTN Nexus service
. We expect this reduction in overall satellite MHz requirement to open the market for small, low-priced, Spread Spectrum C-band antennas, thereby offering Inmarsat competitors the opportunity to offer Ku-/C-/Near Shore Broadband Service alternatives to Inmarsat.
In summary, we see a temporary lull in the purchase of MVSAT in the
Tanker
and
Containership
segments to continue until economic conditions improve. We see industry consolidation on the rise and a rush toward Inmarsat-free Broadband solutions. Accordingly, we expect Inmarsat will, ultimately, share maritime Broadband markets with a broad selection of alternative services, rather than be the dominate provider, as it has in the past with L-band.
Aviation
The Aviation market for Broadband continues to take flight as carriers around the world see this as a key factor in maintaining or increasing market share, especially among
Business Class
and
First Class
Passengers
. While the initial thrust of adoption has been driven by passenger demand, the technology is seen as having a potential impact reaching far beyond allowing passengers to surf the net.
According to
Southwest Airlines
'
Brian Gleason
,
Director of Flight Operations
, and
Neal Young
,
Manager of Aircraft Communications
, and
JetBlue
's
Charles Cook
,
Manager of Fleet Programs and Technology
, introduction of Broadband to commercial aircraft will enable graphical weather information to be received in the cockpit, allow reporting of maintenance issues in real-time, facilitate credit card verification, and even provide enhanced onboard emergency medical services.
On the maintenance and efficiency front, a new venture-backed company,
iJet Onboard
™, is building a unique platform for integrating and reporting aircraft operational data. The Company is working with partners as well as developing a series of applications on its own that will integrate and deliver
Flight Operational Quality Assurance
(
FOQA
) data, make
Graphical Weather Maps
available on the
Flight Deck
, predict equipment failures through real-time transmission of flight data via satellite—all of which, when combined with satellite Broadband, will improve aviation economics and safety. Passengers will also benefit from Broadband connectivity through real-time flight attendant access to passenger databases.
The passenger experience will improve as flight attendants are able to click on seat maps on tablet computers and identify passengers by name, re-schedule connecting flights when necessary, access drink and meal preferences as well as travel profiles, all resulting in greater personalization of the traveler experience and improved services.
While much of the domestic market for provision of Broadband services to commercial aircraft has been captured by
GoGo
(formerly
Aircell
) with a ground-to-air cellular-based system, the battle to claim the international, satellite-based market is intense as
Inmarsat
,
Intelsat
and
ViaSat
are all rushing to dominate this potentially lucrative niche.
While ViaSat is largely selling direct, Intelsat and Inmarsat are in the process of inking deals with the major providers. To date, Panasonic has committed to Intelsat. GoGo is remaining technology agnostic and has signed an MOU with Inmarsat for
Global Xpress
and has a deal with Intelsat for Ku-band capacity on their
Global Mobility Network
;
Row 44
is using the
Hughes HX
platform on Intelsat satellites, and
OnAir
will market Global Xpress. As in Maritime, there is significant controversy over the advantages and disadvantages of each these individual platforms.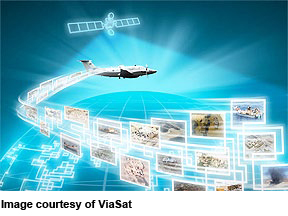 Of greatest interest is the fact that the frequency employed, (
i.e.
, Ku- vs. Ka-Band) is not as important as how the network infrastructure is deployed. According to a recent study (downloadable from
www. gottliebinternationalgroup.com
under "
Published Articles
"), by
Panasonic Avionics
and
LinQuest Corporation
entitled
High Throughput Ku-Band for Aero Applications
by Messrs.
Chris McLain
and
Suni Panthi
of Panasonic and
James Hetrick
of LinQuest, it is not the frequency but the diameter of the
Spot Beams
that matters most.
This is best illustrated by the highly effective ViaSat Ka- system employed by
JetBlue
in which many relatively narrow, highly concentrated beams cover the much smaller U.S. footprint vs. the Global Xpress service that covers one-third of the Earth with a network of much wider and less powerful Spot Beams.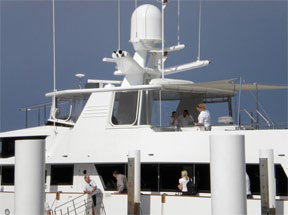 The report further concluded that the
Intelsat Global Mobility Network
with its coming
EpicNG
overlay and its combined use of Wide and Spot Beams represents a more efficient and higher capacity alternative to the Ka-Band Global Xpress Service.
In addition, given the $300,000 to $500,000 cost to equip a commercial jet with Broadband, the article casts doubt on the acceptability of a "no spare" satellite service given the high cost of antenna installation and the potential loss of Business and First Class Passengers to other carriers should the satellite fail.
Summary
In conclusion, we expect that most major international commercial carriers will install Broadband systems within the next two years. We predict that Ku- Broadband technology will be the frequency of choice for major international air carriers. Alternatively, we believe that Global Xpress may have practical application on smaller, corporate aircraft where passenger loads are minimal and small antennas are an attractive element of a Broadband solution.
About the author
Mr. Gottlieb is Managing Director of
Gottlieb International Group Inc
.
Established in 2001, his firm is a recognized Global authority on the use of VSAT in Maritime and Oil and Gas and Aviation VSAT markets. Gottlieb International Group provides Product Development, Marketing Research, and Sales Training to VSAT Service Vendors, Equipment Manufacturers, Satellite Operators, and M & A support to Private Equity firms. To date, he has an unmatched record for accurately predicting Maritime Satellite trends and events.

Mr. Gottlieb is the author of numerous articles in SatNews publications, Digital Ship, and Satellite Market Research and is a frequent speaker at Digital Ship, Offshore Communications, The Pacific Telecommunications Conference, Nor Ship, The Riviera Marine and ACi Conferences, the Washington Satellite Exhibition, and other industry events. He also founded and manages "Maritime Satellite and VSAT – Independent Opinions," a well-known Group on "LinkedIn" with more than 1,400 members.
Editor's note
The introductory image to Mr. Gottlieb's article shows sailors manning a dual-mounted M-60 machine gun aboard the guided-missile cruiser USS Leyte Gulf (CG 55) as an SH-60 Sea Hawk helicopters from Anti-Submarine Squadron (HS) 11 and Helicopter Anti-Submarine Squadron Light (HSL) 48 embarked aboard the aircraft carrier USS Enterprise (CVN 65) and Leyte Gulf hover near the Philippine-flagged merchant vessel M/V Falcon Trader II after a distress call reported it had been boarded by pirates. (U.S. Navy photo Mass Communication Specialist 3rd Class Robert Guerra/Released)