Serving as both the Chairman and as a Director of Surrey Satellite Technology Ltd. (SSTL), as well as Director of the Surrey Space Centre (SSC), Sir Martin Sweeting has been honored on numerous occasions for his work that pioneered the concept of rapid-response, low-cost and highly-capable small satellites using modern terrestrial COTS (commercial off the shelf) devices to 'change the economics of space'.
In 1985, after building and launching the U.K.'s first two research microsatellites at the
University of Surrey
, he formed
SSTL
—
Surrey Satellite Technology Ltd
. — which has now designed, built, launched and operates in orbit a total of 27 nano, micro, and minisatellites — including the
international Disaster Monitoring Constellation
(with Algeria, China, Nigeria, Turkey and U.K.) and the
GIOVE-A Galileo
satellite for ESA.

SSTL has also developed a highly successful satellite know-how transfer and training program and has worked with 12 countries — particularly enabling emerging space nations to achieve their first space missions and thus to access space directly to benefit their environment and economies. During the 1990s, as the capabilities of small satellites rapidly increased, they moved from being a research activity to meeting real applications for Earth observation, communications and space science. In 2004, SSTL formed a company —
DMC International Imaging
(
DMCii
) — to coordinate the DMC and to exploit the commercial applications of the DMC EO data. Working in partnership with the
U.K. British National Space Centre
and
DMC Consortium
members, the constellation is providing services and imagery to the International Charter: "Space and Major Disasters". DMCii provides 24-hour emergency on call officer services and, in the event of a major disaster, tasks the global fleet of satellites made available by the world's space agencies. Images from the DMC are used in a wide variety of commercial and government applications including agriculture, forestry and environmental mapping, and have been supplied to organizations such as the United Nations and the U.S. Geological Survey during disasters such as the Asian Tsunami and Hurricane Katrina.
The growth in company size and the capability delivered to customers has continued to accelerate for SSTL. Today, SSTL employs almost 300 staff, has launched 34 spacecraft, with seven more under manufacture, and is delivering missions that provide critical and valuable services to customers across the globe. In 2008 the Company established a U.S. subsidiary,
Surrey Satellite Technology LLC
, with offices in Denver, Colorado. At the end of that year,
EADS Astrium NV
bought a 99 percent shareholding in SSTL from the University of Surrey, allowing the Company to fulfil its growth potential.
Sir
Martin
is also Director of the
Surrey Space Centre
, leading a team of 60 faculty and doctoral researchers investigating advanced small satellite concepts and techniques, which acts as the research laboratory for SSTL: real academic-commercial synergy. In 1995, Sir
Martin
was awarded the
OBE in HM Queen's Birthday Honours
and the
Royal Academy of Engineering Silver Medal
, both in recognition of his pioneering work in small satellites. In 1996, he was elected a Fellow of the
Royal Academy of Engineering
and in 2000 was elected a
Fellow of the Royal Society
(the U.K.'s national academy) and also awarded the Royal Society's
Mullard Prize
. Sir Martin was knighted by HM Queen in the
2002 British New Year Honours
for services to the small satellite industry.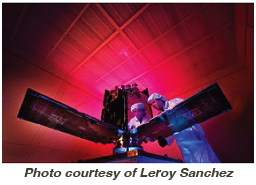 In 2006, he was appointed a
Distinguished Professor
at the University of Surrey, invited to sit on the
BNSC Space Advisory Council
, and to join the
ESA Advisory Committee on Human Spaceflight Microgravity & Exploration
. He was awarded the
Royal Institute of Navigation Gold Medal
in recognition of the successful
GIOVE-A
mission for the European
Galileo
system and featured in the U.K.'s "Top Ten Great Britons" and received the
Times Higher Education Supplement Award
for Innovation for the
Disaster Monitoring Constellation
(
DMC
).
We were delighted to have the opportunity to learn more about Sir Martin's exceptional career.
SatMagazine (SM)
Sir Martin, you have just received the Faraday Award, what exactly is this honour and what does the bestowment of the Faraday mean to you? Plus, your Faraday award is especially notable in that it commemorates the organization's 50th anniversary, making it a double compliment — do you interpret it as such?
Sir Martin Sweeting
The Faraday Medal is the highest award made by the IET and, as a radio engineer by training, it is particularly special to be recognised by this award named after Michael Faraday — a great experimentalist.
SM
How was SSTL originally formed, and when? What was the company's original charter? And, what was SSTL's connection with NASA?
Sir Martin Sweeting
Space at Surrey started in 1979 and grew initially as a research group pioneering the then unheard-of 'microsatellites' using commercial off-the-shelf technologies and components to achieve small but highly capable satellites at a fraction of the conventional cost. SSTL was formed in 1985 after the launch of our second satellite and its remit was to commercialise the research experience gathered thus far and to attract funding for continued satellite missions. SSTL's only connection with NASA was through the provision of launch opportunities for our first two satellites 'piggy-back' on-board NASA rockets carrying NASA payloads and with the help of AMSAT.
SM
Can you tell us about the first satellite/project from SSTL? And how were off the shelf components used in its manufacture? You were certainly well ahead of the times, earning your PhD in the late 70's designing and building this small, 50 kg satellite. You successfully launched the satellite and communicated through amateur radio bands back to a ground station at the Surrey campus. Was this a difficult time for you, with many thinking 'no way' this can be accomplished?
Sir Martin Sweeting
The first two satellites were built at the University and used many 'COTS' components — some early microprocessors, some of the first 2D CCD arrays that formed the basis of later digital cameras, and a speech synthesiser chip that was used in a 'speak-&-spell' children's toy, which the satellite used to 'speak' telemetry from orbit that could be listened to using a simple FM hand-held receiver on the amateur radio bands. My PhD was in nothing to do with satellites — it was researching shortwave radio antennas — satellites were my hobby!
Designing, building, testing and launching the first satellites was a very demanding task — then operating them in orbit proved just as difficult, but I learned a lot the hard way… there were many sceptics as to the feasibility of us building satellites at a small university lab, and also as to whether they could ever do anything useful in such a small size!
SM
Just recently, your company was acquired by EADS Astrium NV. Prior to this change of ownership, the University of Surrey played a hugely important role with SSTL. How has the EADS Astrium acquisition changed the University of Surrey relationship with SSTL?
Sir Martin Sweeting
The acquisition by EADS has been important to enable SSTL to grow and realise its potential ­­­— the links with the University remain very strong since the Surrey Space Centre academic research team act as the 'R&D labs' for the Company through a formal IP relationship — and this is strongly supported by ASTRIUM.
SM
Given how busy you are as an engineer, with your work at the University of Surrey, and with your management of SSTL, how do you manage to ensure your family time remains your personal time? How has the family handled your continual rise within the satellite community?
Sir Martin Sweeting
You are correct, running two organisation is very demanding in both time and energy, but it is stimulating and enjoyable (99 percent of the time!) — I am very lucky that my hobby turned into my job! My family is proud of what has been achieved at Surrey and the recognition it has brought, but always bring me back down to Earth by reminding me of what needs to be fixed at home as well as in space!
SM
How difficult/frustrating or complicated is it for you, representing a University, to be interfacing with huge government entities such as NASA? Are the turn-around times for answers to questions and other collaborative efforts daunting?
Sir Martin Sweeting
I represent both the University and also the Company and most of my dealings are with ESA and the U.K. BNSC and international customers, rather than with NASA (although we hope to do more with NASA …!). Large organisations (both institutional and industrial) have inevitable inertia that can, at times, be frustrating, but increasingly our customers come to Surrey and SSTL because we can offer an alternative, more rapid, more flexible and lower cost solutions to their space requirements or aspirations.
SM
In 2008, SSTL initiated a subsidiary firm in the U.S. in Denver, Colorado. What was the purpose of that new subsidiary, its goals, and is the unit well on its way to meeting those milestones?
Sir Martin Sweeting
The USA is the largest space market in the world currently but it is difficult to access it fully from outside the U.S. We have completed several satellite projects successfully with U.S. organisations but it is clearly easier from 'inside the fence' and so we took the decision to establish an SST-US in Colorado so that the small satellite expertise and experience could be transferred into the U.S. and projects carried out on U.S. soil by U.S. personnel.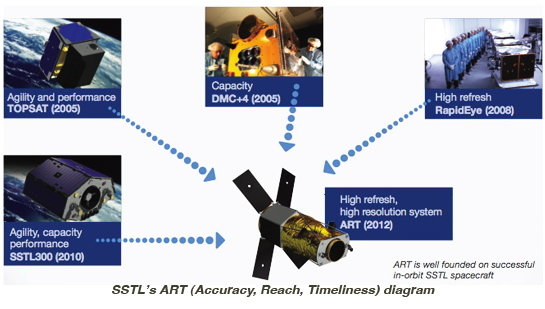 SM
What are the advantages and disadvantages of smaller satellites?
Sir Martin Sweeting
The main advantages of small satellites are the speed with which they can be developed and the cost savings that ensue. A typical SSTL satellite can be designed, built, tested and made ready for launch in less than two years. This is in contrast to the 5-10 years that is now common for larger satellites. In terms of costs, there are savings to be made by the use of small satellites in three main areas. Firstly, the satellite is generally dedicated to more focussed tasks and, when coupled with a rapid development schedule, this brings considerable cost saving.
Secondly, the cost of launching a smaller and lighter satellite is much lower than that of a large satellite. Finally, the cost of operating small satellites is greatly reduced due to the automation that is generally possible through the use of latest COTS technologies, for example removing the need for 24/7 manned facilities. Whilst the capability of small satellites is rapidly growing, there are still areas where larger satellites can offer better ultimate performance — but at a much higher price. After all, the laws of Physics still apply and large telescopes will always be able to outperform smaller ones.
However, through clever use of technology we can make small satellites give a "good enough" performance. Some people refer to the "80/20 rule" … 80 percent of the performance for 20 percent of the price — and this is what SSTL aims to achieve.
SM
Sir Martin, how do you classify the various categories of the smaller satellites... micros, nanos, picos and so on? What are the delineation points for these classifications?
Sir Martin Sweeting
Satellites < 1kg are "picosatellites", 1-10kg are "nanosatellites", 10-100kg are "microsatellites", 100-500kg are "minisatellites".
SM
In the 80's you pursued research funding to develop this now proven concept to a system capable of responding to the growing application areas that space can facilitate, and developed the research group working around small satellites. This was the impetus for you to initiate the Surrey's Know-How transfer program where your group provided technical training to engineers from countries who placed an order for a small satellite with Surrey. Working together as a team enabled the engineers to master the complex and diverse skills required to operate a satellite. Did you continue with this program?
Sir Martin Sweeting
The impetus to start the 'know-how transfer and training programs' was primarily business but also a personal interest in working with international partners. We have now completed 12 such programs with different countries — and continue it currently with Nigeria, Algeria and most recently Sri Lanka.
SM
Do you agree with Warren Leary, writing in the New York Times, who described the promise of microelectromechanical systems (MEMS) as applied to satellite technology and hinted at the possibility of a satellite-on-a-chip. He discussed the work of Siegfried Janson and colleagues at The Aerospace Corporation, in El Segundo, California, and quoted him as describing, 'Fully integrated satellites that could be mass produced cheaply by the hundreds and sent into space in groups to perform a variety of tasks."
Sir Martin Sweeting
We are currently developing prototypes at the Surrey Space Centre of 'satellite systems on a chip' and this will lead soon to a 'satellite-on-a-chip'.
SM
Will Femto-satellites be the next new class of satellites, due to the a possibility of shrinking the capabilities of a typical pico-satellite bus (attitude control, imaging missions, communications, and so on) onto a single chip?
Sir Martin Sweeting
It is technically feasible to build 'satellites-on-a-chip' now, however their utility is the question — how can such a tiny satellite (with tiny amounts of power) do anything useful? I believe that the answer is in flying them in swarms working together and forming sparse area arrays, but this is a very demanding challenge — as yet unproven.
SSTL received a contract award from the European Space Agency early last month that deals with the management of a student-built mission to the Moon. Can you tell us about this contract and what is hoped to be accomplished?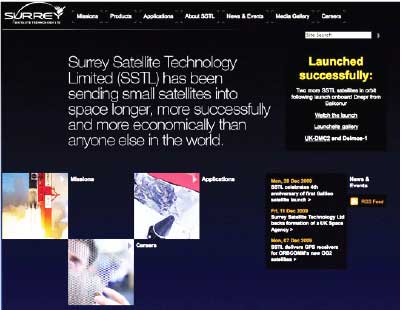 Sir Martin Sweeting
The ESA mission is the European Student Moon Orbiter mission or ESMO. It comes out of the Education Office at ESA where for a number of years a European team of students have been developing the concept of a lunar orbiting vehicle. SSTL's role as prime on this mission is to lead the universities in the technical and programmatic challenges of concluding the design, building, testing, launching and operating the orbiter. The launch is planned for 2013/14 with a view to operating a number of payloads around the Moon for a subsequent minimum of six months.
There are some interesting challenges inherent to this program in ensuring that the educational objectives of the program are met in concert with achieving the demanding technical objectives. As a company, we're very excited to be taking on this mission as it leverages our strong background in know-how transfer and designing space hardware in a low cost and pragmatic manner.
In addition, this mission allows us to strengthen our existing relationships with both European academia and the European Space Agency — and prepare for a future U.K.-led lunar orbiter 'MoonLITE' which will carry penetrators to explore the surface of the Moon.
SM
Thank you, Sir Martin, for your talk with us and we wish you and your company well in your highly interesting projects
.