Welcome to SatMagazine's annual YEAR IN REVIEW issue. Dozens of leading companies have offered their insights and an examination of their experiences regarding their operations during 2014. Offered in alphabetical order, these major representatives of the SATCOM and related industries look forward to the coming year despite global economies that are, generally speaking, somewhat lethargic. We can report that the SATCOM industry, as a whole, appears to be solid and experiencing growth. There have been, and will be, mergers and acquisitions as well as transition of personnel and projects in a variety of companies around the globe.

Company executives were asked by SatMagazine about their 2014 successes, the challenges they faced and overcame, and their look into the future. Some companies decided to follow a Q&A format, while others preferred a narrative style. In either instance, we hope the readers of SatMagazine find the following Roundtable to be of interest and, most importantly, an inspiration realizing that the SATCOM and related industries face a bright future.
All our best — the editors.
---
by Werner Drews, Founder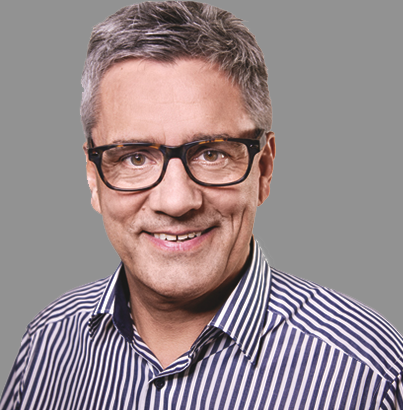 Audio broadcasting certainly has not been immune from the sweeping changes that have been, and continue to, affect all parts of the media industry... as with television, radio has been coming to terms with new standards and new technologies that enable operators to re-consider the way they achieve their aims
Many of the pressures that affect television also apply to radio; changes in consumption habits and platforms; the need to be more agile in business development; the need to identify and serve new audiences—these are all facts of life for broadcasters and operators of radio networks. So, too, is the drive to improve coverage, increase resilience, provide higher quality and reduce costs.
The gratifying thing about being a manufacturer serving this sector of the industry is that customers have so many different ways of achieving these goals. Almost every broadcaster or network operator goes about it in a unique way. It's fascinating to see how the big operators in our industry differ in their approach to solving what is essentially the same set of problems, and to then work closely with them to develop the optimum solution for each customer. It's one of our company's strengths that we have been able to adapt our technologies and products to the individual requirements of some of the most significant infrastructure projects in the industry.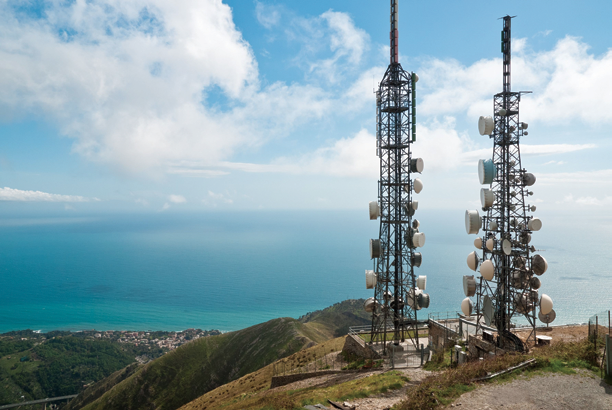 In 2013, 2wcom embarked on several large projects with major broadcasters and media operators. Each of these projects was a response to the range of new opportunities afforded by technological developments, and to commercial (and sometimes regulatory) conditions. One of the common features uniting them was the use of IP as one of the distribution technologies, in a variety of configurations, to meet some or all of the requirements of cost reduction, flexibility, redundancy, and regionalization. These projects have been rolling out through 2014 and most are now fully operational.
In France, TDF is the major operator of radio and television transmission services throughout the country, serving many different broadcasters. In designing its new platform, TDF had to consider the unique requirements of each of its broadcaster customers, and this meant that the technology we supplied them had to be extremely flexible. The FlexDSR units we provided allow TDF to accommodate each customer, whether the requirement is for satellite links, or IP lines, or both together in a backup solution.
The FlexDSR was developed to support all the major IP protocols as well as satellite and ASI, meaning that TDF can deploy a single type of device to support all its customers right across the country, even though they may be using the technology in very different ways, as in the following examples.
Clear Channel Satellite exploits the FlexDSR's ability to connect to multiple sources and automatically detect and switch to the best quality source to implement an advanced redundancy strategy. FlexDSR's internal memory can play out pre-recorded content when no source is available and this content can be distributed in the background via the IP channel on the satellite link.
This parallel IP channel can also receive standard IP traffic used to control the station and forward content to other devices in the station. If there isn't a physical network or the Internet connection fails, the FlexDSR network can be managed remotely via satellite, to implement file transfer uploads on the internal memory, play out jingles and regional or local advertisements via the scheduler, change presets or firmware updates, switch relays and so on—all with the built-in 2wcom Satellite In-Band Remote Control.
In Germany, Bayerischer Rundfunk has created a new infrastructure using 2wcom's FMC01, which combines Encoder and Decoder functions in the same unit and allows the broadcaster to send a complete FM MPX signal via E1 or IP for a point-to-multipoint distribution solution.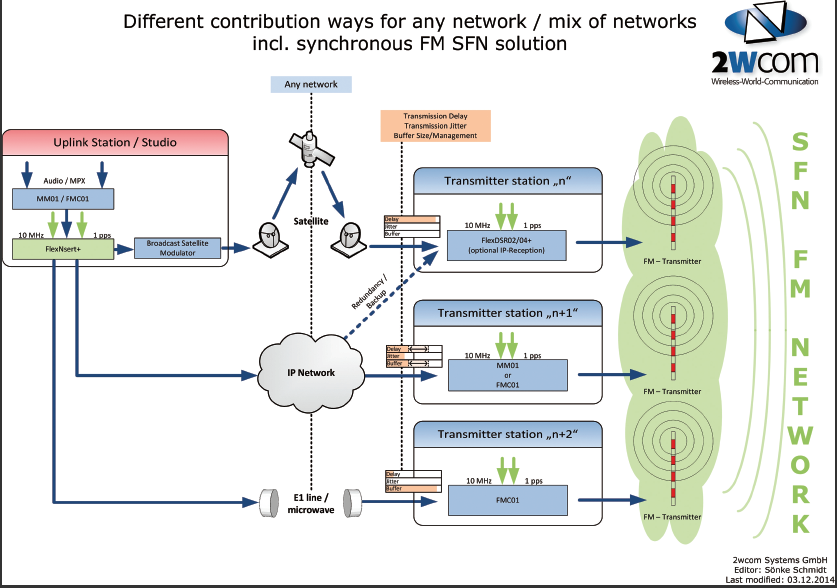 With the FMC01 installed, Bayerischer Rundfunk needs only one stereo generator and one RDS Encoder located at the central studio in Munich to generate the signal for each channel. All FM MPX signals for the broadcaster's eleven radio channels are generated there and forwarded via E1 to the transmitter locations using the FMC01 operating in encoder mode.
In anticipation of Norway's FM switch off in 2017, Norkring has been building a new national DAB radio network with DAB+ technology from 2wcom. The new network is used by Norway's national broadcaster NRK, with nationwide coverage achieved by landline connections to the network's main transmission sites, complemented by satellite distribution to 400 outlying transmitters reaching the remoter communities that are otherwise difficult to serve.
2wcom's FlexNsert DAB+ Distribution Inserter and FlexXtract DAB+ Distribution Extractor are deployed in the network's satellite headend system, and we believe this is the world's first network to provide DAB radio via a standardized IP delivery over Ku-band satellite payload.
The multiple capabilities of these units enable them to be used in a variety of ways, with different contribution and distribution technologies. They can provide a fallback capability, and with web-based monitoring and built-in satellite in-band control they are easy to operate and maintain remotely.

But new formats and standards are adding to the diversity in radio, rather than reducing it. Lots of Countries are increasing their FM infrastructure or renewing it while others are planning on DAB+ digital radio.
Back to the future? The key for 2wcom is to continue to develop the most advanced solutions for all aspects of the radio market, as flexibility is vital to the industry at this point in its development.
---
By David Gelerman, Founder and CEO

Advantech Wireless provides wireless broadband communications solutions for commercial, critical infrastructure and government and military clients. Advantech Wireless designs turnkey satellite and terrestrial communications solutions that maximize performance and minimize operational costs, all with uncompromising quality.
With its customized approach, award-winning R&D and innovative engineering, Advantech Wireless empowers clients to achieve excellence in communication, all the while experiencing reduced CAPEX and OPEX overall.
David Gelerman, the Founder and CEO, explained the reasons behind the firm's optimism.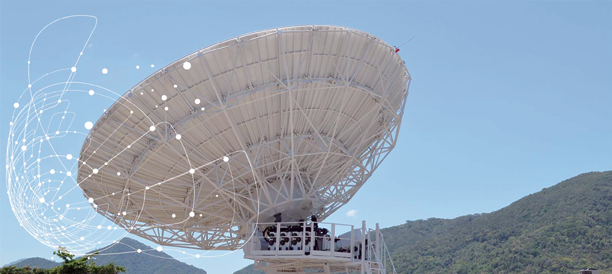 "Year 2014 was of important significance as we grew our revenues 22 percent up as well as the bottom line. We completed 16 consecutive profitable quarters and our backlog is at its highest point in our company's history. This year exceeded all expectations with increased customer confidence in our innovative and cost-effective solutions. We expect to continue this trend in 2015.
"Our SapphireBlu™ Series of UltraLinear™ GaN based High Power Amplifiers was selected Teleport Technology of the Year Award 2014 by the World Teleport Association. This achievement became possible due to the remarkably high level of power and linearity performance that allows our customers to significantly reduce the cost of capital expenses and more importantly, at fraction of cost, compared to indoor Klystrons or super-linearized TWTs. For the first time in the history of satellite communications, we are able to saturate all transponders of the satellite with a single 13m antenna and a single amplifier system per polarization.
"We were also extremely proud to have been selected to support the live transmission of the world's most important sport event of the year with our award winning 400W C-Band and 200W Ku-Band SapphireBlu™ Series GaN based HPAs. Millions of viewers were able to follow the transmissions of the biggest sport tournament in Brazil. For the first time we were able to experience worldwide tournaments and fast moving sporting events produced in 4K Ultra HD. This was an incredible experience and we are proud of being part of this worldwide achievement.
"Based on its recent analysis of the gallium nitride (GaN)-based devices market, Frost & Sullivan recognized Advantech Wireless with the 2014 North American Frost & Sullivan Award for New Product Innovation Leadership.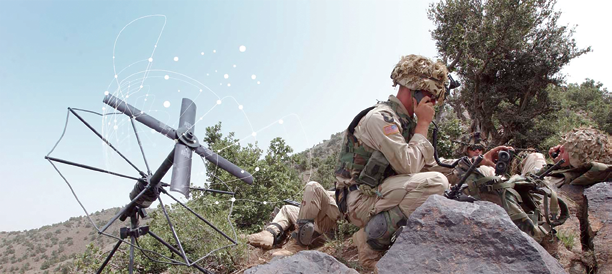 Each year, Frost & Sullivan presents this award to the company that has developed an innovative element in a product by leveraging leading-edge technologies. The award recognizes the value-added features/benefits of the product and the increased ROI it offers customers, which, in turn, increases customer acquisition and overall market penetration potential."
On the VSAT product line, Advantech Wireless presented a game-changing terminal design, which is set to dramatically improve and simplify the provision of VSAT terminals for use with High Throughput Satellites.
"The patent pending Next Generation Discovery Adaptive Satellite Access Technology (A-SAT™) platform is revolutionizing the satellite communications industry," said Gelerman. "Building upon the success of our 96 carrier MF-TDMA multicarrier demodulator, we have developed the ground breaking technology of dynamically switching the access scheme (MF-TDMA or SCPC) used in a VSAT network, based on the traffic requirements at any instance in time to maximize bandwidth use. The A-SAT™ architecture combines the best properties of the MF-TDMA and DVB-S2 SCPC approaches in a single architecture, which can adapt its operation in real-time to the needs of individual terminals, their current link conditions and of the overall network.
"As a global company, we are committed to creating best in class technologies to meet and exceed our customers' needs. Being on the forefront of innovation and excellence is what we are all about," he added.
About Advantech Wireless
Reliable communication is essential to global commerce and security. Advantech Wireless makes it possible by designing smarter solutions to help people connect and businesses succeed. With our customized approach, award-winning R&D and innovative engineering, we provide the industry's most advanced technologies, with the most economical total cost of ownership. We empower our clients to achieve excellence in communication, while experiencing reduced CAPEX and OPEX overall. Ultimately, our uncompromising quality and bolder thinking enable us to provide clients around the globe with smarter terrestrial and satellite communication solutions.
Under a new tagline Smarter Solutions, Global Reach, Advantech Wireless showcases its innovative solutions on its new, rebranded infosite:
http://www.AdvantechWireless.com.
---
AeroMobile
By Jack Gordon, Marketing and Revenue Director
2014 has been an incredibly interesting and exciting year as we have seen awareness of, and demand for, inflight connectivity continue to grow. As a result of this demand, we have been working to update and improve our service and AeroMobile now has over 278 roaming partners in more than 130 countries.

In July 2014, the AeroMobile network was onboard over 13,000 flights and available to 4.6 million passengers—that's 55 million passengers over the year. What's more, since AeroMobile's launch in 2008, more than 21 million passengers have successfully connected to the AeroMobile network.
There have been a range of exciting milestones throughout the year that have helped us to reach this point. In February, Europe's largest airline, Lufthansa, received the landmark delivery of the first B747-8 to be fully line-fitted with the AeroMobile inflight mobile service. This delivery flight from Seattle to Frankfurt in February of 014 was a particularly momentous one as it opened the path for all future B747-8s to be fitted with AeroMobile connectivity. Lufthansa also confirmed the airline would roll out mobile connectivity across its entire long-haul fleet of 100+ aircraft.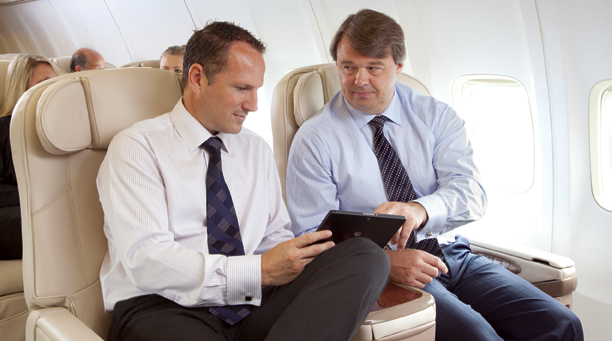 Another airline that has made a commitment to rolling out mobile connectivity is EVA Air. This year, EVA Air took delivery of three new AeroMobile connected Boeing 777-300ERs, with their first flights from Boeing's Seattle headquarters in the U.S. to Taipei in Taiwan occurring in May of 2014. EVA Air is AeroMobile's second Asian airline customer following Singapore Airlines and we are expecting more to follow. In fact, we have a number of other Asian airlines scheduled to launch our service in the coming months.
Our service continues to prove popular with passengers on Etihad and Emirates flights, as these airlines continue to roll out AeroMobile connected aircraft. However, it's not just within the Middle East that we're seeing an increased demand for mobile connectivity. In the first six months of 2014, the total number of AeroMobile connected aircraft increased by 30 percent. Usage also shot up across the board when compared to the same period in 2013, with data seeing the highest increase, a massive 313 per cent, and the number of inflight texts increasing by 48 percent. With connections to the AeroMobile network up an impressive 56 percent, there's no doubt that inflight mobile connectivity is more popular than ever.
Throughout the year we have continued to see more and more passengers becoming aware of the fact that they can use their phones inflight to talk, text, or even tweet. With awareness, of course, comes higher demand. An AeroMobile survey in 2014 revealed that more than three quarters of travelers would use mobile-enabled Internet access while inflight. Almost half of the people questioned said they expect inflight mobile connectivity to become standard in the next few years±and we have to agree.
With airlines recognizing the growing need for passengers to stay connected at all times, we believe this trend will continue through 2015. We predict a 50 percent increase in the number of connected aircraft during the next 12 months. Before long, we expect that inflight mobile connectivity will be a hygiene factor for many travelers as inflight connectivity becomes fully embedded within the cabin experience. Keeping up with this trend will make 2015 a most exciting time for the company.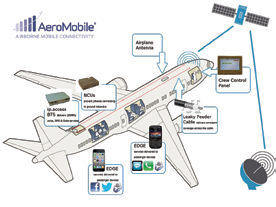 In 2015, AeroMobile will have new airline partners launching, and existing airline partners continuing, to roll out our service on additional aircraft. We operate globally and our service is currently active on more than 280 aircraft across 13 airlines—that equates to more than 500 flights every day that are equipped with AeroMobile connectivity.
The airlines currently offering inflight connectivity through AeroMobile are Emirates, Etihad, KLM, Air France, Lufthansa, Qatar Airways, Transaero, SAS, Singapore Airlines, EVA Air, Virgin Atlantic, British Airways and Aer Lingus, as well as VIP Carriers Comlux, Dubai Air Wing and Presidential Flight. We expect this list of airline partners will continue to grow throughout next year.
Southeast Asia is a key area of growth that we will be focusing on in the coming months. We have several Southeast Asian airlines scheduled to launch soon, including Thai Airways, Garuda Indonesia and a Malaysian airline.
In 2015, we will be working to ensure our customers have the best possible experience of the AeroMobile service. Satellite technology has come a long way over the past few years, enabling higher bandwidths and more services becoming available to aircraft. We look forward to the roll-out of 3G across our network in 2015, which will bring an even better experience for passengers using their phones inflight.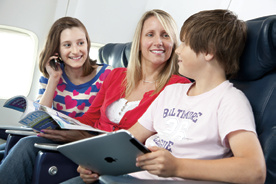 We will also continue to work to improve the availability and price of the service for our end users. Price and price predictability are important for the passenger. During 2015, I hope to see more attractive roaming packages available to the passenger and, consequently, even greater demand.
In the industry, we expect to see some interesting developments that will affect the future of inflight connectivity. We will be looking to see how the new rules issued by the European Aviation Safety Agency (EASA) impact public and airline sentiment toward the use of mobile phones in flight. In light of these new guidelines, each individual airline will have to complete safety assessments and establish its own policy regarding passengers using PEDs inflight.
We are also following the ongoing debate on whether the use of phones on planes in the USA will be approved by the FCC. We hope inflight mobile usage will eventually be allowed in the U.S. and that U.S. airlines will also be able to select which mobile services to offer their passengers.
2014 has been a busy and interesting year in the industry and for the entire team at AeroMobile and we're looking forward to seeing what 2015 will bring to our company and the industry.
Jack Gordon has 15 years' experience in the telecoms industry, spanning handset manufacturing with NEC and mobile operator systems with Telefonica O2. In 2011, Jack joined AeroMobile and was promoted to Marketing and Revenue Director in 2013. Jack is responsible for airline and passenger marketing, as well as extending the service through roaming partners and packages to drive continued growth for the company.
---
By Erik Ceuppens, Head of Satellite Communications

At the close of 2014, Airbus Defence and Space had installed four times as many new maritime VSAT customers as 18 months ago, proving that the shipping industry is now truly embracing broadband connectivity at sea.
A growing understanding in the market is that satellite communication is not just a cost, but also an investment and, in part, drives our recent sales performance. Until five years ago, VSAT's primary use was vessels in specialized segments, such as cruise and ferry and offshore; however, the transportation sector has started to wake up to the opportunities of investing in VSAT. Though the primary driver for a transport ship selecting a VSAT system over an MSS solution was, most likely, crew welfare.
Today, the majority of our maritime customers are asking us to provide services that will enhance their operational efficiency as well. We have a huge maritime technology industry behind this, developing even more advanced telemetry and collaboration systems that are ushering in a new age of 'smart shipping.' The foundation for the modernization of ship and fleet operation are the companies involved in the provisioning of satellite technologies and services to make bandwidth available over the oceans—many of the efficiency benefits of this new technology rely on the IP connectivity that Airbus Defence and Space provides.

With such an influx of new users, we recognized early on that a simplified and more standardized approach to VSAT was needed to convince potential customers who may not have the in-house expertise to deal with complex communications networks. In parallel, we were committed to ensuring that our shipping customers always had the bandwidth they needed and were future-proofed, especially considering the forthcoming introduction of High Throughput Satellite (HTS) services.
Due to these considerations, in March of 2014 we launched AuroraGlobal, a quiet revolution in the world of SATCOM, which benefits our maritime, land-based and government customers. AuroraGlobal is the only complete multi-band satellite communications portfolio available today. The technology offers the full capabilities of Airbus Defence and Space's satellite services and infrastructure, with flexible solutions based on Ka-, Ku-, C-, L-, X- and UHF-band. By providing a transparent, highly flexible multi-band portfolio, we are in the best position for the on-going growth in bandwidth demand from shipping as well as enterprise, humanitarian, mining and energy companies based on land along with government and defence agencies.
Starting with the introduction of AuroraGlobal, we launched a line of new maritime services. Pharostar Plus was offered to our service provider partners for their shipping customers, and WaveCall Plus, which is delivered to ships through our direct sales channel, Marlink. AuroraGlobal services come fully integrated with unlimited MSS back-up to provide a truly global connectivity service. 'Plus' services are designed to offer the most cost effective global VSAT available today: for one monthly fee, customers receive everything they need, including the best combination of airtime and hardware.
Our goal was to offer more for the same investment and in a more standardized format. 'Plus' service users benefit from double the broadband allowance for the same price as the incumbent services, or doubled throughput on premium services. For instance, Marlink offers up to 60GB per month on the WaveCall entry package, or double the download speeds and up to 256kb Committed Information Rate (CIR) on WaveCall Premium.
The service plans feature more data or throughput at a number of different levels, which offers the complete flexibility to meet any need in the shipping transport market. The fact that Plus services feature the possibility to migrate to next-generation Ku- or Ka-band HTS when they become available. This means that ship owners can enter the word of broadband, or immediately enhance their current VSAT systems, without waiting for the next-generation HTS, which, in reality, with our AuroraGlobal offering and Plus services, has already arrived.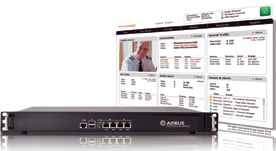 This innovation in service provision is supported by continued innovation at the technical level. Included in all Plus services is our XChange communications management platform, which provides centralized VoIP, data and Internet access, and handles automatic fallback switching from MSS, ensuring global coverage for users. XChange also supports Internet Cafés on board vessels and enables the unique Bring Your Own Device (BYOD) solution. This latter technology allows the crew to use their own smart phones and tablets on board for full privacy and convenience.
During 2014, we made significant functionality improvements to XChange, such as the BYOD Solution, which combines the latest Wi-Fi technology standards and free apps to provide a simple-to-manage, cost-efficient, and convenient crew welfare tool enabling smartphone and tablets access to a vessel's VSAT and MSS (Mobile Satellite Services) links. For operational use, we introduced Universal Remote Access, which provides secure remote access to computers on board a vessel from anywhere via XChange. Universal Remote Access meets the growing need from ship-owners, communications equipment manufacturers, SATCOM service providers and maritime service companies to easily access IT networks on board for maintenance and troubleshooting.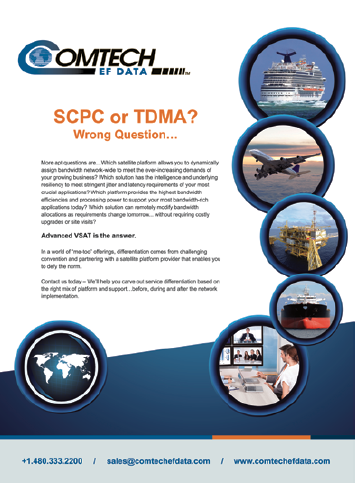 XChange is a core aspect of the simplification and standardization of VSAT for maritime users. Airbus Defence and Space has, so far, shipped 1,200 XChange systems, with more than 80 shipping companies currently using the product. As well as management of operational and crew communication, more than 70 percent of XChange installed vessels use it for switching between VSAT and L-band satellite terminals on board—it is highly relevant to our multi-band approach, and, in fact, the system comes standard with any services in the AuroraGlobal portfolio.
A recent example of an XChange user is United Arab Shipping Company (UASC), who has selected WaveCall Plus to provide reliable connectivity for its new build fleet of 17 advanced container ships. All 17 new UASC container ships—eleven 14,000 TEU (twenty feet equivalent units) and six 18,000 TEU—are designed to embrace 'smart shipping' in order to reduce fuel use and environmental impact. UASC is deploying various technology solutions to support this, including a web-based fleet management system and electronic document handling systems, in addition to enhancing its crew welfare offering. Combining Ku-band VSAT with L-band using the XChange solution, WaveCall Plus will ensure that UASC's technical systems on board can provide the data and decision support needed to maximize both vessel and fleet efficiency, while at the same time improving crew services so they may stay in touch with family and friends on the phone, by email or other online applications.
WaveCall Plus provides the IP backbone for the technology and processes UASC is using to revolutionize the way it operates. Optimal vessel and fleet management can produce significant cost savings whilst the environmental benefits of consuming considerably less fuel oil speak for themselves. So in addition to helping UASC to improve its operations, WaveCall Plus will also support the company's green credentials, positioning it as a quality service provider in the heavily regulated and highly competitive container ship market.
Of course, customer support is a vital element to ensure availability and uptime of our services in the AuroraGlobal portfolio, which is why in March this year we also launched a new initiative called the Field Service Alliance. This offering provides professional and cost-effective VSAT installation and service support for maritime VSAT satellite service providers, and currently has ten strategically positioned member companies worldwide, ensuring quick response times for all major shipping ports. We will add qualified new members to the Alliance going forward in order to continually increase our global service coverage.
During 2014, we have also started a transition to the latest iDirect Evolution iDX 3.2 software and X7 modem for our maritime customers. The combination of software and modem enables us to support a wider range of bandwidth-intensive applications and improve the efficiency and throughput of communications systems, enabling faster data throughput and higher overall performance. We installed our first X7 modem on a cruise vessel in August and have followed this up by installing it across this particular customer's entire fleet during Autumn. Feedback so far is positive and we expect X7 to be a key part of our service delivery going forward.
We launched a new service based on advanced technology from Newtec—Terralink—which is a standardized, high-quality broadband connectivity platform, featuring a range of services with dedicated bandwidth or guaranteed Committed Information Rate (CIR). Terrralink enables services to run more efficiently than ever before over satellite and allows the same core platform to be used for customers of any size and network requirements.
Terralink uses a combination of three different satellite access technologies (TDMA, static SCPC, and dynamic SCPC) with no change of hardware. The most optimal bandwidth allocation technologies, including well known SCPC and MF-TDMA return technologies, are featured. With Newtec's patented technologies that allow transmission changes without traffic interruption, Terralink offers the best of both worlds and enables services to run more efficiently than ever before over satellite.
We also expanded our service capabilities for land users during 2014. In August we announced a partnership with SES that will primarily serve Airbus Defence and Space mining and oil & gas customers in Australia through the new Perth based SES teleport facility. SES, one of the world's leading satellite operators, is a strong teleport partner for Airbus Defence and Space. This partnership provides a local presence for the operation in Australia, with teleports in Perth and Adelaide. These teleports will provide the hub to deliver the new Airbus Defence and Space services, which use SES' NSS-12 satellite and are designed to provide timely and highly cost effective C-band services to the energy sector in Australia. This includes services to Australian mining companies operating in Africa.
Heading into 2015, in the maritime industry we envison additional forward thinking companies viewing Smart Shipping as the best way to efficiently operate. Combined with vessels installing VSAT for the first time, and other vessels upgrading their existing VSAT, we expect the demand for bandwidth to continue to grow. We're prepared to meet this on Ku- and C-band, while also ready to meet any customer requests to switch to new Ka-band platforms as they come online. This is the same for customers using our services on land.
Flexibility is vital and we're committed to providing our technology to customers on the oceans and ashore. All in all, we feel that AuroraGlobal is feeding the market with what is needed now, while also offering opportunities and flexibility for the future.
---
By Mike Antonovich, Senior Vice President and General Manager, Americas—Senior Contributor to SatNews Publishers

As the frost has left the pumpkins and finds its way onto my windshield (there must be a better ice scraper than my AmEx card), 'tis the season for my annual reckless, feckless and fearless forecast regarding the future of our satellite television industry.
However, first, a recap on what I guessed right and wrong about the 2014 TV business. Last year, this SWAG'er-In-Chief (SIC) placed a bet that the traditional broadcast/programmers would be sitting on the fence in 2014 (which turns out to be true), while I expected to see major movement from the non-linear OTT players such as Netflix, Hulu and Amazon (well... so far, not true, but the blockbuster announcement of HBO and CBS creating their own OTT plays does presage major changes in the distribution landscape). The TV display manufacturers have certainly done their part, with UHDTV sets now widely available in every big box shopping outlet for fantastic prices. However, we all still seem to be content-starved—what's going on?
Not everybody took 2014 year off—ATEME and some of the other video compression experts in this business have been quite busy behind the scenes trying to perfect the UHDTV "virtuous ecosystem." The global television transmission chain is a highly complex neural network, and, with a lot of extremely hard work from many dedicated engineers all over the planet, preceded the ability for consumers to enjoy UHDTV in all of the technology's living room splendor.
Last year, we talked about some gaps in the standards, namely around single wire interfaces to bring raw UHDTV in and compressed UHDTV out. Done. Check.

Next, the technical geniuses have to make certain the industry coalesces around best practices and optimizes the performance of the all important (yet, relatively stupid) decoder chipsets that populate every TV, Cable and Satellite Set Top Box (STB) as well as every phone, phablet, tablet. Well... we're getting there. Great progress has been made, and ATEME has provided a great deal of expertise to display and chipset guys and gals and software decoder folk to make all their stuff work and be as fully interoperable to the H.265 standards as possible.
A small apology to the chipset guys... calling chips "stupid" is like calling somebody's baby ugly. But, babies do get older and smarter. Chips just get older. Only mass volume produced chipsets can truly fuel universal, ubiquitous deployment of UHDTV. So, isn't that chipset the cutest little thing you've ever seen?
The real smarts are in the complex encoder algorithms that eliminate redundant information (similar to every third word I utter) and translate complex picture changes into a language that allows the decoder chipsets to "paint" the picture screen dot by dot, pixel by pixel, in the most faithful and transparent means possible. This is as complicated as rocket science, only without the massive explosions and all that hydrazine punching holes in the Earth's ozone layer...
What progress have we seen? Lots, actually. For the last year, ATEME has supported the 24/7 UHDTV satellite channel established by Eutelsat. We're also providing the encoding for the UMAX 24/7 UHDTV terrestrial channel in Korea.
Some of you might also have seen the images from the Roland Garros tennis tournament or the Red Bull satellite demo at IBC2014—this UHDTV stuff works. While most of this content is converted from file and essentially played out like a video jukebox (in fact, this is the way most linear television services program everything save for live content). With file content, you can take the time to engage in multiple encode passes, which makes the video really, really good.

However, today's addressable audience remains largely untapped with those brand spanking new UHDTV's with built-in UHDTV/HEVC decoder chipsets. These, as I write, are still less than 5 percent of all the new TV sets on sale today, never mind the hundreds of millions of TV sets already owned. Hang on, for relief is en route.
You will see millions upon millions of STBs start to pour out of Asian factories early in 2015. They will soon allow for commercial program channel launches of UHDTV content. Satellite channel bandwidth for HEVC on the industry's prime "cable birds" and DTH platforms will still be hard to come by, but for those of us who witnessed the launch of HDTV a generation ago... it's the same script.
Just like how the smart folks at the old PanAmSat "borrowed" the "neighborhood" moniker from Hughes Galaxy (a tip of the cap to Eddy Hartenstein) to create the "HD Neighborhood" on a well situated (but largely empty) Galaxy 13 satellite, it won't be long before somebody at Intelsat or SES jumps the starting gun and promotes the new "UHDTV Neighborhood." Nothing changes but the names. For the DTH platforms, it generally takes a new satellite launch with available capacity at an existing orbital location to start the party. Call me Nostradamus, but I'd be looking at the upcoming launch manifests to figure out where that first DTH UHDTV "neighborhood" will reveal first.
Where are the sports guys? Well, they haven't all been asleep at the wheel, either. Some industry stalwarts such as the European Broadcast Union have led the charge, transmitting three of the final FIFA World Cup matches in UHDTV over multiple satellites. ATEME supported this event, as well. The broadcast sports infrastructure still isn't quite complete, so our usual industry leaders have been laggards of late, and probably will be for another season.
In closing, here is the view from the trenches, or from behind the satellite benches—the holiday season will see big promo launches of UHDTV television sets, with at least enough compelling Hollywood content (on internal or external memory) to hold you through New Years Day.
First quarter 2015 will see some online launch of mainstream non-linear movies and episodic TV to give those early UHDTV adopters something else to watch. The sports guys will continue to chase their tails like three-legged dogs until at least NAB.
Now for the disclaimer: The people in the know aren't talking. If I actually did know anything (hey... it could happen...), I probably couldn't tell you under NDA. Let's assume I'm wrong and you get to say, "told you so!" And the next time, you buy me the beer (although a single malt Scotch would also hold my attention.)
I wish you all a safe, happy and festive holiday season—one of the elements I truly love about this business is the singular constant.... Change!
Editor's note: This article was submitted to SatMagazine prior to the recent DirecTV news of their OTT launch of 4K movies and 4K capacity on their next satellite... seems as though Mike's reputation for boldly guessing the obvious remains intact… amazing.
In case you're interested, Mike Antonovich is a 30 year veteran of the broadcast, satellite, fiber and video encoding industries. He is presently SVP & GM, Americas for ATEME, a global leader in high performance video encoding solutions for the contribution and distribution applications that serve the media and broadcast industries. ATEME's standards based video encoding software powers leading media companies for DTH, OTT, IPTV, IDBS-T services. Mike is fully buzzword compliant and hardly ever cheats on his tax returns.