The
Taurus II
will use twin
Aerojet AJ26-62
engines with a combined thrust of more than 775,000 pounds to power the first stage. These engines, originally designed and produced by
Samara State Scientific Production Enterprises
, have an extensive test history. They have been upgraded by Aerojet of Sacramento, California, to add
Thrust Vector Control
, modern mechanical and electrical actuation components, and U.S. sourced feedline components. In addition, significant progress has been made in the construction of a new facility at Stennis to perform the qualification and subsequent hot-fire acceptance tests of the main engine system. The facility is expected to be in operation and ready for testing to commence in March of next year.
Similarly, Orbital Sciences has made significant development progress in just a few short years by leveraging other key system components and suppliers with significant flight heritage and launch vehicle experience. These include:
First stage tankage and associated components designed and built by Yuzhnoye / Yuzhmash of the Ukraine
Avionics and Guidance systems derived from other Orbital successful launch vehicle programs
Ground systems infrastructure designed and produced by a consortium of companies with extensive launch vehicle systems experience
This "re-integration" approach of existing components and infrastructure enables Orbital to not only reduce the time typically needed to bring a new launch vehicle on line, but also significantly mitigates development risks.
In addition to the main engine test firing, Orbital has aggressive plans to accomplish other significant development milestones in 2010 including:
Completion and activation of a new integration and launch facility at the Mid-Atlantic Regional Spaceport (MARS) on Wallops Island, Virginia
Completion of 1st stage booster structural testing
Component delivery, integration and static fire test of the 1st stage booster
Completion and test of proto-flight payload fairing and other payload accommodations elements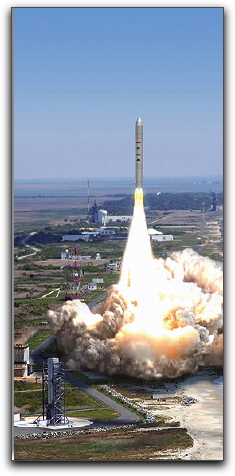 While the company's current backlog of nine flights is dedicated to supporting NASA commercial International Space Station resupply requirements, the Taurus II will be easily adaptable and a cost effective solution for other payloads, including mid-class satellites for civil government (i.e., NASA and NOAA), military and commercial customers.
Through a systematic, detailed approach that builds on major proven systems, state-of-the art avionics and control elements and new launch and test facilities, Orbital is bringing the Taurus II launch system on line to meet the medium lift launch demands of the next decade.