Michael C. Schwartz is Telesat's Senior Vice President, Corporate and Business Development. He plays a key role in advancing Telesat's strategic objectives by leveraging the company's orbital assets, forming alliances and pursuing business development and M&A opportunities. He rejoined Telesat in the fall of 2015 after three years at Sprint Corp. where he served as their Senior Vice President, Corporate Strategy and Development.
Prior to Sprint, Mr. Schwartz was Telesat's Vice President, Marketing, Corporate Development & Regulatory. Previously, Mr. Schwartz was Senior Vice President of Marketing and Corporate Development of SES New Skies, was co-founder of an Internet infrastructure company and held senior positions at AT&T Wireless Services, including Vice President of Acquisitions and Development.
Michael Schwartz graduated magna cum laude from Harvard University in physics and magna cum laude from Harvard Law School.
---
Welcome, Mr. Schwarz. Can you start with a brief explanation of GEO and LEO orbits, as not all readers are familiar with their differences and their advantages?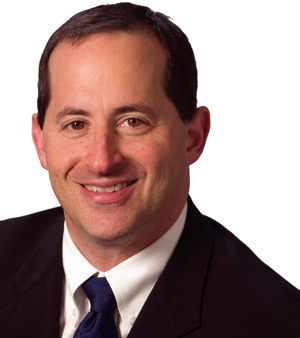 Michael Schwartz (MS)
GEO satellites operate about 36,000 km. above the equator at a fixed point in the sky (by orbiting at the same speed of the earth's rotation). At this distance from Earth, it only takes three GEOs to cover most of our planet (except for Polar Regions). This broad coverage makes them ideal for broadcasting video content, a prime customer requirement that supports many of the hundreds of commercial GEO communications satellites in use today.
LEO satellites are far closer to Earth with orbits of about 1,000 km. By being closer to Earth, LEOs have a smaller field-of-view, or footprint, than GEOs, so a satellite operator needs to deploy more LEOs for comparable coverage.
However, LEOs offer important advantages for satellite broadband: one is far lower latency (the round trip time for a signal on the ground to reach the satellite and return). This lower latency enables a LEO satellite broadband user to experience the Internet in a way that is comparable to the best terrestrial services.
LEO constellations can also be fully global, including the poles, high performing, very secure and cost effective.
Do you feel we are in the midst of a new kind of space race? If so, why is this occurring today?
MS
The term space race is a fair description for what's going on today, but the race this time is among commercial companies — some pursuing LEO broadband while others are in "new space," an emerging sector of smaller satellites and launch vehicles.
Government and industry leaders have a growing interest in space and, in particular, LEO satellite broadband constellations. Communications experts agree that new space-based systems can deliver 21st century, globally available broadband that extends the reach and improves the performance of existing ground-based networks. This is due to dramatic advances in technology and improvements in cost. For example, it is far more cost effective to launch satellites today than earlier this decade.
As for technology advances, Telesat LEO satellites will use phased array, electronically steerable antennas with advanced beam steering capabilities allowing Telesat LEO to dynamically allocate capacity where there is greatest demand.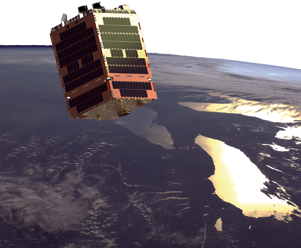 Artistic rendition of the Telesat LEO Phase 1 satellite. Image is
courtesy of Surrey Satellite Technology Limited (SSTL).
Background image is courtesy of Earth Science and Remote
Sensing Unit, NASA Johnson Space Center.
Telesat LEO will also use optical Inter-satellite Links (ISLs) enabling our satellites to talk to each other and creating a resilient mesh network in the space. Telesat is bringing together these types of advances for the first time.
What are Telesat's key competitive advantages in this space race?
MS
Telesat has several important competitive advantages. Telesat is using communications frequencies —Ka-band — that are ideally suited for broadband Internet.
The company has global, priority spectrum rights in Ka-band for its LEO constellation and also has a patent-pending LEO system design, which includes satellites operating in two different orbits to maximize broadband performance and efficiency, with the use of ISLs as just mentioned.
The superiority of Telesat's LEO design vs. that of OneWeb and SpaceX-Starlink was confirmed in an independent study released last year by members of the Department of Aeronautics and Astronautics at the Massachusetts Institute of Technology (MIT). Telesat has also been a successful satellite operator for decades with engineering innovations and industry firsts, with a deep understanding of, and experience in, the broadband markets we serve — enterprise, government, mobility and telecom — and has good relationships with customers in these markets unlike other LEO entrants.
How does Telesat feel facing competitors with the deep pockets and resources of Starlink and Amazon's Project Kuiper? These hugely ambitious plans are backed by billionaire business owners.
MS
With Amazon and SpaceX pursuing their own LEO satellite constellations, it signals to the market there is a huge opportunity for global broadband connectivity and confirms the potential of LEO-based networks to address that opportunity.
Having major companies like these endorse and validate the promise of LEO is helpful. It not only benefits Telesat, but also heightens awareness of satellites and the role they can play in our communications future.
In July, Telesat announced a partnership with the Government of Canada (GoC) to bridge Canada's digital divide using Telesat's LEO satellite constellation. This obviously was a very important announcement. Can you give us a summary of what this all means to Telesat and its LEO program?
MS
Telesat signed an MOU with the GoC to ensure access to affordable high-speed broadband connectivity across rural and remote areas of Canada using the Telesat LEO Constellation.
Telesat expects this arrangement will generate C$1.2 billion in revenue over a 10 year period, C$600 million due to contributions from the GoC.
Telesat will provide Canadian telcos and ISPs that serve rural and remote broadband markets in Canada access to 'a pool of bandwidth' of multiple gigabits of capacity at very attractive rates, and we expect another $600 million to come from these customers.
Additionally, the GoC has agreed to contribute C$85 million for Telesat through its Strategic Innovation Fund to support the R&D phase of Telesat LEO's program. With the GoC agreement, Telesat now has an innovative service model for bridging the digital divide that can readily be implemented in other countries. The agreement also brings important support and validation for the Telesat LEO business plan.
---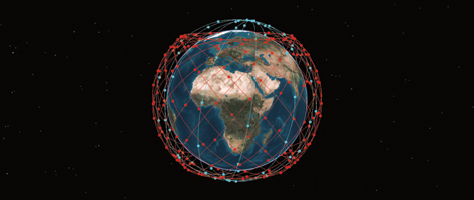 Artistic rendition of Telesat LEO's orbits.
---
What were some of the prime motivations for the GoC to enter this partnership with Telesat?
MS
The GoC wanted to ensure that Canadians have access to quality broadband services no matter where they live. This has become a priority for countries around the world that view universal access to high quality broadband as essential for citizens to participate in the 21st century economy. The United States, Australia and other nations have decided to provide subsidies —– in some cases, many billions of dollars — for rural broadband.
The GoC sees space as an important sector for the 21st century that can both inspire the nation and its young people while creating high paying jobs in Science, Technology, Engineering and Math — the STEM fields.
How big do you expect the Telesat LEO investment to be and what can you tell us about your financing plans? Where does Telesat stand in choosing a prime manufacturer for its LEO constellation?
MS
As we have stated previously, Telesat expects the constellation investment to be multiple billions of dollars. For project financing, we anticipate using both debt and equity and are in discussions with export credit agencies on the debt side. Telesat's ongoing business can also contribute significantly given our strong balance sheet and cash flow.
As for selecting the prime Telesat LEO manufacturer, we have contracted with two teams who have both worked with Telesat to complete system designs and mitigate technical and other risks associated with the program. We look forward to later this year selecting the industry partners we will contract with to implement the Telesat LEO system.
What can you tell us about Telesat's 'go-to-market' strategies? How are you going to sell your Telesat LEO services?
MS
Telesat will continue to be a wholesaler focused on selling to and through service providers and network operators that specialize in aeronautical, maritime, telecom and government markets. We expect to work with the same customers we serve today, along with many new ones.
Telesat is celebrating a 50th anniversary this year and our innovative, satellite-based solutions have been giving our customers a competitive edge for decades. We'll be providing an even better value proposition with Telesat LEO.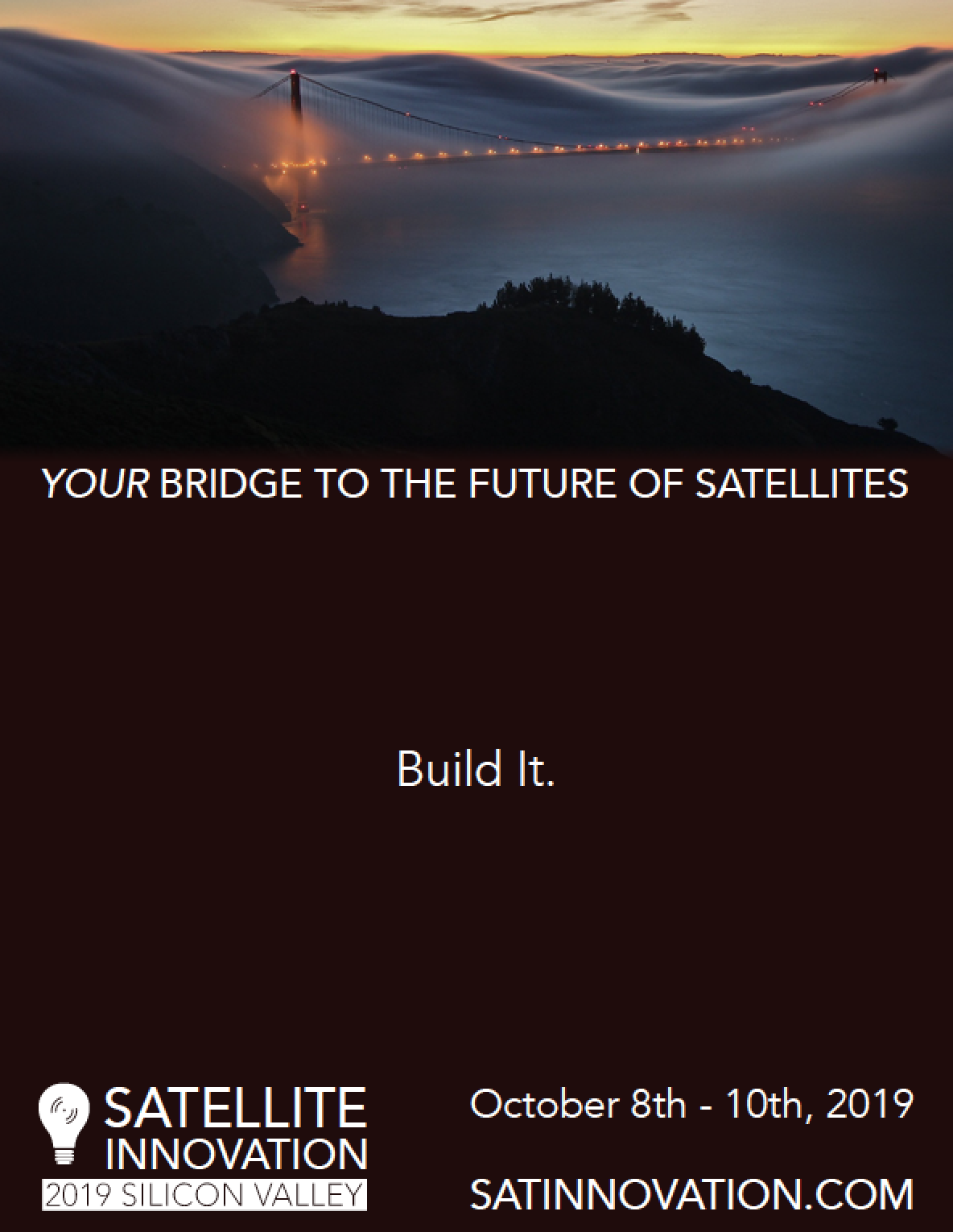 How will Telesat LEO work with 5G services?
MS
Telesat will be supporting telcos in extending their networks and helping them capture new revenue streams. It will be very costly for advanced mobile technologies such as 5G to be implemented beyond densely settled urban areas.
In April 2019, Telesat teamed with Vodafone and the University of Surrey in conducting the first ever 5G backhaul test on a LEO satellite (testing done on Telesat's Phase 1 LEO satellite) which confirmed Telesat LEO can provide effective backhaul transport for mobile network operators (MNOs), including advanced backhaul solutions for 5G. Given these test results, we're confident Telesat LEO will play a key role in wireless connectivity.
With so many satellites planned for launch the next few years, some have expressed concern they could collide with each other in space creating an orbital debris problem, or interfere with the night sky blocking our view of the stars. How is Telesat addressing these concerns?
MS
Telesat has always managed our satellites in a way that preserves and protects the orbits in which they operate, and we will continue to do so with our LEO constellation.
We now have state-of-the-art practices for managing the problem of orbital debris that we will use with our new LEO constellation to assure that LEO and other prime orbits are protected and available today and for future generations.
The problem with night sky interference is a unique space concern that involves visible light observations. Telesat is working with our manufacturing teams to address this issue. It is also important to keep in mind that Telesat's LEO constellation will consist of 298 satellites, not the thousands announced by some other potential LEO satellite operators whose constellation plans brought this concern to the forefront.
In addition, Telesat's LEO constellation will operate at approximately 1,000 km from earth, significantly higher in altitude than some other proposed constellations.
Telesat really seems to have some great momentum with its LEO program. What do you see as some key challenges ahead?
MS
In the coming months we will be choosing a satellite manufacturer and begin managing procurement and launch contracts to a tight schedule. It will be a great opportunity to demonstrate our company's engineering and management expertise as we leverage proven technologies and bring Telesat's LEO's highly disruptive communications capability to a global market.
On the commercial front, our focus will be on continuing to educate the market about the disruptive capabilities of Telesat LEO and signing agreements with service providers.
www.telesat.com
---