SES Takes Max Capacity Gold At Olympics
This year's Olympics may not have been the most popular and was certainly beset with various "challenges" and malfunctions, yet SES' broadcast of Rio's Olympics came through with flying colors, providing viewers with more coverage than any previous Games.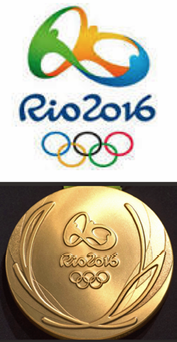 SES S.A. revealed a record uptake of the firm's satellite capacity for the Olympics as compared to previous Games with a total of 23,000 hours of capacity booked on four SES satellites.
The satellites NSS-806, SES-4, NSS-7 and SES-3, enabled transmission of the Games to broadcasters in The Americas, Europe, Asia and Africa.
SES served a total of 10 leading broadcasters based in the US, the UK, Switzerland, Italy, Brazil and Japan, which included Eurovision, CNN / Turner and Nippon Television Network.
Richard Lamb, General Manager of Occasional Use Services at SES, commented, "SES has provided capacity for the Olympics since 2000, and we are pleased that the capacity demand for Rio Olympics far exceeds the previous editions. For the first time ever, we are using more capacity on more satellites to broadcast more hours of sporting events and news coverage of the Games to a truly global audience.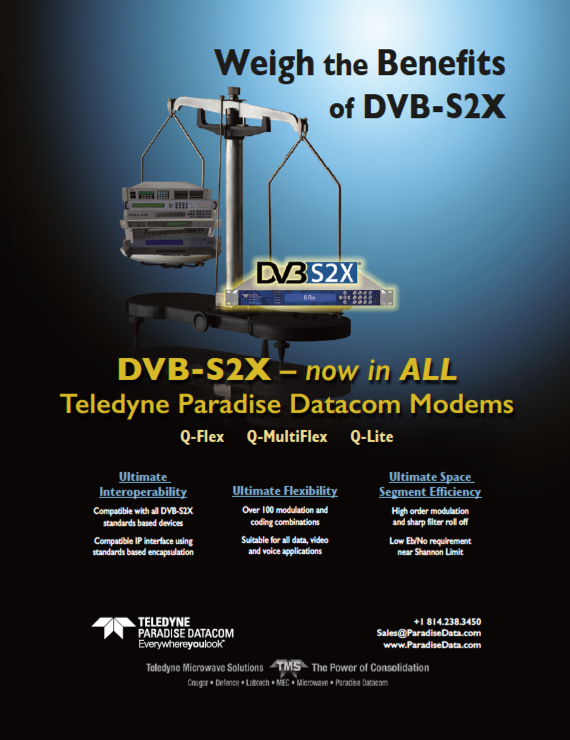 "This record demand illustrates how broadcasters continue to view satellite as an ideal and cost-effective way to broadcast excellent image quality of sporting events live to millions of viewers around the world."
Also of note: SES S.A. also revealed that German pay-TV broadcaster Sky Deutschland will be launching two exclusive Ultra HD channels via SES's prime orbital position of 19.2 degrees East in the autumn.
Sky Deutschland will show one game per each Bundesliga match day on Sky Sport Bundesliga UHD and selected games from the UEFA Champions League on Sky Sport UHD – all in video resolution that is four times higher than HD.
www.ses.com
---
An Epic Launch Upcoming Up For Arianespace
Ready, set, go... well, almost—the Arianespace Ariane 5 launch vehicle has been integrated with the payloads or the upcoming VA232 launch of the Intelsat 33e and Intelsat 36 satellites that is scheduled for Wednesday, August 24th from French Guiana.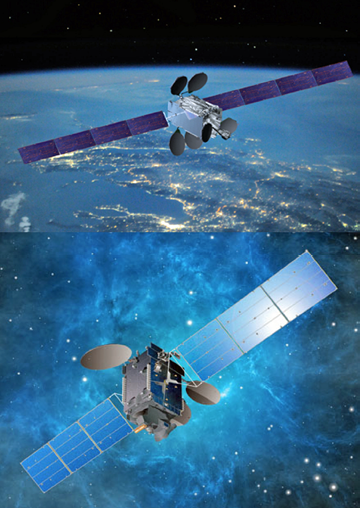 Designated Flight VA232, the mission will be Arianespace's sixth launch in 2016, and the fourth using a heavy-lift Ariane 5 this year.
The two payloads will be the 57th and 58th satellites launched by Arianespace for Intelsat which continues a relationship that began in 1983 as the US-based operator developed a network to deliver high-quality, cost-effective video and broadband services worldwide.
During preparation activity for Flight VA232 in the Spaceport's Final Assembly Building, Intelsat 36 was installed atop the Ariane 5's core stages on Friday, positioning the 3,250-kg.-class spacecraft as the mission's lower passenger.
This was followed by the lowering of the launcher's "composite" that consisted of Intelsat 33e along with the Ariane 5's SYLDA dual-payload deployment system and the protective payload fairing into position over Intelsat 36.
Deployed first during the mission to geostationary transfer orbit, Intelsat 33e, which has an estimated liftoff mass of 6,600 kg, is the second satellite in Intelsat's nexgen HTS Intelsat Epic NG series and joins Intelsat 29e, which was launched by Arianespace aboard another Ariane 5 last January.
Built by Boeing using a 702MP spacecraft platform and operating from an orbital slot of 60 degrees East, Intelsat 33e's Ku- and C-band coverage will meet broadband demand for carrier-grade telecom services, enterprise networks, aeronautical connectivity and certain media services.
The satellite's Ku-band spot beams are to provide broadband services for Europe, Africa, the Middle East and Asia, while a Ku-band wide beam provides broadcast coverage of Europe, the Middle East and Asia.
The satellite's C-band spot beams will cover high traffic telecommunications centers in Europe, Central Africa, the Middle East, Asia and Australia; while a C-band wide beam is to deliver coverage over sub-Saharan Africa for data and media services.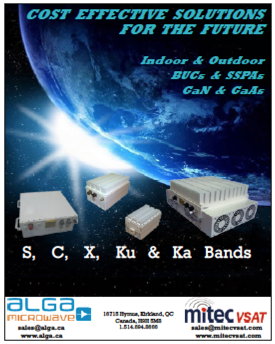 The Intelsat 36 satellite, built for Intelsat S.A., is designed to provide media and content distribution services in Africa and South Asia.
Set to complete Arianespace's Flight VA232 at 41 minutes after liftoff will be the separation of Intelsat 36, which is designed to enhance Intelsat's media neighborhoods serving the South African and Indian Ocean region.
Manufactured by SSL (Space Systems Loral) on their 1300 platform, its Ku-band payload was built to support the MultiChoice direct-to-home (DTH) service in South Africa.
Intelsat 36's C-band relay capacity provides in-orbit resilience for the company's video content distribution neighborhood at the orbital slot of 68.5 degrees East where the satellite will be co-located with Intelsat 20, which was launched by Arianespace in August 2012.
www.arianespace.com
www.sslmda.com
www.boeing.com
---
Four From ISRO To Head To Moon & The Sun
The Indian Space Research Organization has ambitious goals as they plan to launch four key satellites as well as trips to the moon and the sun.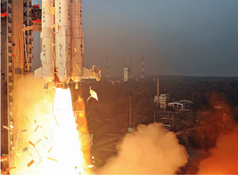 The Indian Space Research Organization (ISRO) has planned to launch four more key satellites in the next three months this year, according to Mylswamy Annadurai, director, ISRO satellite center.
Speaking to the media on the sidelines of a private college function, Mr. Annadurai said that India had launched 10 satellites between August 2015 and August 2016, adding, four more launches—INSAT-3DR and SCATSAT-1—are scheduled for departure in September this year, with GSAT-18 in October and ResourceSat-2A in November 2016.
These have all been planned by the space body that is currently working on a tight schedule of 70 satellite launches over the next three years, Deccan Chronicle reported.
Further stating that India has decided to go solo in the Chandrayan-II project, without taking help from Russian space agency as has been agreed earlier,
Annadurai said that the country's lunar exploration program, Chandrayan II, the lander and rover, was expected to be launched by the end of 2017 or in the first quarter of 2018.
As per the Deccan Chronicle, the mission objective of Chandrayan-II is to soft-land at a suitable site on moon's surface and carry out chemical analysis.
According to Annadurai, ISRO also has a plan to launch 'Aditya-L1', the first Indian mission to study the sun by the year 2020, said Deccan Chronicle reports.
www.isro.gov.in/
---
Innovative Tracking Going On
Marlink and IDG Europe are two companies who are now collaborating and they have opted to conduct trials of the Smalltrack portable tracking system.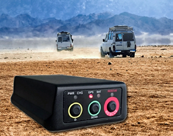 The companies have completed trials of the new Smalltrack portable tracking system on a fixed wing aircraft operated by Scandinavian Air Ambulance and a helicopter operated by Scandinavian MediCopter in Sweden.
Marlink's nexgen location-based Iridium tracking device features a new, compact and lightweight design, Smalltrack is a mobile device with user-friendly operation and installation.
Operating on the Iridium satellite network, the system can be used in any location without providing accurate tracking to support flight safety and logistics, in addition to manual and automatic emergency alerting.
The fixed wing aircraft Smalltrack testing took place on a Beech Super King Air 200 over a period of five days. Smalltrack was placed on the glare shield of the aircraft and position reports closely monitored.
The successful trial proves that placement on the glare shield does not affect the ability to transmit or receive data. During the trial, tracking data was made available through the Smalltrack online interface.
The helicopter testing was aboard an AS 365 Dauphin N2, with daily flights for three weeks. Throughout the testing all data reports
were transmitted.
As with the fixed wing testing, Smalltrack was set to start-up using the built in accelerometer so it does not have to be included in the pre-flight check list, which saves the pilot time before taking off.
marlink.com/overview/smalltrack/
---
GomSpace & Swedish Space Going Small
This is a start and, if all goes well, GS Sweden AB), parent company of GomSpace ApS, and the Swedish company "Svenska rymdaktiebolaget" (the Swedish Space Corporation) will potentially acquire 100 percent of the shares in the Swedish company NanoSpace AB.
The Letter Of Intent (LOI ) contains broad terms of a potential transaction with the right for GomSpace to conduct a due diligence investigation—the acquisition is conditional upon both parties entering into a definite agreement containing specific signing and closing terms and conditions yet to be negotiated.
MEMS-based micropropulsion system NanoSpace's miniaturized propulsion system provides extremely small and precise thrust for a variety of satellite missions. Formation flying and precise attitude control are examples where thrust levels in the micro- to milli-Newton range are required.
Should the acquisition be completed, the parties have agreed that the purchase price is to be paid with 600,000 newly issued shares in GS Sweden AB and with a cash payment of 3,000,000 SEK (US$356,265).
NanoSpace is a company that develops and provides propulsion technology and products for nano satellites, and participates in space technology projects funded by the European Space Agency ("ESA") and Swedish national funding programs. NanoSpace's propulsion technology and products are based on the company's leading expertise in applying MEMS (Micro Electro Mechanical Systems) technology to space propulsion—providing unique advantages in miniaturization and precise thrust control.
GomSpace's wish to acquire NanoSpace AB is to build up more Swedish activities and to have satellite propulsion products in their portfolio alongside the activities already in Gomspace ApS. Future operational nanosatellite missions will depend on constellations of satellites and therefore require the ability to fly these satellite in an accurate formation—as can be achieved using ability provided by the propulsion technology and products developed by NanoSpace.
GomSpace and NanoSpace already collaborate closely in multiple customer projects on integrating NanoSpace propulsion technology into GomSpace satellite platforms. Should the acquisition be completed, Swedish Space Corporation has accepted to make an executive director available for the board of directors in GomSpace.
www.gomspace.com
www.sscspace.com
---
New Guidance For Russia's Aist-2D Satellite
Last April, Russia launched their Aist-2D satellite from the Vostochny space center.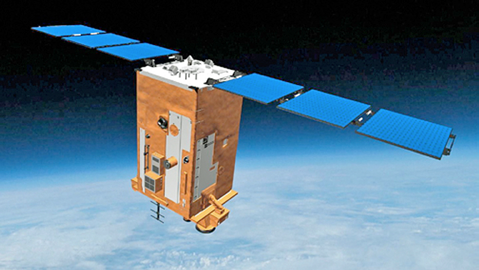 The satellite is a remote sensing spacecraft that was designed by the nation's Progress research center and Samara State Aerospace University to engage in spatial investigations.
Sputnik News has reported that Russian scientists have started a number of adjustments to the guidance, navigation and control (GNC) system on the Aist-2D satellite.
The on-board motion control system installed on the Aist-2D satellite is supplemented by an innovative GNC system that's based on micro-acceleration compensation hardware designed by the Institute of Electronics and Instrument Engineering at Samara.
The new GNC system aims to control vehicle orientation and to compensate on-board rotating micro-accelerations in the low frequency spectrum—the system allows for the determination of the precise location of the satellite, based on the GPS data and the satellite's orientation to the Sun as well as the geomagnetic field.
---