The highly technical operations in the offshore arena are driving demand for more bandwidth.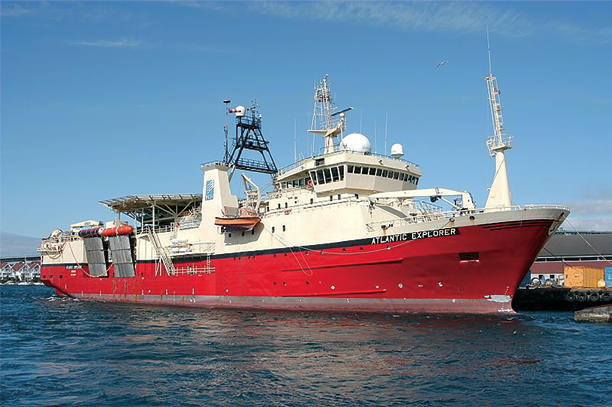 The industry is using new technology developed for monitoring and collaboration, which is changing the way many fields operate. From remote drilling and well sensors, to seismic survey and engineering operations, the industry is reliant on strong, high bandwidth data links over VSAT.
However, the seismic survey industry is one of the biggest consumers of bandwidth within the offshore sector. The potential for cost savings generated by having survey data sent to shore as, or just after it's generated, are significant. However, to move this amount of data over satellite requires significant bandwidth. This demand may be met by temporarily increasing bandwidth to a vessel's existing VSAT services.
One of the first examples of this process in the sector was Marlink's successful delivery of a temporary boost of its Ku-band VSAT services to a 12 Mbit/s dedicated return link for the Atlantic Explorer, a Petroleum Geo Services (PGS) owned seismic survey vessel. The high throughput link was an upgrade to Atlantic Explorer's existing Marlink customized VSAT service.
The service was used during a four week North Sea survey project, enabling seamless transfer of survey data to shore where it could be reviewed and addressed while Atlantic Explorer was still at sea. This enabled survey schedules to be amended based on results as they were generated, saving time, costs and resources for PGS' client as there was no need to wait for data to be delivered on return to port or collected by a helicopter.
Taking into account overheads—packet loss, for instance—the link enabled throughput of approximately 5GB per hour. A link of this scale was necessary in order to facilitate the transfer of survey data. The project was a success, with the link providing massive amounts of bandwidth that enabled PGS and its client to conduct a highly operationally and cost efficient offshore survey.
The connection was enabled on the existing 1.5 m Ku-band antenna on board Atlantic Explorer. A Marlink engineer installed a new 40W BUC (Block Upconverter) prior to the survey, to enable the higher throughput, which was activated while the vessel was out at sea.
The configuration and service provision reflects Marlink's approach to project based VSAT, where it can quickly provide extended capabilities for vessels requesting extra temporary or permanent bandwidth.
Wind Power Bandwidth Boost
This kind of high-level connectivity is not an off-the-shelf product. It supported PGS in providing a very high-end service to its client and, in the competitive seismic survey market, PGS was able to offer not readily available advanced capabilities.
Marlink is receiving more and more requests for similar temporary capability boosts. The Norwegian maritime SATCOM service provider recently concluded a project to significantly increase the Internet speeds aboard the Simon Møkster owned Stril Server Multi-Purpose Support Vessel (MPSV). Simon Møkster runs a fleet of 23 advanced offshore support vessels that are connected to shore and each other using Marlink VSAT services and the Microsoft Lync platform.
The established Norwegian offshore vessel operator has installed Microsoft's standardized business collaboration and communication platform across their organization on land and at sea. This has resulted in operational benefits as well as substantial savings in crew calling costs.
Using Lync via Marlink VSAT enables bridge and engine room teams to access low-cost and reliable telephony, video conferencing, instant messaging as well as data sharing. Marlink ensures high uptime of the VSAT, meeting Simon Møkster's requirements for continuous availability. Custom dynamic allocation of dedicated bandwidth enhances reliability, especially for bandwidth hungry applications.
An example of the customization Simon Møkster has in terms of connectivity is the integration of Lync with the company telephone system, so calls from terrestrial and mobile networks and other Lync users can be made to vessels and received via Lync. A unique VoIP solution has also been implemented for crew members from the Faroe Islands, which reduces their calling costs by at least 50 percent.
With an already highly customized connectivity solution at sea and on land, Simon Møkster was well positioned to engage Marlink to provision a bandwidth boost for a specific client aboard Stril Server. The extra bandwidth for Stril Server was required by client engineers on a project at the Westernmost Rough offshore wind farm on the UK's east coast, from September 2014 until February 2015.
Marlink increased the available bandwidth on board to 8Mbps downlink and 4Mbps uplink. This enabled the client to operate its own dedicated network aboard Stril Server, facilitating updating and management of documentation using tablet computers. Engineers and managers could read and edit documentation from their tablets, enabling them to work more effectively through greater collaboration and convenience.
A specially installed on-board server would synchronize all data with the client's on board and shore-side network to ensure all documentation was fully up to date. The increased bandwidth facilitated the reliable, fast transfer of all data.
The bandwidth upgrade was deployed using the already installed, above deck equipment that facilitates Marlink's ongoing VSAT services for Stril Server. In order to enable the increased data throughput for the duration of the project, the existing iDirect X5 modem was upgraded to a new generation iDirect X7 modem. Simon Møkster is one of the first ship owners to use the X7 modem on Ku-band coverage.
High satellite capacity and strong relationships with major Satellite Network Operators (SNOs) enable Marlink to meet the needs of customers in the high-end offshore and specialist vessel market who are looking to increase bandwidth at the request of their clients or for short-term projects.

Temporarily increasing bandwidth can be a complex task, but the inherent flexibility in the VSAT services already provided to Stril Server, combined with Marlink's expertise and close co-operation with the SNO, ensured that Simon Møkster could deliver the bandwidth that the company's client needed for this specific project.
Tore Morten Olsen holds a M.Sc in Telecommunications from the Norwegian Technical University and has participated in Executive MBA programs at Wharton Business School in the United States, Insead in France and the Stockholm School of Economics in Sweden. He has more than 20 years of experience in the satellite communications sector, where he began his career as a technical product manager and moved on to hold several, senior management positions with Telenor, Marlink and Astrium Services.
---