With high image definition, a resolution four times higher than HD and a finer gradation of colors, UHD offers a viewing experience which draws the viewer into the action—securing the technology's position in the future of broadcast.

Indeed, Euroconsult research analysts expect 11,000 HD and 500 UHD TV channels to be launched by 2023. However, are broadcasters' operations equipped to deliver the large amount of data UHD requires with the quality, reliability and flexibility viewers will demand?
Why UHD?
Ultra HD (UHD) ensures a viewing experience that is unrivaled—to date. With high image definition, a resolution four times higher than HD and a finer gradation of colors, the viewer is drawn into the action. As prices of UHD TVs are already starting to fall, this trend is here to stay. Experts expect the technology to become mainstream within 10 years.
Content providers and broadcasters are also growing more and more interested in the prospects for UHD, due to the huge leap in quality that provides the competitive differentiation necessary to attract new subscribers to their linear broadcast and cable television channels.
Challenges For Broadcasters
For media companies looking to launch UHD services, though, there are a number of challenges to consider.
While UHD delivers ultra-powerful images, it also makes ultra-high demands on the digital workflow for production and transmission. It requires four times more bandwidth than HD, and 12 times more than SD. For example, a UHD live TV signal leaving the Satellite News Gathering (SNG) van via 4x3G is approximately 12Gbit/s. This is twice the total bandwidth that is available today on SES' Astra satellite at 19.2 degrees East.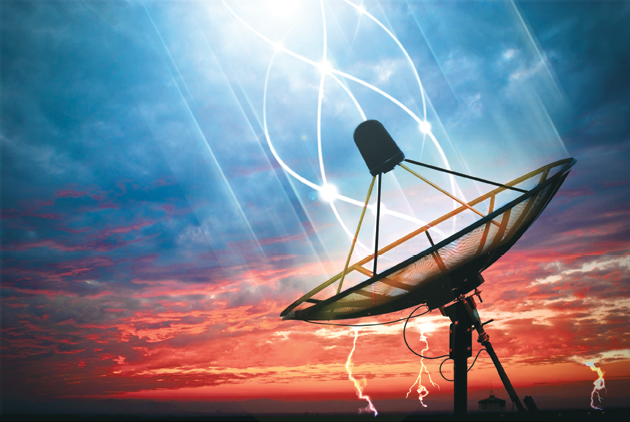 As HD channels grow in number, broadcasters are already facing sky-high capacity demands. What will happen when the scales are tipped and 4K growth catches up and overtakes HD? All that would be required is for most large screen TVs and tablets to be 4K capable. Furthermore, for UHD in particular, intelligent and flexible handling of content workflow also plays a decisive role. The large amount of data places high demands on storage, management, encoding and delivery. Add to this the quality, reliability and flexibility that is essential when delivering UHD—and delivering UHD becomes extremely complex, as well as potentially quite costly, for broadcasters.
Delivering Unsurpassed Quality
How, then, can broadcasters ensure they are delivering the quality and reliability required for UHD services and still keep OPEX and CAPEX at a minimum? Even if a broadcaster's infrastructure is designed to deliver UHD—which many aren't—launching a UHD service still requires a partner who is capable of delivering UHD services all the way from delivery of UHD content and TV signals to distribution via satellite or the Internet. Demands will be even greater for broadcasters who don't yet have such infrastructure in place.
The most efficient and cost-effective answer to this dilemma is for broadcasters to select a technical media services partner who provides the ability to launch UHD operations without the need for them to turn their infrastructure upside-down overnight. Teaming up with a content management and playout partner, such as SES Platform Services, gives broadcasters peace of mind that their content is being delivered to audiences and customers with the best possible quality.
Additionally, SES Platform Services' newly launched service, FLUID Media, offers a convenient, browser-based management of Ultra HD content and metadata. Through flexible workflows, customers can efficiently deliver content to their customers, partners and platforms.
Satellite + Beyond
Satellite is the ideal infrastructure to deliver the Ultra HD experience, offering a high degree of coverage to the largest number of viewers possible. As a subsidiary of satellite operator SES, SES Platform Services naturally broadcasts UHD content via satellite.
Today, however, as consumers become used to having access to content on any device, and at a time convenient for them, not every business model is designed to obtain the maximum coverage with linear programs. Consequently, broadcasters should make the selection of a technical media services partner—one that possesses the capabilities to deliver content to the Internet as a top priority.
At SES Platform Services, such is managed through the multi-format encoding of live signals and playout content. The latest HEVC encoders are used, with oversight of multiplexing and uplinking and even encrypted content upon request. All systems have redundant support and uninterrupted operation is guaranteed.
A Bright, Clear + Reliable Future
With these technology innovations in place, broadcasters should have a bright future in offering UHD services—and without the need for huge, initial, infrastructure investment.
Broadcasters who delay adding UHD services to their portfolios could well find themselves losing out on a large share of market revenue. Furthermore, as UHD grows in popularity, they could also risk losing their existing customers.
While becoming a mass market, teaming up with a technical media services partner will assure maximum return on Ultra HD with minimal outlay.
www.ses-ps.com/
---