ASD-Eurospace, Europe's space industry trade association, issued what it called an "Industry Manifesto" on October 15 that calls for a "resilient satellite system for secure connectivity… to make Europe fit for the Digital Age".
The document calls for a constellation of Low Earth Orbiting (LEO) satellites owned by the European Commission (EC) and serving military, government and consumers with secure communications. The EC suggests the constellation could be financed with help from a Public-Private Partnership.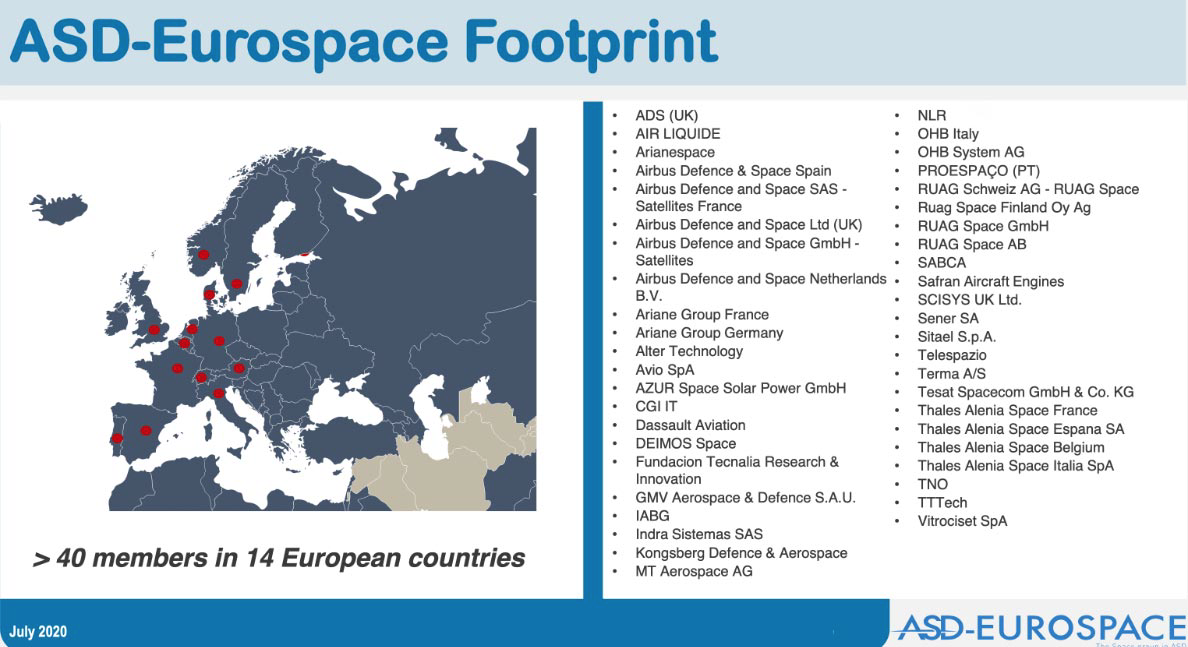 Eurospace, in its White Paper, made reference to President of the European Commission, Ursula von der Leyen, and President of the European Council, Charles Michel, as well as Commissioner Thierry Breton, who have all in recent weeks expressed the need for the European Union (EU) to rely on a secure space-based connectivity system able to provide for secure satellite communications and for high speed connectivity everywhere in Europe.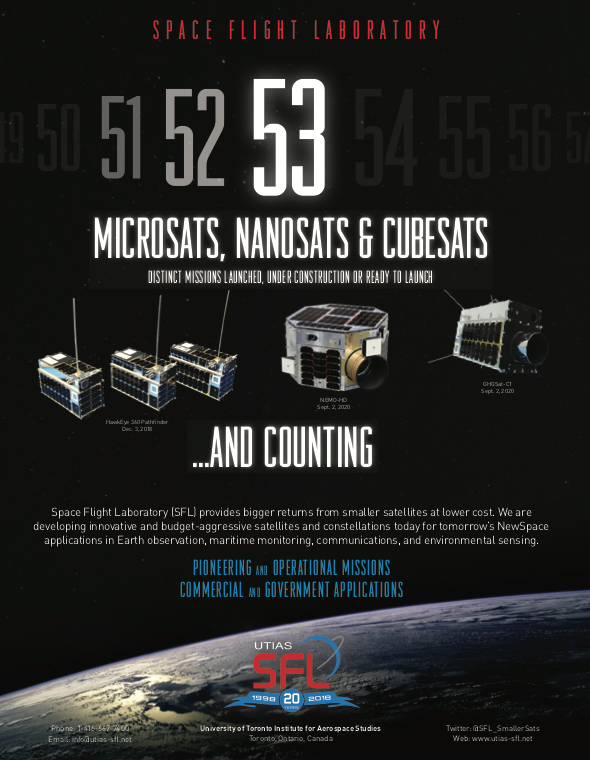 "The European space industry, gathered within Eurospace, is convinced that the political momentum for a new space-based strategic system for connectivity serving the needs of European citizens, institutions and businesses has to be seized," stated the manifesto.
One of Eurospace's key worries is that Europe's future communications being controlled by the likes of Google, Amazon, Facebook, Apple (the 'GAFAs') and Microsoft, not to mention Elon Musk's Starlink, OneWeb or other would-be operators of LEO hardware in space.
In its White Paper, Eurospace stated, "Broadband connections are now the prerequisite for home working, home learning and for new important services. Without broadband connections, it is now barely possible to build or run a business effectively. This is a huge opportunity and the prerequisite for revitalizing rural areas. The European space industry is aware that the expansion of 5G, 6G and fiber is a first step to bridge the digital divide. The deployment of these new networks will most likely start by privileging large cities and highly populated areas. It has therefore to be complemented by a new space-based system for ubiquitous connectivity that will allow to bring secure broadband connections in support of all European businesses and citizens, anywhere in Europe."
Eurospace has some 90 percent of those involved in Europe's space industry as members. It is a non-profit, established in 1961 and the latest data (released in July) said that 48,000 full-time employees worked in the sector, although the association admits that Europe's employees in the industry are dwarfed numerically by Russia, China and the US.
The White Paper adds that the European space sector, in this sense, can be a major promoter of Europe's new ambitions to bridge the digital divide. Indeed, satellite networks can bring the latest technology on an accelerated basis to everyone, everywhere, including areas that 3G and 4G have not reached yet. This has been demonstrated during the Covid-19 crisis where satellites were being used to support a range of services including the rapid establishment of direct broadband connectivity to new medical facilities and to support tele-education and teleworking to otherwise disconnected groups at home and elsewhere.
"The non-discriminatory nature of satellite technology allows these services to be available to all citizens, regardless of country, population density, or economic. Furthermore, the need for secure broadband communication is also expressed by an increasing number of European businesses and companies, particularly those who are active in strategic and sensitive sectors. This is an issue which was further exacerbated during the pandemic, when European companies had to rely heavily on communication assets and data links belonging to, routed through, or based in non-European countries. This constantly leaves the information exchange and flow between European businesses open to electronic eavesdropping and monitoring by foreign entities, thus constituting a critical strategic weakness as well as increased risk of intellectual property theft."
The document also wants the EC to consider the impact on demand from the Internet of Things (IoT) and, in particular, the very large array of systems that would benefit from the technologies related to that technology.
Eurospace admits that the economic interest of providing voice and narrowband coverage from a low altitude satellite position is still difficult to demonstrate in an indisputable way but recognizes that new cash (despite a few bankruptcies en-route) from VC as well as industry names have been betting on technological progresses to address untapped market demand for global broadband connectivity to back the business plans of their LEO constellation projects.

Their progresses have also attracted governmental interest in China, Russia, and the USA — they are now considering strategic applications. Consequently, LEO/MEO constellation projects are currently under development and initial deployment at an extremely high pace in the US, China and Russia (to a lesser extent). Some will offer global connectivity by 2021.
The White Paper also recognizes that suitable spectrum is getting scarce. "Because [Ku- and Ka-bands] these frequency bands provide enough capacity and can be used with smaller antennas, Ku- and Ka-band are the preferred bands for LEO constellations projects. Any undertaking that wishes to establish a LEO satellite constellation should ensure that the spectrum they choose to use does not interfere neither with any existing GEO satellites, nor with other satellite constellation nor with terrestrial networks. There is a formal process in filing an application to get this approval with the ITU and the national administration, which include an in-orbit validation between the filing recording and the final operational space infrastructure, this requires an anticipation several years in advance."
Eurospace's timetable is suggested as:
Q1/2021 Engagement of initial contracts
Q1/2022 Consolidation of requirements and system definition
2025 Delivery in orbit of 1st operational capability
2028 Full operational capability
Eurospace reminds readers that the path to operational success is not easy and lists the failures of the past (Globalstar, Iridium, Odyssey, ORBCOMM, Skybridge and Teledesic) and even the more recent failures such as LeoSat. It lists the current and new players in some detail:
Amazon Kuiper (USA – Private – Broadband – 3236 satellites – 10B$) — In development — In April 2019, Amazon, founded by Jeff Bezos, who also founded the launch company Blue Origin, announced the development of a 3,236 satellites' constellation, under the name Project Kuiper. Amazon's focus with the Kuiper System is to connect "tens of millions of unserved and underserved consumers and businesses in the US and around the globe." It will especially target Transportation systems and Consumer demand.
Boeing V-Band (USA – Private – Broadband - 2956 satellites): In development [but may not happen] — Boeing's broadband-satellite constellation seeks "to provide broadband Internet and communications services to residential consumers, governmental, and professional users across the USA." The objective is to provide very high speed, low latency internet connectivity for user terminals via the system's network access gateways and associated terrestrial fiber network.
Galaxy Space (China – Private – Communication - 144 satellites): In demonstration — Galaxy Space plans to launch 144 satellites for the constellation across the next three years. The firm wants to provide high-speed, low-latency communications services globally, including remote areas.
Globalstar 2 (USA – Private – Communication - 24 satellites): In operation — Globalstar 2 is the second-generation constellation of Globalstar satellites; it is deployed since 2010. It targets satellite phone and low-speed data communications.
Hongyan (China – Public – Broadband - 864 satellites): In demonstration — The Hongyan constellation is being developed by the China Aerospace Science and Technology Corporation (CASC). The initial 320 satellites plan has now reportedly been expanded to 864, with an initial service in operation by 2022. The Hongyan mega-constellation will provide two-way communications and shall provide a range of services such as ground data collection and exchange, ship identification and tracking, mobile broadcasting, and positioning, navigation, and timing (PNT) signal enhancement. The Hongyan mega-constellation will reportedly be capable of providing mobile connectivity to 2 million users, satellite broadband to 200,000 users and IoT coverage to 10 million users within China and in countries participating in the Belt and Road Initiative (BRI). The constellation will also support China's 5G network, by connecting the constellation directly with 5G base stations for lower latency.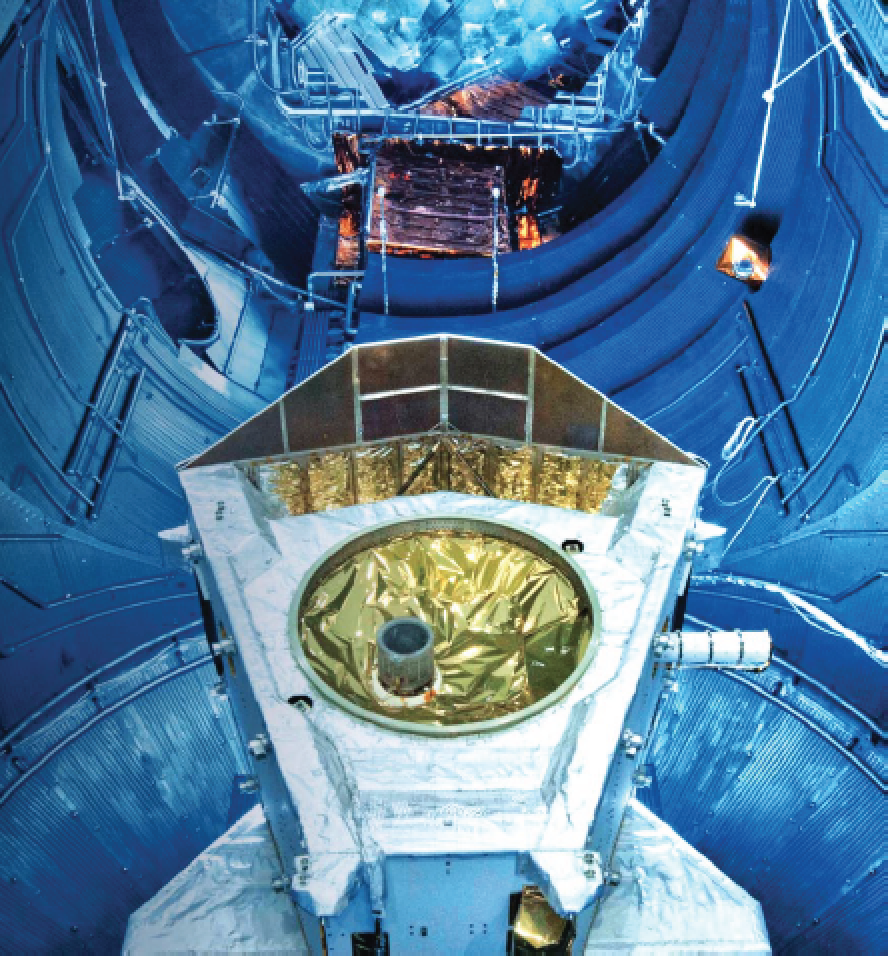 Iridium Next (USA – Private – Communication - 81): In operation — In 2017, Iridium began launching Iridium NEXT, a second-generation worldwide network of telecommunications satellites, consisting of 66 active satellites, with another nine in-orbit spares and six on-ground spares. It provides L-band voice and data information coverage to satellite phones, pagers and integrated transceivers over the entire Earth surface.
Kepler (Canada – Private – Communication - 140): In development — The Kepler system will consist of as many as 140 satellites, inclusive of on-orbit spares, with the capability to increase the number of satellites in operation to meet user demand. It will enable IoT aggregation, backhaul and spectrum sharing. It will also make real-time connectivity available for devices both on and off Earth's surface
O3b (Luxembourg – Private – Communication) In operation — O3b is a satellite constellation designed for telecommunications and data backhaul from remote locations. O3b stood for "other three billion," or the other three billion people at the time that did not have stable internet access. In 2016, ownership and operation of the constellation passed to SES Networks, a division of SES. The O3b constellation began offering service in March of 2014.
SpaceX Starlink (USA – Private – Broadband - 12000): In deployment (and network Beta testing) — SpaceX is building and launching as many as 12,000 Starlink satellites, and has filed regulatory paperwork with the ITU for another 30,000 satellites. The objective is to develop a low-cost, high-performance satellite bus and requisite customer ground transceivers to implement a new spaceborne Internet communication system. SpaceX intends to provide satellite internet connectivity to underserved areas of the planet, as well as provide competitively priced service to urban area. SpaceX also plans to sell some of the satellites for military, scientific, or exploratory purposes (especially in polar regions) The total cost of the decade-long project to design, build, and deploy the constellation was estimated by SpaceX in May 2018 to be about US$10 billion.
Telesat (Canada – Private – Broadband - 117): In development — Telesat's system would be comprised of at least 117 satellites in two orbits, with Telesat stressing that it designed its combined polar/inclined-orbit system with U.S. military users in mind. Telesat plans to address mobility markets, beaming Wi-Fi to ships and aircraft, as well as businesses and government users. Telesat is not focused on the consumer broadband market. Telesat's LEO constellation will have 16 to 24 terabits per second of total capacity, of which about 8 terabits will be sellable.
US Space Development Agency - SDA - (USA–Public–Communication/Data/Remote Sensing - 1200): In development — The Pentagon's Space Development Agency is soliciting pitches for technologies that will be used to build a network of satellites in low Earth orbit that would help the military find targets on the ground and track enemy missiles in flight. The SDA intends to ultimately deploy multiple constellations that collectively could amount to thousands of satellites. The constellation will have a mix of sensing and communications satellites so data collected by the sensors can be passed to the communications satellites, sent down to commanders on the ground or used to directly tip and cue a missile interceptor.
Additional to this comprehensive list, Eurospace says there are some 45 other projects in various stages of fund raising and development. Nevertheless, Eurospace admits that the recent financial failures of OneWeb and LeoSat confirm the fragility of disruptive projects and questions the capability of these Newspace companies to establish themselves as sustainable space actors in the long-term.
They are a warning of the difficulty to put in place such ambitious constellations systems without deep knowledge and appropriate financial backing. Indeed, while the promise for revenues is significant, huge capital expenditure is necessary before a hypothetic return on investment.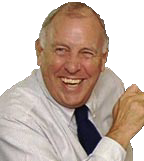 Senior Columnist Chris Forrester is a well-known broadcasting journalist and industry consultant. He reports on all aspects of broadcasting with special emphasis on content, the business of television and emerging applications. He founded Rapid TV News and has edited Interspace and its successor Inside Satellite TV since 1996. He also files for Advanced-Television.com.
In November of 1998, Chris was appointed an Associate (professor) of the prestigious Adham Center for Television Journalism, part of the American University in Cairo (AUC), in recognition of his extensive coverage of the Arab media market. Chris is a Senior Contributor for Satnews Publishers.
---