SatMagazine (SM)
Please tell our readers about your Company's business focus, and history, within the various European market segments.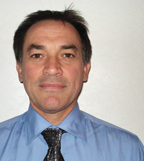 Bruno Dupas
Kratos has been a leader in ground systems products and solutions in the EMEA region and around the world for more than a decade. Most people in the European industry will know us through our Integral Systems Europe (Kratos ISE) business unit that I direct, as well as through several of our Kratos product subsidiaries, such as Kratos Integral Systems International (Kratos ISI), the developers of Epoch IPS, the industry's foremost satellite fleet management system; SAT Corporation, specialists in RF interference detection, monitoring and geo-location; and RT Logic, the leader in highly-engineered ground segment components.
Kratos ISE is based in Toulouse, France, and we have offices in the U.K. We have many customers in the region, including enterprises and government agencies based in Norway, Belgium, Italy, Spain, U.K. and Sweden, to name just a few. Kratos ISE is the only European based company specializing in satellite ground system solutions and products, including solutions for enterprise network operations. We supply a combination of Kratos commercial off-the-shelf (COTS) products, as well as products from other independent vendors, custom development, and systems integration services. Our customers include satellite operators, the Armed Forces, service providers, spectrum regulators and government agencies across the continent.
SM
What European SATCOM sectors do you believe offer the most potential for Company growth and why?
Bruno Dupas
Tight economic conditions such as those facing Europe today actually bring opportunities to a company like ours as many of our products are designed to help customers reduce operating costs, increase performance, or recapture lost revenue. For example, our Epoch IPS fleet control system allows operators to hold down costs as they add satellites and capabilities to their fleets. Today, we are taking Epoch a step further by putting significant new development behind our Webic thin client solution, which enables aggregation of additional management and operational data to provide full situational awareness, a more economical toolset and "anywhere access" from multiple data sources across the entire system, all of which helps our customers reign in expenses and increase productivity.
The Defense sector is one area in particular where we see opportunity. Governments are turning toward COTS products to expand capabilities and reduce expenses. When it comes to the ground segment, our products are the technology and market leaders. More than 75 percent of the world's commercial satellite owners rely on Kratos products to ensure safe and efficient satellite operation.
SM
How is your Company coping with the euro fluctuations?
Bruno Dupas
Our European operations have always done business both in euros and U.S. dollars which helps to even out global currency fluctuations. Our established banking relationships also help us there. The trend now seems to be for the Euro and dollar to "get closer," which makes the manpower component for our solutions more competitive in the Euro zone.
SM
How will the European markets impact global, as well as your Company's business opportunities?
Bruno Dupas
It is important for us to stay close to the industry-leading organizations in Europe—the large satellite operators and government agencies, for example—and to listen to the challenges they face and new solutions they propose. We pride ourselves on our responsiveness to customers needs, and that will be even more important for supporting our business in Europe during this cycle. We also rely upon our strong engineering capabilities to drive innovation and improvement in our portfolio of products. For example, our sister company, RT Logic, recently released a new 250 MHz Broadband RF Channel Simulator which offers the highest bandwidth on the market today so engineers can work through scenarios involving the latest technologies and applications that require high capacity throughputs.
SM
What obstacles do you see facing your Company in the European market? How do you plan on overcoming such challenges?
Bruno Dupas
In the commercial and government sectors there is intense competition to capture key opportunities—increasing price pressures are a challenge. We are constantly seeking ways to maximize value. Kratos is a company with approximately US$1 billion in revenues, which helps considerably in achieving scale benefits.
SM
What new technologies/products will your Company be working on and/or releasing over the next few months that will drive additional business in Europe?
Bruno Dupas
We release numerous new or enhanced products every year. In Europe, we are excited about the NeuralStar family of network communications management solutions. NeuralStar is actually an established solution in the U.S. With the most recent release, we will be representing it in Europe and other parts of the world, as well. NeuralStar is a "manager-of-managers" that provides network operators with a 360-degree view of their entire communications infrastructure, including satellite, IT, network, security and other components.
Another technology in which we are investing is cybersecurity. Satellite providers have been somewhat insulated in the past and have tended to focus more on RF technology, rather than IP— that is changing rapidly across the industry. In fact, it has already changed in most commercial markets. We are also working to integrate our products and provide consistent, user-friendly interfaces so that operators can make better and quicker decisions, thereby improving the network availability, performance and productivity.
About the author
Bruno Dupas is President of Kratos Integral Systems Europe based in Toulouse, France.